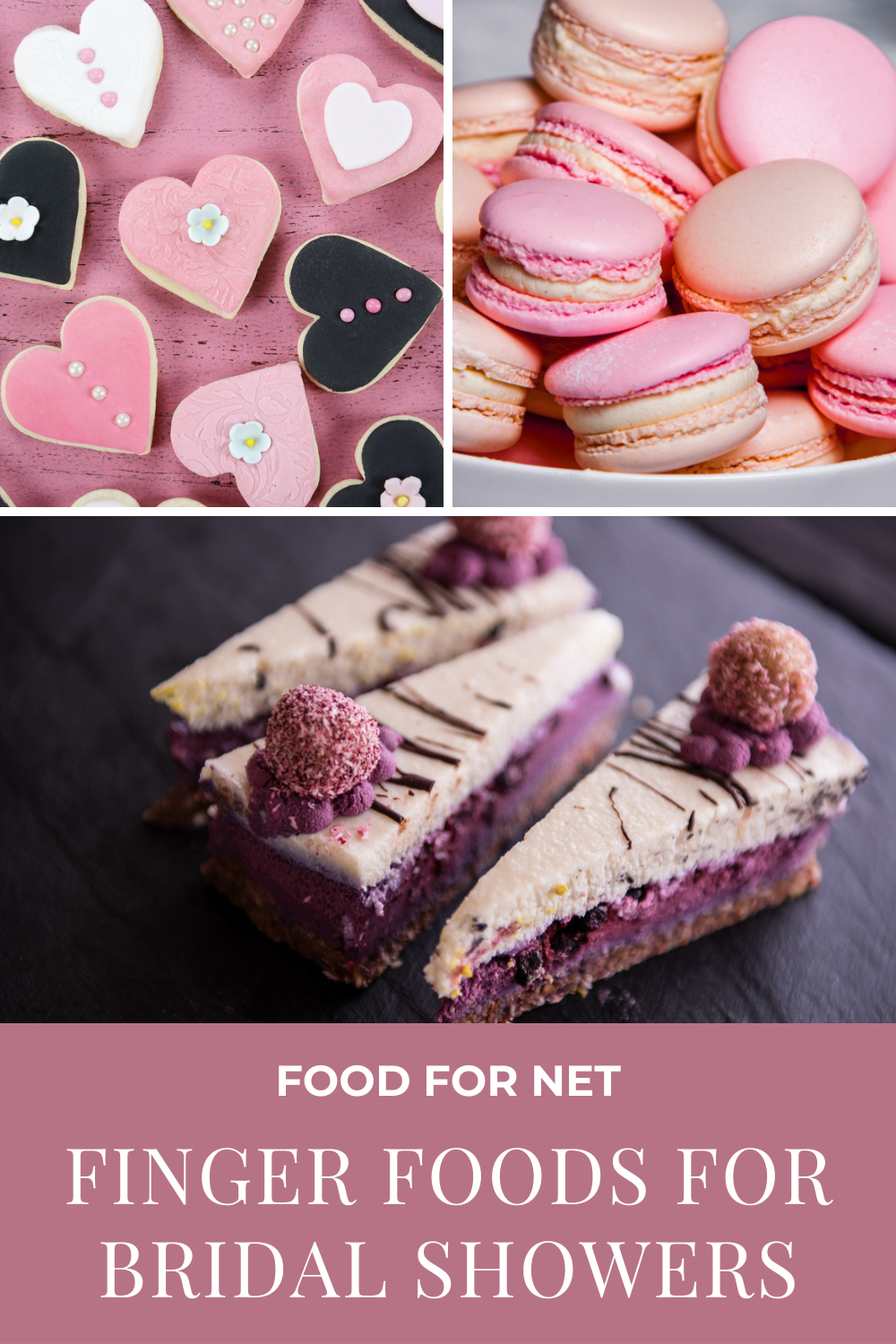 Weddings are full of sentiment and joy. The bridal shower is a crucial step in that magical journey, giving the bride-to-be the chance to celebrate with friends, family, and loved ones. Choosing delicious finger foods for bridal showers is an important part of the night.
After all, keeping guests well-fed is an important part of any event. Hungry guests won't enjoy themselves and that's no fun for everyone else either.
There are no hard and fast rules for what you can serve at a bridal shower. Still, most events focus on elegant finger foods, along with the bride's personal favorites. If the bridal shower has a particular theme, then you might focus on food that matches that theme.
It's also best to avoid greasy food, as gifts often feature at bridal showers, along with other wedding-related gear. And, most of the time, bridal showers are a female only event, which will influence the food served as well.
All of this means that there are plenty of finger foods that you can serve, but some will be a better choice than others. We've rounded up a large number of fantastic choices in this list. Take a look through. You're certain to find some inspiration.
You could even pair many of these finger foods with wine.
Finger Foods For Bridal Showers
Cupcakes
Shaped Cookies
Salad Skewers
Chocolate Truffles
Chocolate Dipped Strawberries
Bacon Wrapped Shrimp
Cucumber Sandwiches
Mini Quiches
A Charcuterie Board
Crème Brûlée Pots
Other Dessert Cups
Spanakopita Triangles
Deviled Eggs
Macarons
Lemon Tarts
Mini Sponge Cakes
Filled Meringue Shells
Open Faced Sandwiches
Greek Cucumber Cups
Shrimp Cucumber Rolls
Heart Shaped Fruit Skewers
No Bake Cheescakes
Shrimp Cocktails
Mini Tarts
Grilled Queen Prawn Tails
Bacon Wrapped Avocado Pieces
A Bruschetta Bar
Cake Pops
Allergen-Friendly Options
Cupcakes

Cupcakes are one of the most classic finger foods. They work for almost every type of party and bridal showers are no exception.
One good thing is that you don't need much skill to make decent cupcakes. You might even get away with using boxed cupcake mix from the grocery store. Buying cupcakes is an option too and there is no shortage of places to buy them from.
Cupcakes are easily customized too.
You can play around with the flavor of the cupcake, the color of the icing, and whatever garnish you use. This makes it easy to match the cupcakes to the theme of your event.
Shaped Cookies

Sugar cookies are always fun for events, as you can easily make them into different shapes and use fun icing. These hearts are just one example of what you can do.
This is another product that you could easily make yourself or purchase professionally. Professional versions might look a little more elegant, but honestly, sugar cookies aren't difficult to make.
You don't need to stick with sugar cookies either. Other types of cookies can be shaped as well. Shortbread is a classic example and you'll often see shortbread cookies in the shape of stars.
However, if you want to make your cookies into shapes, you'll need to hunt around for the right recipe. Some cookies won't hold their shape well at all. You don't want to go to all the work of making the cookies, just to find that they don't look like you want them to.
Salad Skewers

It's easy to focus on sweet treats when you're preparing for a bridal shower. The event is a chance to be decadent, but it's important to offer some savory foods too.
Caprese skewers are an easy choice. They're exactly what the name suggests – so you're threading the traditional caprese salad ingredients onto a skewer. You just need a cherry tomato, a basil leaf, and a ball of mozzarella cheese.
You can do something similar with other types of salad too. For example, a Greek salad skewer might include cucumber, a cherry tomato, an olive, and a wedge of feta cheese.
You could even make skewers that include wedges of iceberg lettuce. Getting lettuce onto skewers can be a little more difficult, but you should get the hang of it after a little trial and error.
Chocolate Truffles

Serving some chocolate at a bridal shower is almost essential. After all, chocolate can be quite decadent and it's a food that many women love.
Chocolate truffles are an easy choice. They're a little more decadent than straight chocolate. You can play around with the fillings and toppings to make them even more interesting.
Chocolate Dipped Strawberries

For an even easier option, why not serve chocolate dipped strawberries? These are always popular, giving you the perfect balance between creamy chocolate and fresh fruit.
Try making the presentation more interesting by dipping some of the strawberries in milk chocolate and others in white chocolate. You can add some sprinkles or extra chocolate on top if you like to help the strawberries stand out even more.
Bacon Wrapped Shrimp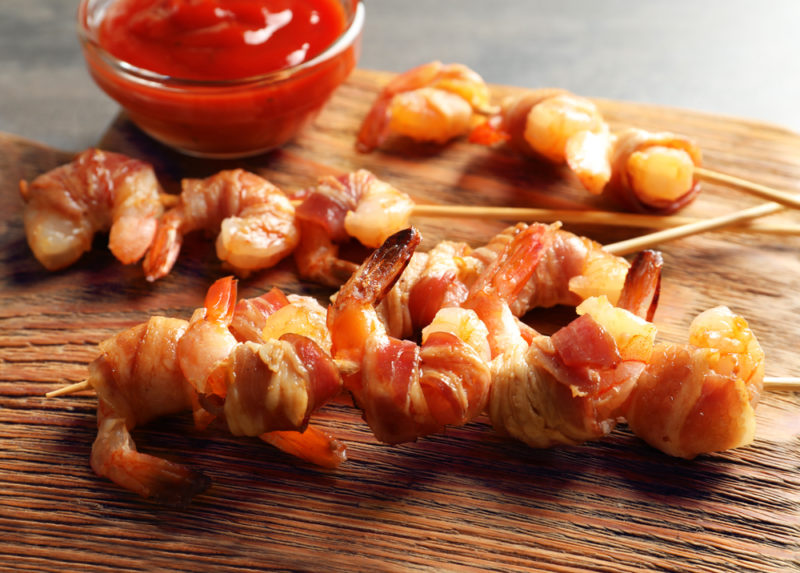 Bacon and shrimp are both popular types of food, so why not combine them? There's nothing difficult about the idea either. You're just wrapping the shrimp in bacon and then cooking both treats.
Serve these with toothpicks next to a bowl or two of dip and you'll have a sure-fire hit.
Cucumber Sandwiches

Sandwiches work well at almost any event. They're familiar, easy to eat, and can be varied in countless ways.
While you could serve just about any type of sandwich at a bridal shower, cucumber and cream cheese sandwiches are a particularly good choice. The sandwiches end up being both simple and refreshing. Making them with white bread and cutting the crusts off is a fun way to make the sandwiches look good.
Mini Quiches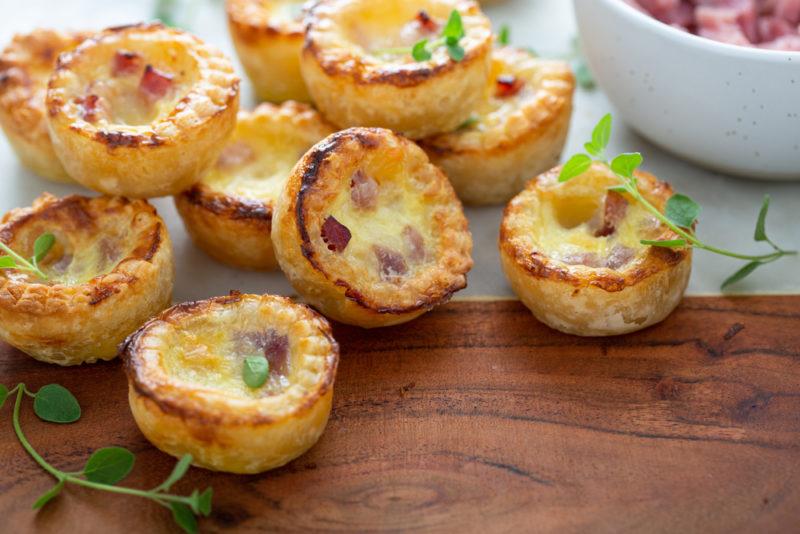 Mini quiches are fantastic if you're looking for something more satisfying. While you can often buy these in a local store, making your own isn't too difficult either.
You can focus on crustless quiches or ones that have a crust. Making the quiches with a crust can get a bit fiddly, especially if you're making tiny ones. Still, the crust provides a nice texture contrast, so it might be worth the effort.
Either way, the quiche filling is what makes this finger food stand out. You could go with the classic filling of ham and cheese, or play around with other ingredients.
Mushrooms, sundried tomatoes, chives, bacon, spinach, feta cheese, gruyere cheese, and red onion are some possible additions. You might use herbs and spices to make the flavor profile even more interesting.
A Charcuterie Board

Charcuterie boards give you the chance to combine many types of finger food in one place. We're not just talking about meat and cheese either. The best boards contain many different types of food.
Think about sliced veggies that are easy to dip, like cucumber sticks, carrots, and bell peppers. Fruit helps to make the board pop. You can even include dried fruit.
Dips and spreads are fantastic too. You can include these in small bowls on the platter. These help to give the whole thing more structure too, which is always helpful.
Other possible ingredients include sundried tomatoes, special types of cheese, cured meat, crackers, cherry tomatoes, nuts, and jellies.
If you're worried about guests keeping their fingers clean, you could provide toothpicks. These would make it easier for guests to pick up the food and enjoy it.
Crème Brûlée Pots

The easiest way to turn a dessert into a finger food is to serve it in a small container, like a glass jar or even a shot glass. Your guests will still need a spoon to get at their dessert, but they don't need to sit down to eat.
Crème brûlée is the perfect choice here as the dessert isn't that difficult to make, but it looks elegant and can feel decadent. Besides, why not give your guests a treat that they won't eat often?
Other Dessert Cups

You can take a similar approach with other types of desserts too. Anything that's not solid enough to serve as a finger food in its own right can easily be served in a glass and eaten with a spoon.
The best desserts are a little unusual. If you're using glass containers for the desserts, focus on treats that look pretty too. Anything with a few different layers can look fantastic in a glass, like a layered cheesecake.
Chocolate mousse can be fun too. This isn't layered, but the dessert is a delicious one and chocolate is always popular. A cream-based chocolate mousse is a fantastic way to make the dessert taste even more divine.
Spanakopita Triangles

Mini samosas have become a party staple, so why not take a similar idea and vary it up? These spanakopita triangles are a perfect alternative. They have a spinach and feta filling that's wrapped in flaky pastry.
The treats end up with a lighter texture than samosas and can be more enjoyable too.
You could play around with the idea if you liked. Why not try a different filling in the same type of pastry?
Deviled Eggs

It's hard to ignore deviled eggs. They might seem a little boring these days, but they remain a party staple.
If you're serving the eggs at a bridal shower, it's worth making your deviled eggs a little bit different. Thankfully, there are many ways to do this. Guacamole deviled eggs is one example. These use avocado, which creates a distinct flavor.
You can add other ingredients too as a type of garnish. Examples include beets, smoked salmon, jalapenos, bacon, or pickles.
Macarons

These light and airy French treats are already bite-sized, so they're an easy treat for any bridal shower. Macrons have another advantage too – their coloring. You can find macrons in most colors and shades, so it's easy to match them to the theme of your event.
Lemon Tarts

Lemon is always a fun flavor in desserts, as it is bright and vibrant. The tartness of the fruit helps to contrast the sugar in your dessert, giving you something that tastes surprisingly refreshing.
The easiest way to make these is to use pre-prepared tart shells, ones that you just need to bake. This way the filling is the only complicated part of the recipe. And honestly, making a lemon filling won't take you much time at all.
Mini Sponge Cakes

Cakes don't need to be large and elaborate affairs. You can make small cakes that are just as delicious. These are perfect as finger foods and you get to have some fun with decorating them too.
Mini sponge cakes are particularly fun, as you can use them much like a sandwich cookie and create a delicious filling between them. Jam and cream is a good place to begin. You could get much more creative too. Perhaps some type of chocolate spread?
Why not try something similar with a different type of cake? Mini red velvet cakes, for example. Those could be fun. They'd certainly stand out.
Filled Meringue Shells

The lightness of meringues makes them a delicious dessert choice. Meringue shells give you that lightness, along with a place to add whatever filling you'd like. Plus, if you find meringue shells too difficult to get right yourself, they're easy enough to find at a grocery store.
Because meringues don't have a strong flavor of their own, there are few limits on the fillings that you can use. Cream is the simplest option, but why not get more creative? Lemon curd or chocolate mousse are both fun alternatives. You could even just fill the meringue hollows with berries or a rich berry sauce.
Open Faced Sandwiches

Here's a simple way to make sandwiches more interesting – cut down on the bread. Serve them in an open faced style instead, which means that you're just stacking ingredients on a single piece of bread.
This approach has a few advantages.
For one thing, the sandwiches contain fewer carbs. They're also more refreshing than regular sandwiches, as too much bread can be a bit overwhelming. You can also have fun stacking up ingredients on the sandwiches. There's no top slice to squash everything down, giving you more freedom than with a regular sandwich.
Why not play with the bread as well? You might try using smaller pieces of bread or making shapes with the bread using cookie cutters or something similar.
Greek Cucumber Cups

Check out these cucumber cups for a finger food that's a little more unusual. The idea is that you're hollowing out sections of cucumber and then stuffing them with a Greek salad mixture.
The cups are an easy way to hold the salad and guests can easily eat the entire thing. You could make life simpler by providing some spoons and forks.
Greek salad isn't the only possible filling for this appetizer. You could easily use something else instead.
Shrimp Cucumber Rolls

These cucumber rolls offer a different way to use cucumber. This time you're creating thin ribbons of the cucumber, then wrapping these around to create a cup. This can be filed much like the previous example.
The dish in the image uses cottage cheese as the filling for the cup, then rests a shrimp on the edge. You end up with a refreshing snack that's surprisingly satisfying.
You could change the filling here too, but you'd need to focus on fillings that are somewhat firm, as the roll of cucumber doesn't have a solid base.
Heart Shaped Fruit Skewers

Romance is the theme of any bridal shower, so why not try something like these love heart fruit skewers? The idea is simple. You're just making hearts out of watermelon pieces and strawberries.
If you're good with a knife, you could try cutting out the shapes by hand. But, using a heart-shaped cookie cutter would be a much easier approach. This way you get the same shape and size every time.
No Bake Cheesecakes

No bake cheesecakes come in a variety of styles. Some look and taste much like regular cheesecakes, while others don't use any dairy at all. The dairy-free ones tend to rely on nuts, but there are exceptions to that rule too (like this recipe from The Hidden Veggies).
The best choice will depend on your party and your preferences. Thankfully, there are plenty of recipes, so you'll be able to find something perfect without too much digging around.
Regardless of the style, no bake cheesecakes are versatile. You can make a large one and cut it into pieces or make mini cheesecakes in a muffin tin. Layered versions look fantastistic. They're not that tricky to pull off either. Plus, you can choose the color of your cheesecake to match the theme of your event.
Shrimp Cocktails

Shrimp cocktails aren't just popular. They're also an easy appetizer to make. Why not try a bloody Mary shrimp cocktail? This appetizer is made in a shrimp glass and it's basically a baby bloody Mary cocktail in a shot glass that's been garnished with a shrimp.
Or, you could take a more classic approach and serve classes with sauce in the bottom and shrimps hanging off the rim.
Mini Tarts

Don't these little tarts just look amazing? They'd be easy to prepare too, as you can buy premade pastry shells from a store. Then you just need to worry about the filling, which is as simple as chocolate mousse pushed through a piping bag or something similar.
You could use the same shells to make other finger food desserts too. Putting some custard in the bottom and then piling on fresh fruit is another popular style that's just as easy to make.
Grilled Queen Prawn Tails

Prawns aren't just delicious. They also make very elegant looking appetizers, which is perfect for a bridal shower.
Grilled queen prawn tails are one delicious way to serve prawns. You could offer them just like in the image or stick them on skewers. The skewer approach might be more helpful, as this helps your guests to keep their fingers clean.
Bacon Wrapped Avocado Pieces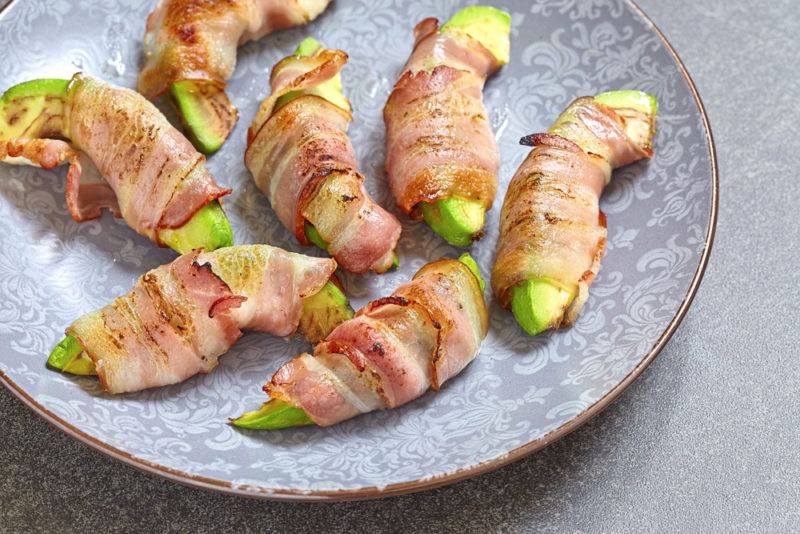 These little snacks are perfect for anyone who loves avocado, along with any low carb eaters in your group. The idea is beyond simple. You're just cutting little pieces of avocado, wrapping them in bacon, and then baking them. The pieces of avocado should all be roughly the same size, so that they cook evenly.
They don't need to be in the oven for long. Just 12 to 15 minutes should do it. This is enough time to fully cook the bacon.
Don't be put off by the idea of baking avocado. Doing so changes the texture of the fruit, making it even more delicious.
A Bruschetta Bar

You'll find bruschetta served at many events, partly because this is such a flexible finger food. The base is normally grilled bread spread with garlic butter. After this, you can use whatever toppings you like – and there are countless combinations to try.
However, making and serving bruschetta can be time consuming, especially if you're offering multiple topping combinations. Besides, your guests won't always have the same flavor preferences as you.
You can get around the problem by offering a bruschetta bar instead. This means that you're providing the bruschetta base, along with a wide variety of fresh ingredients for toppings. Try having some meats, cheese, fresh vegetables, and sauces. Dips like pesto, guacamole, and salsa can be appealing too.
You don't even need to stick to the traditional bruschetta base. Why not offer some alternatives too, like fresh bread or crackers? If you have some low carb eaters in the party, try providing slices of zucchini that they can use as the base for their snack or even just small bowls to store the various ingredients in.
Cake Pops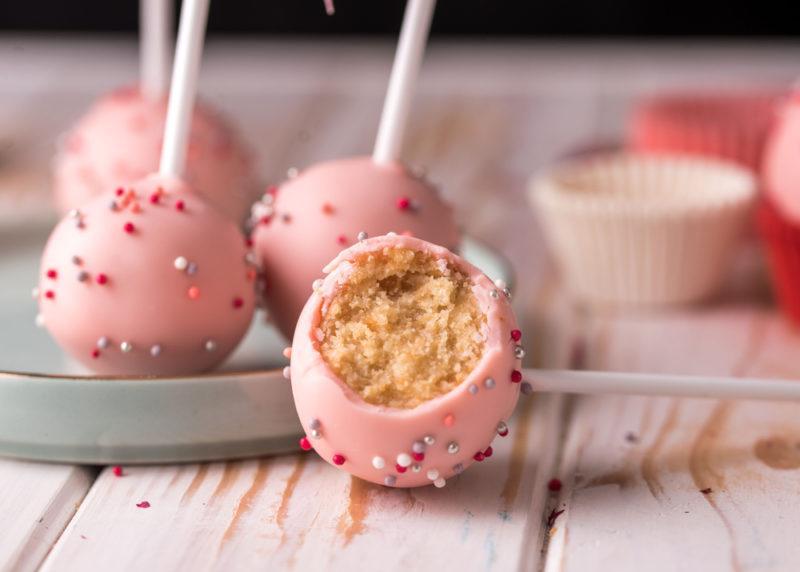 Cake pops are a strange idea. Most versions rely on a mixture of cake and frosting that is rolled into a ball, chocolate dipped, and then decorated. You can use candy melts or a mixture of chocolate and candy melts to make the cake pops cheaper to prepare.
We're suggesting cake pops because it's easy to match them to your event's theme. For example, you can easily make some pink cake pops and some white ones.
If you have the skills, try making the cake from scratch, rather than using a boxed mix. Cake from the box never tastes as good as something that you made yourself.
Allergen-Friendly Options

Regardless of the finger foods that you choose, it's important to have some allergen-friendly options. You can't cover every allergen and diet under the sun, but you should still try for some of the most common ones.
In particular, try to have some gluten-free finger foods and some that are vegan-friendly.
You could also offer a few low carb options. Don't worry though. Low carb finger foods can be as simple as some meat and cheese threaded onto a toothpick.