Super Bowl is a popular event every year, even if 2021 is putting a damper on things. Working out what to serve can sometimes be difficult, simply because there are so many options. You have all the classic Super Bowl foods, along with less common options that can be just as good, if not better.
In fact, the best Super Bowl foods seem to change from one year to the next. After all, there are always shifts in eating preferences. These days, you'll often see healthier foods grace the table, along with foods to suit various dietary needs, like gluten-free, vegan, or keto-friendly dishes.
For this post, we're covering a variety of Super Bowl foods, including the classics and some new options for you to try out. If you're having a party of some type, you could also look at other types of finger foods, including keto finger food and finger foods that you might serve at a party.
Super Bowl Foods
Giant Subs
Pizza
Bacon Wrapped Potatoes
Deviled Eggs
Mac and Cheese Balls
Chicken Wings
Sliders
Baby Burgers
Chili
Nachos
Chips
Cheese Ball
Popcorn
Guacamole
Spinach and Artichoke Dip
Other Dips
Pigs in a Blanket
Ham and Cheese Pinwheels
Chicken Waffle Sliders
Mozzarella Sticks
Roasted Chickpeas
Jalapeno Poppers
Hot Dogs
Veggie Sticks
Baked Drumsticks
Fresh Spring Rolls
Cheesy Garlic Bread
Zucchini Fries
Curly Fries
Shrimp Skewers
Cookies
Sushi
Taco Appetizers
Cauliflower Bites
Zucchini Chips
Giant Subs

Giant subs are surprisingly popular as a game day food. Perhaps this is simply because many local stores offer them and you just need to cut the sandwich up to have food for everyone.
There's a problem though. Most of the giant subs that you can order aren't that good. You're often faced with stale bread and boring toppings. Where's the fun in that?
To get around this, try making giant subs at home yourself instead. This way you can choose fresh bread and the ingredients that you want. You don't need to stick to the traditional ingredients either. Why not try some more unusual combinations?
Pizza

Is there an event that doesn't suit pizza? It ends up being the perfect food in most situations, partly because you don't need to do any work. You can order pizza from a large number of different fast food chains. Most have many topping combinations to choose from. Some even let you design your own pizza.
For anyone taking the fast food route, here are our recommendations.
And, if you want something homemade, you have options too.
You could go the whole way and make pizza dough, bake it, then build the pizza from there. Buying premade pizza bases is an option too, along with using alternatives to pizza bases, like flatbread.
It's even possible to make keto-friendly pizza basses, like those that use cauliflower rice as a key ingredient and others that follow a fathead pizza dough style. Honestly, with enough creativity, you can make a pizza that suits any diet.
Bacon Wrapped Potatoes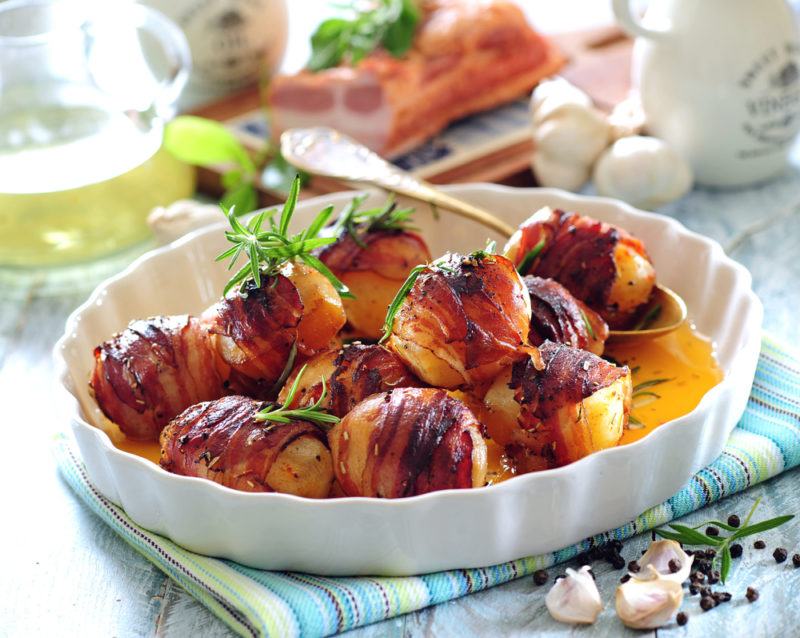 How's this for an easy and delicious snack? You're just combining two ingredients that are already popular – bacon and potatoes.
The trick is to mostly cook the potatoes beforehand, wrap them in bacon, and then bake them. This way you end up with soft potatoes and crispy bacon. The finger food works best if you use new potatoes, provided that they're all roughly the same size.
Alternatively, you can cut full potatoes into equal-sized wedges and cook these. Either approach is delicious. Try serving these with toothpicks and a dip or two.
Deviled Eggs

Deviled eggs might seem predictable, but they're still an immensely popular type of party food. You'll see them at almost every kind of event, including a Super Bowl party.
Thankfully, you can tweak deviled eggs to make them much more exciting. Adding some curry powder or smoked paprika, for example, changes the color and gives you a more complex flavor. Bacon bits are exceptional too.
You can easily make the deviled eggs look like little footballs too. The ones in the image use a few pieces of chive to create the effect, although you could use another type of ingredient instead.
Mac and Cheese Balls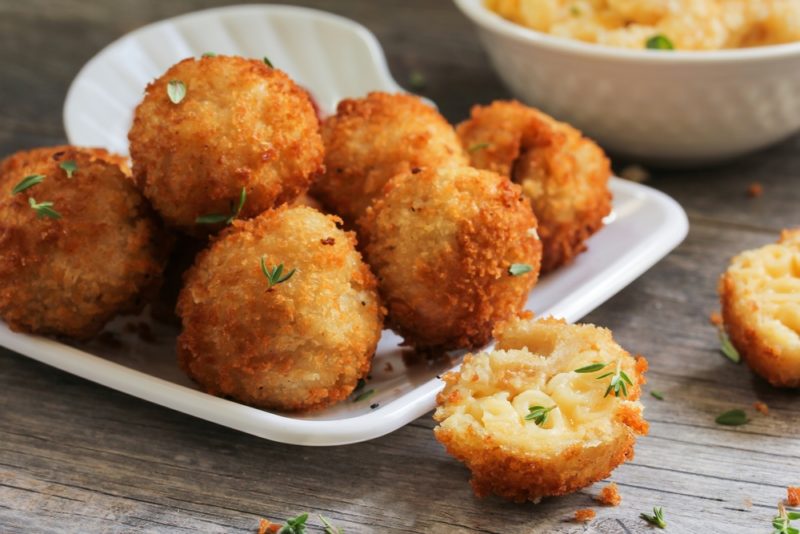 If you don't mind a little work, these mac and cheese balls are certain to be a party hit. The idea is simple. Take small portions of macaroni and cheese, coat them, and deep fry them. Some recipes might shallow fry them or even bake the bites instead, but the snack wouldn't be quite as delicious without the deep frying step.
You'll need to pay attention to the macaroni and cheese recipe when making this finger food. In particular, you'll need to cut down on the amount of liquid and perhaps use some binding ingredients, so that the balls stay together until it's time to dip them.
Chicken Wings

We can't talk about the Super Bowl without highlighting this classic. Seriously, who watches the game without at least a few chicken wings on hand?
Buffalo wings remain the fan-favorite here. These have a distinctive glaze that brings the chicken up to a whole new level. A blue cheese dip helps to cool the wings down just the right amount.
Of course, there are plenty of other marinades and seasonings to play around with too. Try making parmesan garlic chicken wings or honey BBQ wings. Or, perhaps experiment with a pickle juice marinade. Chicken wings aren't as unhealthy as you might expect either, as they're a natural food that hasn't been heavily processed.
Just watch your portion size, as the wings are high in both calories and fat.
Sliders

Sliders are basically mini hamburgers, except that they sometimes use steamed buns. Sliders also tend to be greasy, which is one reason why they're so easy to eat.
They're also an exceptional choice for Super Bowl. One reason is that there's less of them than a full-sized hamburger. Eating a whole hamburger is just too much if you're serving plenty of other food at the same time.
You can make sliders in many ways.
The classic approach is just to make a regular burger, just in a smaller size. You'll also find much simpler versions, some that only use the burger patty and nothing else.
Or, you could try different ingredients entirely. A pulled pork slider, for example, would be a delicious addition to game day. Vegetarian versions aren't that difficult either, like using jackfruit as an alternative to pulled pork or using a vegetarian patty rather than a beef one.
You can make the bread rolls yourself or buy them. The popularity of sliders should make it easy to find the rolls that you need.
Buying filled sliders is also an option. Fast food sliders won't be nearly as good as homemade ones, but at least you don't need to put any effort in.
Baby Burgers

Sliders might be the more common choice for a Super Bowl party, but sometimes you'll be wanting something smaller again. That's where these little beauties come in. You're basically making tiny burgers, ones that are so small that you might even serve them on cocktail sticks.
This style is a fantastic way to give guests the flavor experience of a burger, without too much food.
And, just like with regular burgers, you can choose the ingredients that you use. After all, why stick to a traditional hamburger if you're finding that boring? Many other ingredients taste delicious between burger buns too.
Chili

Chili is a family favorite, especially in the winter months when the weather is cold and you're looking for a warming meal.
Chili's also fun because there are so many ways to change it up. Just look at all the regional variations of the recipe, not to mention all the changes that home cooks make. It's also hard to get chili wrong, which gives you plenty of chances to experiment.
Still, chili might seem like an odd game day choice, as it takes time to eat, is hearty, and can easily be spilled. None of those features work well when you have a full Super Bowl spread in front of you.
Yet, even with that problem, chili is still served at many Super Bowl parties. One reason is that you can easily make a lot of chili at once. You'll need a few easy meals like this if you're serving a large crowd.
Nachos

Chili isn't your only filling option. Nachos can be satisfying too. After all, they rely on minced beef. Some recipes include beans too. Plus, nachos are perfect as a finger food. Guests can use the tortilla chips to scoop that beef, melted cheese, and whatever other ingredients you're including.
Using freshly chopped tomatoes and avocado is a classic way to make this dish vibrant. Of course, you don't need to stick to everyday nacho ingredients. You can experiment. For example, nachos made using chicken mince and white beans can be just as delicious.
There's another advantage too – nachos are easy to prepare. It doesn't take much work to feed a crowd. You just need to get the timing right, as nachos taste the best when they're hot and the cheese has just melted.
Chips

Serving chips of some description is almost essential during the Super Bowl. Little is more satisfying than grabbing a handful of salty chips and crunching down on them. Doing so is even more perfect if you can't tear your eyes away from the screen.
As for the chips you serve, well, you're not short on choices. To keep things simple, why not just grab a few bags from the local grocery store? Or, if you want more control, consider finding a good recipe and making your own.
Don't forget about tortilla chips either. These are delicious and go well with so many different dips.
Homemade chips are often healthier than anything from the store, but it can be tough to get the crunch and flavor combination you're looking for. So, if you do plan to make your own, it's worth experimenting with a few recipes in the weeks beforehand. THis way you know which recipes to follow through with.
Cheese Ball

Large cheese balls make a delicious centerpiece for any party table. Guests can use chips or crackers to scoop out some cheese for themselves.
The balls usually rely on cream cheese and regular cheese, along with some type of outer topping. Of course, there's plenty of room for variation, which is half the fun.
The ingredient combination makes it easy to mold the ball into whatever shape you like. Why not turn it into a football?
Popcorn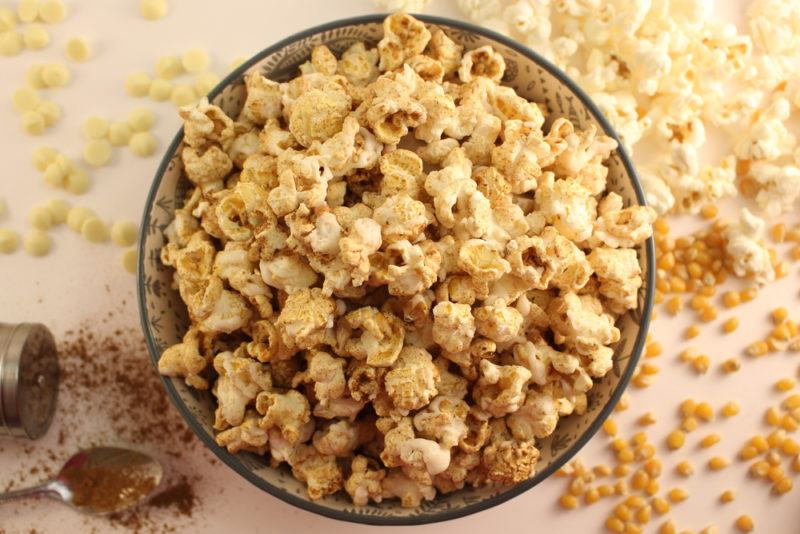 It doesn't matter what you're watching on TV, popcorn is one of the ultimate snacks. It's also effortless to make, which is a strong part of the appeal.
You could even go with microwave popcorn. Simply stick the bag in the microwave, let it do its thing, then presto – you have delicious popcorn that's ready to go. It might even have butter flavoring.
Or, if you want something healthier, make plain popcorn and prepare your own seasoning mix. You don't even need to use butter. A little flavored salt can do wonders.
Guacamole

Serving chips on their own won't be enough. You'll want at least one dip to go with them, preferably more. Guacamole is one of the best choices. It's always a crowd-favorite and is almost essential if you're going to have tortilla chips on the table.
Besides, avocados are full of healthy fats. This doesn't just make them good for you. The healthy fats also mean that guacamole is more filling than most other dips.
Spinach and Artichoke Dip

Here's another famous dip to consider. Spinach and artichoke dip is a cheesy and delicious mess that goes with just about every type of chip, not to mention any veggies that you want to dunk into it. You can even make the dip in a slow cooker.
There's one big problem though – the dip isn't good for you. The traditional version tends to be loaded with calories, fat, and sodium. We're not talking about healthy fats either, as much of this fat is saturated.
The effect isn't too surprising, as the dip relies on cream cheese, cheese, and sour cream.
Thankfully, there are healthy versions too. These change some of the ingredients, like using cottage cheese and Greek yogurt instead of cream cheese and sour cream. It might sound surprising, but some of these healthy versions taste almost as good as the original.
Other Dips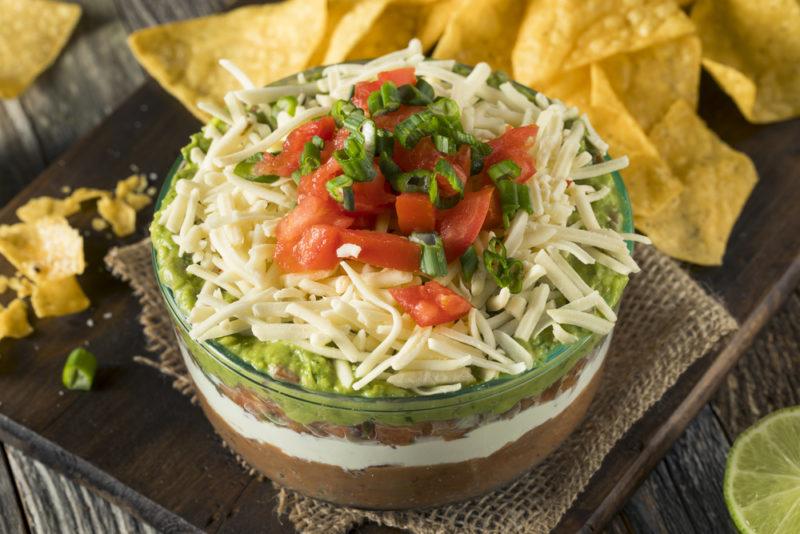 Let's be honest, we could make a long list of game day dips without ever talking about food. We're not going to because you'll mostly just be serving a few dips along with the rest of your food.
Still, we should mention a few crowd favorites that you could serve. These could easily replace the dips we've already highlighted or be served at the same time.
It's not like there's right or wrong choice for Super Bowl foods anyway. The best foods will be the ones that you and your guests enjoy. Some dips to consider include:
Queso dip
Salsa
Bacon cheeseburger dip
French onion dip
7 layer dip
Buffalo chicken dip
Pizza dip
Don't be afraid to get creative either. The tastiest dips can be the ones you design yourself.
Pigs in a Blanket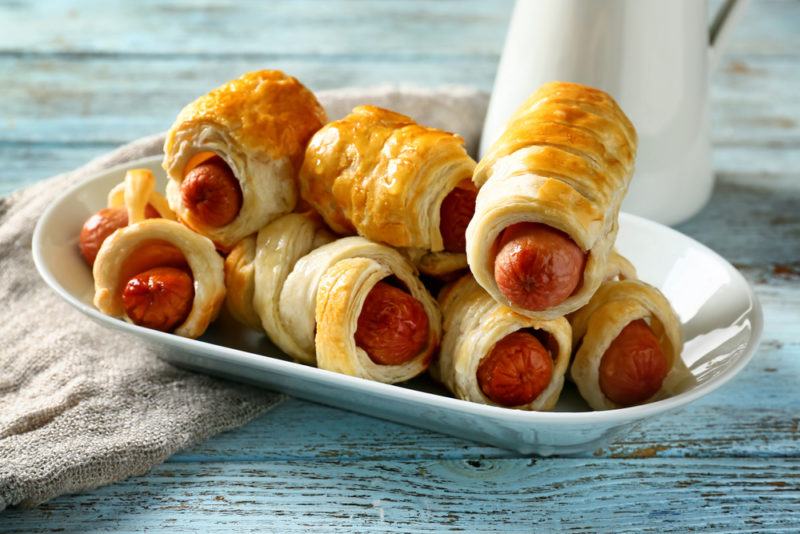 Pigs in a blanket are often served at birthday parties, along with plenty of adult events. They're just as good during the Super Bowl, as the little treats are easy to make and even easier to eat.
Ham and Cheese Pinwheels

You can make homemade pinwheels using flaky crescent roll pastry and a select few fillings. You can't go wrong with ham and cheese here. These ingredients pair perfectly with one another, giving you a delicious treat.
If you bake the pinwheels together on a single tray, you end up with a type of pull apart bread. Why not play around with other types of fillings too, like chicken, pesto, or cranberry sauce?
Chicken Waffle Sliders

These sliders are a fun variation on the idea of chicken waffles. The difference is that regular chicken waffles are a breakfast food that needs a knife and fork. These little sliders are finger food instead. Guests can pick them up and eat them without turning away from the game.
Be sure to have some napkins handy, as the sliders are best with maple syrup and maple syrup is always sticky.
Mozzarella Sticks

Greasy food takes center stage for Super Bowl fare, so seeing mozzarella sticks on the menu shouldn't be surprising. You'll can order mozzarella sticks from many fast food stores. Honestly though, why not make your own?
The idea is beyond simple. You're just coating string cheese in a breadcrumb-based coating, then either deep frying them or baking them. That's right. You can bake mozzarella sticks – a much healthier approach than using a deep fryer.
There are even variations for specific diets, like keto mozzarella sticks and gluten free ones. It's even possible to make vegan mozzarella sticks using a vegan mozzarella cheese product.
Roasted Chickpeas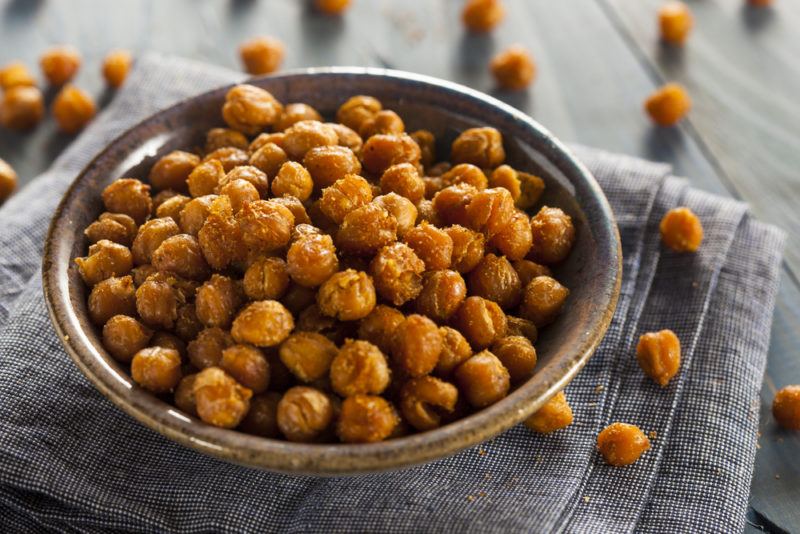 Roasted chickpeas might not be the most common Super Bowl snack, but that doesn't make them a bad idea. Their main advantage is that they're nutrient-rich. They're low in calories too, making them a healthier choice than most other Super Bowl fare.
While you can easily buy roasted chickpeas at grocery stores, why not make them yourself instead? This isn't hard to do and you get full control over the flavor of the snack.
Jalapeno Poppers

How can we go past jalapeno poppers? The idea is simple. You're cutting jalapenos in half, scooping out as much of the interior as you can, and then stuffing them with a creamy cheese filling. You get a fantastic contrast of flavors and textures between the outside of the poppers and their inside.
Many recipes also sprinkle cheese on top and then bake the poppers. Other variations involve coating and deep frying the poppers. Doing so makes the poppers less healthy but much more delicious.
Hot Dogs

We can't forget about hot dogs, can we? They're another one of the classics and are too important to leave out.
You don't need to make the simple version that is in the image either. Plenty of other ingredients taste amazing on hot dogs, so why not include your favorites? You could even set up a hot dog bar, where guests can choose their ideal combination of toppings.
Veggie Sticks

We mentioned chips and dips earlier, but dips can be used in other ways too. For a healthier option, try serving some vegetable sticks with dips instead. Cucumber, bell peppers, and carrot sticks will all do the job nicely.
You could include cherry tomatoes on toothpicks too. These can be dipped in much the same way and are refreshingly fresh.
If you don't want everyone gathered around the table, try making small containers of veggies and dip instead. Guests can take these back to their seats.
Baked Drumsticks

Chicken drumsticks can be a healthier option than chicken wings, as long as you're focusing on a baked chicken recipe rather than fried chicken. The most basic option is to cook the chicken with just simple seasonings, like salt and pepper.
You can also create a more complex flavor profile, like garlic and herb drumsticks, BBQ drumsticks, or parmesan chicken drumsticks.
There's a bonus too – baked drumsticks are less greasy than chicken wings, so they're not as messy either. You'll still need some napkins on hand, but at least guests won't be getting grease on everything they touch.
Fresh Spring Rolls

These spring rolls are a fantastic break from the heavy greasiness that you find with most other Super Bowl foods. Besides, at least some of your guests are going to want healthier options. Even if you're not looking for healthy food yourself, it's best to have a few options on hand.
Cheesy Garlic Bread

Garlic bread on its own is amazing. Cheesy garlic bread? That's just 10 times better. You could even be creative and add some toppings, like sliced jalapeno peppers.
If pieces of bread aren't exciting enough for you, why not make cheese sticks instead? Here you're basically making bread soldiers, except that these are smothered in cheese.
The size of the breadsticks makes them perfect as finger food. Guests can even dip them in marinara sauce or something similar.
Zucchini Fries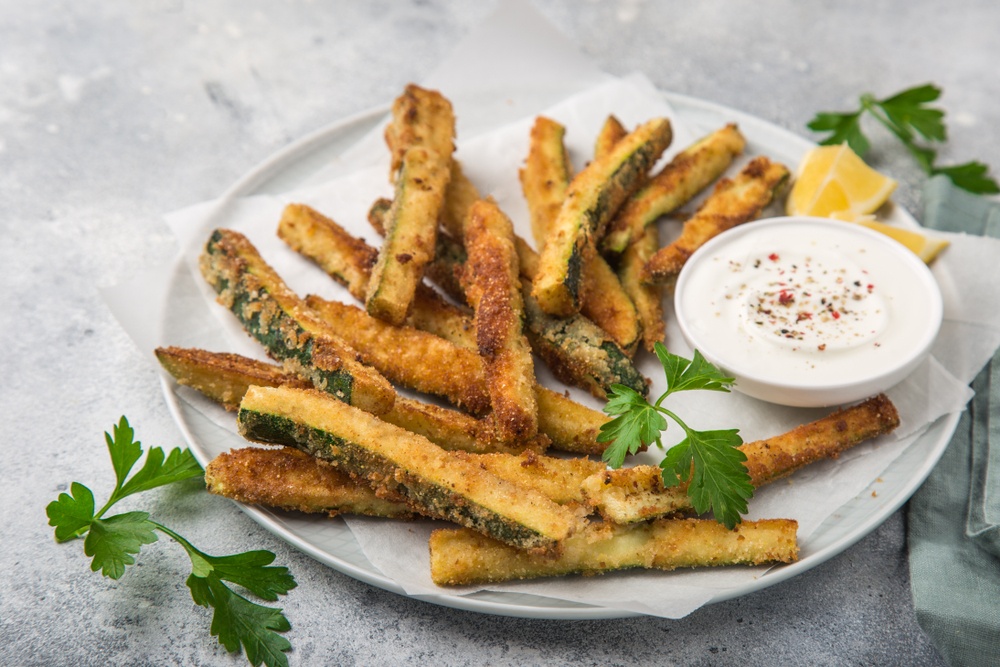 Zucchini fries are a fantastic healthy alternative to French fries. This shouldn't be too surprising. You're using zucchini, after all.
Surprisingly, you end up with a similar crispness to regular fries, even though zucchini fries tend to be baked rather than fried. Baked zucchini is also delicious, which is another reason to try the fries for yourself.
You can play around with the recipe too, such as making vegan or keto-friendly versions of the fries. Why not add some spices to make the flavor combination more interesting?
Curly Fries

Curly fries are a fantastic way to make fries more interesting. After all, regular fries get a bit boring after a while.
Don't worry, you don't need to buy hot greasy curly fries from a fast food joint (although that's a viable option). You can make curly fries at home instead, using a spiralizer or a specialized curly fry maker.
Homemade curly fries can be healthier too, as you can bake them rather than putting them in the deep fryer. You're not limited to potatoes either. Try making curly fries from sweet potatoes instead. These can be even more delicious.
Shrimp Skewers

These treats might not be familiar Super Bowl fare, but they're delicious as a party food, so why not serve them during the Super Bowl? The fact they're on a stick makes life much easier. Guests can hold their food in one hand and don't need to cluster around the table.
For that matter, putting food on skewers is a good Super Bowl hack. This gives guests one hand free and means less mess to worry about.
Cookies

We can't forget about the sweet stuff. You're going to need some sweet treats for the big event too.
Cookies are an easy go-to as most recipes have you making enough cookies to feed a crowd. There are also endless styles to choose from, such as white chocolate macadamia nut, chocolate chip, shortbread, and gingerbread.
Cookies are easy for people to grab and eat. There's no cutlery to worry about and most cookies won't leave eaters with messy fingers.
Sushi

Okay, sushi isn't a traditional Super Bowl food at all. It's probably one that most people haven't even considered.
But honestly, why not? Sushi is one of the best foods to eat with your hands, which automatically makes it suitable Super Bowl food. You can even decorate rice balls to look like footballs, like the ones in the image.
If nothing else, sushi is a healthy choice. It could be a welcome sight amidst all the classic fried dishes.
Taco Appetizers

Don't these little finger foods look perfect? They contain most of the ingredients that you might find in a full taco, except they're served in tiny shells instead.
You could easily tweak the ingredients too. Perhaps you have a different combination of flavors that you'd like to try. And, while the flags make the appetizer stand out, they're certainly not essential. You could skip them or use regular toothpicks instead if the little bites seem too top heavy.
Cauliflower Bites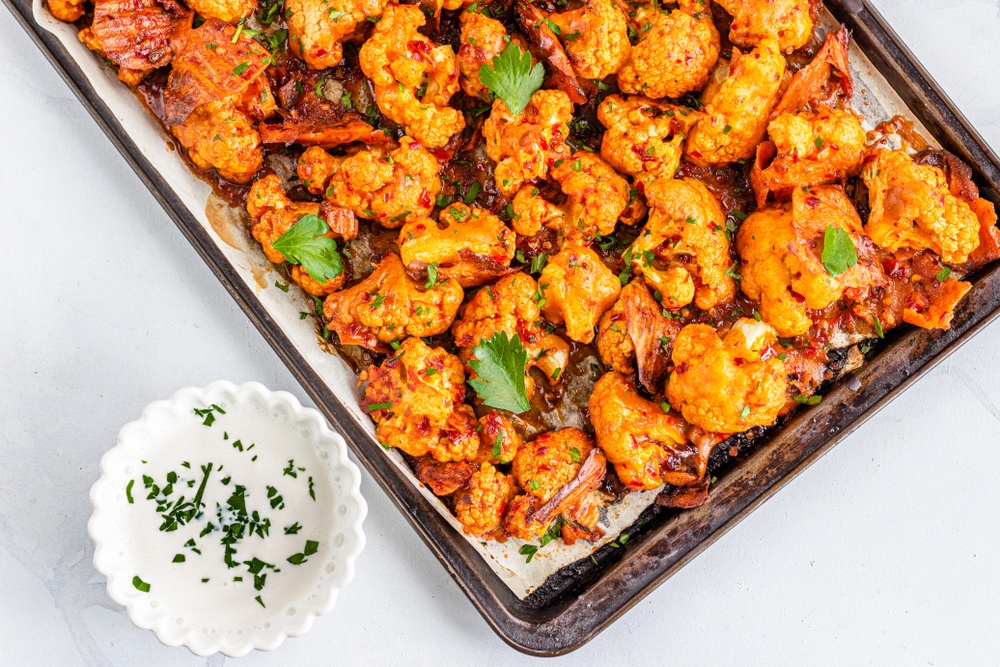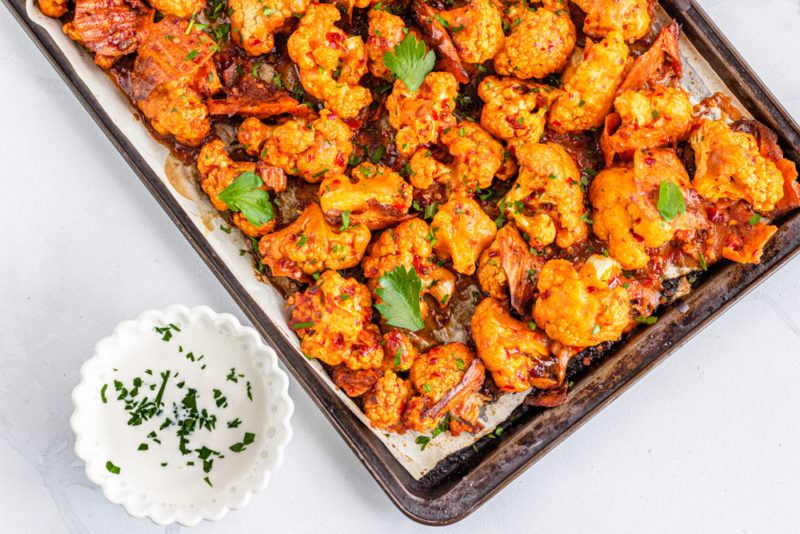 Instead of greasy chicken wings, why not serve buffalo cauliflower bites instead? These snacks rely on baked cauliflower that has been smothered with buffalo spice flavoring. The flavoring makes the bites almost as delicious as chicken wings, but they're much better for you.
There's just one limitation – these are cauliflower bites, not chicken. While they taste delicious, they don't have the same flavor or texture as chicken.
So, if your audience loves chicken wings, you might want to serve the wings and the cauliflower bites. That way each person can choose the snack they prefer.
Zucchini Chips

If you want the crunch of regular chips without the calories, these zucchini chips are a perfect choice. They're often made in a dehydrator, but you can use an oven or even a toaster oven just as easily.
Be sure to add some seasoning too. You could make barbeque flavored chips, salt and vinegar, or almost any other combination. You're only limited by your imagination.