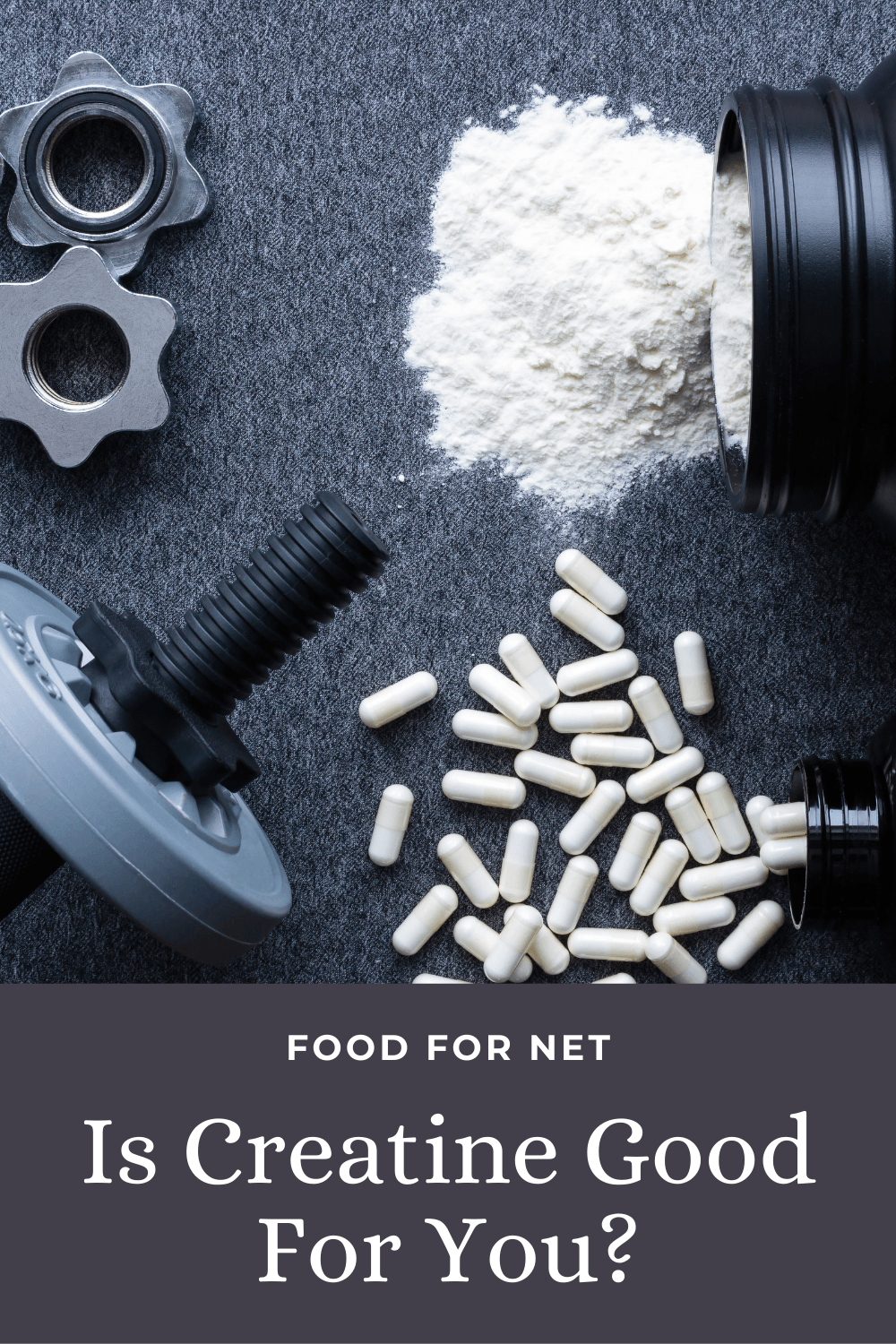 Creatine itself is a natural compound, but it's most well-known as a supplement, often used to increase muscle mass and strength. It's even found in some protein powders. The supplement is also very well-researched, so we know a lot about how it interacts with the body. Even so, we have to ask, is creatine good for you?
Because, here's the thing. Even products that are considered safe can have unexpected effects. Some of these take time to be discovered.
We also can't forget that there are creatine side effects too, including digestive issues, bloating, and dehydration. Such side effects could easily be a problem if they were left unchecked.
It's also important to simply take the time to weigh up the pros and cons of using creatine. Are the proposed benefits worth the risks? Let's take a look.
Is Creatine Good For You?
What Is Creatine?
Why Use Creatine As A Supplement?
How Fast Does Creatine Work?
How Much Creatine Should You Take?
How Creatine Might Help You
The Problems With Creatine
Types Of Creatine Supplements
Creatine Is Not A Replacement For Protein
Final Thoughts
What Is Creatine?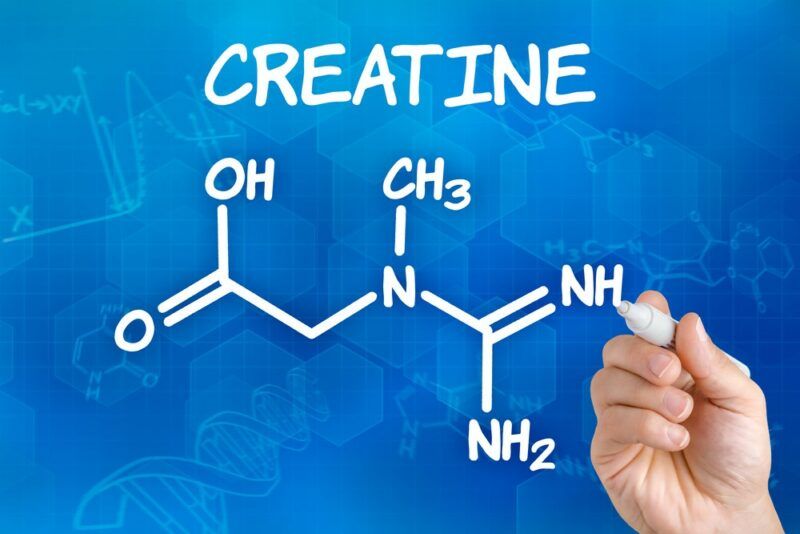 First things first, let's talk about creatine itself. This is a natural compound that our bodies make after we consume protein. Creatine is converted to creatine phosphate, which then plays a role in the development of adenosine triphosphate (ATP).
ATP is vital, as it is part of the main energy-generating reaction in the body. So, you need lots of ATP to have energy, and creatine supplements are an easy way to promote ATP production.
Why Use Creatine As A Supplement?
Creatine naturally occurs in fish and red meat. Our bodies make it after we've eaten protein too, so why even bother with creatine supplements?
The main reason is that the supplements are more efficient. Manufacturers have become exceptional at maximizing the amount of creatine you get from a supplement. Plus, the supplements are low in calories and contain few other ingredients, so they're not going to mess up your diet.
Increasing protein intake, on the other hand, can be tricky. You need to carefully balance the amount of protein you eat with the rest of your diet, while also making sure that you don't consume too many calories.
Creatine has another advantage too – it's an inexpensive supplement. This makes it an easy first-stop choice for athletes.
How Fast Does Creatine Work?
Timing for creatine varies. You might see effects in as little as 7 days or it might take close to a month for you to see any real change.
This difference is largely related to the amount of creatine that you already have in your body. The type of creatine may play a role too.
As with most supplements, it's best to take creatine regularly for a few months before you decide whether or not to continue. This gives your body time to adjust to the supplement and for any effects to be seen.
How Much Creatine Should You Take?
People interested in athletic performance often use a larger short-term "loading dose" to bring their creatine levels up and then a long-term maintenance dose. One example is using 20 grams as a loading dose, for no more than a week, followed by a maintenance dose of 2 to 10 grams of creatine per day.
Those interested in muscle strength often follow a similar regime, although sometimes the maintenance dose may be increased to as much as 27 grams of creatine per day. However, you'll need to experiment to find what's right for you.
How Creatine Might Help You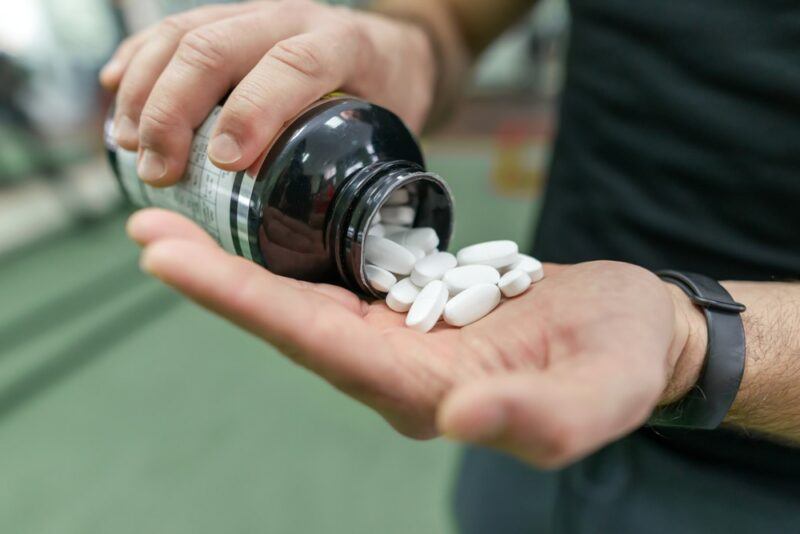 It Can Improve Exercise Performance And Recovery
Creatine has been more extensively studied than most other supplements – and there's a decent amount of evidence for the benefits. Most of these relate to exercise.
One of the main benefits is performance. Studies regularly find that creatine can improve exercise performance. This includes helping to increase muscle strength, giving athletes the ability to lift more weight in the same session.
It can also help to promote improved muscle strength in seniors, especially when combined with resistance exercises.
Promotes Muscle Growth
Another well-studied effect is the way that creatine supplements can promote muscle mass.
Of course, this doesn't mean that you'll start to bulk up just by taking creatine. Instead, the effect means that you may gain more muscle from exercising when you're taking a creatine supplement, compared to exercising when you're not taking one.
This effect, combined with increased exercise performance, is often the reason that people use creatine supplements.
Creatine Is Safer Than Most Alternatives
Athletes have access to many supplements that might help their performance. Some of these are safe, but many others aren't.
Creatine stands out as safe alternative that people can rely on. This could be particularly important for young athletes, as a way to reduce peer pressure.
Plus, the large amount of research means that any serious issues should be quickly identified. Indeed, there's more research for creatine than for most other supplements.
Creatine Comes Highly Recommended
Creatine is one of the few supplements that is regularly recommended. For example, the International Society of Sports Nutrition calls creatine monohydrate "the most effective ergogenic nutritional supplement currently available" and states that the supplement isn't just safe, but it might also help to reduce injury.
Professional sports associations, including the International Olympic Committee, also allow the supplements, making it a safe choice for amateur and professional athletes.
May Decrease The Risk Of Injury
Creatine isn't just a safe supplement. It's also been linked to a lower risk of some exercise-related problems, including muscle strains, injuries, heat illness, dehydration, muscle tightness, and cramping.
This is a powerful effect, as even minor injuries can make it much more difficult for people to achieve their athletic goals.
Could Help With Some Health Conditions
While creatine supplements are mostly associated with sports, they can have other benefits too. Some studies suggest that the supplements can help with neurodegenerative disorders, a category that includes conditions like Huntington's disease and Parkinson's.
The supplements may also be relevant for conditions like osteoarthritis, fibromyalgia, and diabetes. There's even been a link between creatine and improved brain health.
Those are all impressive outcomes, especially as most people take the supplements simply for their exercise performance.
However, there isn't the same evidence for all of these benefits as there is for the exercise-related ones. WebMD even goes as far as saying there is "Insufficient Evidence for" diabetes, fibromyalgia, osteoarthritis, and Parkinson's disease. The "Insufficient Evidence" claim means that there has only been minimal research conducted on the topic and not enough to prove the effects.
The Problems With Creatine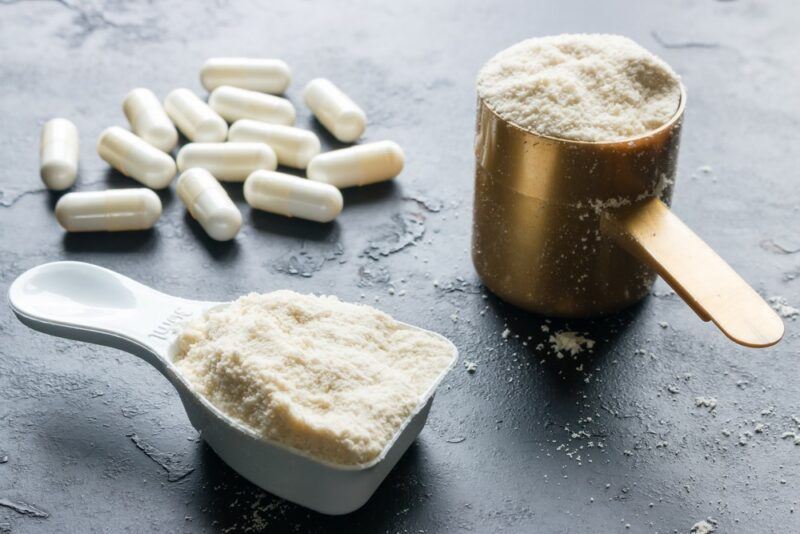 As with most foods and supplements, there's more than one story about creatine. While many people do swear by it and say that creatine is safe and well-worth using, others feel that the supplement isn't a good idea.
Creatine Side Effects
While creatine appears to be safe for most people, there are still some side effects to watch out for.
The main ones are related to your stomach, like having a stomachache or nausea. Thankfully, most people don't experience side effects at all.
Gastro side effects like this also aren't a serious problem. They don't mean that the supplement is harming your stomach at all.
Similarly, despite some myths, there's no evidence that creatine hurts your kidneys – as long as you're healthy (if you have problems with your kidneys at all, then creatine may not be the right choice).
Don't forget that most research into creatine safety and side effects focuses on healthy individuals. The effects could easily be different if you have a health condition or are taking medication. This is why it's always important to talk to your doctor first.
Pay attention to the way your body responds too. This will be the clearest indication of whether the supplement is being helpful or not.
If you do get side effects, try taking the supplement with food and make sure you're getting enough water. This should decrease the risk of any issues.
Can Promote Weight Gain
Taking creatine supplements will increase your weight a little when you first get started. This can be stressful if you're watching the scales, but don't worry too much, as the increased weight is due to extra water, not fat.
May Be Riskier For Some People
While research shows that creatine is a safe supplement, this doesn't mean that it is completely safe for everyone.
One problem is that research studies tend to focus on healthy people. People with pre-existing health conditions, who are pregnant or nursing, or are under 18 are often excluded from studies – especially for supplements like creatine.
This means that there isn't enough safety information for some of these groups.
If you're pregnant or nursing, it's safest to avoid creatine supplements entirely.
Anyone with kidney disease should talk to their medical provider first, as the supplements can easily make kidney problems worse. This is a very important area, as creatine interacts with some medications that can harm your kidneys, increasing the risk of kidney damage.
Also remember that research studies tend to look at their topic in isolation. This means there's little information about how creatine supplements interact with other supplements, over-the-counter medications, herbs, prescription medication, and energy drinks.
In the end, creatine is safest if you are healthy, if you're not taking any medication, and if you tend to avoid other supplements. Even then, it's important to pay close attention to how your body responds. This way you can spot any issues early on.
Supplements Are Not Heavily Regulated
Another issue with creatine is the supplement industry itself. There's surprisingly little regulation and even less enforcement for supplements.
This means that there's no guarantee that your creatine supplements contain the amount of creatine that they claim to. They could also have additional ingredients, be contaminated, or have other quality issues.
You also have little way to know. One creatine supplement looks much the same as the next. You only have the ingredients label to help you figure out which product is best – and this mightn't even be accurate.
The main thing you can do is to look for reliable brands. The best ones will be independently tested by a third party. This gives you the most confidence that the supplement matches the claim from the label.
Creatine Won't Always Be Effective
The marketing and hype that surrounds creatine makes it sound like the supplement will always help with your performance and muscle development. However, this isn't the case at all.
Instead, many of the studies into creatine have found mixed results. These differences in outcomes could have many reasons, including differences in the creatine used, the doses, the type of exercise that was being considered, and more.
The amount of creatine already in your body may also influence how you respond to creatine supplements. For example, meat eaters who consume a large amount of protein often have higher levels of creatine, so they see fewer benefits from creatine supplementation compared to vegetarians.
This means that while creatine helps many people with their exercise performance, you'll need to experiment to find out whether it has any benefits for you.
Creatine is particularly relevant for athletes and bodybuilders because intense workouts require a continuous supply of energy. Creatine helps to make sure the energy keeps flowing for as long as you need it to. Few other compounds are as effective at this goal.
Creatine has another interesting impact too. It can cause you to gain some water weight, perhaps as much as 5 to 10 pounds. That might sound unappealing, but this water can help to promote muscle development. It's even part of the reason that creatine supplements are used by people trying to build their muscles.
Types Of Creatine Supplements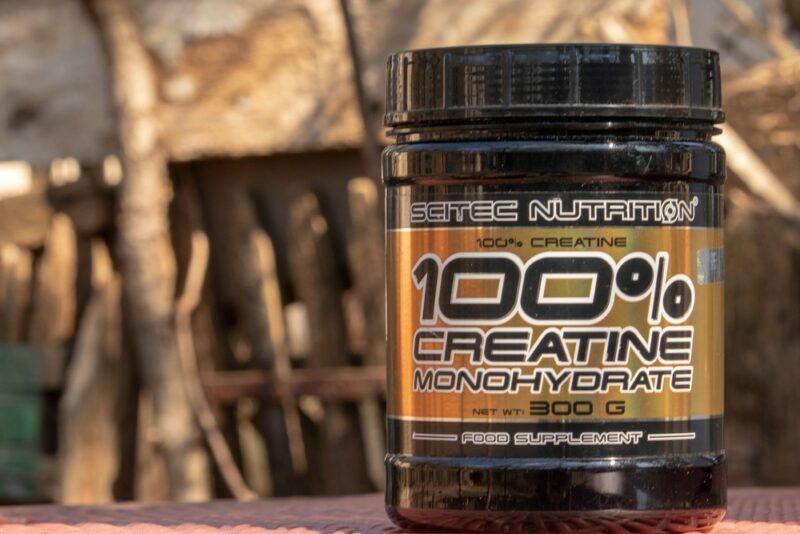 Creatine Monohydrate
This is the most common form of creatine supplement. It generally involves a creatine molecule and a molecule of water, although there are some processing variations.
Creatine monohydrate is significant for another reason too – it's the one that's been studied most extensively.
So, we know that creatine monohydrate helps promote exercise performance, muscle development, and more. There's less evidence about whether other forms of creatine have those same benefits.
There are variations in exactly how creatine monohydrate is produced, giving you slightly different products.
Anhydrous creatine involves the removal of the water molecule. Doing so means that there is more creatine in each dose.
Micronized creatine is a processing approach that could make the creatine more soluble in water. This effect could increase creatine absorption and allow you to see the effects of the supplement faster. However, there isn't much evidence for the true effects of this processing method.
Creatine Hydrochloride
This version of creatine is promoted for its water solubility and ends up being close to 40 times more soluble than the monohydrate version. Once again, the higher solubility could mean that the supplement is more effectively used in the body.
Because of this difference, creatine hydrochloride is often served in smaller doses than creatine monohydrate.
There's another advantage too – creatine hydrocholoride tends to cause fewer side effects than creatine monohydrate. So, if you're getting side effects from the monohydrate version, why not try creatine hydrochloride instead?
However, while creatine hydrochloride appears to be more powerful, it hasn't been researched as heavily. This means that we can't be certain that all the same benefits will be seen with the hydrochloride form.
Kre-Alkalyn
This version of creatine is also known as buffered creatine monohydrate. It's similar to the regular monohydrate form, except a type of basic powder is added.
Adding this buffer could slow down creatine breakdown and increase absorption in the muscles. While one study did show that the supplement was effective, there hasn't been much research focusing on it at all.
And, even if this version of creatine is as effective as creatine monohydrate, it doesn't appear to be any more so. That begs the question, why even bother?
Creatine Ethyl Ester
This is sometimes thought to be the most powerful type of creatine supplement, one that is well absorbed in the body. However, studies have shown mixed results, so the supplement mightn't be as good as first appears.
Creatine Magnesium Chelate
This version of creatine is bound with magnesium. It's most often sold through the brand MagnaPower, although you might find it elsewhere too.
Once again, the point of binding creatine to magnesium is to increase absorption. Doing so could, theoretically, give you more bang for your buck. But, there haven't been many studies for this version of creatine, so we don't know whether it absorbs better or not.
Other Types
There's a variety of other options for creatine out there too, including:
Creatine citrate. Here the creatine is bound to citric acid, which increases the solubility in water.
Creatine pyruvate. This version combines creatine with pyruvic acid. Research suggests that this one isn't any more bioavailable than creatine monohydrate. It may even be less effective.
Creatine malate. This version is bound with malic acid instead. It's an interesting product, as malic acid could help with stamina all on its own. Combining this with creatine could be powerful, although more research is needed. Right now, we know that creatine malate has some benefits, but it's unclear how the supplement compares to creatine monohydrate.
Creatine gluconate. This time the creatine molecule is bound to glucose instead. And again, while the approach could improve absorption, there's no evidence.
Creatine alphaketoglutarate. This product gets shortened to creatine AKG. We see the same pattern again – plenty of bold claims, along with minimal evidence.
You're probably seeing a pattern here. Creatine monohydrate is the form of creatine that's been heavily researched and there's plenty of evidence for it. All the other forms attempt to improve absorption, but there's little evidence about whether they do so successfully.
Which brings us to the main question, are the alternatives worth the effort? While they could be more effective, they could easily be less so. Sticking with the well-researched creatine monohydrate is a more reliable approach.
Creatine Is Not A Replacement For Protein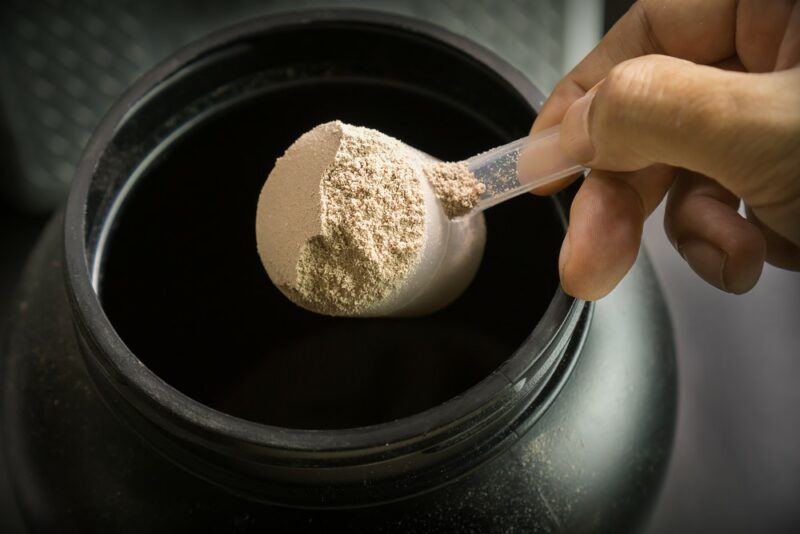 Creatine and protein both offer benefits for strength and muscle development, but you shouldn't choose one over the other. Instead, they are both important and have slightly different functions.
In particular, protein is particularly relevant for promoting muscle repair. This helps you to recover once your workout has ended. Creatine, on the other hand, is more powerful for giving you an energy boost and promoting strength during your workout.
Final Thoughts
There's plenty of evidence for the idea that creatine is safe and effective at improving exercise performance. It could easily give you a boost of energy too, making it easier to hit your goals. Plus, the supplement is approved and even recommended by various sporting bodies. This makes it a more reliable choice than most other types of sports supplements.
However, despite how often creatine is used, it may not be safe for everyone. If you have a health condition, are pregnant, or are under 18, you must talk to your health provider before using creatine regularly.
Don't forget to focus on a high-quality brand too. The lack of regulation in the supplement industry means that some products do not match up to their ingredients' label. Some could even be dangerous.
Frequently Asked Questions
Is Creatine Safe?
Creatine has been tested more extensively than most other sports supplements and is frequently used. As a result, it's one of the safest options out there. You may even be able to take creatine daily for years without issue.
That said, it's still important to watch your dose. The risk of side effects gets higher as your creatine dose increases, which includes the chance of kidney damage. Keep an eye out for any issues too, as we're all different and supplements can sometimes have unexpected effects.
Is Creatine A Steroid?
While creatine is a sports supplement, it isn't an anabolic steroid at all. It doesn't even chemically resemble a steroid. Instead, it's an organic compound that our bodies produce naturally and can be found in some foods.
Does Creatine Give You Energy?
Creatine isn't a stimulant like caffeine, but it can still provide a burst of energy. This happens because creatine is a key part of the body's ATP energy production.
Is Creatine Vegan?
Creatine is generally found in animal-based foods, which means vegans often consume much less of it than vegetarians. However, some creatine supplements are made using synthesized creatine, which makes them vegan-friendly.
Such creatine supplements are a perfect way for vegans to increase their creatine intake and see benefits from the compound.
Is Creatine Natural?
Creatine itself is a natural compound. It's simply an amino acid that our bodies produce, one that's also found in many animal foods. However, the creatine found in supplements isn't natural. It tends to be manufactured instead.
Because supplements are created like this, it's crucial to pay attention to the company they come from. Make sure you're using a reliable product that will help you rather than harm you.