Feeling nauseous sucks, doesn't it? No one would choose to feel like that, yet nausea is incredibly common. Pickle juice has been proposed as one possible solution.
That's not surprising, either, as the juice is a source of probiotics, some antioxidants, and electrolytes, which are all important for health. It's also been associated with a variety of benefits, like promoting liver health and relieving constipation. So, does pickle juice help with nausea? While that idea might sound strange, many people do use pickle juice for exactly this reason. There's even some evidence supporting the approach.
In this article, we're digging into the evidence surrounding pickle juice and nausea. Where and when does the juice actually help? What can you expect from it? Are there any potential issues to be aware of?
The short answer is that pickle juice really might help with nausea. But, this effect isn't guaranteed. The juice could even increase nausea in some situations. It also isn't the ideal treatment due to its acidity and sodium content.
How Might Pickle Juice Help With Nausea?

The Probiotic Content
Probiotics are one of the main reasons that many people drink pickle juice regularly. These little microbes could be powerful for rebalancing our gut microbiome and promoting health in the process.
Because most beneficial microbes live in our guts, it's hardly surprising that consuming probiotics might help to settle our stomachs and decrease nausea.
Probiotics won't just help with nausea in the moment either. By improving the balance of microbes in our gut, they should also help with the functioning of our digestive system. That effect should then decrease the long-term risk of nausea.
Finding these probiotics takes a little work. In particular, to contain probiotics, pickle juice must 1) be from fermented pickles and 2) have not been pasteurized. If you can't find commercial products that do the trick, you might need to make your own pickles instead.
There Are Electrolytes
Electrolytes are important minerals that play various roles in our bodies, including helping with fluid balance. You've probably heard about them, as they're common ingredients in sports drinks like Gatorade.
We also naturally get electrolytes through many foods and drinks, so electrolyte levels normally aren't a problem. However, if you've been exercising heavily, vomiting, or sweating from a fever, your electrolytes could be out of balance. That effect could then contribute to your nausea.
Increasing your electrolyte intake often helps to rebalance your system, which can then decrease nausea and help you feel better. Plus, if the nausea has led to any vomiting, then you're likely to need extra electrolytes.
The Acidity
Acidity in food and drinks is normally unappealing, but it could actually help with nausea. In particular, the acidity can stimulate stomach acid release, which may help to resolve nausea.
This effect is most likely if low acidity in your stomach is the underlying cause of your nausea. If this isn't the case, acidic ingredients like pickle juice could easily make your symptoms worse rather than better.
The Bitterness
Some people find that the bitterness of pickle juice is relevant too. There's something helpful in the way this stimulates the senses on our tongues and seems to knock the edge off nausea.
If nothing else, the intensity of pickle juice could get you thinking about something other than your nausea. Sometimes this effect alone is enough to make you feel better.
It Gets You Drinking More Water
You get some water from pickle juice – just not a large amount, as your serving size is probably small. Still, pickle juice can indirectly increase your water intake, simply because it is salty, so it will make you crave water.
However you do it, getting more fluids in you is crucial. Being dehydrated could even be the reason you're feeling nauseous to begin with, as nausea is a key symptom of dehydration.
You don't need to be severely dehydrated to see this effect either. Many of us are mildly dehydrated without realizing it. That situation can have distinct negative effects throughout our bodies.
You Might Be Getting Some Spices
Pickle recipes often include herbs and spices for extra flavor. You'll see dill and garlic in most recipes, although there are many less common additions too, like caraway seeds, turmeric, black peppercorns, and bay leaves.
These spices contain plant-based compounds, some of which may help with your nausea. Of course, the effects will vary, depending on the specific spices included in your pickles.
The Problems With Pickle Juice

The Sodium Content
The first reason to be cautious is sodium. Pickle juice is very high in sodium, which isn't great, given that many of us already consume too much of the mineral. The high salt content is particularly concerning if you have blood pressure issues or a high heart disease risk.
Even if you're pretty healthy, consuming too much sodium isn't wise at all. Doing so consistently can lead to health issues, including high blood pressure, water retention, and bloating.
Besides, many foods and lifestyle practices can decrease your nausea and plenty of these won't cause issues with sodium at all.
It May Increase Heartburn
Another issue is heartburn.
While pickle juice might help with nausea, its acidity can easily make heartburn worse. This is true for both the fermented and the non-fermented type, as both are acidic.
So, if you're experiencing nausea on its own, pickle juice could be a useful choice. But, if you're dealing with nausea and heartburn, it's best to give the pickle juice a miss.
It Could Increase Nausea Instead
Pickle juice can also have an effect that you don't want – it can increase nausea. This is partly because of the saltiness and acidity, which can irritate your stomach. You might also be sensitive to some of the ingredients used, particularly if the recipe relies on a variety of herbs and spices.
Unfortunately, the impact on nausea isn't predictable. You'll need to experiment with pickle juice to see whether it helps with your nausea or whether it makes everything worse.
You're Not Addressing The Underlying Problem
Using pickle juice for nausea is a little like taking antiacids – you're reducing the symptoms, without really looking at the underlying cause.
This practice is fine if you only deal with nausea every so often or if your nausea has an obvious and non-concerning cause (like eating too much during dinner). But, if you deal with nausea regularly, there could be a more serious condition at play.
So, it's important to pay close attention to how often you're nauseous and the potential causes. If you get the symptoms often, you may need to cut back on the pickle juice and talk to your doctor instead.
There's Minimal Evidence
Some research and personal anecdotes suggest that pickle juice really is effective for reducing nausea. However, more studies are needed before we can be confident about the effects of pickle juice.
This research is important as pickle juice doesn't help nausea in every situation. Some people get no relief at all, while others may find that the juice makes their symptoms worse, not better.
Should You Use Pickle Juice For Nausea?

Okay, so pickle juice seems to help some people with nausea. There's another question though, should you be drinking it regularly?
In many cases, the answer is yes. Pickle juice does have other benefits such as offering electrolytes and antioxidants, helping with blood sugar levels, and perhaps even easing muscle cramps.
However, it's important to be wise, as pickle juice is acidic and high in sodium. These features could easily make some health problems worse, rather than improving anything. Be particularly wary if you have high blood pressure or at increased heart disease risk.
Beyond that, the benefits of pickle juice for nausea haven't been strongly proven. Sure, there's some evidence, but much more research is needed before we know anything for certain.
All of this means it's important to be wise. If you're going to try pickle juice, consume three ounces a day or less and pay close attention to how your body responds. If you experience a lot of side effects or other issues, it might be time for a different approach.
Which Type Of Pickle Juice Is Best?
Pickle juice can be created in two ways. The first involves fermenting cucumbers in a salt-based brine, while the second relies on vinegar instead. Both types can include extra ingredients, particularly spices, to change the flavor profile and add additional benefits.
The fermented type is easily the most powerful option for reducing nausea, as this can contain probiotics that help to balance your gut microbiome. This type of pickle juice is still acidic, so it has many of the benefits of vinegar-based pickle juice anyway.
However, it's important to make this pickle juice yourself or look for a high quality product (like from a pickle of the month club). This is because many commercial jars of pickles rely heavily on additives and even artificial ingredients. The company may also pasteurize the pickles, which kills any microbes in the pickle juice.
Do Pickles Help With Nausea?
We've talked about pickle juice, so what about pickles themselves? They still provide you with probiotics and some electrolytes, which could give them some anti-nausea effects.
The fiber in pickles is relevant too. After all, fiber helps your digestive system to function well. Not getting enough fiber could easily contribute to nausea, while increasing your fiber intake helps to get everything back on track.
Pickles still have the same issues as pickle juice, particularly their sodium content and acidity, so it's important to be wise with the amount you consume.
What Else Reduces Nausea?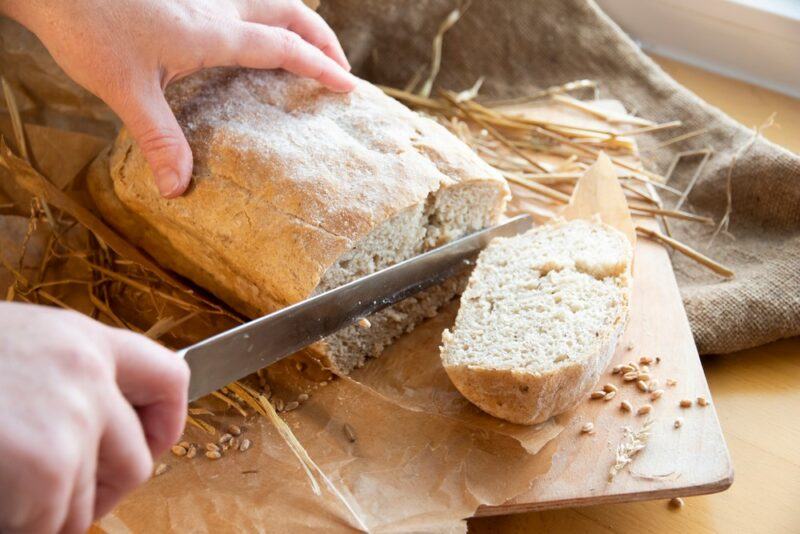 Don't worry if pickles or pickle juice aren't quite right for you. Plenty of other foods and drinks can reduce nausea as well, including the following.
Ginger
This little root packs a punch and is one of the most well-known ways to fight nausea. The effect seems to come from the compound gingerol, which promotes digestion and helps food to pass through your gut more effectively.
Try using ginger in a hot drink, perhaps with other healthy ingredients, like turmeric or green tea. You can also make a ginger shot, which gives you a concentrated hit of the spice.
Bread And Crackers
Bread, crackers, and similar foods work well for nausea, as they're bland and easy to digest. These features are particularly important if you're so sick that it's hard to eat anything.
The starchiness of these foods also helps to absorb some of the extra gastric acid in your stomach, helping you to feel better. Beyond all of that, these foods help because they knock the edge off your hunger. This is crucial, as being hungry tends to increase nausea.
Oatmeal
Oatmeal is starchy and bland as well, so it's another excellent choice when you're feeling ill. Beyond this, oatmeal is a rich source of fiber and nutrients. Those features should help to get your digestive system functioning well again.
However, the type of oatmeal makes a big difference here. Try to avoid instant oats, particularly flavored ones. While these products are convenient, they're typically high in sugar and may contain undesirable additives as well.
Yogurt
If you're not sensitive to dairy, then yogurt is an excellent alternative to pickle juice. The trick is to look for a product that contains active cultures, as this will give you plenty of probiotics to help with your nausea.
Keep an eye out for kefir too. This is a fermented milk drink that is a little like drinkable yogurt and can be fantastic for soothing nausea.