Pickle juice is becoming increasingly famous. It's no longer just the juice that surrounds your pickles but is instead a healthy tonic that may be relevant for muscle cramps, nausea, constipation, and much more. You might even use it to fight a hangover. With all these potential benefits, learning how to make pickle juice is incredibly powerful.
Sure, you could buy pickles every time you want pickle juice, but that gets frustrating fast. The approach can be expensive too. Making your own also allows you to completely control the flavor of the pickle juice, which is fantastic.
As you've probably guessed, the goal here is to make a jar of pickles, then use the juice. You can't make authentic pickle juice any other way. But, don't worry. Pickles are easy to make and you'll find plenty of uses for them.
Once you have your pickle juice, there are plenty of things you can do with it. You can even use it to make a marinade, include it in deviled eggs, make pickle juice vodka, or make pickled eggs.
An Introduction To Pickle Juice
Pickling is a method of preserving vegetables, either using a saltwater brine or an acidic solution like vinegar. The saltwater brine approach involves lacto-fermentation, where microbes turn sugars in the vegetables into lactic acid. This creates an acidic solution that helps with preservation.
There's no fermentation in the vinegar-based approach to making pickles. Fermentation isn't needed either, as the vinegar is acidic enough on its own.
Pickling is an excellent way to preserve vegetables, resulting in a much longer shelf life. The pickled vegetables also taste delicious and are popular in their own right.
Now, the term pickles technically refers to any type of vegetable preserved in this way, including pickled cucumbers, beets, cauliflower, or cabbage. However, in the United States, we mostly talk about pickles as being pickled cucumbers – so that's the style we're talking about today.
Similar steps apply to other types of vegetables as well, although you may need to tweak some of the ingredients and quantities.
As for pickle juice, well, that's simple. This is just the liquid that surrounds your pickles. It gets flavor from the pickles themselves, plus any other ingredients you add, and can taste seriously delicious.
How To Make Pickle Juice

What You'll Need
Let's begin with the basic ingredients. We're not focusing on quantities here, as these will vary depending on the flavor profile you're looking for.
Cucumbers
Cucumbers are the basic ingredients for pickles, but you need the right type of cucumbers. You're looking for ones that are small and have thin skins. The best varities also have few seeds and their flesh tends to be dry and pretty firm.
These features allow the cucumbers to take on the flavors of your brine without being too soft in the process. Kirby cucumbers are a popular choice for pickling, although this is just one of many options.
It's often best to simply ask at a local farmer's market or grocery store. Someone should be able to point you in the right direction. You can also pay attention to the name of the variety. This works because some varieties were selectively bred for pickling and this may be reflected in their names, such as Boston Pickling, Parisian Pickling, or National Pickling Cucumbers.
While pickling cucumbers are best, you can actually use regular cucumbers if you want to. Doing so gives you softer pickles, but that mightn't matter if you're mostly interested in the pickle juice anyway.
Herbs And Spices
There's an almost endless list of possible herbs and spices, which all have different flavor impacts on your pickle juice. Dill and garlic are the most common additions here and you'll see them in most pickle recipes. We'll cover some of the other herbs and spices later in this post.
Other Ingredients
Here's where things get interesting. The other ingredients you need will vary depending on the type of pickles you're making.
For fermented pickles, you'll be using a combination of salt and water, while vinegar-based pickles rely on vinegar, salt, and water instead. Both recipes may include sugar or another sweetener to help offset the saltiness.
The amount of salt is incredibly important for fermented pickles, as the concentration of your salt brine strongly influences the fermentation process. Vinegar-based recipes are more flexible, as the salt is just used for flavor.
Jars
You're also going to need some jars, ideally ones designed for pickling. Jars with a wide mouth and a tight fitting lid work the best. Getting a good fit with the lid is crucial, as you need to keep air out of the jar. Make sure the jar is also large enough for the cucumbers you want to use.
Many people turn to mason jars or to similar designs with plastic instead of metal lids. Thankfully there are plenty of products out there. You can probably find some at a local thrift store as well.
How To Make Vinegar-Based Pickles

Let's begin with vinegar-based pickles, as this is the simplest style. They're often called refrigerator pickles, as they're stored in the fridge. These are what you'll prepare if you want pickle juice quickly.
1. Prep Everything
The first step is to wash and trim your cucumbers. Make sure you remove the flower end from the cucumber too, as leaving this will make your pickles too soft.
You'll then pack the cucumbers into the jar, along with any herbs and spices you're planning on using. Some people lay the jar on the side and place a layer of cucumbers in, then the spices, then another layer. You can follow your own preferences here.
Once the ingredients are in the jar, you compress them. The goal is to have around half an inch of space at the top of the jar.
Do You Slice The Cucumbers?
This entirely comes down to personal preference. You can choose whether to add the cucumbers to jars whole, make them into spears, or focus on small slices. These styles all taste delicious. The best one really depends on how you want to use the pickles.
That said, if you're just after pickle juice, it makes sense to keep the cucumbers whole. Slicing them up takes extra time and can be frustrating if you're making a large batch of pickles.
2. Make The Brine
Now, you need the liquid. This normally involves heating the vinegar, salt, and water in a small pot. Doing so allows the salt to dissolve and melds everything together nicely. However, if you're in a hurry, you may be able to simply mix the ingredients together instead.
Some recipes add the spices in at this point instead of placing them in the jar with the cucumbers. Doing so helps to infuse the spice flavors into the brine, but isn't essential (you'll get great tasting pickle juice either way).
3. Combine The Two
Once everything has been heated for a few minutes, you simply need to take the pot off the heat, cool the liquid, and add the liquid into the jar. After this, seal the lid and refrigerate the jar. The pickles and pickle juice should be ready after 24 hours or so.
How To Make Fermented Pickles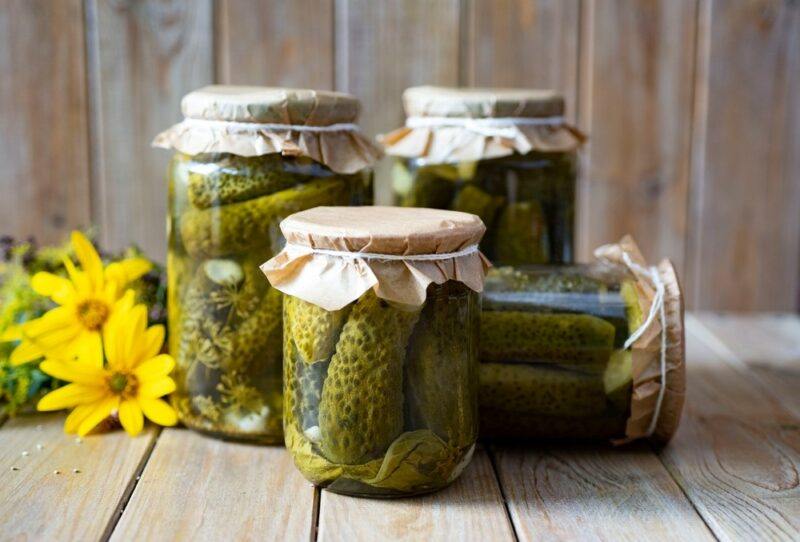 1. Prep Your Jar
Then there's fermented pickle juice. You begin the same, by washing and trimming your cucumbers, then getting them in the jar.
2. Make The Brine
The first difference is that here you're using a salt-based brine, rather than relying on vinegar. The ratio of salt to water varies depending on the recipe you're following and your own preferences. However, you're often looking at between a 3% to 5% salt solution (that's 30 to 50 grams of salt in each liter of water).
My Fermented Foods offers a fantastic brine calculator that will tell you the amount of water and salt you need for any brine concentration, in whatever units you want.
Lower concentrations of salt are helpful for longer fermentations and complex flavors. If you want a shorter fermentation instead, then more salt is needed.
You can make your brine over the stovetop just like before, with water, salt, and perhaps some sugar. Be sure to avoid vinegar, as this will mess with fermentation.
3. Let The Pickles Rest
Once the brine has cooled you can pour it into the jar. However, you may need to use fermentation weights or something similar to make sure the cucumbers stay below the level of the brine.
Then, the jar should be loosely covered and placed in a cool dark place. Make sure there's a container under the jar, as the liquid should bubble and overflow as it ferments.
Check the jar regularly. You're looking for bubbles and a cloudy brine. These are both signs of fermentation. Once you see some of these signs, you can transfer the jar to the fridge. Putting the pickles in the fridge doesn't stop fermentation, but it does slow everything down.
Or, if you're looking for tangy pickles, you can leave them at room temperature for a few days longer. Even if you're following a recipe, it will take some trial and error before you discover the fermentation length and salt ratio that creates the results you want.
4. Don't Forget The Gases
You have a few options for gases from fermentation. One is to keep the lid tight and 'burp' the jar every week. This gives you fairly fizzy brine, while stopping the pressure from building up too much. Using an airlock system works well too.
Alternatively, you can simply leave the lid loosely on your pickle jar. Doing so makes the brine a little less fizzy, but also means you don't need to keep worrying about it.
Ways To Tweak Your Pickle Juice
We've covered the basic steps for making pickles, but there's a ton of space for variation. Most of the differences come down to the specific herbs and spices you use. Here are some of the most interesting ones and how they can change the flavor of your pickle juice.
Black pepper. Many people use whole peppercorns in their pickle recipes. These provide an appealing flavor, without the intensity of ground. You don't need to stick to black peppercorns either. Why not experiment with white peppercorns or mixed peppercorns instead?
Bay leaves. These serve two functions. First, they add a slight herbal flavor to your pickles, which often works well. The bay leaves also inhibit some enzymes that soften cucumbers, giving you crisper pickles than you'd get otherwise.
Turmeric. This spice isn't as common in pickles but provides an interesting bitter and earthy element to the flavor profile.
Yellow mustard seeds. These little seeds are an easy way to boost the flavor of your pickles. They're perfect if you love the taste of mustard.
Apple cider vinegar. This is often used in conjunction with regular vinegar and offers an interesting fruitiness. Apple cider vinegar is also associated with health benefits, so it's powerful from that perspective too.
Chili. Chili is a fantastic way to make spicy cucumbers more interesting. Chili flakes are particularly common, but you could also use chili oil instead or even pickle a chili along with your cucumbers.
Cinnamon. This adds a subtle sweetness to the flavor profile and can be helpful for your blood sugar levels too.
Jalapeno. You can add other vegetables into your pickle recipe too, including jalapenos. Doing so gives you delicious jalapeno infused pickle juice.
There's also the sugar level to think about. Some recipes use a large amount of sugar, which gives you fairly sweet bread and butter pickles. Others drop the sugar level down, which creates a sweet-sour flavor balance instead.
Pickle Juice Recipes
If you're looking for more details about ingredients, ratios, and timing, check out these recipes. They're delicious and show you just how many ways you can mix up the recipe for pickled cucumbers.
Refrigerator Bread And Butter Pickles

These pickles come from browneyedbaker.com and follow the bread and butter style. This makes them sweeter than normal and makes the pickle juice a little easier to drink.
The recipe is vinegar-based and is more complex than most. It even features two types of sugar, two types of vinegar, and a variety of spices. This combination of ingredients gives you a nuanced and interesting flavor profile.
This is also a great recipe for beginners, as it is fast and easy. No canning is needed and the entire process only takes around three hours (most of which is resting time).
Best Homemade Refrigerator Pickles

This recipe comes from aspicyperspective.com. It's a second example of the vinegar-based pickle style. The recipe uses some sugar, but not a large amount.
The amount of sugar chosen is enough to balance out the savory nature of the pickles, without making the juice too sweet. There are some other interesting ingredients as well, which add to the flavor profile.
Fermented Pickles With Garlic And Dill

This recipe comes from Sylvia from feastingathome.com. As the name suggests, these pickles follow the fermented style, rather than relying on vinegar. This leads to a more complex recipe, but one that is still worth the effort.
The recipe is fantastic for beginners, as the instructions are clear and there are plenty of images to guide you. Sylvia also includes a fantastic selection of spices. These create a truly exciting (and unusual!) flavor profile.
Fermented Vs Vinegar-Based Pickle Juice
Pickle juice recipes vary considerably in flavor and style. Yet, the biggest difference is whether the pickles were fermented or simply made in vinegar. The two approaches are similar, but have distinct differences too.
Nutritional Differences
Fermented pickles are often seen as the healthiest, as they're packed with probiotics. They're often more nutritious as well, with higher amounts of some vitamins and enzymes. Vinegar-based pickles don't offer any probiotics, although there are still antioxidants from the spices.
That said, vinegar does provide some health benefits of its own. These include helping with weight loss, decreasing blood sugar, and balancing blood sugar levels. So, vinegar-based pickle juice doesn't need to be avoided entirely.
Their Flavor
Fermented pickles tend to have a more complex and interesting flavor profile than vinegar-based pickles. You'll often notice distinctly tangy and fruity notes, while pickles made with vinegar tend to be more acidic instead.
Fermented pickles also change in flavor as they ferment. As a result, they may taste quite different when you first ferment them versus when they've been left for a few months or longer. The texture also tends to become softer with extended fermentation.
Practical Differences
Fermented pickles (and pickle juice) often taste better and give you powerful probiotics. But, vinegar-based pickles are the clear winner for practicality. They're much faster to make, will last longer in the fridge, and aren't going to make a mess.
Plus, if you're using pickle juice in cocktails, deviled eggs, or a complex recipe, the flavor difference between fermented and vinegar-based juice won't matter much at all.
Can You Buy Pickle Juice?
Many companies have cashed in on the pickle juice trend and sell pickle juice on its own. Such products range from tiny pickle juice shots all the way to gallon jugs of pickle juice.
However, many companies provide little information about how their products are made. Some companies may be simply replicating the flavor of pickle juice, rather than actually making pickles and selling the juice.
If you're going to buy pickle juice this way try keeping an eye on the ingredients list. For example, Best Maid Dill Juice includes Yellow #5 and natural flavors, which isn't ideal.
You could also look for a brand that sells decent pickles, like Mt. Olive. The company knows what it's doing with pickles, which should mean their pickle juice is decent too.