Steak is incredibly popular, which isn't surprising, given that it's delicious and packed full of flavor. Despite that popularity, steak can also be pretty confusing. How do you cook it, what do you serve with it, and what are the different types of steak?
There are a few things to consider here. For one thing, the term steak can refer to meat from many types of animals, as long as it is cut across the grain. That's why you can have venison steaks and pork steaks. Most people talk about steaks from cows, though, which is also the focus of today's post.
There's also what the animal was fed to consider. Steak from grass fed animals is often considered healthier, as the meat is lower in saturated fat. Feed, living conditions, and other factors influence the fat in meat, the amount of marbling, and even the flavor
Then there are the cuts of steak, which is the area we're focusing on today. There's a large variety of steak types to choose from, including the tender filet mignon and sirloin, the lean skirt steak and flank steak, plus the bone-in steaks, like porterhouse and T-bone.
The best type of steak is influenced by what you enjoy and how you plan to cook it. In particular, fatty cuts of steak tend to be more flavorful, while lean steaks have a little less flavor but have a more uniform texture. Lean steaks may also need some type of marinade to ensure they don't become tough and dry once cooked.
19 Types Of Steak
Skirt Steak

Skirt steak is long, thin, and flat, and comes from the plate section of the cow. The thinness makes it very easy to overcook this cut, so you need to be ultra-cautious about cooking time.
Even if you keep the cooking time short, skirt steak often becomes tough. That's partly because it is covered in a tough membrane and also because it's lean and thin. Marinating the steak before cooking it helps, making the steak much more tender and enhancing its flavor profile.
Once marinated, this is a fantastic cheap steak for when you're on a budget. The low fat content also means it is especially high in protein, which is great for keeping you satisfied.
Flank Steak

Flank steak and skirt steak are similar to the extent that you can replace one type with the other in many recipes. Both are lean, thin, tough, and best marinated before they're fried.
Another shared feature is the fibers in the meat, which are part of the reason that skirt steak and flank steak are so tough. Cutting the steak thinly against the grain gives you more tender meat that is also full of flavor.
Flank steak and skirt steak are both common inclusions in stir-fries and fajitas. Yet, despite their similarities, the two cuts of steak come from distinct parts of the animal. Skirt steak is from the plate section, while flank steak is from the abdominal muscles instead.
Strip Steak

Strip steak goes by a surprising number of names, including Kansas strip steak, New York Strip steak, hotel-style steak, and more. Regardless of the name, the steak is always cut from the short loin. It's generally tender and flavorful, with a decent amount of marbling. As such, you have plenty of flexibility for cooking the steak and shouldn't need to marinate it.
One interesting difference is the bone. While strip steak is often boneless, some butchers do cut it with the bone attached. The bone-in version is sometimes called Kansas City strip, but not always, so don't rely on that terminology.
If you want your strip steak cut a particular way, try asking your butcher. They may also have tips about differences in how the bone-in style cooks compared to the boneless.
Tenderloin

The tenderloin is a long and thin cut of steak that comes from the tenderloin muscle. This muscle runs along the cow's spine. It has little connective tissue or fat and is very tender, making it a very desirable cut of meat.
Because the tenderloin is narrow, steaks from the tenderloin tend to be thick. Combining direct and indirect heat works best for cooking them (a reverse searing approach is fantastic here). Otherwise, you risk the outside of the steak being overcooked, while the center is still raw.
Features of the tenderloin steaks are slightly different depending on where in the tenderloin the cut was taken. The famous filet mignon is the most tender. Other cuts are still tender, just not quite as much.
T-Bone Steak

Few cuts of steak are as famous as the T-bone, perhaps because it looks so very impressive. The steak is cut from the short loin and includes the namesake T-shaped bone.
Notably, T-bone steak features two different cuts of meat. The larger cut is a strip steak, while the small one is a tenderloin instead. These two cuts make the T-bone a pleasure to eat, giving you variation in texture and flavor.
However, the steak can be a little tricky to cook, as the tenderloin section cooks faster than the strip steak. The meat also shrinks as it cooks, which is frustrating when you're preparing it on the grill.
Porterhouse Steak

Then there's the porterhouse. You'd be forgiven for thinking that this is simply a T-bone steak, as the two do look similar. They're even both cut from the short loin.
The difference lies in the location of the cut, as porterhouse steak is cut from the rear, while T-bone steak is cut from the front instead. This location difference means that porterhouse steak has a larger section of tenderloin steak.
The extra tenderloin makes porterhouse even more desirable than T-bone. It also means you're basically getting two steaks at once, which is undoubtedly impressive. Still… the tenderloin is an expensive cut of meat, so porterhouse ends up being even pricier than T-bone steak.
Because this is such a large steak, the porterhouse is best reserved for when you're incredibly hungry. Otherwise, it's just a waste.
Filet Mignon

Tenderloin and filet mignon are sometimes described as if they were the same cut of steak. However, that's not exactly true.
In particular, the tenderloin is a large thin muscle, while the filet mignon is a small cut that comes from the short loin end of the tenderloin. This cut tends to be round and thick, often with a diameter of no more than two and a half inches.
Filet mignon is both tender and expensive, yet can be disappointing, as the low fat content means the steak has little flavor. Wrapping bacon around the filet mignon is one way around the problem, as the bacon provides plenty of flavor and looks good as well.
Top Sirloin Steak

Sirloin steak is a well-known cut that comes from the top of the cow at the back, running between the short loin and the round. It's a famous and popular area that leads to many tender and flavorful cuts, including the top sirloin and sirloin tip. However, all steaks from this part of the animal can also simply be called sirloin steak. You'll sometimes see them sold as such.
Not surprisingly, top sirloin comes from the top of the sirloin. It's a popular cut, partly because it offers decent flavor and tenderness, but isn't as expensive as some other steak cuts, like tenderloin. The steak is even tender enough to grill as it is, rather than needing to be marinated first.
Tri Tip

There's a cut called top sirloin, so the presence of bottom sirloin shouldn't be a surprise. Bottom sirloin isn't as tender as top sirloin, but it's also less expensive, which makes it appealing. Most of the time, you'll see bottom sirloin sold as one of three cuts: flap steak, tri tip, or ball tip.
Tri tip gets its name from the triangular shape of the cut. And, despite coming from bottom sirloin, the cut is becoming increasingly popular.
The cut responds well to high heat cooking, making it an excellent choice on the grill. Marinating it first increases the tenderness, although some people skip the marinade and simply cook the steak as-is. Once cooked, it's best to slice the tri tip thinly against the grain. This makes it as tender as possible.
Flap Steak

Flap steak comes from the bottom sirloin. It has similar features to skirt steak and flank steak, in that it is a thin and fibrous cut that can be tough if not prepared well. All three types respond well to being cooked over high heat and then thinly sliced against the grain.
However, flap steak generally has more fat and marbling than the other two types. Those features make flap steak an appealing option, but if you can't find it, then flank steak and skirt steak are good alternatives.
You may also see this cut called bavette or the butcher's cut. You're not likely to find this one in grocery stores, but some butcher shops may offer it.
Sirloin Tip

This cut's name suggests that it comes from the tip of the sirloin. Yet, it is actually a cut of round steak instead. It tends to be tougher than the sirloin, but cooks up a treat after it has been marinated.
Because the steak is lean, it's best not to overcook it. You can also slice it thinly after it has been cooked, making it easier to eat and more enjoyable.
Ball Tip

The ball tip is a similar cut to the sirloin tip, just taken from a slightly different location. Ball tip steak tends to have more fat, which improves the flavor. Despite this, ball tip steak tends to be tougher than sirloin tip.
Like the sirloin tip steak, you'll need to use a marinade or tenderizer to make ball tip steak tender enough to use. It's also best to stick with medium or rarer, as cooking the steak further than this risks drying it out.
Still, if you cook it well, ball tip steak can be delicious and versatile. You'll often see it used in stews and fajitas, where it can be just as good as one of the more expensive steak cuts.
The ball tip and sirloin tip are also surprisingly confusing cuts. There are mixed definitions online about exactly where these cuts come from and what you can expect. Some people even treat the sirloin tip as simply sirloin steak, while others say the sirloin tip is actually taken from the round instead. As a result, you may need to talk to your butcher to find out where your ball tip or sirloin tip is actually taken from.
Top Round Steak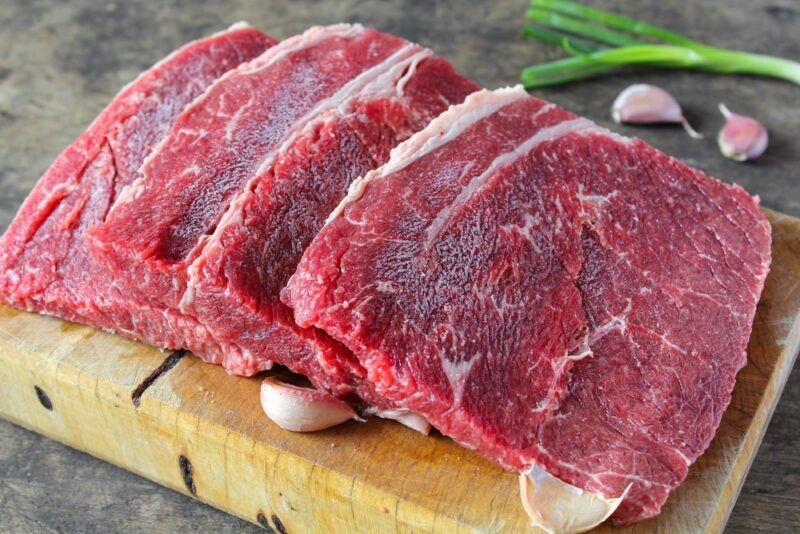 Now we're up to the round, which is beef cut from the cow's rear leg area. The meat here tends to be lean and tough, with a relatively mild flavor. However, round steaks are also inexpensive and work well in some meals, such as beef stroganoff and Swiss steak.
Top round steak comes from the top of this round section. It's the most flavorful and tender type of round steak, although it's still a round steak, which makes it tougher than many other steak cuts.
Most of the time, you'll want to cook this steak using a moist heat technique, such as slow cooking it or stewing. Otherwise, the meat will become dry, tough, and chewy. Still, if you cook the steak carefully and perhaps marinate it first, it can be delicious and worth a place on your dinner table.
Eye Of Round

The eye of round cut is a different story. This comes from the center of the round and tends to be circular and thin. It's a fairly unattractive cut of steak, as it is typically tough and low in flavor. Still, it's versatile, inexpensive, and can taste good if you put the work in.
Cooking eye of round in the slow cooker is a fantastic way to keep it moist and tender. Roasting it is possible too, although you'll need to cook it slowly and keep an eye on it as you go. That said, eye of round can be good for grilling, especially if marinated, because it cooks evenly and consistently.
Bottom Round

The bottom round is exactly what the name suggests – a cut of steak from the bottom of the round. While this is tougher than the top round, it also tends to have a little more moisture and fat. That fat and moisture make the steak a little easier to work with.
Slow cooking is a good option here too, as doing so provides plenty of moisture and keeps your meat tender. You can still use high heat cooking techniques, like when cooking steak in a stir fry. Marinating the steak helps here, as most marinades provide extra flavor while keeping the meat tender.
Tomahawk Steak

A tomahawk steak is well named, as it really does look like a tomahawk, complete with a bone for the handle. The unusual-looking steak is actually just a ribeye with the bone still attached.
Including the bone makes this cut look fantastic and may add some flavor to the meat. However, the bone also makes cooking more difficult, especially as the steak also tends to be thick. You may need to combine high heat and low heat cooking methods to ensure that you don't burn the bone while trying to cook the meat.
Ribeye

Ribeye is one of the most famous and popular cuts of steak, and it's easy to see why. The steak's marbling provides it with plenty of flavor, giving you a steak that's both tender and juicy.
This is also an excellent steak for beginners, as the fat keeps it tender, even if you accidentally overcook the meat. Seasoning it well makes the steak taste even better. Try cooking the steak with coarse salt, butter, and fresh rosemary. Your finished meal should be truly amazing.
Ribeye Cap
Ribeye cap is a fairly obscure steak cut that's hard to find and expensive. But, it's worth hunting for, as it's a stunning cut of meat (and one of my personal favorites!).
In particular, ribeye cap has all the fantastic flavor that you find with ribeye steak, while being much more tender. This combination of flavor and tenderness is rare, making ribeye cap a truly sought after cut. Because the steak is so tender, there's no need to marinate it. Even seasoning can be kept to a minimum, as the steak has so much natural flavor.
The cut is made by basically carving off the outside layer of ribeye, creating a thin strip of tender steak. Ribeye cap is often rolled and tied with twine, creating a similar shape to a filet mignon.
Hanger Steak

Like flap steak, hanger steak comes from the lower part of the cow. But, while flap steak comes from the bottom sirloin, hanger steak is cut from near the diaphragm instead.
It's a challenging cut to find, one that isn't normally sold in supermarkets. If you do buy it, often from a butcher shop, there's a membrane in the middle that should be removed before cooking. The steak has features in common with flank steak and skirt steak, as it is another long, thin, and fairly tough cut of meat. Marinating it before cooking helps with the tenderness. Even then, it's best to cook it no further than medium or it will become too tough.
Frequently Asked Questions
What Are The Cheapest Cuts Of Steak?
The price of steak is influenced by supply and demand, so it naturally shifts over time. However, tough cuts of steak like skirt, flank, and flap tend to be the least expensive, as are the various round steaks.
What Are The Most Tender Cuts Of Steak?
Filet mignon and ribeye cap are the most tender cuts of steak on the market, although they tend to be expensive. Top sirloin steak and tenderloin steak are contenders too. While these aren't quite as tender as filet mignon and ribeye cap, they are much more affordable.
Is Steak Healthy?
There's a ton of debate on the health impacts of red meat. In short, red meat is high in saturated fat and has been associated with an increased risk of cancer, but those risks are related to the amount you consume. Having small portions of red meat periodically may still be good for you, especially as steak is high in protein and nutrients.
What Should You Serve With Steak?
You'll usually serve steak with one starchy side (like potatoes or rice) and one vegetable-based side (like green beans). However, there's no shortage of different sides to consider. Some less common sides include macaroni cheese, stuffed mushrooms, fried rice, or even fries.
What Are The Leanest Cuts Of Steak?
Flank steak and skirt steak are lean, as are most cuts of round, even top round. Because of the low fat content, lean steak often needs to be marinated and cooked carefully to stop it from becoming too chewy. Filet mignon is an exception to that pattern, as it is both lean and incredibly tender.