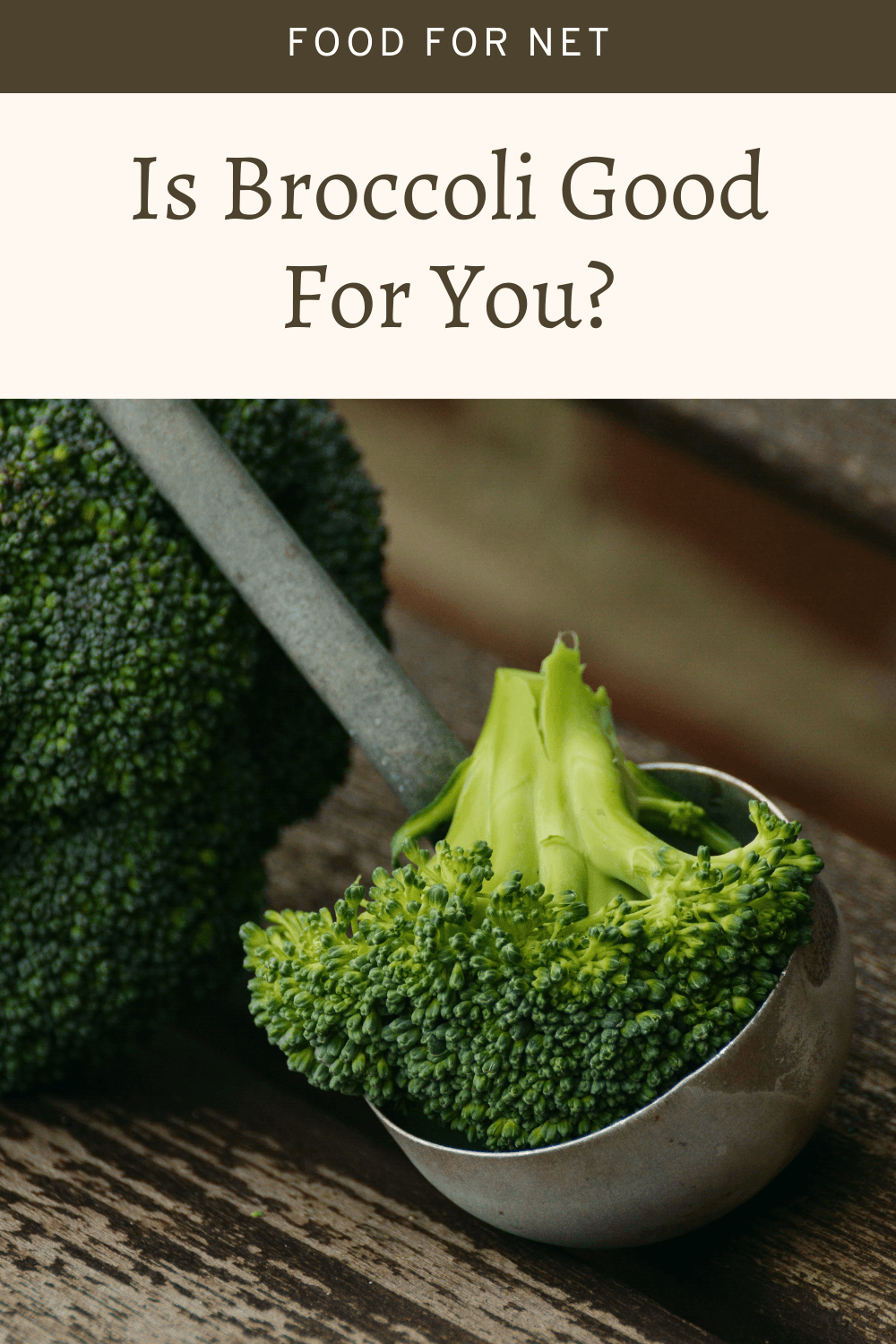 Is broccoli good for you? This is a funny kind of question to ask, as broccoli is somewhat famous for its health benefits. It's one of those vegetables that we were told to eat as kids, even though most of us really didn't want to. But is broccoli good for you, or is this just "common sense" that hasn't really been put to the test..
We shouldn't just assume broccoli is healthy and be done with it. All of the foods that we eat have some powerful features and others that are less appealing and perhaps even harmful. This pattern is very true for broccoli. In fact, you'll even find blog posts that claim that broccoli is incredibly bad for you and could cause significant issues.
To find out how broccoli influences your health, we need to take a close look at some of the plant-based compounds it contains, along with the various nutrients.
Don't worry though. While broccoli does come with some unexpected risks, it is still a useful vegetable that's a wise choice for most people. You can increase the benefits even more by finding healthy ways to serve broccoli. Pairing it with a lean source of protein, like chicken breast, works particularly well.
Is Broccoli Good For You?
What Is Broccoli Anyway?
Benefits Of Broccoli
How Broccoli Could Be Harmful
Is Broccoli Low In FODMAPs?
Broccoli Versus Broccolini
What's The Healthiest Way To Eat Broccoli?
Final Thoughts
What Is Broccoli Anyway?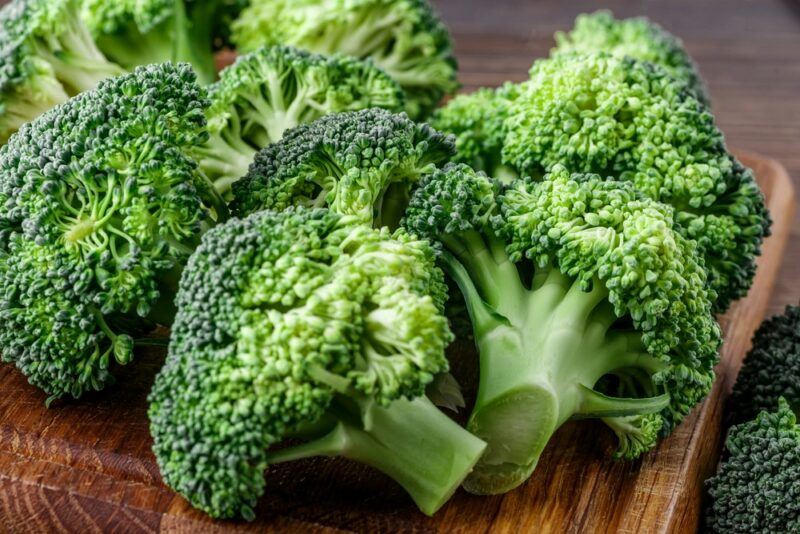 Broccoli comes from the cabbage family. The plant has large flower heads that look a little like trees, with thick stalks that branch out. It's instantly familiar, given many of us have been eating broccoli for decades.
A broccoli head resembles cauliflower in many ways, although there are some differences in color, flavor, and nutrients. The similarity isn't surprising, as broccoli and cauliflower are closely related.
Indeed, broccoli and cauliflower are both considered to be cruciferous vegetables. This classification also includes cabbage and Brussels sprouts, along with some unexpected entries, like kale and watercress.
Cruciferous vegetables are famous as a low calorie source of nutrients. They've also been studied in-depth and are thought to reduce the risk of cancer, partly due to the glucosinolates that they contain. Such benefits are very relevant to broccoli and we'll dig into the specifics shortly.
Benefits Of Broccoli
The Nutrient Profile
Broccoli is surprisingly exciting when it comes to nutrients, with a cup of chopped raw broccoli giving you the following:
30.9 calories
Carbohydrates: 6 grams
Fiber: 2.4 grams
Sugars: 1.5 grams
Protein: 2.6 grams
Vitamin C: 135% of your daily needs
Vitamin K: 116% of your daily needs
Folate: 14% of your daily needs
Vitamin A: 11% of your daily needs
Potassium: 8% of your daily needs
Vitamin B6: 8% of your daily needs
The vitamin C and vitamin K levels are particularly good. You get more than 100% of your daily needs for each vitamin, for less than 31 calories. Who knew that broccoli was such an excellent source of vitamin C?
There are smaller amounts of other nutrients too, like vitamin E, calcium, iron, and magnesium. Each nutrient is important, as they all help your body to function just as it should.
Broccoli can even be considered a nutrient dense vegetable, as it contains so many nutrients and is low in calories. Such vegetables are powerful ways to increase your nutrient intake, without causing weight gain at all.
A Low Carb Ingredient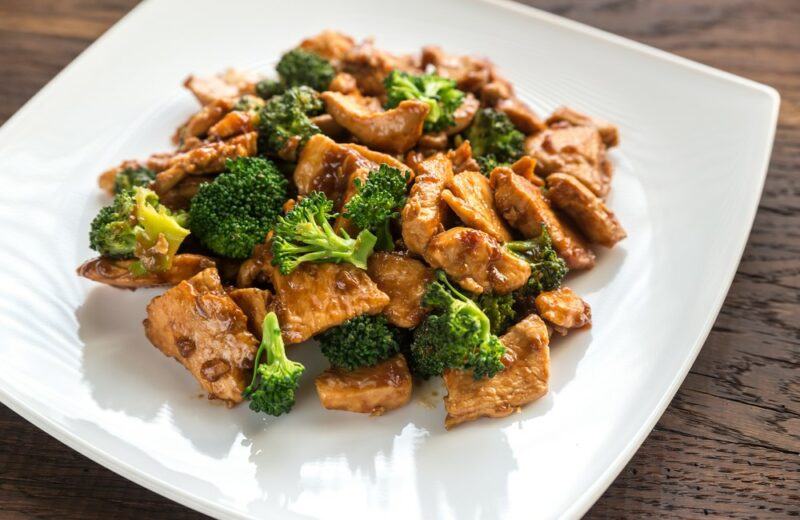 Broccoli is a fantastic choice for keto dieters, as it's naturally low in carbs and is a decent source of fiber – to the extent that you only get around 2 net grams of carbs in a cup of broccoli.
Plus, broccoli is a great way to bulk out your meals without adding much to your carb intake at all.
We're not just talking about boiling broccoli and using it as a side dish either. Broccoli is a surprisingly versatile vegetable, one that you can use as a salad ingredient, a pizza topping, as part of an Indian stir fry, in a soup, or even as part of a pizza base. Those are just a few uses, there are plenty of others too.
May Reduce Cancer Risk
As we discussed earlier, cruciferous vegetables may help to reduce your risk of cancer. The glucosinolates are a key reason for this effect, particularly a compound called sulforaphane, which is rich in sulfur. While consuming a sulfur rich compound might sound like a bad idea, sulforaphane has been linked to a surprising variety of benefits.
As for cancer, many test-tube and animal studies have shown that sulforaphane can decrease the number of cancer cells. The compound might also help to fight cancer cell growth.
Large studies have also shown that high intakes of cruciferous vegetables are associated with lower cancer risk. These are exciting effects.
Still, please take these results with the proverbial pinch of salt. Population-level studies, like the ones that look at broccoli and cancer risk, focus on associations, so they can't prove that cruciferous vegetables actually caused the lower cancer risk. The test tube and animal studies are much better at proving things, but they use much higher levels of sulforaphane than you'll ever get in your diet.
A Decent Source Of Fiber
Broccoli provides you with a decent amount of fiber, almost 2.5 grams in a cup of the raw vegetable. Fiber is a bit on the boring side, that's true. It's also an incredibly important macronutrient.
For one thing, fiber is essential for our digestion. It helps to bulk out stools and keep everything moving through our body as it should. Soluble fiber is useful too, as it absorbs water and expands, helping us to feel full faster in the process.
Soluble fiber has other benefits too, like slowing down digestion and acting as food for our gut bacteria. Broccoli is particularly powerful here, as more than half of its fiber content is made of soluble fiber. As such, you're getting a decent amount of soluble and insoluble fiber from a single vegetable. That's fantastic.
A Useful Weight Loss Food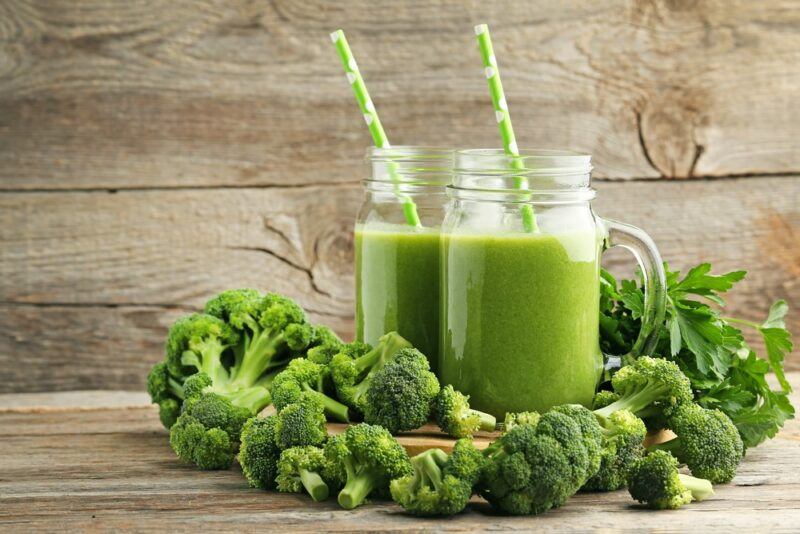 As you can probably guess, broccoli works well when you want to lose weight. The vegetable is low in fat, low in calories, and is a decent source of fiber. What could be better?
You could even eat raw broccoli on its own or perhaps with some dip as an easy weight loss snack. Of course, most people choose to cook broccoli and use it in healthy meals, like salads and stir fries.
Don't forget about the nutrients either.
You still need to hit your nutrient targets, even when trying to lose weight. Doing so may be a little tricky if you're dramatically cutting your calories, but turning to ingredients like broccoli can help matters.
Rich In Antioxidants
Like other fruits and vegetables, broccoli is a good source of antioxidants. True, it's not an antioxidant superstar like blueberries and green tea, but the antioxidant content is still decent. In fact, the sulforaphane that we talked about earlier acts as an antioxidant.
You've probably heard antioxidants discussed before, so why do they matter?
The main reason is obvious from their name – antioxidants help to decrease oxidation. Specifically, they protect us against excessive and damaging oxidation caused by free radicals.
In doing so, antioxidants may reduce the risk of damage to our cells and DNA, and even lower disease risk. There are even thoughts that antioxidants could help us to live longer.
The answer, however, isn't to buy antioxidant supplements. While such supplements exist, they don't offer the same benefits that you see in whole foods. Instead, it's much better to have a diet that's rich in a variety of fruits and vegetables. This way you get plenty of antioxidants, along with many other powerful compounds.
Promotes Health, Including Heart Health
The combination of nutrients, antioxidants, and fiber in broccoli may promote a host of other benefits as well – starting with your heart. In particular, eating broccoli regularly may help to lower your total cholesterol levels and decrease heart disease risk. All vegetables have this effect to some degree, but cruciferous vegetables like broccoli are particularly significant.
Broccoli has anti-inflammatory effects too. Fighting inflammation like this could lower the risk of some inflammation-related diseases, like osteoarthritis. The compounds in broccoli might even reduce pain for some people with arthritis.
Other benefits include the potential to help with your skin appearance and to improve your eye health. There's much still to be learned, but even now, there can be no doubt that broccoli offers benefits.
How Broccoli Could Be Harmful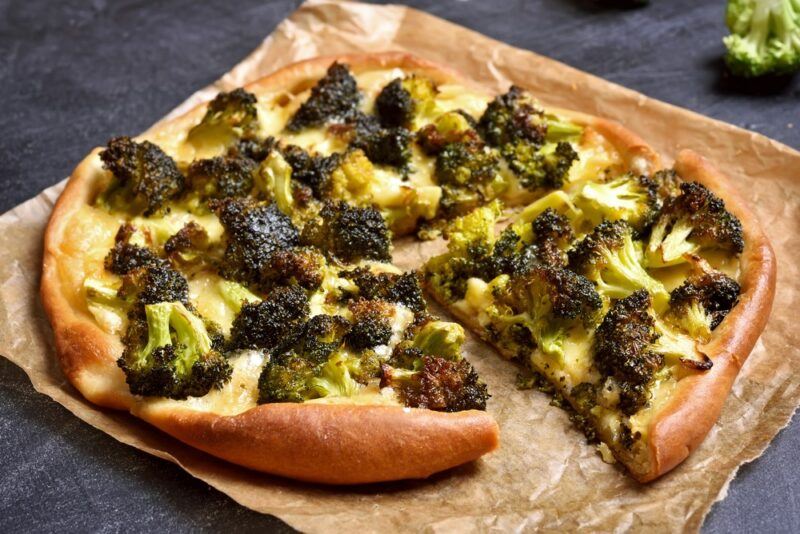 Can Make You Gassy
Have you ever noticed that some vegetables give you gas? This happens with broccoli, largely because of the fiber content. You might experience related side effects too, like stomach discomfort and bloating.
There's nothing to worry about though. Such side effects are common in high fiber foods. They're simply part of the way that we digest fiber – and the benefits of broccoli far outweigh any minor side effects.
Cooking broccoli first can reduce some of the side effects, although you may see fewer benefits as well. Drinking enough water is important too and reduces the risk of constipation.
Can Interact With Some Medications
While the vitamin K in broccoli is important, it can also be problematic, as vitamin K interferes with blood thinning medication, making it less effective and increasing your risk of blood clots.
Thankfully, the issue is with the balance of vitamin K to your blood thinner, rather than with vitamin K itself. This means you don't need to avoid broccoli and other vitamin K rich foods. Instead, you can talk to your doctor and have your medication levels adjusted for your vitamin K intake.
There's a catch though. For your blood thinners to work well, you may need to stick to a fairly consistent vitamin K intake. Doing so isn't too difficult and meal planning can help you to keep your levels in check, but it might take you a little to get used to the process.
May Contribute To Thyroid Problems
The biggest concern about broccoli relates to your thyroid. Brassica vegetables like broccoli are significant here, as they can interfere with iodine absorption. Iodine is essential for the production of thyroid hormones, so if your iodine absorption is low, then you might not be producing enough thyroid hormones.
Should you avoid cruciferous vegetables entirely then?
If you don't have a thyroid condition, then you're probably fine. You'd need to be eating a lot of cruciferous vegetables regularly to see any impact on your thyroid. Even then, thyroid impacts are only likely if your iodine intake is low. If you're eating iodine rich foods, as many of us are, then broccoli isn't likely to impact your thyroid at all.
Anyone diagnosed with hypothyroidism may need to be cautious. In this situation, avoiding cruciferous vegetables may be the wisest option. After all, you can find all the nutrients you need in other vegetables.
Opinions vary on this point, so it's worth talking to your doctor about your thyroid and your diet. They'll be able to give you tailored advice based on your needs and how your body responds to different foods.
Is Broccoli Low In FODMAPs?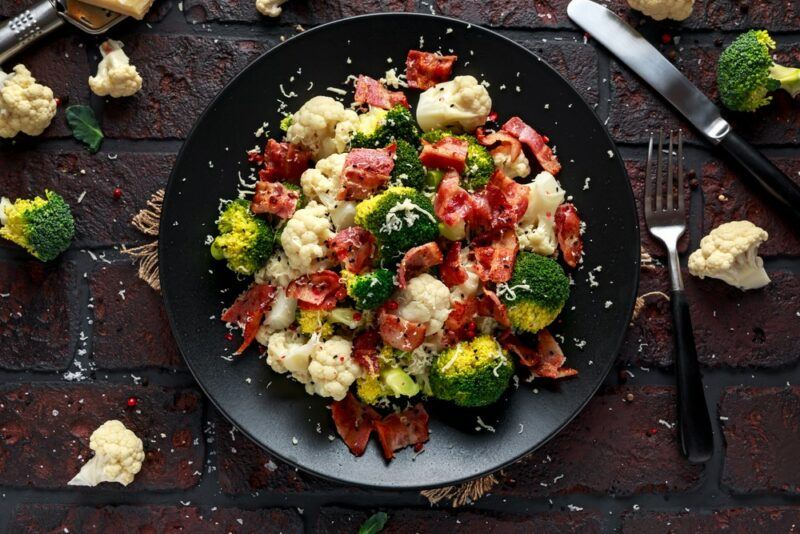 FODMAPs are an interesting area to talk about. The acronym relates to a specific group of fermentable carbs found in some foods. These carbs are significant for people with irritable bowel syndrome (IBS) and some other conditions, as they trigger side effects like gas and bloating.
While broccoli often seems like a high FODMAP food, it actually isn't too bad, as long as you stick to servings of around a quarter of a cup. If you're just focusing on the broccoli head and broccoli florets, then your serving size could be ¾ of a cup, or even higher.
Watch out for broccoli stems, as these are higher in FODMAPs and may give you side effects.
Broccoli Versus Broccolini
Broccolini is like a cuter and more tender version of broccoli, one that has a mild and almost sweet flavor that's much more appealing than the bitterness of broccoli. Despite the obvious similarities, broccolini isn't actually a type of broccoli. Instead, it's a hybrid between Chinese broccoli and regular broccoli.
Broccoli and broccolini are both types of cruciferous vegetables, so they contain many of the same powerful compounds. They're both a decent source of fiber and nutrients, although broccoli is much more significant for nutrients than broccolini.
Watch out for the FODMAPs too. With broccoli, it's the heads of the vegetable that are low in FODMAPs, while the stalks are higher in FODMAPs. Broccolini follows the opposite pattern, where most of the FODMAPs are found in the heads of the vegetable, rather than the stalks.
What's The Healthiest Way To Eat Broccoli?
Sulforaphane levels tend to be highest in raw broccoli and decrease as you cook the vegetable. Indeed, raw broccoli is a much more nutritious choice all around.
Don't worry. Raw broccoli can be enjoyed as is. Just make sure you wash it thoroughly.
If you do prefer your broccoli cooked, try to do so at a low heat. Steaming broccoli for a couple of minutes is an excellent approach, as this helps to make the broccoli tender, without compromising the nutrients too much.
Briefly cooking broccoli may also be appealing if you have digestive issues, as raw vegetables tend to be hard to digest. Cooking them helps to soften the fibers, making broccoli easier to digest and chew.
Final Thoughts
For such a simple and common vegetable, broccoli is surprisingly controversial, with some people saying that you should avoid it entirely. Yet, it's clear that broccoli offers many more benefits than risks. There are also plenty of studies that show how long-term cruciferous vegetable intake can keep you healthier and help you to live longer.
What's not to love? Unless you have a thyroid condition, there's no reason to avoid broccoli. And, if you are worried about your thyroid, then it's important to increase your iodine intake first, rather than looking at cutting powerful vegetables out of your diet.
Frequently Asked Questions
Is Broccoli Man Made?
Broccoli was indeed developed by humans, but it isn't genetically engineered. Instead, broccoli is the result of careful selective breeding from wild cabbage.
This is a common practice, as cauliflower, kale, collard greens, and cabbage are other examples of plants produced through natural breeding.
Is Broccoli Keto Friendly?
Broccoli is an excellent keto choice, giving you roughly two net grams of carbs for every cup of the vegetable. Broccoli also provides plenty of fiber and nutrients, which makes it a valuable keto addition.
Can You Eat Raw Broccoli?
Broccoli is completely safe raw and is sometimes used this way in salads. However, if you're sensitive to the sugars in cruciferous vegetables, you may experience fewer side effects if you cook the broccoli rather than eating it raw.
Is Broccoli Good For Diabetics?
Green veggies like broccoli and spinach are always excellent for diabetes, as they don't contain much starch and have a low glycemic index. The fiber content of broccoli is also helpful for stabilizing blood sugar levels.
Can You Eat Too Much Broccoli?
It's possible to overdo it with any food, including broccoli. However, most of the time, you'll just end up with side effects like gas, bloating, and diarrhea. While these side effects are unpleasant, they don't tend to cause significant harm.
That said, excessive amounts of broccoli could impact your iodine levels, potentially leading to thyroid problems. So, it's best to avoid having large amounts of broccoli every day.