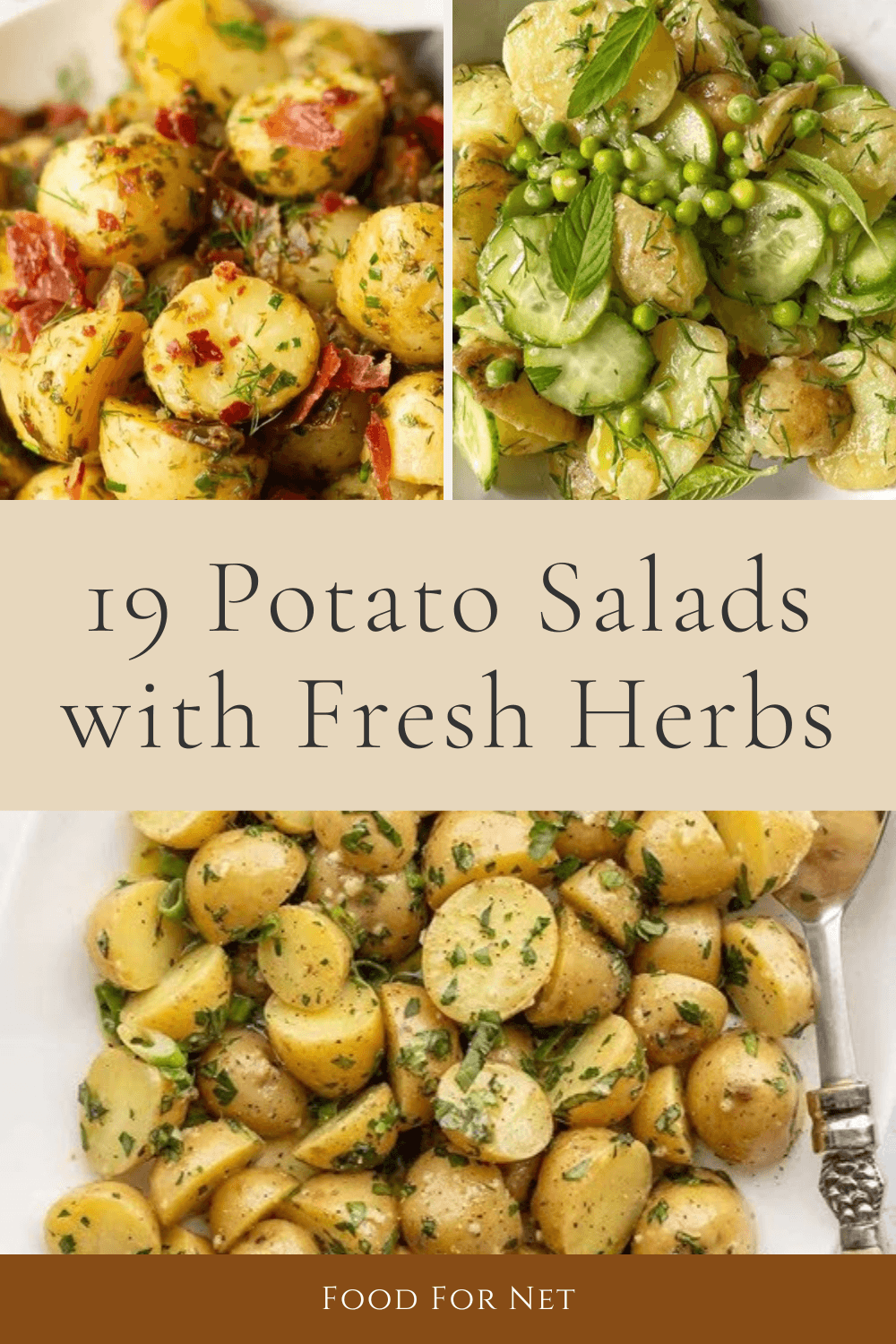 Potato salad is a classic dish, one that forever features at picnics, potluck dinners, and barbecues. The popularity also means that potato salad gets pretty boring at times. You often get a bland dish that tastes like mayonnaise and little else. Fresh herbs are a fantastic way to vary things up. Whether you buy these in the store, order them online, or grow them at home, the herbs make your potato salad much more exciting.
The trick is to focus on fresh herbs. Dried herbs have their place, especially when you're cooking stews or soups. However, they don't have the same bright herby flavor that you get with their fresh counterparts. There's also the risk that they overwhelm the other ingredients.
While the recipes on this list are all potato salads and all use fresh herbs, don't expect them to be the same. There are considerable differences between them – including some that rely on mayonnaise and others that use an entirely different type of dressing.
What's your favorite?
Potato Salad With Fresh Herbs Recipes
Herby Potato Salad
This potato salad from budgetbytes.com is a fantastic option for spring, as it's light and packed with flavor. This one skips the mayonnaise entirely and instead uses a lemon-Dijon vinaigrette for the dressing.
The lemon in the dressing helps to keep the salad vibrant and perfectly complements the herbs. The vinaigrette style works well too, especially if you plan to use the potato salad at a picnic, where it might be sitting outside for a while.
There's plenty of room for variation too. You can play around with the specific herbs you use and choose whether to serve this as a warm or a cold salad.
Mediterranean Potato Salad
I love how this recipe from veggiesociety.com does things a little differently. It's still a potato salad, but you have extra ingredients in the mix, including green beans, red peppers, capers, and olives. Impressive, right?
Those ingredients all contribute to the Mediterranean flavors of the dish. They're also complemented by a few fresh herbs. While the herbs don't dominate this recipe as much as some of the other salads on this list, they do add a fantastic complexity.
This is another vinaigrette-based salad, making it light and perfect for many occasions.
Fresh Herb Potato Salad
Here's another fantastic recipe to try. This one comes from simple-veganista.com and relies on vibrant red baby potatoes, fresh parsley, and a few other fresh herbs. It's a completely vegan recipe, meaning there are no eggs to worry about.
Julie uses a combination of three herbs in her recipe, but you don't need to stick to the same ones that she used. She offers a few suggestions for alternatives or you can experiment yourself.
There are also details about substituting the potatoes and decreasing the oil in the dressing. While such changes may alter the flavor and texture of your final potato salad, it should taste delicious regardless.
French Potato Salad
Sylvia's recipe from feastingathome.com changes the classic potato salad in a few ways. First, the potatoes are in thick slices, rather than chunks. There are also multiple types of potatoes used, which gives the dish a delightful multicolored style.
You don't need to stick to the specific types of potatoes she uses though. Other varieties would work just as well, especially if they have thin skins.
The salad is delicious, as it relies on three different types of fresh herbs. Sylvia provides details about the three she focuses on, then a few substitutions that you could experiment with. There's garlic in the recipe as well, which enhances the flavor even further.  
The Best Herby Potato Salad
This recipe from halfbakedharvest.com is a little unusual. Like some of the previous recipes, it avoids using mayo. However, Tieghan didn't take the vinaigrette route. Instead, her recipe relies on a cashew mayo instead.
Cashew mayo isn't as strange as it sounds. It still gives your dish a creamy texture, while avoiding eggs entirely. The final potato salad also contains much more flavor than a regular mayo-based version.
So, even if you're not convinced by cashew mayo, it's worth trying this recipe out at least once. You might even enjoy cashew mayo much more than the mayo you're familiar with.  
Parsley Potato Salad With Herb Dressing
This recipe is hosted at homegrownhappiness.co.nz and it takes a slightly different approach than the salads we've featured thus far. The big change is that rather than using the fresh herbs directly on the potato salad, you're making a dressing with them.
Using the herbs like this works well, giving you a more even texture, while still providing plenty of flavor. Plus, as Elien points out, potatoes themselves are pretty bland, so the bold flavor of herbs works well.
The recipe includes details about different herbs you can use and why they work. This gives you the flexibility to experiment and find a combination that you love.
Vegan Potato Salad With Herbs
Here's another good recipe to try if you want potato salad without the mayo. It is entirely plant-based, so it should work well with most diets. Oil and vinegar are used as the base of the dressing, while mustard and herbs provide extra flavor.
Katie does a great job at explaining which herbs and types of potatoes work well in the recipe, plus which ones don't fit. There are even a few extra ingredients included, like sundried tomatoes, which provide the dish with an extra punch of flavor. Full details can be found at healthyseasonalrecipes.com, along with plenty of pictures.
Roasted Potato Salad With Egg And Herb Vinaigrette
Kara from karalydon.com has produced this fantastic looking potato salad. It's different than normal, as you're not simply boiling the potatoes. You're roasting them instead.
Roasting your potatoes gives them a crisp texture that is brilliantly complemented by the fresh herbs. The eggs add another interesting feature to the recipe, providing extra flavor and protein, while also making the salad stand out.
After all, the regular boiled potato salad has been done time and time again. Why not find a version that breaks the mold?
Smashed Pistachio Pesto di Ricola Potato Salad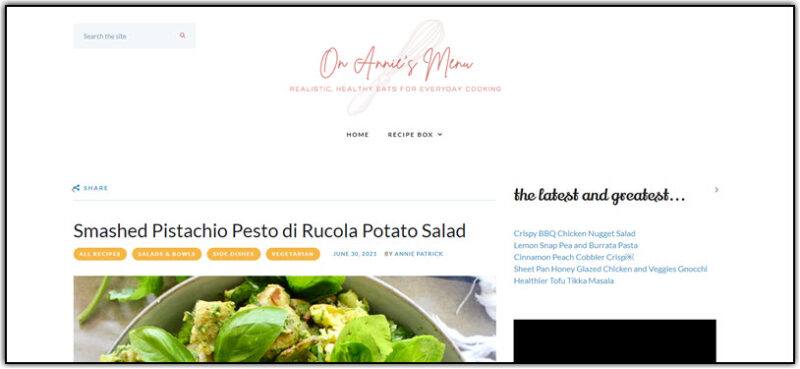 Herbs aren't the focus of this recipe from onanniesmenu.com, there are simply too many other flavors at play. That's not a bad thing, though. Sometimes you want your potato salad to be complex.
The pistachios are really what make this salad. They add extra flavor and crunch, while setting the recipe apart from any others. While the salad takes more work than normal to prepare, it should be well worth the effort.  
No Mayo Potato Salad With Herbs
Here's a light and easy recipe from foodiecrush.com. It's another one that skips the mayonnaise. This time an olive oil dressing is used instead to provide texture and flavor.
Dill, parsley, and basil are the fresh herbs of choice for this recipe, although you could tweak the selection if needed. Spring onions are used too. These give the salad extra texture and vibrancy. Why not? Just using herbs and potatoes can get boring pretty fast.
Summer Green Potato Salad
I love this recipe from tastysimplyvegan.com because it thinks outside the box. Not only do you have English peas in the mix, but there are fresh cucumbers as well. These two ingredients make the salad stand out, giving it extra texture and changing the flavor profile.
Meda also avoids vinegar and leans towards an olive oil dressing instead. Doing so works well with the other ingredients, giving you a delicious salad you're not likely to forget.
Warm Herbed Potato Salad
This potato salad has a semi-unusual addition – bacon. Then again, that's not so strange, as the recipe comes from Chris at dontgobaconmyheart.co.uk.
Perhaps the most unexpected thing is that despite using bacon, this recipe doesn't use mayo at all. Chris mentions that he adores mayonnaise, but that this potato salad tastes much better with a different dressing. That's not hard to believe as the salad looks stunning in the photos.
Green Goddess Pesto Potato Salad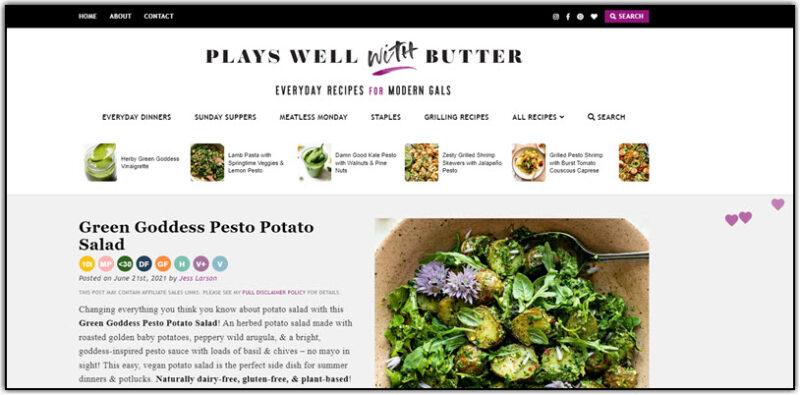 If you want something that looks stunning, why not try this recipe from playswellwithbutter.com? It's more vibrant than most others, partly because of the way that some herbs are kept whole.
You also make homemade fresh herb pesto as part of the recipe. We're not talking about traditional pesto, though, there are more ingredients than normal, providing you with a strong flavor hit.
The recipe includes details for some variations you can make too, like using chimichurri sauce or chermoula sauce for the salad dressing or adding some cheese to boost the flavor further.
Herbed Potato Salad (No Mayo!)
Kate, at cookieandkate.com, is an amazing food blogger. She always comes up with stunning recipes, ones that are packed with flavor and actually work. They're popular too. Seriously. This potato salad recipe has more than 600 comments, so a lot of people have made the salad for themselves.
There's more than just the recipe here too. Kate offers some tips for making your salad perfect every time.
If you want to change the recipe at all, check out the comments section. Plenty of readers have made their own versions of the dish, ones that riff on the original recipe and often taste even better. After all, potato salad is an easy dish to modify.
Tangy Potato Salad With Herbs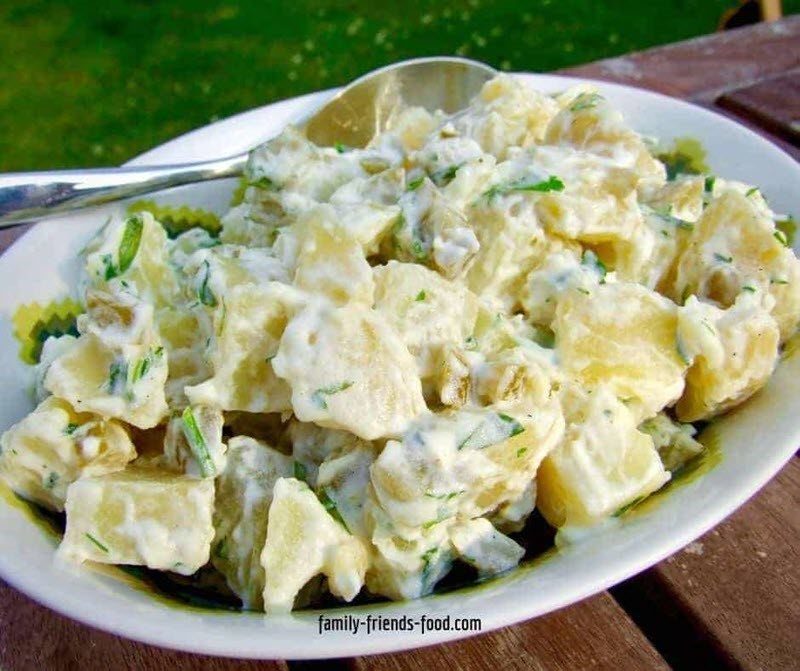 I love this dish from family-friends-food.com. It's one of the few on this list that actually sticks with the traditional mayonnaise. And, why not? Mayonnaise-based potato salads are classics and can taste amazing when used well.
As Helen mentions, the best herbs to use with the recipe are soft ones. These have a subtle flavor, so they complement your salad rather than overwhelming it. Harder herbs, like rosemary, are often far too intense.  
Potato Salad With Bacon And Herbs (No Mayo)
Here's another potato salad with bacon. This one comes from umamigirl.com and also skips the mayo. Bacon is a fantastic addition, as it provides a salty kick of flavor, while changing the texture of your salad too.
The herbs also help as they give the salad plenty of flavor and make it look better on the plate. Don't worry, like all the recipes on this list, the potato salad is easy to put together. It can also be prepared a few days in advance, in case you don't have much time on the day.
Garlic-Herb Potato Salad
This recipe from cookingclassy.com shines because of the garlic. This mightn't sound like much, but honestly, garlic makes everything that much better.
The rest of the ingredients should be familiar for a mayo-free salad, including vinegar, olive oil, and plenty of fresh herbs. Jaclyn mentions that you can make the recipe using dried herbs rather than fresh ones (you'll want roughly a third of the amount). However, the flavors won't be as vibrant with dried herbs.
Simple French-Style Potato Salad
Dana, from minimalistbaker.com, offers this 10-ingredient potato salad that takes just 30 minutes to prepare. Ten ingredients might sound like a lot, but don't worry, the salad comes together easily and should taste just as delicious as it looks.
While the recipe is on the complicated side, that's only because Dana is a master at providing detailed directions. She tells you everything you need to know, so the recipe should turn out perfectly the first time you make it.
There's even a video to follow, which makes everything easier, plus a detailed comments section.
Easy Herb Potato Salad
This delicious salad comes from inspiredtaste.net and it's one of a few different potato salads on their site (including a mayo-based version). This herbed one works well though, as it is so easy to make and uses hardly any ingredients.
The short ingredients list makes the salad perfect for days when you're short on time or when you need a sudden dish for a potluck. You can prepare it in advance too. Adam and Joanne offer some tips for doing so, to make sure the salad doesn't lose its color.