Grits might not have much flavor of their own, but they're a classic breakfast choice in the South, partly because they combine well with so many different ingredients. You may have even grown up eating grits regularly, but what do they mean for your health? Are grits good for you or are they a poor choice?
The question is an important one. After all, breakfast is how we start the day. What you choose to eat for breakfast could easily influence your energy levels and focus for hours to come.
There are plenty of options too, all very different from one another. Even grits and oatmeal, despite their similarities, have different strengths and weaknesses. Then there are alternatives like eggs, toast, and granola.
To work out the best choice, we need to take a close look at what each has to offer. So, let's dig deep and see the good features of grits, along with their limits.
Are Grits Good For You?
What Are Grits?
How Do You Serve Grits?
Benefits Of Grits
Why Grits Aren't Actually That Great
Are There Whole Grain Grits?
Is Oatmeal Healthier Than Grits?
Final Thoughts
What Are Grits?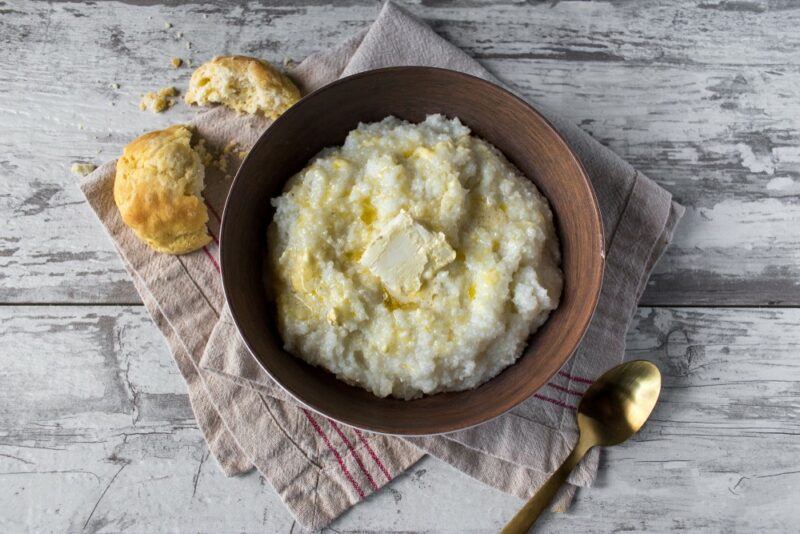 If you grew up in America, then you're probably already familiar with grits. You may have regularly eaten them for breakfast. If you live somewhere else, then grits might be an entirely new word.
The idea is simple. Grits are simply dried corn that has had its hull and germ removed and then is coarsely ground. The corn is sometimes bleached first to make it lighter. Other times it remains a bright yellow color.
Regular grits often take an hour or so to cook, while quick grits take much less time. There are also instant grits. These were precooked before being dried, so you just need to add hot water to make them ready to go.
However, instant grits aren't such a great shortcut, as they're not that flavorful. They taste more like water than anything else.
How Do You Serve Grits?
When made well, grits are deliciously creamy, with a mild flavor. They often don't taste much like corn because of how much processing goes into the grits. This is why other ingredients are so important, as it's those additions that make grits into such an interesting dish.
Thankfully, grits are versatile. They can be served either sweet or savory. Sweet versions often rely on butter and sugar, while savory versions typically rely on ingredients like cheese, salt, jalapenos, or shrimp.
In fact, the mild flavor of grits makes them the perfect vehicle for other toppings. This is why you'll see dishes like jalapeno and cheddar grits or shrimp grits. You can even serve grits as part of dinner with some rich gravy.
Benefits Of Grits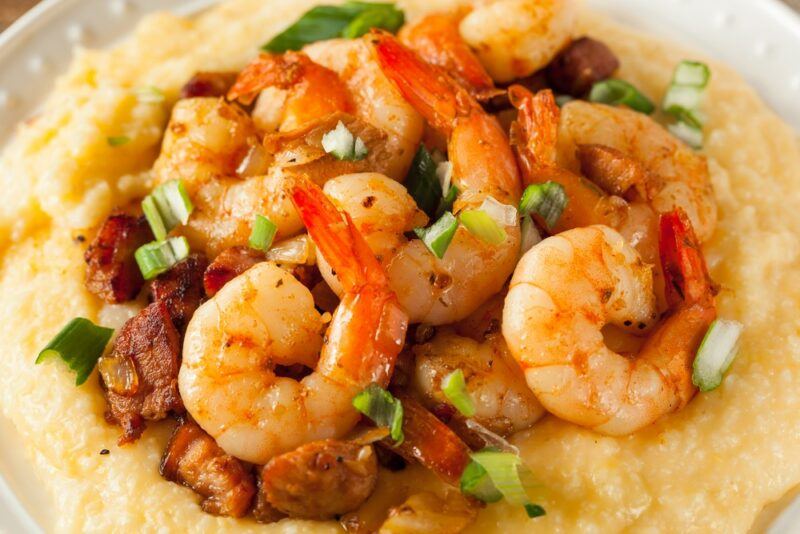 They Last A Long Time
Grits have a decent shelf life and are easy to stock up on. This makes them a useful backup food, especially as they're simple to prepare too.
When stored well and uncooked, grits can even last for years. Throw stone ground grits in the freezer and they'll pretty much never go off. It's always helpful to have some long-lasting food like this, as sometimes you can't get to the store when you expect to.
Offer Some Nutrients, Including Iron
Grits can offer a variety of nutrients. Iron is the most important of these, as iron is essential for the production of red blood cells and many people aren't getting enough of it.
Some of the other nutrients include folate, niacin, riboflavin, magnesium, and zinc. Each of these nutrients helps to keep your body functioning well.
There's a catch though – the nutrient content will depend on the type of grits you choose. The grits you see at the store will often be refined, rather than being whole grains. Refined grits tend to have fewer nutrients, as their hull and germ have been stripped away.
Some products get around this issue by adding nutrients into their grits, creating an enriched product. However, enriched refined grits are likely to be less powerful than whole grain grits.
They Contain Antioxidants
We often associate brightly colored fruits and vegetables with antioxidants, but other foods can be antioxidant rich too, including grits.
The benefits of antioxidants are well-known by this point. They've been linked to decreased disease risk, less inflammation, longer life, and better health all around.
Some types of antioxidants have other benefits too, like the lutein and zeaxanthin found in grits, which have been linked to improved eye health. Research even shows that grits can retain their antioxidant properties despite being heavily processed.
Why Grits Aren't Actually That Great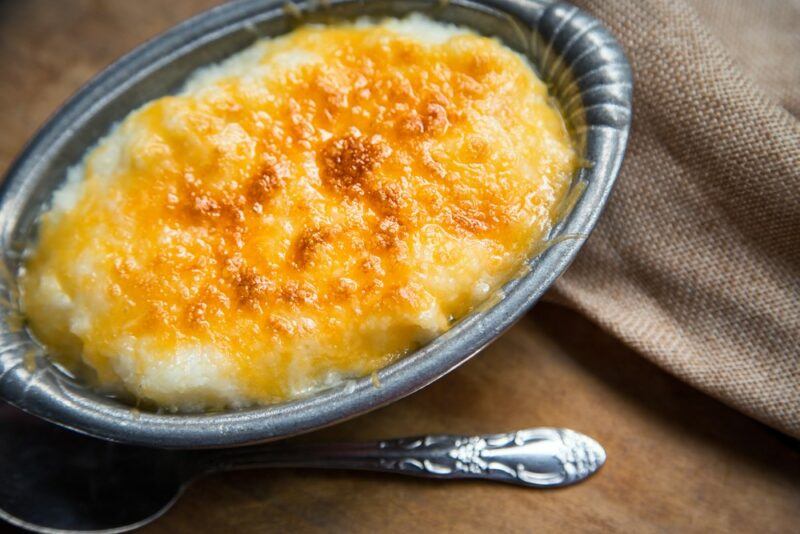 While grits do have some interesting features and contribute to delicious meals, there are some serious issues to think about as well.
They Contribute To High Calorie Intake
The calorie content of grits themselves isn't horrible. You're just looking at around 160 calories in a cup. This isn't too bad – as long as you're preparing grits with water.
The problem isn't the grits themselves, but what you eat with them. Most people add high calorie ingredients, like butter or cream, to make their grits taste better. You might be adding high calorie ingredients on top as well, like cheese or shrimp. Once you start doing this, the calorie content adds up much more quickly.
What if you do just stick to water or perhaps use low fat milk instead of cream?
Doing so is possible, but you end up with a high carb meal with little fiber, fat, or protein. Not surprisingly, grits prepared this way won't be very filling at all.
They're High In Carbs
The high carb content is a serious challenge too. There's growing concern that carbs are linked to many modern health problems, including heart disease, obesity, and diabetes. Some of the risks come from the way that carbs lead to blood sugar spikes.
Health recommendations now suggest cutting down on refined carb intake, as refined carbs tend to have little fiber and cause problems with our blood sugar levels.
Most grits, unfortunately, fall into the refined carb category, as the hull and germ of the grain are removed before the corn is ground. This is why grits end up being relatively low in fiber (you just get around 2 grams of fiber in a cup of cooked grits).
As such, anyone watching their carb intake may need to avoid grits entirely.
Are There Whole Grain Grits?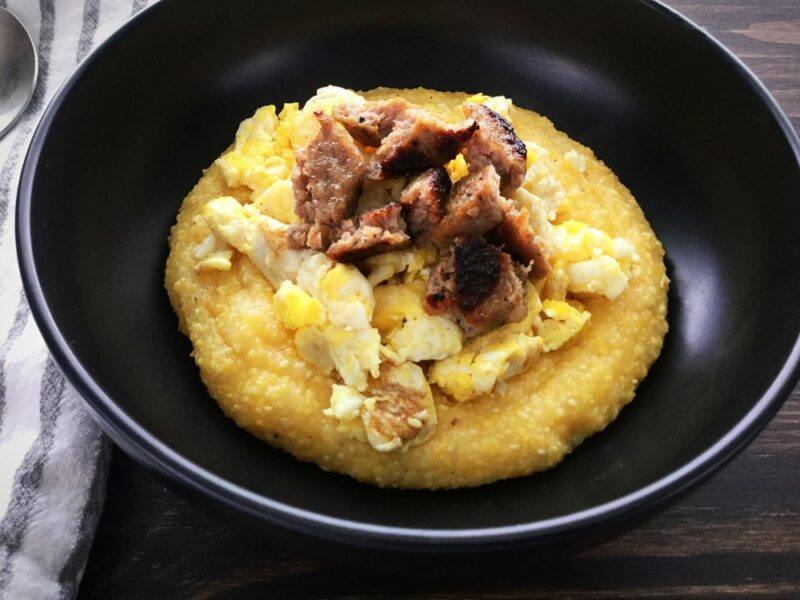 While grits are often refined, there are some whole grain versions as well, including products marketed as stone ground grits or old fashioned grits. These grits have more benefits than other types, as they're higher in fiber and may contain more nutrients too.
Stone ground grits are an easy way to increase whole grain intake. They also have a stronger corn flavor than other types of grits, which may be appealing.
Even so, whole grain grits end up being higher in carbs than you might like. There's also still the issue that grits are often served with high-calorie ingredients.
Is Oatmeal Healthier Than Grits?
Oatmeal and grits are sometimes compared, due to similarities in their texture and how they're prepared. There are also notable differences.
For one thing, grits are often refined, while oats tend to be a whole grain instead. It's not surprising, then, that oats are higher in fiber.
Oats have also been linked to improved heart health, due to a type of soluble fiber called beta-glucan. Similar benefits haven't been found for grits.
Grits do win in some areas though, as they're higher in antioxidants than oatmeal. Plus, whole grain grits tend to be better for vitamin A, potassium, and some other micronutrients.
In the end, you can choose either option. But, if you're going for grits over oatmeal, look for whole grain grits. This way you'll get the most benefits and fewest drawbacks.
Final Thoughts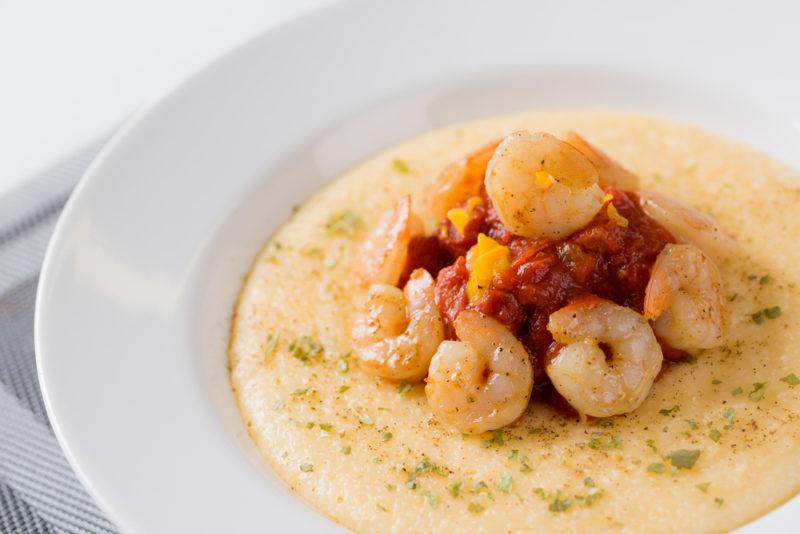 The nutrient content of grits makes them sound appealing, but in the end, grits are mostly a high carb breakfast option that isn't filling and may spike your blood sugar.
However, this doesn't mean that you need to skip grits entirely. With the right accompaniments, they truly can be delicious. They're also a versatile ingredient that has a long shelf life.
Besides, having a healthy diet and lifestyle doesn't mean that every part of it needs to be perfect. You don't need to stress about every single meal either. As long as you're keeping a rough eye on your calorie and carb intake, eating plenty of whole foods, and enjoying your vegetables – you have little to worry about.
Frequently Asked Questions
Are Grits Gluten Free?
Traditional grits are gluten free because they are made from corn, however, some newer brands of grits include other ingredients that do contain gluten. Additionally, some grits are packaged in facilities that package other gluten-containing products, so be sure to check the packaging depending on your level of gluten sensitivity.
Can Diabetics Eat Grits?
Grits are high in carbs, so they're not an ideal diabetic food.
Still, having diabetes doesn't necessarily mean you need to avoid grits entirely. You can still have them if you watch the portion size and have them with low carb toppings. Stone ground grits are the best choice here, as they have a lower glycemic index.
You'll also need to watch how your body responds. Some people might get too much of a blood sugar spike, even from small servings.
Do Grits Make You Gain Weight?

A cup of cooked grits contains around 182 calories, which is a little more than a cup of oatmeal (oatmeal comes in at around 160 calories instead).
That calorie content works well enough for a meal and shouldn't cause weight gain for most people. The problem is that we often don't eat grits on their own.
We load them up with high calorie toppings instead, such as cheese and butter. Those extra ingredients can increase the calorie content of you meal and could easily cause weight gain.
Are Grits Easy To Digest?
Grits have less fiber than similar products like oatmeal, which should make it easy to digest. But, they are still a whole grain food, which means they provide some fiber. As such, some people may have no difficulty digesting them, while others may experience problems.
It's best to talk to your doctor if you're unsure, as they'll have a sense of the fiber intake that's right for you. Also remember that fiber itself isn't a bad thing. It's crucial for keeping your digestive system functioning well.
Are Grits Acidic?
Grains and cooked cereals tend to be acidic, which includes grits. This could make them a problem on an alkaline diet, but honestly, you'd have a very limited diet if you only focused on alkaline foods.