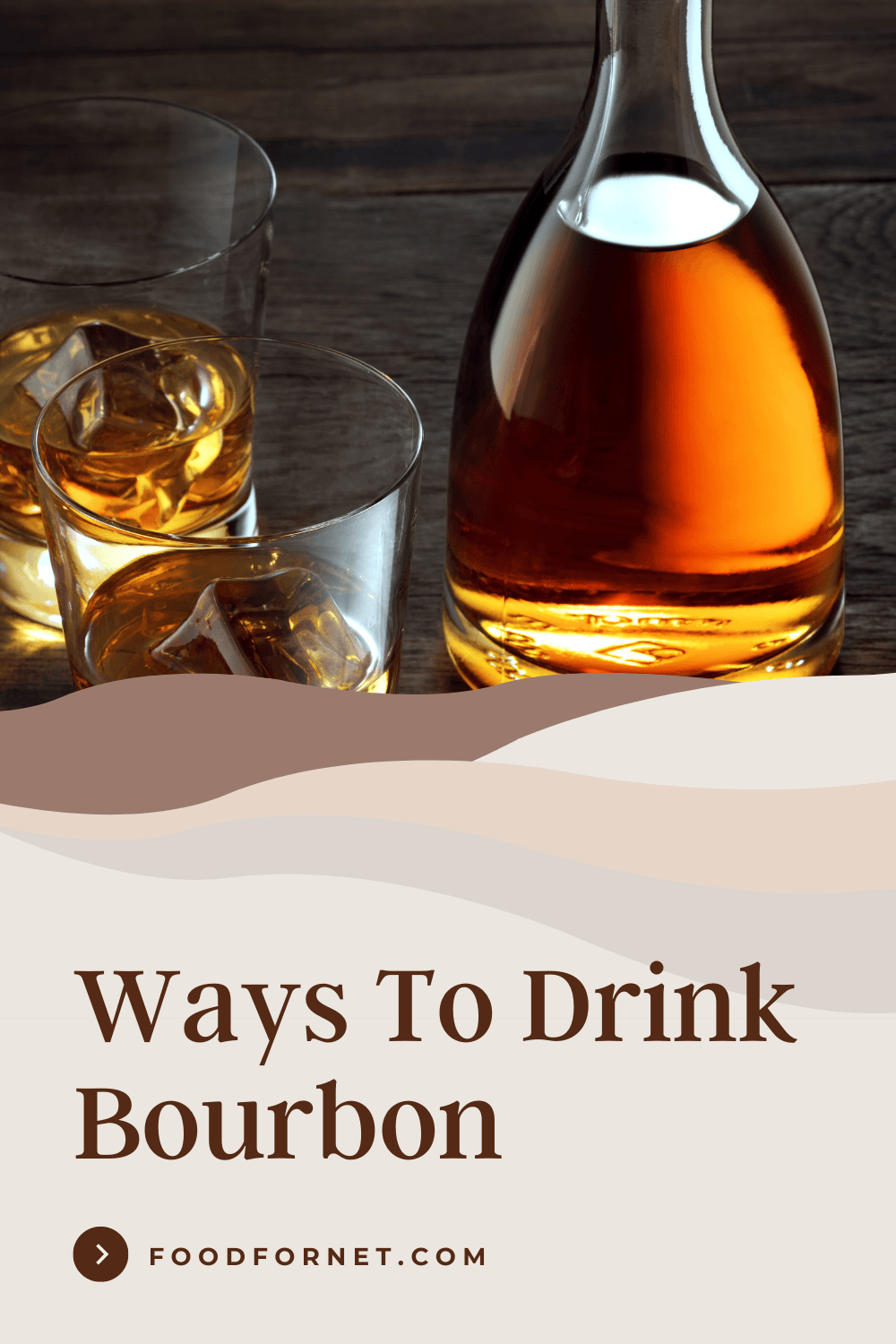 Bourbon is always popular. With a smooth texture and pleasant notes of vanilla and caramel, this is a spirit to come back to time and time again. There are also clear rules about what can be defined as bourbon, so you know what you're getting every time. To truly enjoy the spirit, it's important to pay attention to the different ways to drink bourbon.
You've probably heard of some of these before, like drinking bourbon neat or using it as an ingredient in a cocktail. It's even possible to cook with bourbon (but that's a conversation for another day). How are these approaches similar and where do they differ? That's what we're going to talk about today.
We'll also look at when you might choose one over the other. After all, an expensive aged bottle of bourbon is very different than a cheap bottle you picked up for a party. It makes sense that you'd drink them differently as well.
The Best Ways To Drink Bourbon
Neat, At Room Temperature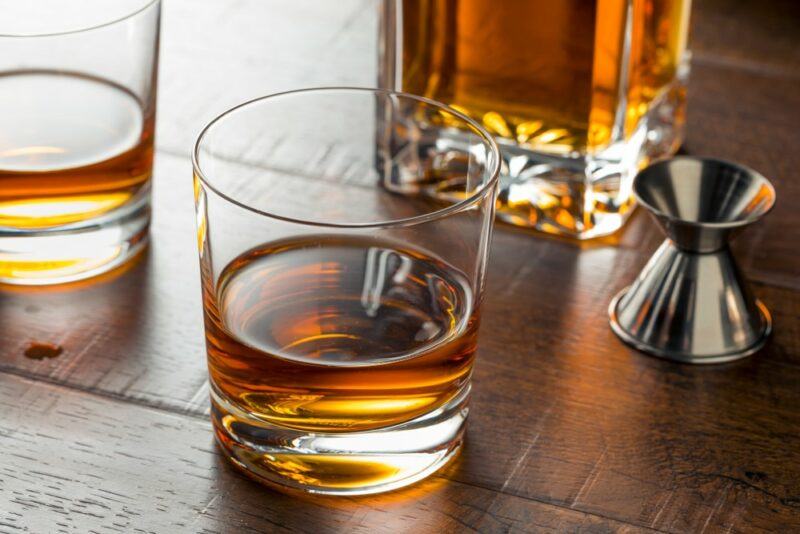 Whiskey purists lean towards having their bourbon neat. This means room temperature bourbon in a glass, with nothing added.
Drinking bourbon like this allows you to fully savor the nuances of your whiskey. It's particularly important if you're focusing on top shelf whiskey, as you get the complete taste experience.
The trick here is to drink your whiskey slowly. Start by enjoying the aroma, as this is a huge part of the taste experience. Then, when you do take a sip, allow the whiskey to slowly wash over your tongue.
Add A Splash Of Water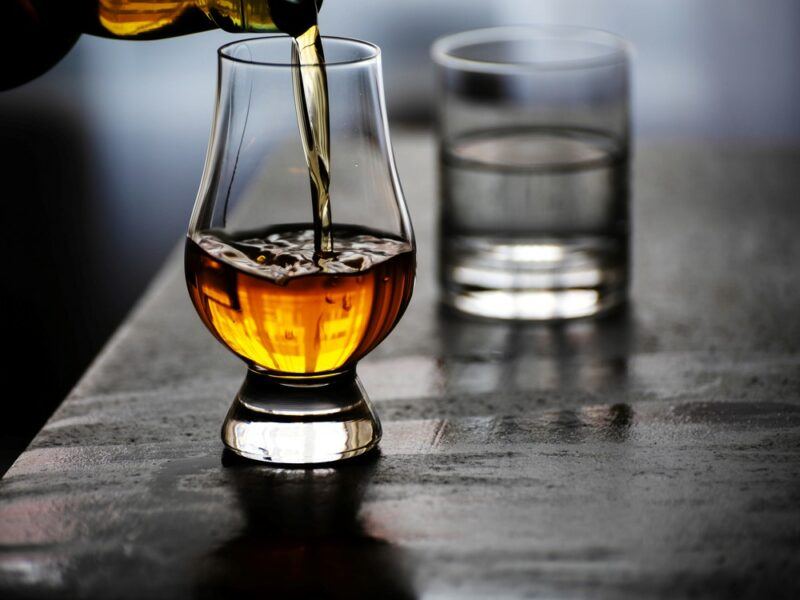 There's no need to fear dilution. Adding some water to your bourbon is a great way to open up the flavors of your whiskey, giving you a better experience.
We're not talking about a large amount of water here. Just a few drops is enough to soften the whiskey. This approach is perfect with cheaper bourbon, especially if you're fairly new to straight whiskey.
However, you can use water with expensive bourbon too. Doing so isn't going to ruin the whiskey, especially if you're only using a tiny bit of water.
An easy approach is to use a straw as a water dropper. Add just a single drop of water to your whiskey, swirl, then taste. Doing this helps you find the perfect dilution with no risk of drowning your whiskey.
On The Rocks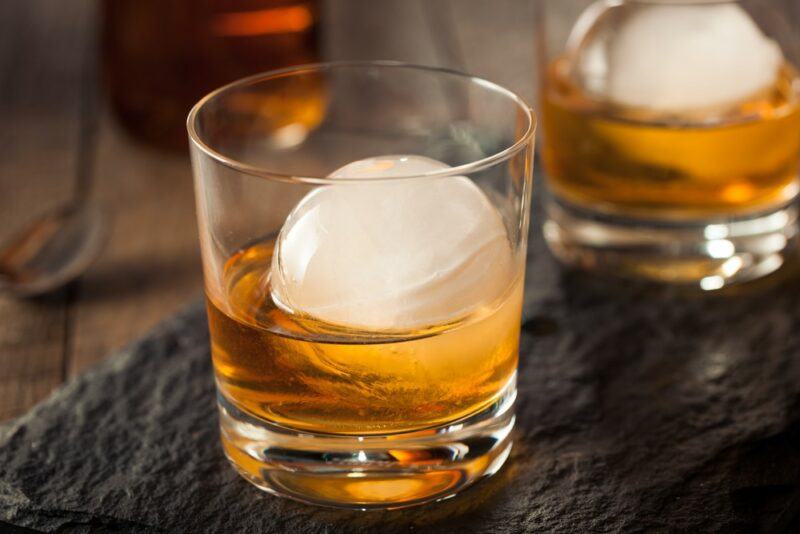 Bourbon on the rocks is simply bourbon served over ice. The ice cools your whiskey and also dilutes it as the ice starts to melt. Serving bourbon like this makes it easier to drink, without influencing the flavor much at all.
The type of ice makes a huge difference. Large round balls of ice are the ideal. These have a smaller surface area than many small ice cubes, so they dilute your drink more slowly.
Regular ice cubes can be okay, especially if you want more dilution, but steer away from ice chips. These melt far too quickly, giving you watery whiskey.
There are some more unconventional approaches too. For example, you can get an ice cube mold that gives you a wedge of ice to fit into your old fashioned glass. This keeps the ice surface area to an absolute minimum, helping to cool your drink without diluting it. Molds like this also make great gifts for bourbon lovers.
With Whiskey Rocks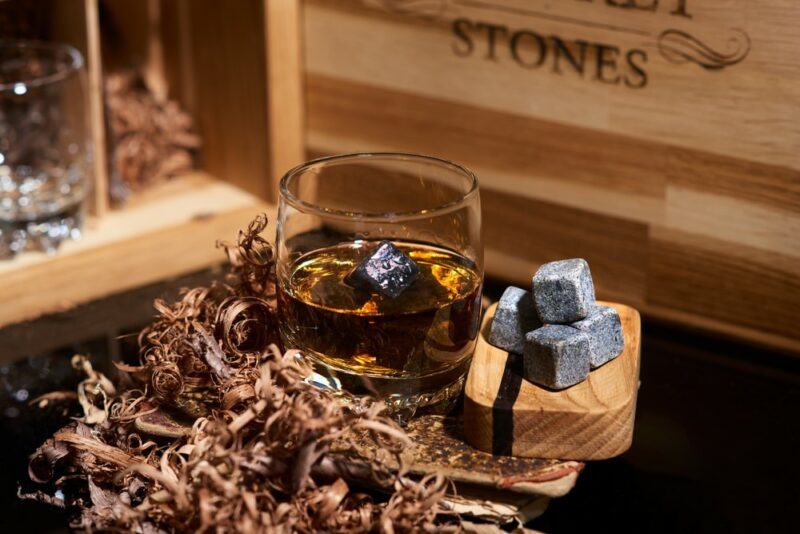 You can also find whiskey rocks (also called whiskey stones). These are simply non-porous stones that can be chilled and are used to keep your drink cool. You can find alternative styles too, like stainless steel ones and silicone molds that are filled with water.
Regardless of the type, whiskey rocks are a way to decrease the temperature of your drink without diluting it.
Try An Old Fashioned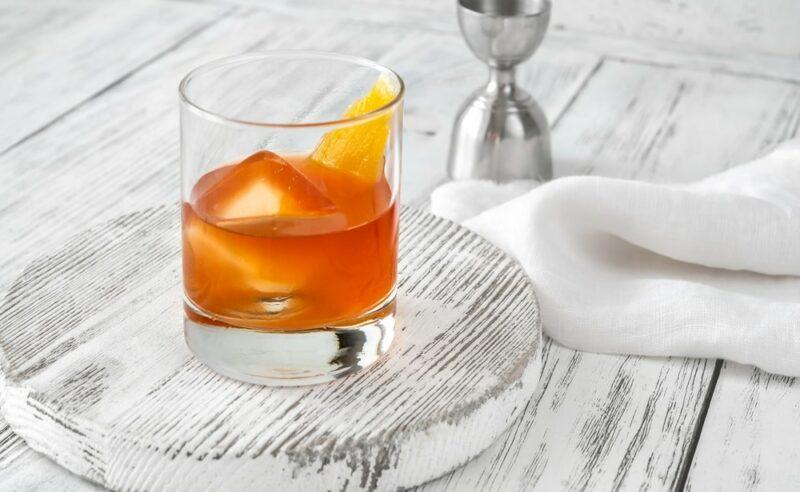 If bourbon on its own is too much, an old fashioned cocktail is the perfect compromise. This is one of the simplest bourbon cocktails out there.
The traditional version involves muddling a sugar cube with bitters, then pouring over your bourbon. It's sometimes served neat and sometimes with ice. The bitters and the sugar make the bourbon easier to drink, without masking any of its distinct flavors.
Mix Up Another Bourbon Cocktail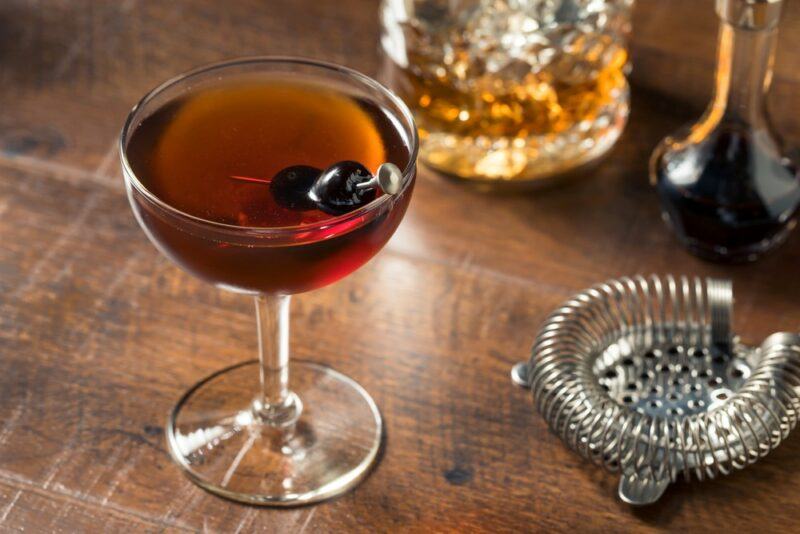 The old fashioned is just one of many bourbon cocktails. There are plenty of others, including the classic Manhattan, the bourbon sour, the bourbon milk punch, and the milk julep.
These cocktails make the bourbon less distinct, giving you a more complex drink.
While bourbon cocktails can be amazing, you never get to fully taste the bourbon. Because of this, they're normally made with inexpensive bourbon, rather than top shelf products.
Other Important Approaches
How you drink bourbon is only part of the equation. If you want the best possible experience, other areas need to be considered too.
Choose Your Bourbon Well
First, the bourbon you choose matters. Straight bourbon is a good place to begin. Bourbon labeled in this way must still meet the legal requirements for traditional bourbon, but must also avoid added flavorings and colorings. It must be at least two years of age too.
Looking at the color helps too. Most decent bourbon is either amber or golden brown. It's rare to find decent bourbon with a lighter color.
Paying attention to how it was aged helps as well. Be more cautious if the label says micro barrels, as getting a consistently good bourbon in these tiny barrels is much harder.
Match Your Drinking Method To The Bourbon
There's a classic saying that the best way to drink whiskey is whichever way you enjoy it. This is as true for bourbon as any other type of whiskey.
But, while there's no right way to drink bourbon, some types of bourbon lend themselves better to particular ways of drinking.
For one thing, drinking bourbon neat is one of the best ways to experience all of its flavor nuances. Some of these get lost if you make a whiskey cocktail or even if you serve it over ice.
So, if you're buying an expensive bottle of bourbon, including it in a cocktail is just a waste. If you plan to make cocktails, it's best to turn to cheaper or at least mid-range bottles of bourbon.
Whether you include water may depend on the proof of your whiskey as well. In particular, 80 proof bottles of whiskey have been decently diluted anyway and adding more water shouldn't be necessary. High proof bourbon isn't diluted to the same extent, so you may need to add some water to make them enjoyable.
Use The Right Glass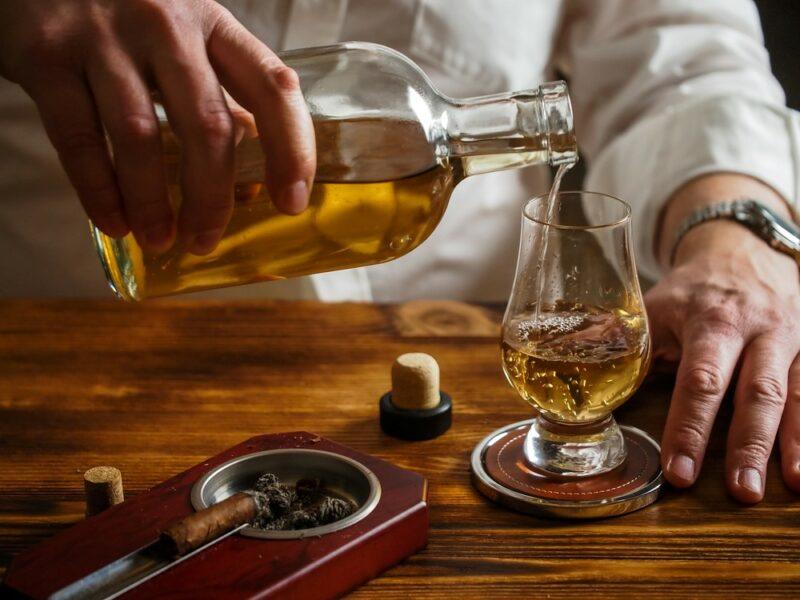 The glass you choose matters too. A rocks glass will do in a pinch (especially if you're serving whiskey on the rocks), but bourbon tastes better in a curved glass.
A Glencairn glass is an excellent example of this style. This glass captures the aroma of the whiskey, elevating the taste experience in the process.
Don't Be Afraid Of Affordable Bourbon
Bourbon doesn't need to be expensive to be good. There are plenty of decent bottles of bourbon at every price point. You just need to do some shopping around to find them.
Maker's Mack, Four Roses, Wild Turkey, and Buffalo Trace all produce decent inexpensive whiskeys. These have enough quality that you can easily drink them neat and are cheap enough that you can include them in a cocktail too..
Try Different Bourbons
It's easy to find a bourbon you like and then get stuck on it for a while. This often feels safer than branching out and risking products that you don't enjoy.
However, it's easy to get stuck in a rut this way. Bourbon of the month clubs are a powerful way to bust out of this mold. You're often paying a little more for your bourbon through such a club, but they provide a unique chance to experiment.
Many don't just send out alcohol. They also provide plenty of educational resources about what you're drinking and some of its history.
There's even a club called Flaviar that ships out whiskey samples. This is perfect if you truly want to experiment without committing to full bottles of whiskey.
What Is Bourbon?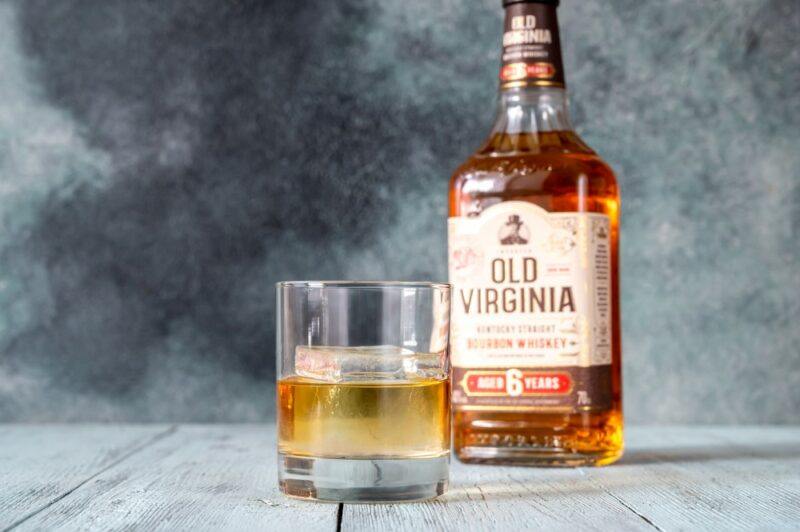 Whiskey needs to meet a specific set of criteria to be legally defined as bourbon. First, the grain mixture needs to be at least 51% corn. The remainder is at the discretion of the distiller. Some create high rye bourbon, others focus on wheated bourbon instead, while still others use a more even mix of grains.
Bourbon also can't have an ABV (alcohol by volume) of above 80% when it's distilled and 62.5% when it's barreled. And, it must have at least 40% ABV in the bottle.
There's one more rule – bourbon is always aged in charred oak barrels, new ones.
Despite all these rules, there is plenty of room for variation. Differences in how long the whiskey is aged for and the mash bill create distinct flavor variations.
There's also sour mash, where some of the old mash is added to a new batch. This doesn't directly affect the whiskey's flavor, but helps to create consistency between batches. Sweet mash exists too, although this is much less common.
Don't worry if these terms are confusing. In the end, bourbon is highly experience-based. Everyone has their own preferences. The best way to find yours is to start drinking bourbon. Once you've tried different types of bourbon and different ways of drinking it, you'll start to find your own favorites.
Final Thoughts
Some bourbon purists would say that drinking bourbon straight is the only right way to enjoy bourbon. That's not the case though. Like every spirit, the way you drink bourbon should be defined by how you enjoy it.
If you need to add some ice, to make an old fashioned, or even make a sweet cocktail to enjoy your bourbon, so be it. We won't judge.