Barrels are more than just containers for aging your favorite wine and liquor. Sure, they're most commonly used as such, but there are other ways to make use of these wooden containers. Whiskey barrels make great outdoor and even indoor decorative items for a variety of projects, and there are real used whiskey barrels online that you can buy and ship to your home.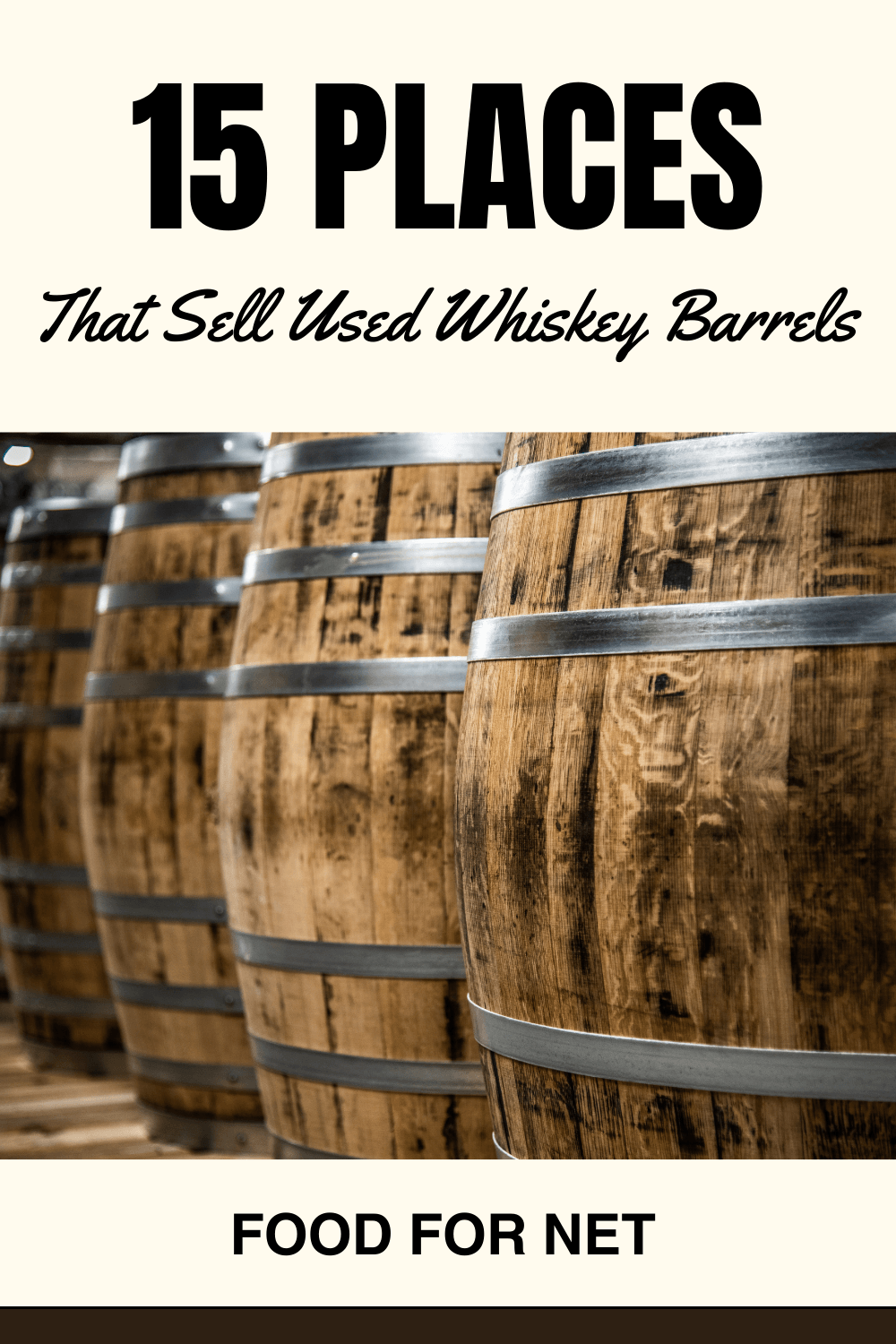 One of the most common uses of barrels other than for aging alcoholic drinks is for furniture. Head over to your local rustic-themed restaurant and you'll more often than not find a barrel or two in the store put up as decoration. They make for great tables, chairs, or even just pure decoration.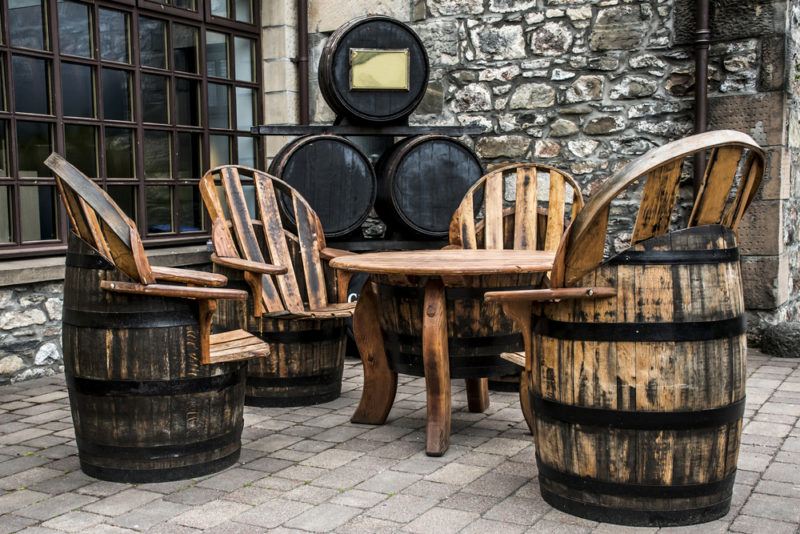 Even if you aren't using barrels for the sake of furniture, though, there are still some ways to make use of them – particularly if they're aged. If you're running a professional brewery or distillery, used barrels are great for aging, as they add more flavor and body to the drink.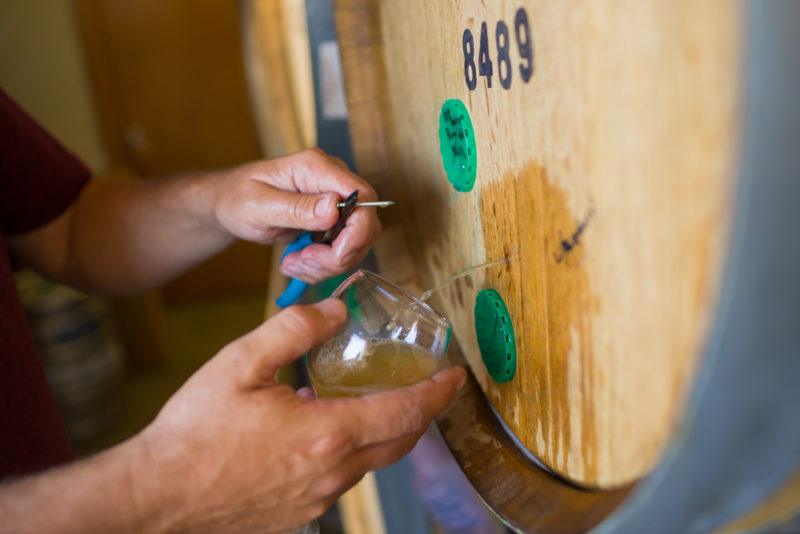 Even coffee beans have been known to be aged in used whiskey barrels. So not only are used barrels great for home decoration, but they're also useful in businesses that need that extra flavor when aging.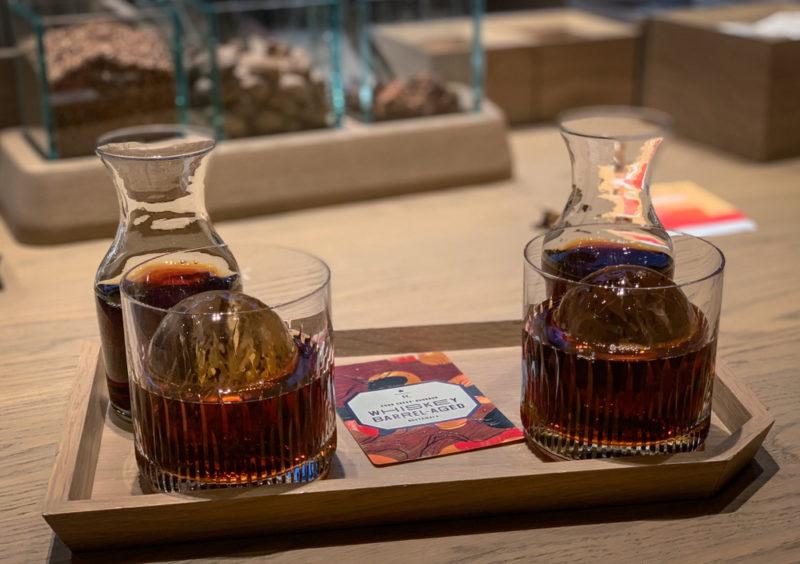 So if you're looking for a place that sells aged barrels, but you don't know where to look, you've come to the right place. We've listed 8 online stores that ship their used whiskey barrels to locations all over the U.S. of A. But before you pick one from the list and order immediately, here are a couple of pointers.
These online stores are different in their own way – some stores are more budget-focused, meaning that you can get a good deal out of them, especially if you live close to their physical locations.
On the other hand, there are some stores on this list that put a premium on quality, which makes their barrels more expensive, but generally of better condition. Make sure to know what you'd rather prioritize (quality or price) and start from there.
Buy Used Whiskey Barrels Online
Rocky Mountain Barrel Company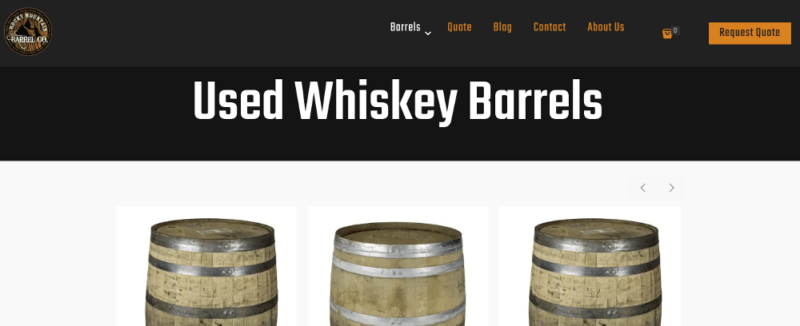 Based in Wheat Ridge, Colorado, Rocky Mountain Barrel Company sells used whiskey barrels of different types. The way that ordering from this website works is that you'll need to get a quote for the barrels you want to buy, and they'll send them to you as soon as they can.
When it comes to their collection, Rocky Mountain Barrel Company has a few options to choose from. They have Traverse City whiskey barrels, Balcones rye barrels, Sagamore rye whiskey barrels, and Buffalo Trace used whiskey barrels. Again, you'll need to get a quote from their website to find out the price of these barrels, should you plan on buying from them.
ExoticBarrels.com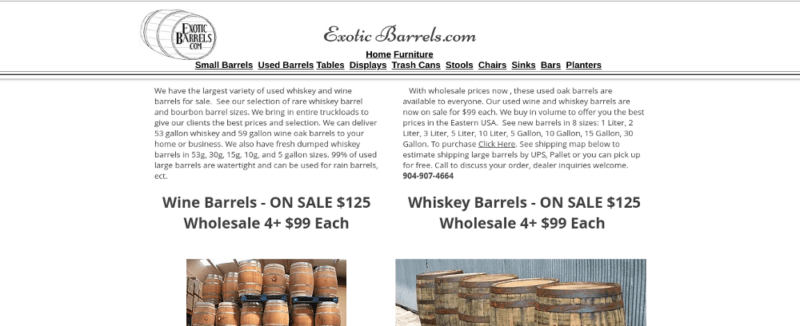 ExoticBarrels.com claims that they have the largest selection of both used wine and used whiskey barrels for sale. Whether or not that claim is true is a separate matter entirely, though, and they seem to be selling their barrels at affordable prices.
You can buy a used barrel of wine or whiskey for only $99 a barrel, which is a pretty good deal by itself. Add that to the wholesale discounts and you've got yourself an affordable supplier of used barrels. They also have a free pick up for anyone in St. Augustine, Florida, where they operate. If you want it delivered, the shipping fee will cost you anywhere from $99 to $399, depending on how far you live from Florida.
Midwest Barrel Co.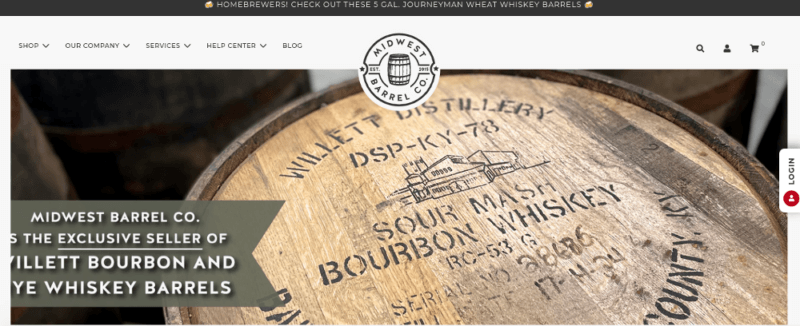 Midwest Barrel Co. is home to a vast collection of used barrels of different liquors, ranging from bourbon and whiskey to wine. They even have barrels for specialty liquors such as rum, gin, and brandy available on their store. The prices of these barrels (particularly the whiskey and bourbon ones) vary depending on the quality and status of the barrel itself. For example an ex-whiskey grape brandy barrel costs $239.25, while a 1792 bourbon barrel costs $299 instead.
Located in Lincoln, Nebraska, Midwest Barrel Co. does have shipping fees like the other services. You can easily calculate shipping costs by adding the barrels you plan on purchasing to your cart. The website will then readily give you the shipping cost you should expect from your order.
Other than used barrels, Midwest Barrel Co. also sells accessories that can make aging your whiskey easier. They have steel racks for barrels, barrel staves, bungs, and more. If you have some extra cash to spare it may be worth investing in some of these accessories.
Mystic Barrels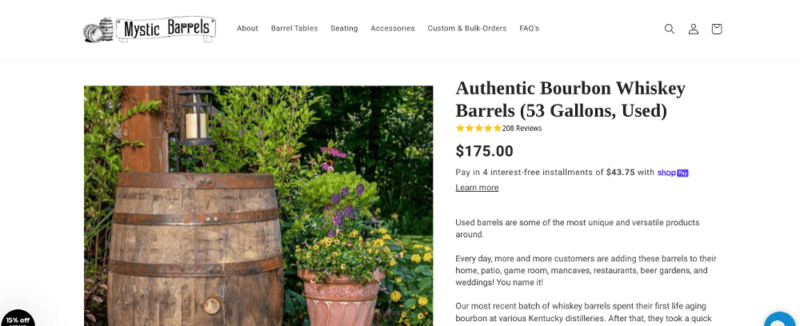 Located in Pittsburg, Pennsylvania, Mystic Barrels used barrels, as well as new and furniture barrels to their online customers. One thing that makes Mystic Barrels different from the rest is their promise to personally deliver your order to your door to minimize shipping costs.
Their best-selling barrels include authentic used bourbon barrels (53 gallons), and Napa Valley used wine barrels (59 gallons). The bourbon barrels will cost you $175 a piece, but there are ways to get discounts from them. For example, by simply entering your email address on their website, you get a 10% coupon immediately, and they also have a wheel-of-fortune minigame that you can spin to win free discounts.
Red Head Barrels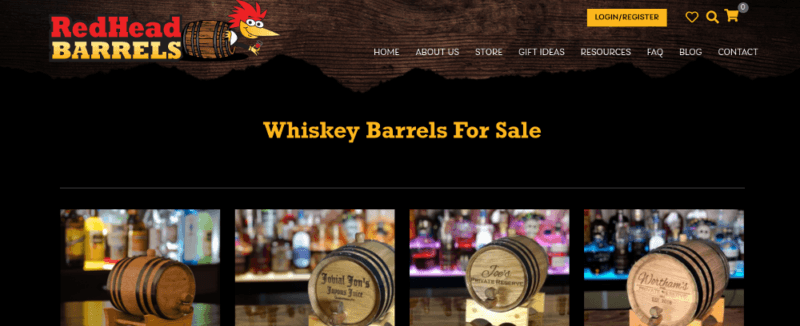 From 1-liter oak barrels to 53-liter used bourbon barrels, Red Head Barrels sells a variety of barrels suited for aging various liquors and wine. Other than the used bourbon barrels, Red Head Barrels sells oak aging barrels for as little as $49.95. Their bourbon barrels are pretty cheap too, coming in at only $120 apiece.
Kentucky Bourbon Barrel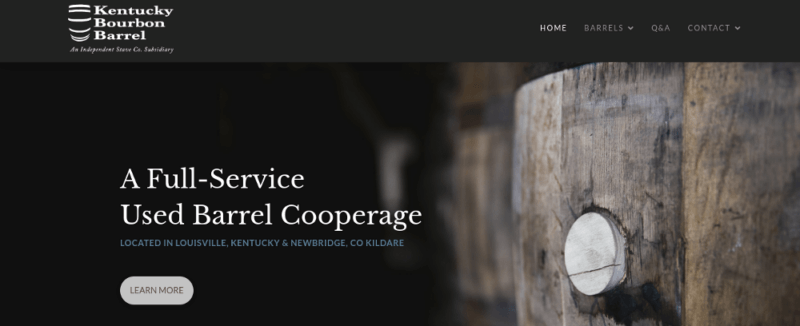 As the name suggests, Kentucky Bourbon Barrel sells American White Oak barrels that come directly from whiskey and bourbon distilleries across the country.
They are a full-service used barrel cooperage in the heart of Kentucky, the home of bourbon itself. They not only sell used whiskey barrels but also barrels for tequila, rum, beer, and more.
What's great about Kentucky Bourbon Barrel is the quality of products and services they have for sale. Their exotic used barrels and "select" used barrels are inspected for their quality and are only put up for sale if they meet certain standards.
Other than reselling barrels, Kentucky Bourbon Barrel also repairs used barrels for customers, if they'd rather have their existing barrels fixed instead of buying new ones.
Adventures in Homebrewing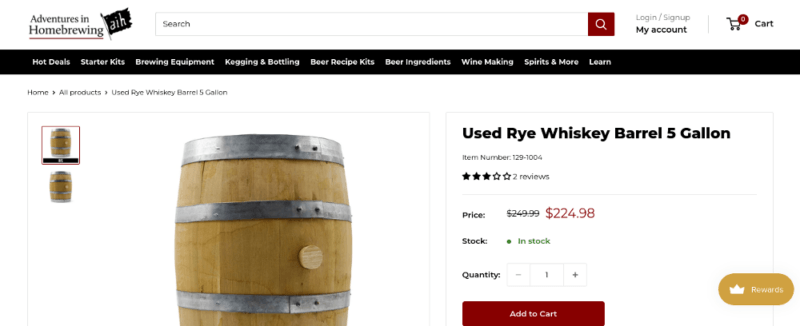 Adventures in Homebrewing is a website that's catered to individuals who want to start a professional brewery or distillery right in their backyard.
The website also sells apparatuses and equipment for homebrewing and aging, including used whiskey barrels. The website has a used 5-gallon whiskey barrel $224.98 per barrel.
The barrel comes from an award-winning small-batch distillery. While this may or may not matter to you, something that definitely will is the possible presence of cracked staves.
Many used barrels come with cracked staves, but the website guarantees that this is normal and does not compromise the overall quality of the barrel. For shipping costs, standard shipping rates apply for the barrel.
Kentucky Barrels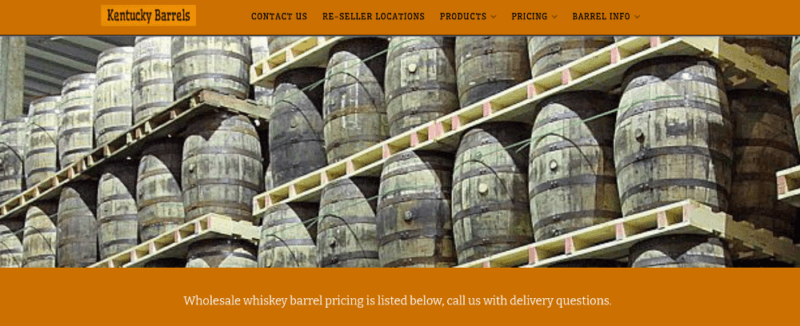 As another company bearing the Kentucky name, Kentucky Barrels sells barrels at wholesale that come from the state, with whiskey barrels ranging from 5 gallons to 53 gallons. Based in their warehouse in Harrodsburg, Kentucky, the website sells everything from rustic whiskey barrels to used California white wine barrels.
For used whiskey barrels, you need to buy at least 10 barrels – for $60 per barrel. Larger purchases cost $50 or even $40 per barrel. However, you'd need to purchase a whopping 288 whiskey barrels for this price.
Evans Family Barrels


Evans Family Barrels is a fascinating company. Their focus is on items that are made from used whiskey barrels, including planters, patio sets, and furniture. So, if you're not interested in making your own products from whiskey barrels, you could order something from them instead.
They even have a comprehensive rental service. This allows you to rent full or half barrels, and even a few items made using whiskey barrels.
However, if your heart is set on DIY, you'll need to buy your own whiskey barrel instead. Evans Family Barrels helps with this too, as they offer a variety of used wine and whiskey barrels, plus related accessories. Their regular rustic used whiskey barrels cost $95, while open head versions cost $125 instead.
Atlanta Barrels


Atlanta Barrels actually focuses on plastic poly drum barrels in a variety of sizes. They also have steel drums, whiskey barrels, and a few other products.
Interestingly, the company offers both new and used barrels. The new 53 gallon barrels cost $250 and would be perfect for products where you need a clean and consistent appearance. Of course, you might prefer a used option instead.
They have two versions of these – Type A and Type B. The difference is simply how worn and rustic they appear. The Type A barrels are the least rustic and cost $120 each. The more rustic type B barrels cost $85 instead. The more rustic style is a great way to save money, particularly as the appearance would still work well for many projects.
The one catch is delivery, as Atlanta Barrels won't ship your order to you. However, they do have a delivery options page that lists services in the area that you can use.
Baukols Barrels


Baukolos Barrels is a relatively small business that started from a simple request to make a bar out of a whiskey barrel. Since that inspiration, the business has shifted, evolved, and continued to offer new products.
These days, Baukos Barrels has a collection of barrel-base items for sale, including a bourbon bar, dog bed, tables, a golf club holder, bar stools, and much more. There's even a custom service where they can make the items you request. Their collection is impressive and can be quite inspiring.
Of course, we're interested in their whiskey barrels. Small whiskey barrels cost $95 and large ones are $105 instead. There are also branded Jack Daniel's barrels, which cost $210 instead.
The barrels are often out of stock, so you'll need to get in fast. They also appear to be for pickup only. This is a shame, but you could contact local services and get them to deliver the barrel to you.
Tombstone Copperage


Tombsone Cooperage operates out of Arizona and is another company that offers some whiskey barrel products, particularly planters. They also sell water storage tanks, knives, shirts, decor, and hats – which creates quite a diverse product range.
Beyond this, they have oak aging barrels. These are new barrels of various sizes, designed specifically to help you age your own alcohol. Some can even be personalized and are small enough to sit on a table. One of these might make a fantastic gift.
Then there are the used bourbon whiskey barrels. These start at $120. Or, you can pay $127.50 to have all hoops nailed on to make them more stable. You can also order a long cut half barrel for $90.
Tombsotne Copperage will deliver these barrels, but only to Pima, Cochise, and Santa Cruz counties. The delivery fee varies from $40 to $175 depending on your location.
Motor City Barrels

Motor City Barrels is an impressive company. Their selection of whiskey barrel furniture is particularly cool, as they ahve some impressive entries, including deck chairs, cabinets that open, a gaming arcade table, an airplane kids rocker, and barstools.
There are also many products related to cocktails, such as smoked cocktail wood chips, smoked cocktail kits, and plenty of barware. Many of their products would be perfect gifts for men who are difficult to shop for.
Then there are the barrels. A small 15 gallon whiskey barrel costs $178, while a fresh dump distillery barrel costs $198 instead. There are full sized 53 gallon barrels as well. These cost $195 when they're in stock and are classed as furniture grade.
Motor City Barrels is unusual, as they have individual listings for barrels from different distilleries. This allows you to choose barrels from specific distilleries and create themed furniture.
Lexington Container Company


Lexington Container Company differs from the other companies we have listed – as they focus on the wholesale provision of various products, like whiskey barrels, plastic drums, steel drums, and the like.
If you live on the East Coast of the United States, then you can get a full truckload of barrels (that's 288 barrels!) delivered for $70 each or half a truckload for $80. This is an insane amount of barrels – and a very reasonable price.
If you're willing to pick up instead, then the prices are $75 with a 10 barrel minimum or $65 if you are willing to buy at least 20. They sometimes offer used barrels for single sale as well. These cost $125 if they have cracked staves or $165 if they don't.
You can also occasionally buy barrel heads from specific breweries. These tend to have the brewery logo on them, so they're fantastic for hanging or for some DIY projects. However, it's not clear whether Lexington will ship these or whether you need to pick them up.
Barrels Direct


Finally, we come to Barrels Direct. This company is interesting for the types of barrel they offer. We're not just talking about whiskey barrels either. They also have other products like a "pink" tequila ex-red wine oak barrel.
Their barrels vary in price depending on the type and quality, but you're often looking at $200 or more. For example, 53 gallon apple brandy ex-bourbon barrels cost $299, while a vanilla extract ex-bourbon American oak barrel costs a whopping $549 instead.
You'll also need to pay shipping. The price for this varies and isn't listed on the site. Instead, it is calculated for you during the purchasing process.
Ways To Use Old Whiskey Barrels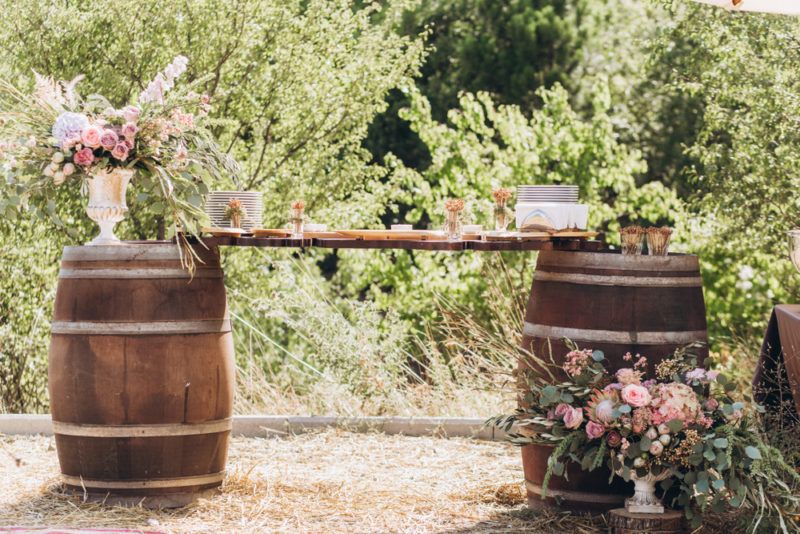 Making a planter is the most famous way to use an old whiskey barrel. Doing so works well too, creating a rustic garden environment that complements many plants.
However, that's just one option. There are countless ways to use whiskey barrels, like making furniture, building a treasure chest or alcohol cabinet, using the barrel as part of a sink, or even building a rocking horse plane from it. Those are just a few ideas. We have a large list of others ways to use whiskey barrels that you can experiment with.