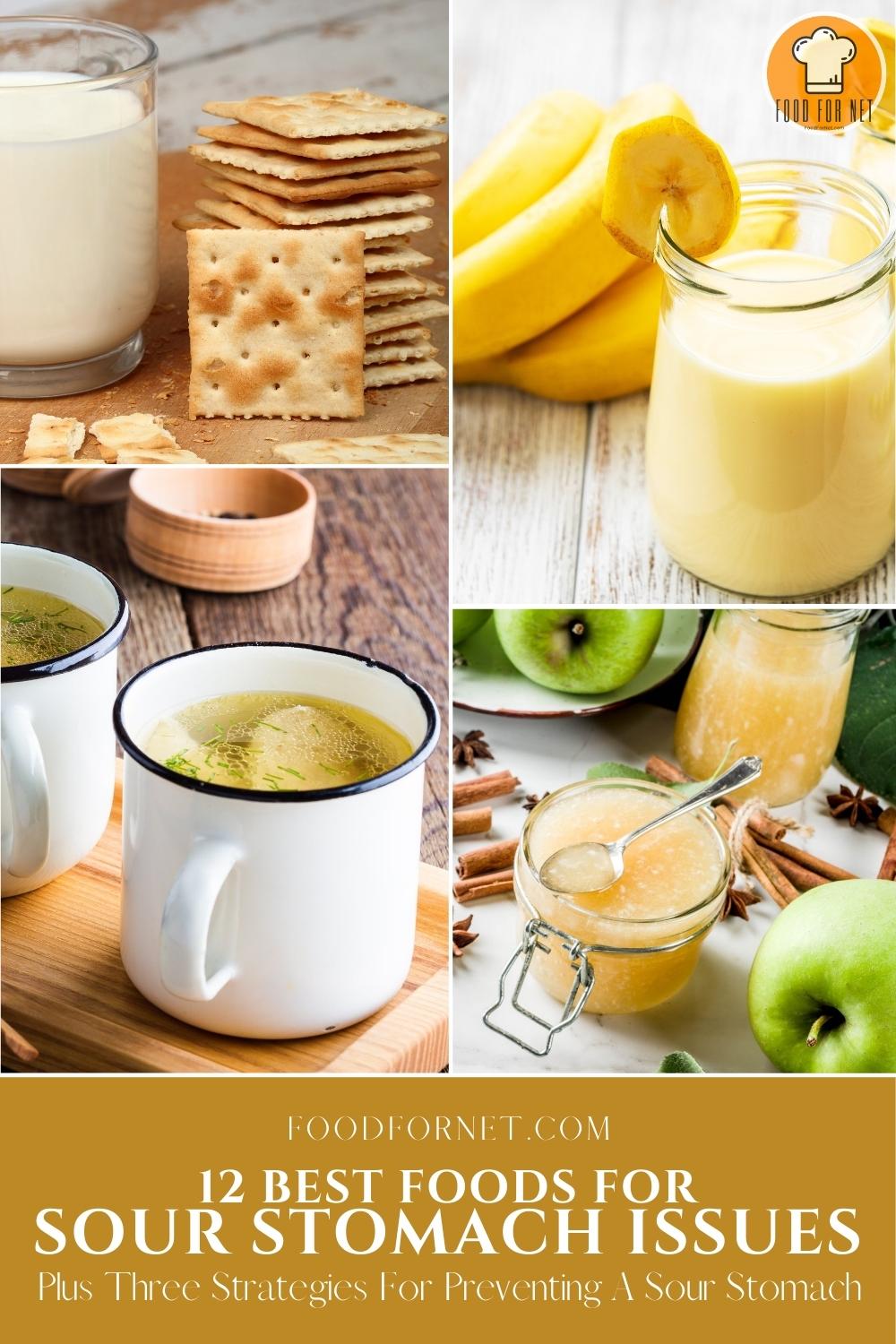 One of my friends likes to tell a story about the first time he ever remembers having a sour stomach. He was just a child, playing hide and seek with his friends when he discovered he was having massive sulfuric burps. No one wanted to play with him that afternoon, because the smell was so disgusting—which was probably just as well because he got an upset stomach to go with the burps.
His story is fun to smile at now, but for many people, the sulfur burps, burning stomach, and nausea that go along with a sour stomach can be debilitating. Finding a fast cure for an upset stomach is essential, both for being productive and for feeling comfortable.
Thankfully, there are several ways to treat an upset stomach through foods. If you're interested, read through this list of the 12 best foods for sour stomach issues, and see if any of them might work for you. At the end of this article, I'll also share three strategies for preventing a sour stomach, so you can avoid it as much as possible.
12 Great Foods For Calming An Upset Stomach
Peppermint
Bananas
Yogurt
Ginger
Milk
Chicken Soup
Toast
Chamomile Tea
Applesauce
Crackers
Rice
Carrot Juice
Peppermint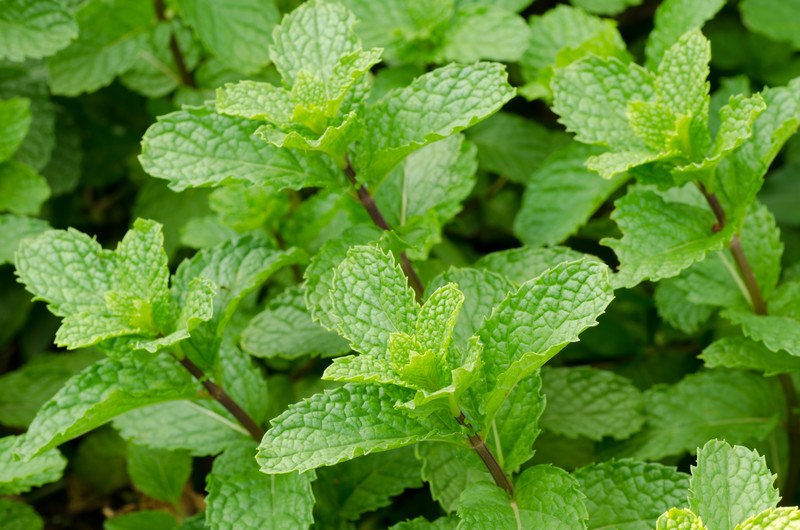 Peppermint is an age-old home remedy for upset stomach issues, including everything from gas pains and cramping to vomiting. Some sources indicate that peppermint could even help offset some of the symptoms of irritable bowel syndrome.
This herb contains chemicals such as menthol and methyl salicylate. These substances are anti-spasmodic and help relax the intestines and stomach, so you're less likely to vomit. They could also ease stomach pain.
Many people take peppermint tea when they're feeling nauseated or have heartburn. Peppermint is also used as a flavoring in desserts, after-dinner mints, and chewing gum. If you're experiencing a sour stomach but drinking peppermint tea isn't convenient, such as when you're traveling, you might consider sucking on a peppermint stick or chewing peppermint-flavored gum.
Bananas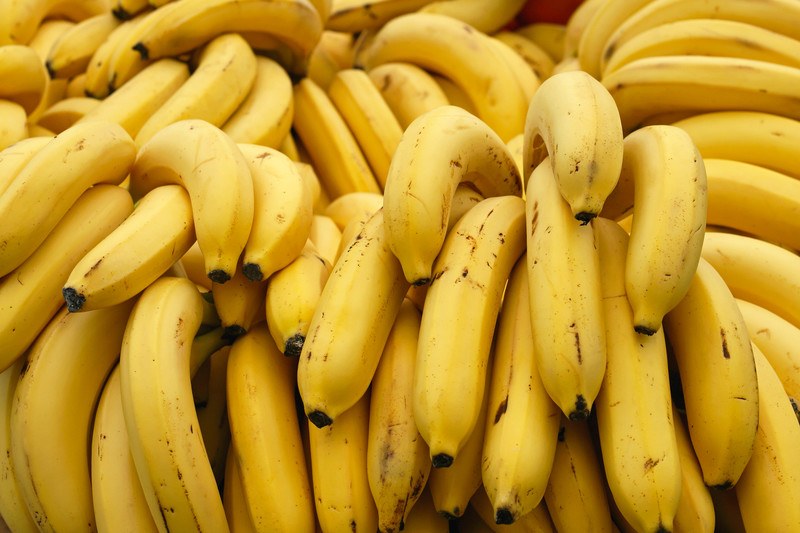 Bananas are part of the BRAT diet, a commonly used eating plan for people experiencing gastric distress. BRAT is an acronym for Bananas, Rice, Applesauce, and Toast. These foods are easy to digest, even during times of stomach upset, so they could help soothe stomach issues.
Bananas contain a type of soluble fiber, called inulin, that could be particularly helpful for a sour stomach. Inulin swells in the intestines, creating a gel-like substance that feeds good bacteria and helps return the gut microbiome to health. For other foods that are best for microbiome health, see our list here. It could also help with elimination issues by drawing water into the colon so stools are softer and easier to pass, and this could help rid the body of toxins that cause sour stomachs.
Bananas are also rich in several nutrients that could help people recover quickly from sour stomachs. One banana provides 12% of the daily recommendation for vitamin C, which has some antioxidant and anti-inflammatory effects on the body. Vitamin C also helps boost the immune system. Bananas are also rich in vitamin B6, a nutrient known to help regulate the digestive system and soothe nausea. One banana provides 36% of the daily recommendation for vitamin B6.
Yogurt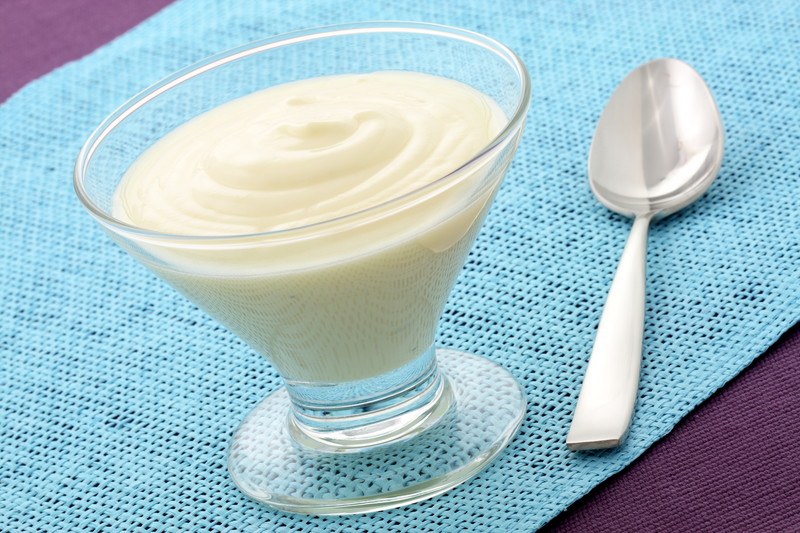 Like bananas, yogurt is great for developing and maintaining a healthy gut microbiome. Yogurts contain probiotic bacteria that usually include strains like Lactobacillus Acidophilus and Bifidobacterium. These two strains are particularly good at limiting bloating and water retention issues. Other strains, such as Saccharomyces Boulardii, are better at dealing directly with upset stomachs and issues like diarrhea.
Fermented foods, including yogurt, are one of the best sources of probiotic bacteria. You might want to read the labels on your yogurt to see exactly which strains are provided, as the ingredients may vary from brand to brand. You could also try drinking kefir or eating pickles, sauerkraut, and kimchi to add more probiotics to your diet.
Besides probiotics, yogurt has other nutrients that could help ease the symptoms of a sour stomach. Like bananas, yogurt is easy to digest, and it's a good source of vitamin B6 and calcium. It's also one of the foods that are rich in selenium. Calcium acts as a buffer against too much stomach acid, and selenium has anti-inflammatory properties, so eating yogurt could be soothing for sore tummies.
Ginger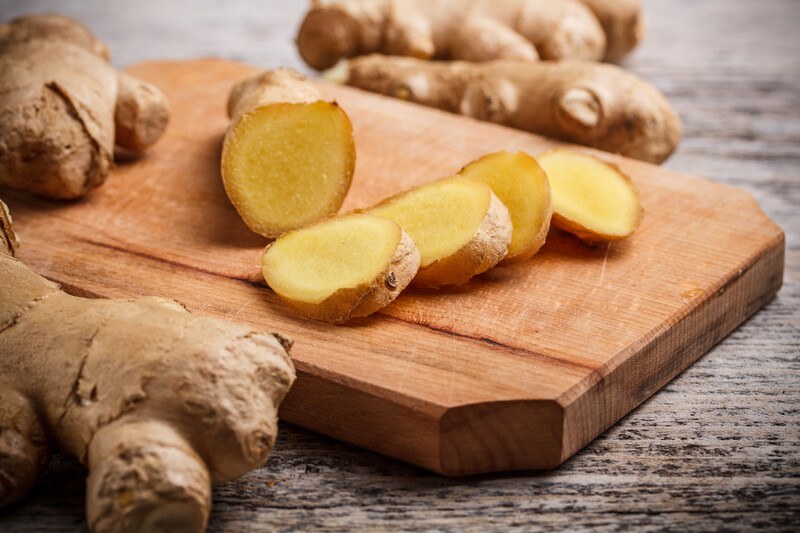 Like peppermint, ginger is a well-known herb for treating upset stomachs. Ginger's medicinal qualities may be due to its high levels of a substance called gingerol. Gingerol has strong anti-inflammatory properties that allow it to soothe the stomach, and it's also a strong antioxidant that promotes some anticancer activities, too.
Ginger is used as a flavoring in Asian cuisine, but if you don't feel up to eating much, you could try taking ginger as a tea, in soups, or as capsules. For fresh ginger tea, cut a slice of ginger off a ginger root, peel the slice, and then chop it or mince it. Let it steep in hot water for ten minutes before straining out the ginger and drinking it. This tea is most helpful when it's taken two or three times a day.
Milk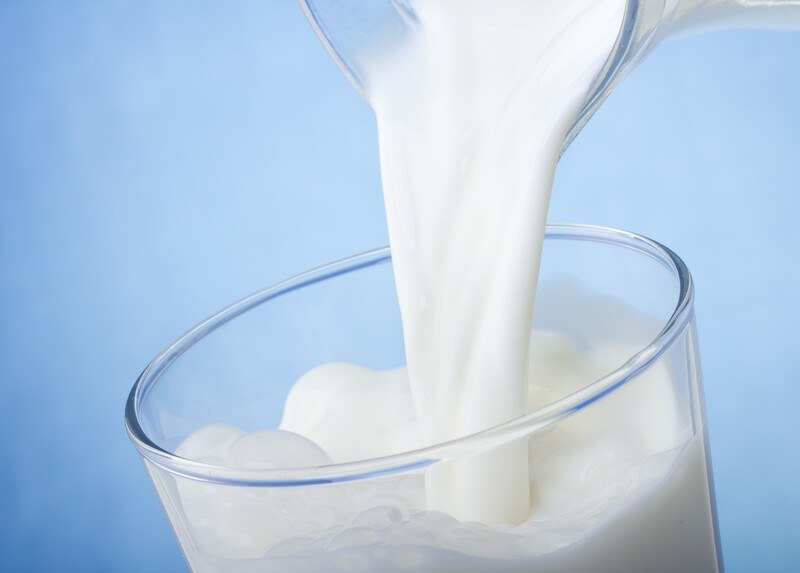 Like yogurt, milk can be soothing to the stomach. A cup of 2% low-fat milk provides 24% of the daily recommendation for calcium, which could temporarily bring down the acidity of the stomach and provide some relief. It also provides around 11% of the daily recommendation for vitamin B6 and 8% for selenium.
Milk has nutritional benefits that extend beyond calming a sour stomach. Milk is also one of the few foods that are rich in vitamin D. A cup of milk provides 14% of the daily recommendation for vitamin D. Milk is also a great source of several minerals, including magnesium, potassium, and zinc.
Chicken Soup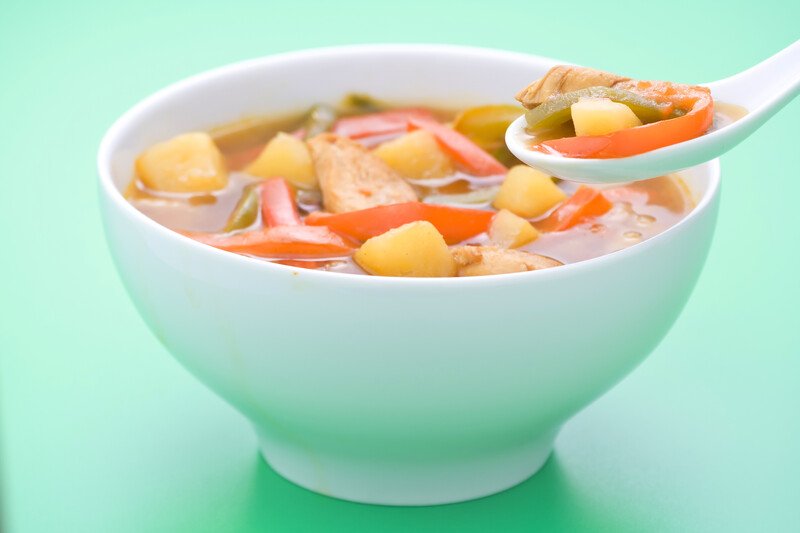 Chicken soup is one of the best-known home remedies for upset stomachs and other common illnesses, including mild colds. There are quite a few reasons for this. Chicken soup is served mildly hot, and this could be soothing to the esophagus and stomach.
Since it's mostly a liquid, it's also easy to digest, so it's filling without creating an extra burden on the digestive tract. It could also help dilute the stomach acid and pass it quickly through the body.
Some studies have shown that chicken soup has some medicinal properties, too. Chicken soup has a slight anti-inflammatory effect, which could ease some symptoms of a sour stomach. Some chicken soups are better at this than others. One of my favorite chicken soups is a Filipino dish called Lugaw. Besides containing chicken and rice, Lugaw includes fresh ginger, which enhances the anti-inflammatory effect of the soup.
Toast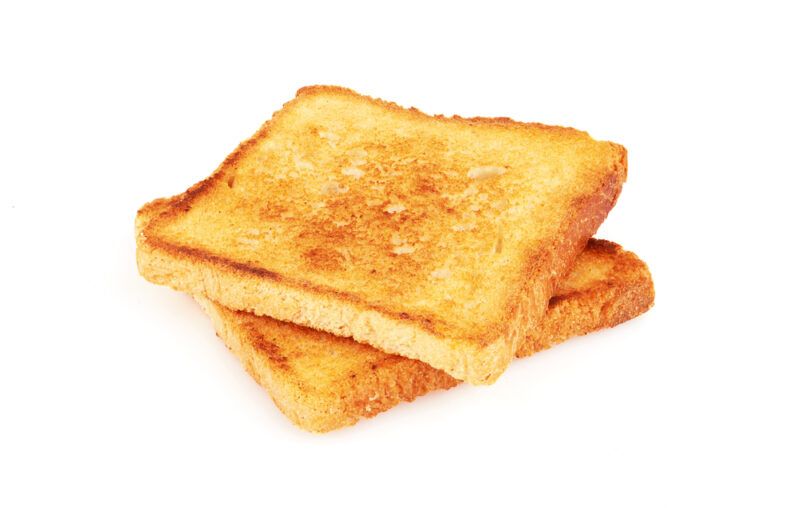 Like bananas, toast is a part of the BRAT diet. It's generally bland and easy to digest, but it also has some texture to it. Toast, especially toast made from white bread, has a sponge-like quality to it that could allow it to soak up excess stomach acids, so they could be eliminated quickly from the body. Here's a list of foods for hyperacidity, that can calm your stomach.
While white bread doesn't have as many nutrients as bread made from whole grains, it does have some other properties that could help fight sour stomachs. A slice of enriched white bread provides around 3% of the daily recommendation for fiber. It also contains around 6% of the daily recommendation for calcium and 7% for fiber, 3% for vitamin B6, and 17% for selenium.
Chamomile Tea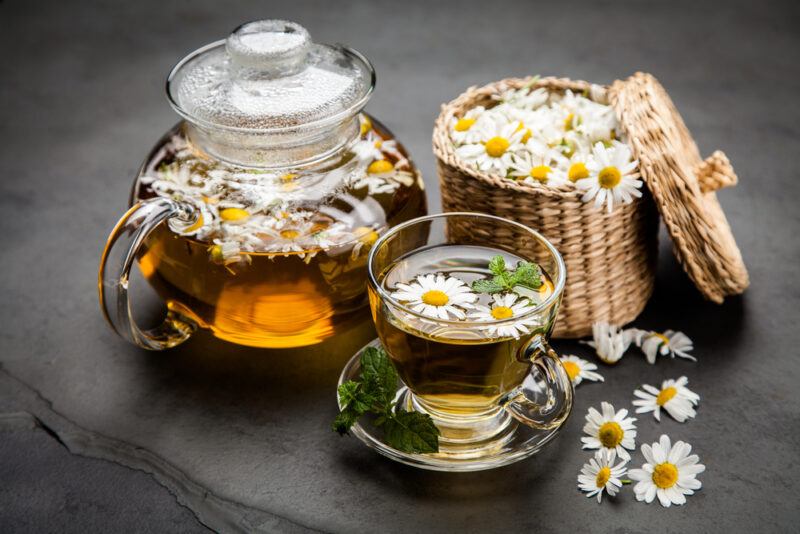 Like peppermint and ginger, chamomile is an herb that's often taken as a tea to ease digestive symptoms. The chamomile flower, from which the tea is made, has antispasmodic properties as well as anti-inflammatory effects. It helps calm muscles in the digestive tract and eases swelling and irritation of the mucous membranes.
These same properties make chamomile an ideal home remedy for muscle cramps, including menstrual cramps. It's also been known to ease skin irritations such as eczema and acne, and its' anti-inflammatory properties could provide some allergy relief, too.
Applesauce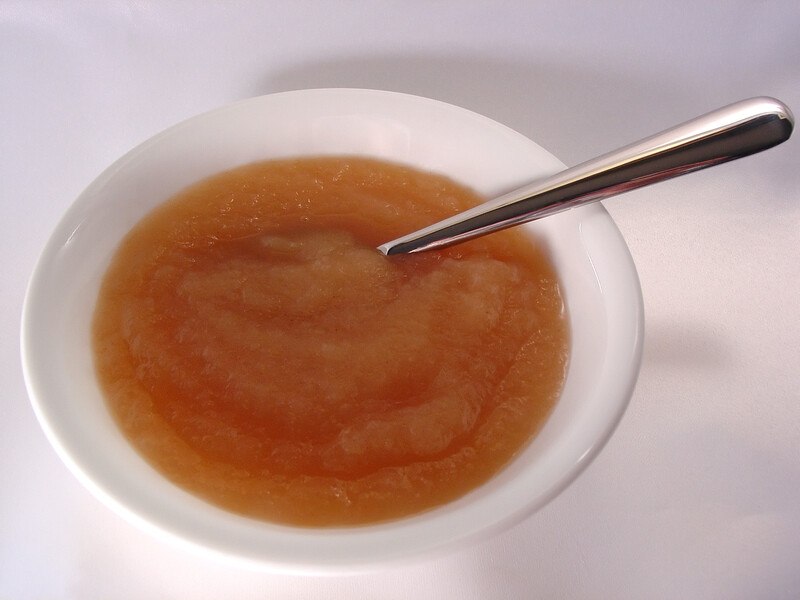 Applesauce is another component of the BRAT diet. Like the other BRAT foods, applesauce is easy to digest, and it moves through the stomach quickly, so it can help move excess stomach acids through the digestive tract and calm the stomach.
Like bananas, applesauce contains soluble fiber. The type of fiber found in applesauce is called pectin. Pectin is a prebiotic fiber, meaning it feeds the good bacteria in the gut and contributes to a healthy gut microbiome. It also helps move toxins through the digestive system, and it could help to prevent or treat diarrhea.
Crackers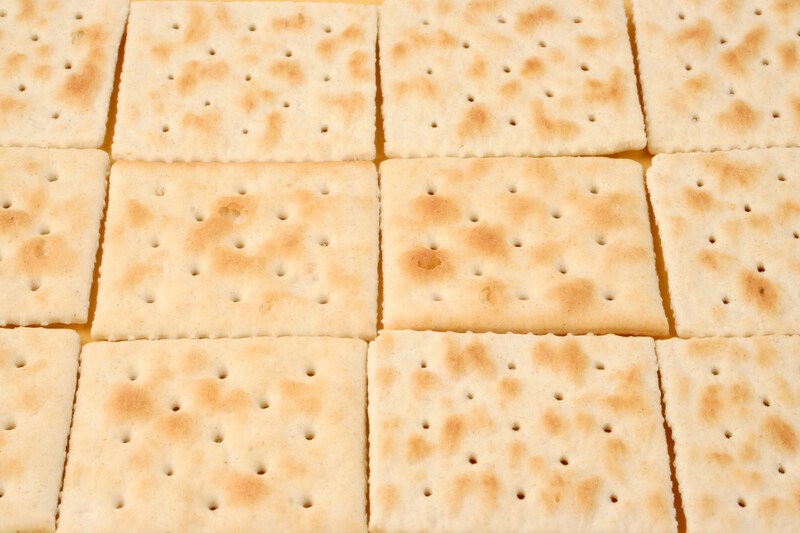 Crackers are often offered to people suffering from sour stomachs, and they might be one of the first foods you think of when you remember being sick as a child. Crackers have a crisp texture, but they're easy to chew, swallow, and digest. Like toast and white bread, they could help soak up excess stomach acid and move it through the body.
One of the nice things about crackers is that there are a lot of varieties and brands to choose from. No one cracker type seems to be better for a sour stomach than another, so you can choose which appeals most to you at the time.
Rice

Like applesauce and toast, rice is an essential part of the BRAT diet. Rice is easy to chew, swallow, and digest, but it also has some binding properties that could help move toxins through the digestive tract. The type of rice that's used is usually white rice because it's easier to digest than brown rice, but brown rice also has a lot of fiber, and that could be helpful in some instances.
One nice thing about rice is that it contains several nutrients that are great for overall body health. A cup of cooked white rice provides 11% of the daily recommendation for iron. It also contains 11% of the daily recommendation for vitamin B6, and it's a good source of several other B vitamins, folate, and minerals like selenium. A cup of cooked rice provides 21% of the daily recommendation for selenium.
Carrot Juice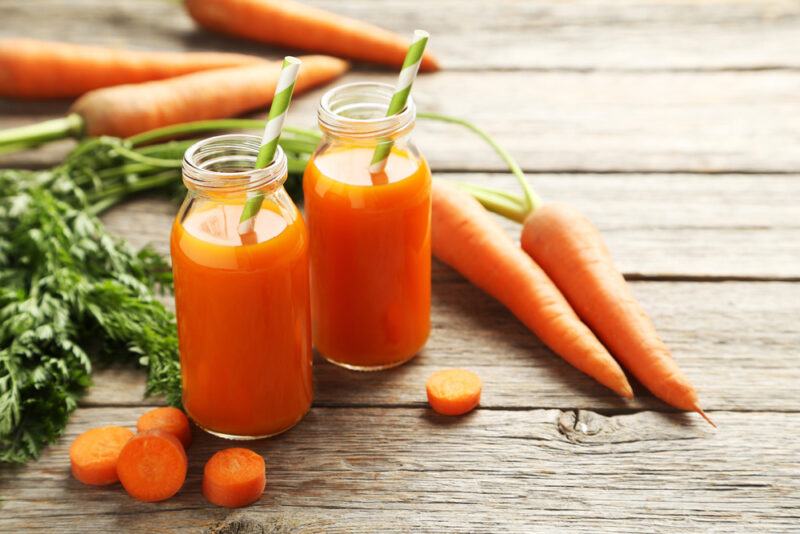 While it's not the most widely-known home remedy for a sour stomach, drinking carrot juice can be effective. A one-ounce serving of 100% carrot juice provides 5% of the daily recommendation for vitamin B6, so a full 8-ounce serving would provide around 40%.
Because it's a fluid, carrot juice could also dilute the stomach acids and help rinse them through the digestive tract. While it's moving things through, carrot juice also packs a powerful nutritional punch that could help the body heal. A cup of carrot juice provides around 8% of the daily recommendation for calcium, so it could provide a buffer against the excess acid. Carrot juice is also rich in vitamins C, E, K, and A, and it provides minerals such as potassium, magnesium, iron, and zinc.
Some sources suggest that carrot juice also has antioxidant properties and some chemicals that could help combat some cancers.
Three Strategies For Preventing A Sour Stomach
Now that you've read through the list of the 12 best foods for sour stomach issues, let's talk about ways you can prevent a sour stomach in the first place. These ideas are common sense and easy to work into almost any lifestyle.
Strategy #1: Avoid Greasy, High-Fat Foods
Greasy foods, like fried chicken, and high-fat foods like cheese might be hard for your stomach to deal with. It could react by becoming more acidic. To keep a sour stomach at bay, limit your intake of fried foods and foods high in fats.
Strategy #2: Cut Back On The Spices
Occasionally, spicy foods can cause an acidic stomach to flair up. If you have trouble with a sour stomach after eating spicy foods, cut back on the number of peppers and other flavorings you use when you cook. You could also eat spicy meals less frequently.
Strategy #3: Limit Stress
Sometimes, all it takes to create a sour stomach is an extra dose of stress. Keep your stomach acids down by releasing stress every day in healthy ways: take a walk, do some yoga, drink more water, meditate, and get enough rest.