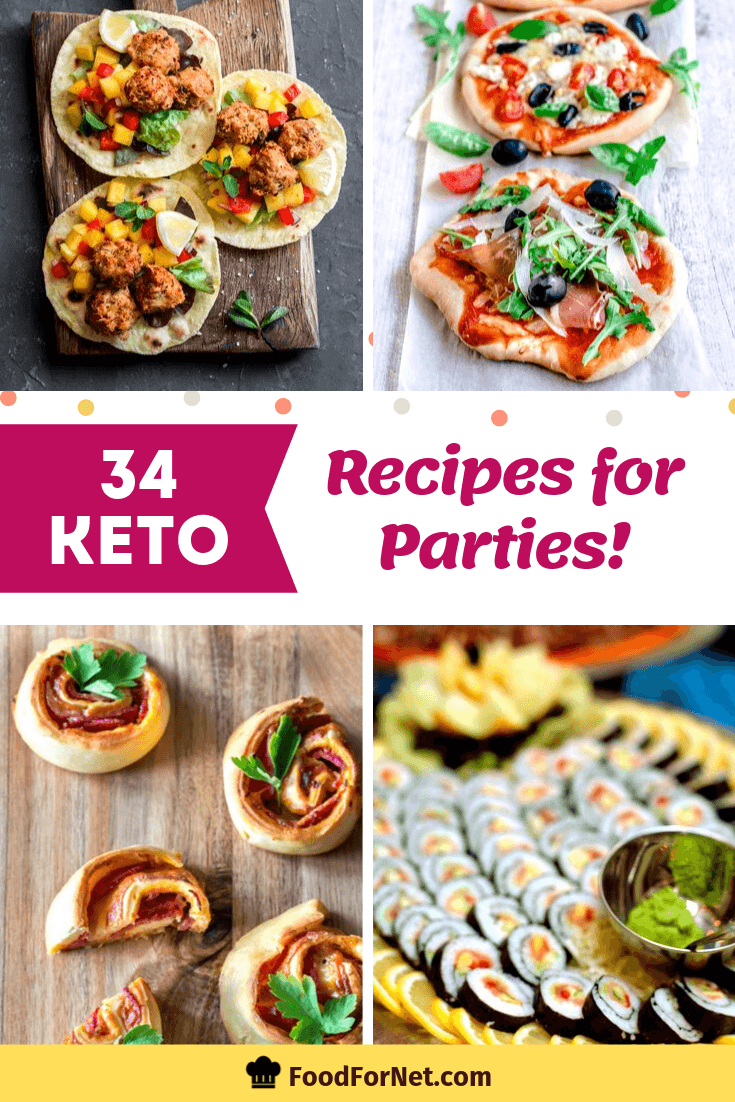 It's easy to think that following a diet makes you a bore at parties. Thankfully, that's not the case at all, especially not with the keto diet. There are many keto recipes for parties that you can rely on, ones that are bound to impress and get other people talking.
Some of them are very different than you might have tried before, while others are keto versions of conventional recipes.
These outcomes aren't surprising at all. The keto diet might cut down (or out) many popular ingredients, but the food still tastes good. You also tend to create dishes that are rich in flavor and high in fat. It's easy to see how these would be popular in any party environment.
Keto Recipes for Parties
PS. Savory keto fat bombs are also fantastic party choices. These tend to be easy to eat and don't look like traditional fat bombs at all.
PPS. You might want to try making some keto sliders with homemade keto burger buns
Low Carb Sausage Rolls
Sausage rolls are often a popular party food. Why miss out on them when you're following keto? This recipe from Georgina at stepawayfromthecarbs.com provides you with a low carb version. Each of the sausage rolls has less than one net gram of carbs. That's impressively low. The pork sausage in the rolls would help to make them filling too. That's another bonus.
Crispy Avocado Fries
This recipe doesn't just offer an alternative to French fries. You end up with a party food that is healthier and tastes much better too. As Idriss (from brokefoodies.com) mentions, these don't have the same taste or texture as regular fries. That's not a bad thing. Instead, the avocado creates a very creamy center. You even end up with a crispy outside too.
Sausage Stuffed Mushrooms With Cream Cheese
Stuffing fruits or veggies is a fun idea for parties. The idea creates snacks that are easy to pick up and eat. That's exactly the case with these stuffed mushrooms. They come from the site hungryforinspiration.com and look delicious. The choice of ingredients provides you with a creamy filling, while the sausages help to make the whole dish more interesting.
Spicy Salmon Sushi Rolls
Sushi isn't normally included on a low carb diet, but there are keto versions that you can try. This recipe from ketodietapp.com is one such example. It makes use of cauliflower rice, along with a homemade salmon mix. You're not limited to this combination of ingredients either. You could try out another type of fish or turn to more common sushi-style ingredients, like wasabi. However you make them, these sushi rolls will be gobbled up quickly.
Pumpkin Seed Bark – Dark Chocolate and Sea Salt
This snack recipe comes from ketogasm.com (which is an awesome name for a site!). There are only 3 ingredients used, so it is a very easy dish to make. Easy isn't a bad thing either. Sometimes you just need a recipe that you can throw together quickly. Tasha also gets the flavor combination exactly right. Trust me, you're going to love the finished result.
Oven Baked Chicken Tenders
These chicken tenders make a natural choice for any party. They're simple to make and would always be a hit. Besides, this type of chicken would be popular among keto and non-keto dieters. The tenders are also baked. That cooking style is ideal for anyone watching their calorie intake.
The recipe comes from aussieketoqueen.com. Head over there to find more details. Rachel also includes a recipe for parmesan mayonnaise and some recommendations for complementary sides.
BBQ Chicken Crust Pizza
It's hard to have a party without pizza. Okay, it's not – but pizza makes any party better. This version comes from lowcarbmaven.com and has everything that you could want on a keto pizza. Even more importantly, this pizza doesn't use cauliflower for the base. The recipe uses a chicken-based crust instead.
Not only does the chicken approach taste much better than cauliflower, but you also end up with a very hearty pizza. This should help to keep you and your guests satisfied.
Stuffed Jalapeno Peppers With Ground Beef
This recipe comes from ketovale.com and it is a great treat for anyone who loves spicy food. You're serving a combination of beef and cheese within a jalapeno pepper, so these treats aren't for the faint-hearted. Of course, you're not limited to this filling choice. You could find your own balance of ingredients that works well, like bacon or sausage. There are plenty of keto choices out there that would combine perfectly with jalapenos.
If you make the poppers as written in the recipe, then each stuffed jalapeno will contain around 1.4 grams of net carbs, along with more than 10 grams of protein. That's an impressive outcome for a small piece of finger food.
Keto Egg Nog With Cashew Milk
The right drinks are an important addition to any party. This egg nog recipe from ketosizeme.com is one such choice. It's made with cashew milk, which is a less common nut milk choice. Shasta mentions that cashew milk does have its own distinctive taste, one that works well with this recipe. You're not limited to serving this drink at Christmas time either. Egg nog can actually be a tasty drink at any point of the year.
Low Carb Taco Bites
I'm very fond of these taco bites from homemadeinterest.com. While there are plenty of other recipes that use a similar flavor combination, there aren't many party foods that look this amazing. The decision to make taco shells out of cheese is very clever. The snacks are also a perfect size for any event.
You're not limited to the taco style either. You could fill the little cheese cups with whatever combination of ingredients that you like. You might even create multiple versions. That wouldn't be difficult to do.
Chicken And Prosciutto Spiedini
This recipe has an odd name, but that doesn't stop it from being a fun party choice. If nothing else, the snack comes from ibreatheimhungry.com. This is worth mentioning because Mellissa tends to produce fantastic recipes. You can be confident that any dish from her site has been carefully developed and well tested.
A single glance at this snack should show you how popular it would be. Just look at the cheese oozing out. The combination of chicken and prosciutto is bound to be a hit as well.
Buffalo Wings
What's a party without chicken wings? Gerri from myketokitchen.com offers this buffalo wings recipe that is simply too good to be true. The recipe does rely on a deep fryer, so it won't be suitable for everyone. If you do have the tool, I encourage you to check the recipe out. Seriously, the flavor profile is perfect.
Chicken Tenders Recipe With Breaded Pickles And Ranch Dipping Sauce
While chicken is an easy addition on keto, the breading can be problematic. Louise from theketosummit.com offers a solution with this recipe. She doesn't just provide a chicken tenders recipe either. Her post also includes a keto ranch dipping sauce and breaded pickles. She also links through to other key dips and sauces that you can try out instead.
Sausage, Cheese and Caramelized Onion Bites With Chimichurri
These unusual bites are certain to be a crowd pleaser. They come from mincerepublic.com and simply look amazing on the plate. I particularly love the combination of flavors and textures that are involved. These help to make the bites a knockout. Of course, the real star is the chimichurri sauce. This takes the snack to the next level. You could use it in plenty of other ways as well.
Cannoli Stuffed Crepes
I'm such a fan of the recipes from ibreatheimhungry.com that there are two of them included in the list. This one is fun because it is a sweet option and crepes are always a hit. The recipe is based off Italian cannoli. This keto version has a similar flavor profile, although there is no crispy shell. Honestly though, you won't miss the pastry shell. These crepes turn out fantastic as they are.
Cheeseburger Muffins
The best party snacks tend to be ones that look amazing and taste even better. These cheeseburger muffins from stand out in both of these areas. As you can probably guess, the muffins include the flavors and ingredients that you'd expect in a cheeseburger, such as pickles.
You also have plenty of flexibility. You could change the toppings or even the hamburger filling. Even so, you'll want to check out the full recipe at ruled.me. The recipe includes the details that you'll need for making the cheeseburger muffin buns. These are the most unique part of the recipe.
Thai Chicken Meatballs
These chicken meatballs are another fantastic recipe from myketokitchen.com. They're not your typical meatballs either. The combination of ingredients gives them a distinct Thai flavor profile. There is also an accompanying dipping sauce that makes them better again.
Keto Sushi – California Rolls
This recipe is another way to have sushi on a keto diet. Carolyn takes inspiration from California rolls to create a dish that looks amazing and is certain to be popular. You can find the full recipe at alldayidreamaboutfood.com, along with plenty of tips and tricks for making the rolls turn out perfectly.
Bacon Guacamole Deviled Eggs
Don't these deviled eggs just look amazing? They come from peaceloveandlowcarb.com and they're simply so much more interesting than conventional deviled eggs. The guacamole approach alone makes them ideal for a keto diet, while the combination of flavors would just be amazing.
The way these beauties look would make them a stunning choice for serving at a party too. You would certainly impress any guests, even ones that haven't heard of the keto diet.
Fathead Keto Pizza Recipe
This pizza recipe comes from hungryforinspiration.com. It's another choice that would be ideal for a party. After all, people tend to expect at least one pizza recipe per party. This version takes advantage of fathead dough to create a pizza that is very similar to a regular one. You will be able to tell the difference, but that's true of any keto pizza. Still, this pizza looks amazing and would taste as good as it looks.
Pumpkin Creme Brulee
If you want an impressive dessert for a party, this creme brulee recipe is hard to beat. For starters, it's more than just a regular creme brulee. The recipe is fall-themed, with the addition of pumpkin to make the flavor that much more interesting. Creme brulee is also a popular and enjoyable treat, which is another reason for trying this dessert out. You can find the recipe and all relevant details at ketosizeme.com.
Cheesy Bacon Bombs
These bacon bombs look like heaven for anyone who loves bacon and cheese. The recipe comes from ruled.me and offers a fantastic combination of salty and creamy. Don't be fooled by their simplicity either. Craig uses an interesting combination of ingredients to create a flavor profile that is bound to impress.
Red Velvet Fat Bombs
There are countless fat bomb recipes out there, but these ones from myketokitchen.com look especially amazing. There's something awesome about the red velvet color and flavor that just sets these apart. It's easy to see how they would be a good party choice. Of course, you could just skip that and make them as snacks for yourself.
Bacon & Onion Egg Cups
These bacon and egg cups follow a familiar approach. They're a convenient type of snack, one that is perfect for many different situations. After all, you can easily pick up one of the egg cups and eat it on the go.
The recipe itself comes from ibreatheimhungry.com and it was developed as a breakfast recipe. Don't feel limited by that idea. You could easily have the egg cups at any time of the day.
Cheddar Bacon Deviled Eggs
Here's another keto deviled eggs recipe to consider. This one uses cheddar and bacon as the key flavors. As Karly points out, eggs are pretty low in carbs naturally. The same is true for all of the other ingredients. So, it's easy to see how these eggs make a great keto snack and also a party food. The details can all be found at thatlowcarblife.com.
Super Soft Chocolate Chip Cookies
Food for a party doesn't need to be complicated. This recipe is an old favorite, but why mess with something that is already popular? As Aaron highlights in his discussion, the cookies are super soft. They're also fast and easy to prepare. What's not to love? You can find all the details that you need at fatforweightloss.com.au.
Garlic And Swiss Stuffed Mushrooms
Here's another style to consider. You can find the recipe at wickedstuffed.com and it is a great one for parties, snacks or appetizers. The mushrooms are also very simple, which is a key bonus. You're only using a handful of ingredients. This would make it very easy to double or even triple the recipe if you needed to.
Avocado Egg Salad
Eggs are often featured on a keto diet and what could be better than an egg salad? After all, egg salad is easy to make and to eat. You can use it in many different ways. This recipe from thatlowcarblife.com is a variation on the traditional version. It features avocado as a key ingredient. The avocado helps to make the salad creamy while meaning that you don't need any mayo at all.
There's another advantage too. The inclusion of avocado means that this recipe is absolutely packed with healthy fats. It will be more filling too than a regular egg salad too, keeping you satisfied long after you eat it. Just be aware that the avocados will start to brown quickly, so the salad needs to be made no more than a few hours before you plan to serve it.
Spicy Keto Cheese Crisps
I love the style of these spicy cheese crisps. They're such a simple snack, yet they would also be extremely popular. The recipe comes from perfectketo.com and can be made with just a few ingredients. There's another advantage too. As Corina points out, the snack is much more filling than regular potato chips. This is ideal for a keto diet and means you'll get satisfied faster.
Bacon Wrapped Mozzarella Sticks
Bacon and cheese is a classic flavor combination – so it's no surprise that there are so many recipes with these ingredients on this list. This version comes from lowcarbyum.com and is a pretty simple example. There's nothing wrong with that. In fact, simple is often best when you're prepping for an event.
Oven Grilled Bacon Wrapped Chicken Skewers
This recipe, from diethood.com, combines chicken and bacon instead. It is another classic choice, one that will always be popular. You actually serve the chicken in many different situations, like as lunch or even as part of a light dinner.
Keto Cheese Bacon Nachos
These nachos come from the site lowcarb-nocarb.com. I love the way that they're a little bit different than other keto nacho chip recipes. That difference comes from the use of bacon. That bacon doesn't just make them look good either. It is also responsible for the amazing flavor combination.
Avocado And Salmon Breakfast
This recipe comes from thenourishedcaveman.com and it follows a familiar style. The most unusual feature is that the avocado hollows are stuffed with a simple smoked salmon mixture. This inclusion creates a healthy snack that is easy to prepare and make. As Vivica mentions, you can also chop up the avocado and salmon, then mix them together (along with the other ingredients). This would give you the same nutritional profile, with a completely different presentation.
Cheesy Keto Spinach Dip With Roasted Peppers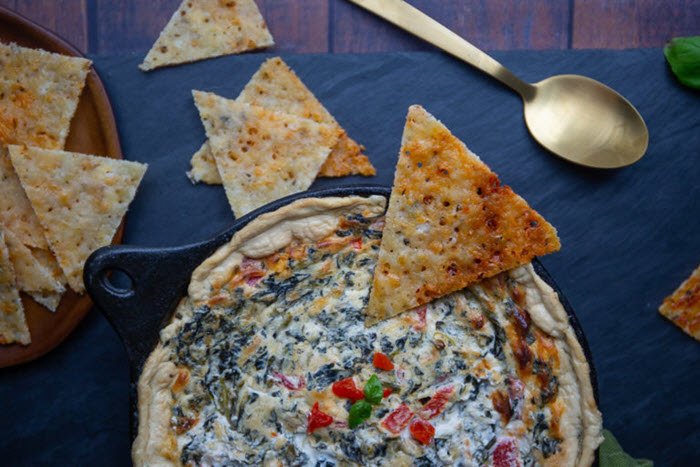 Like many of the recipes from wickedstuffed.com, this spinach dip doesn't look like it is keto at all. The dip only contains three net grams of carbs per serving, making it ideal for every keto dieter. Amanda presents two different ways of making the dish. You can prepare it in the oven, which is faster and creates a bubbly dip. The alternative is using a slow cooker. This helps to keep the dip warm.
Keto Cocktails
There are actually a massive number of keto cocktails that you can make for your part as well. Some are spirit-focused with very little else to avoid carb additions, while others focus low-glycemic index sweeteners like monk fruit or stevia. What would a party be without a cocktail?
Related Content