When it comes to seafood, slow cooking probably isn't your first thought. In fact, many people avoid the slow cooker entirely when they are preparing seafood, simply because they don't know how effective the approach can be. But, there are many powerful slow cooker seafood recipes, some of which you couldn't create any other way.
For that matter, many such meals end up looking and tasting like something from a restaurant. Often people cannot even tell that the meal has been made in the slow cooker, which is a compelling reason to try it. Additionally, slow cookers are particularly effective for hands-off cooking and let you free up your time for other things.
Because seafood can be finicky, it is important to follow these slow cooker seafood recipes closely… especially when you are getting started! In this post, I highlight ten such recipes for a variety of different seafood options. All of these recipes come from this site and I have tested each personally. They are all great ways to try out seafood in the slow cooker and you're bound to find some new flavors and ideas along the way.
Slow Cooker Seafood Recipes
Slow Cooker Crab Aglio E Olio
Slow Cooker Soy-Ginger Steamed Pompano
Razor Clams in Spicy Black Bean Sauce
Pineapple-Ginger Poached Milkfish
Slow Cooker Mussel and Potato Rice
Vietnamese Braised Catfish
Slow Cooker Chili Prawns
Slow Cooker Tuna Salpicao
Miso-Poached Salmon
Slow Cooker Soy-Ginger Braised Squid
Seabass in Coconut Cream Sauce
Slow Cooker Crab Aglio E Olio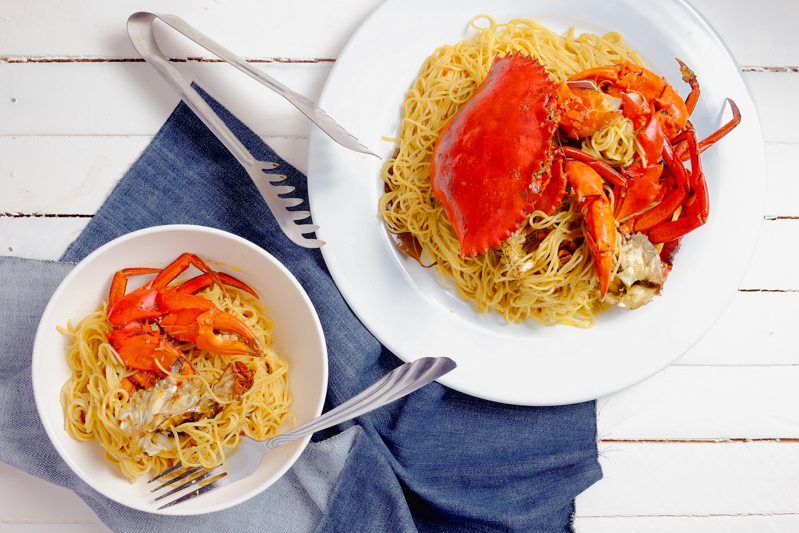 Slow Cooker Soy-Ginger Steamed Pompano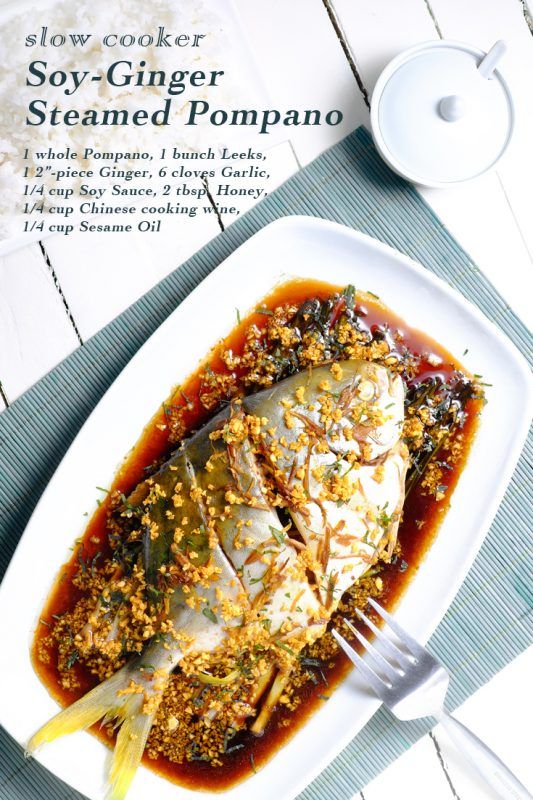 This recipe for Soy-Ginger Steamed Pompano may seem unusual because it relies on steaming. But, you can effectively steam food in a slow cooker with a little tweaking and I've had some amazing success at doing so. Serving fish whole like this is popular in Asian recipes.
Steaming also works very well for fresh Pompano, as it lets you take advantage of the freshness and all of the flavors. The same techniques can also be used to cook any white-flesh fish.
This recipe takes advantage of aromatic flavors that enhance the fish and create a final dish that is robust and delicate. The sauce also creates a fantastic contrast on the plate, making the fish a good option for serving to a group of people.
Razor Clams in Spicy Black Bean Sauce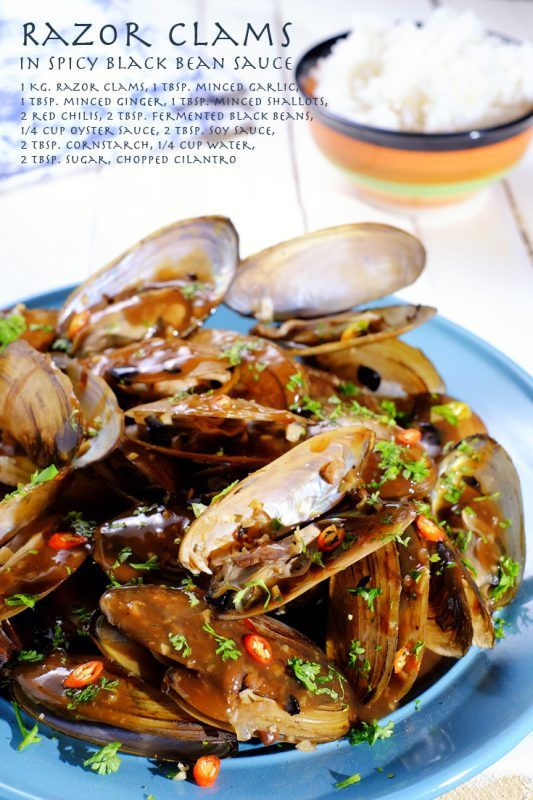 The idea behind this Razor Clams in Spicy Black Bean Sauce recipe was to create a dish with intense flavors that don't completely drown out the taste of the clams themselves. This was also the reason for choosing razor clams specifically, as the variety tends to have a stronger flavor overall. You could also use other types of clams but there is a risk that the sauce would mask their flavor.
The end result here works extremely well, both in terms of spectacle and taste. I love serving these to guests for those reasons and the clams do tend to be popular.
Pineapple-Ginger Poached Milkfish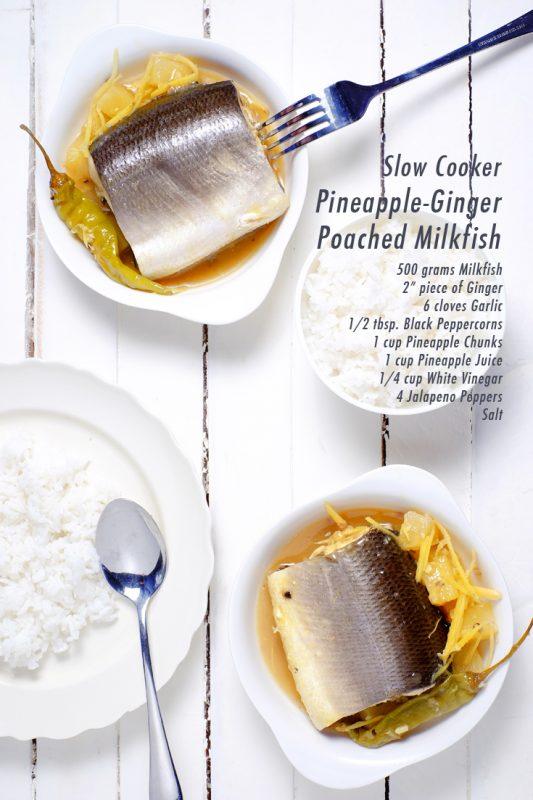 Steaming isn't the only way to cook fish in the slow cooker and this Pineapple-Ginger Poached Milkfish relies on poaching instead. The flavors here are interesting and unusual because there is a combination of heat, sweetness and pungency, which you don't find in many dishes. The poaching liquid also acts to form a type of glaze when the cooking is finished and this helps to enhance the flavor still further.
On a related note, this particular recipe isn't limited to milkfish at all. Instead, you could use the same poaching liquid for most other types of fish and even for meats like chicken or pork. These variations are worth playing around with, as each ends up slightly different. After all, the whole idea of this sauce is to enhance the natural flavor of the fish or meat, not hide it.
Slow Cooker Mussel and Potato Rice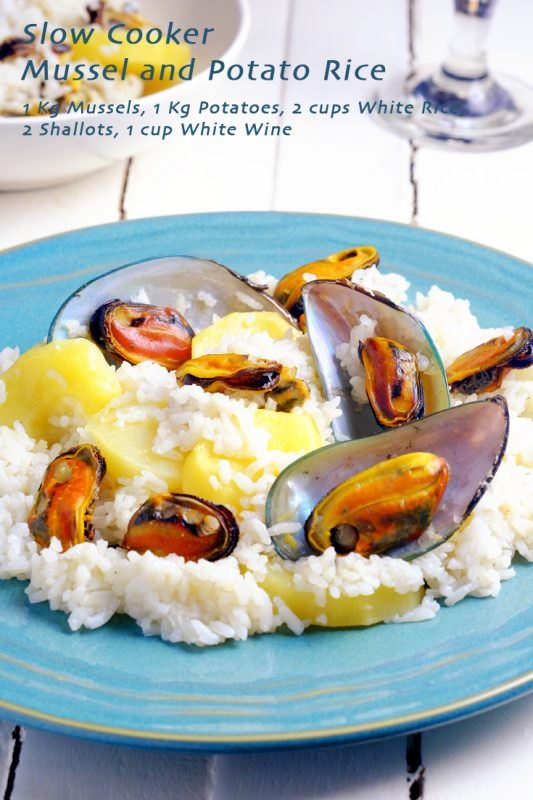 It may not be obvious from the appearance or the name but this Mussel and Potato Rice is an Italian dish. The concept itself is basic because you're just dealing with three main ingredients and these are steamed together. But, despite the simplicity, the dish actually comes together very well. Part of this is because the flavors complement one another nicely, as do the textures.
This is also a fun dish if you want something unusual, as it's fairly uncommon to see rice and potatoes cooked and served together in this manner.
Vietnamese Braised Catfish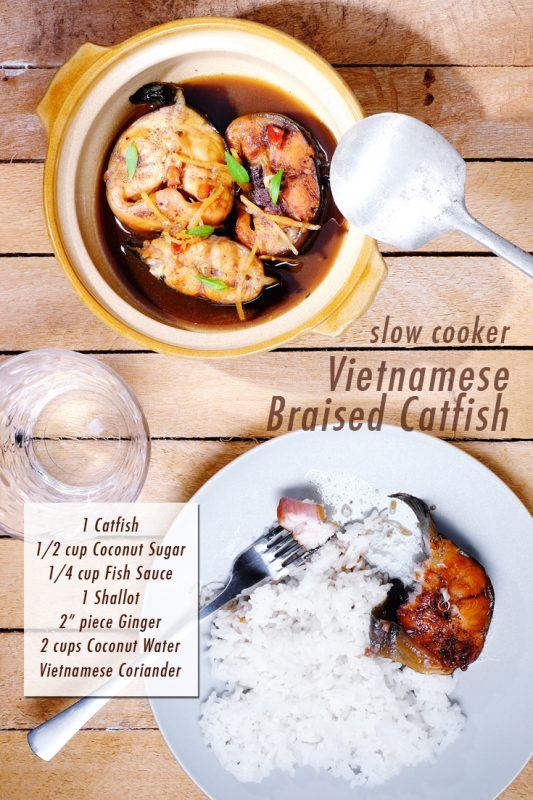 Catfish doesn't appeal to everybody, partly because it tends to have a slightly muddy taste. But, this Vietnamese Braised Catfish recipe may convince you otherwise. There is a distinctive nuttiness to the finished dish, along with a degree of caramelization, which works exceptionally well with catfish.
Now, catfish may be the tradition with this dish but you're not forced to stick to it. Instead, you can also make this recipe with any other fish that you want to. I do recommend trying catfish personally and you're likely to be pleasantly surprised. Still, you certainly don't have to.
Slow Cooker Chili Prawns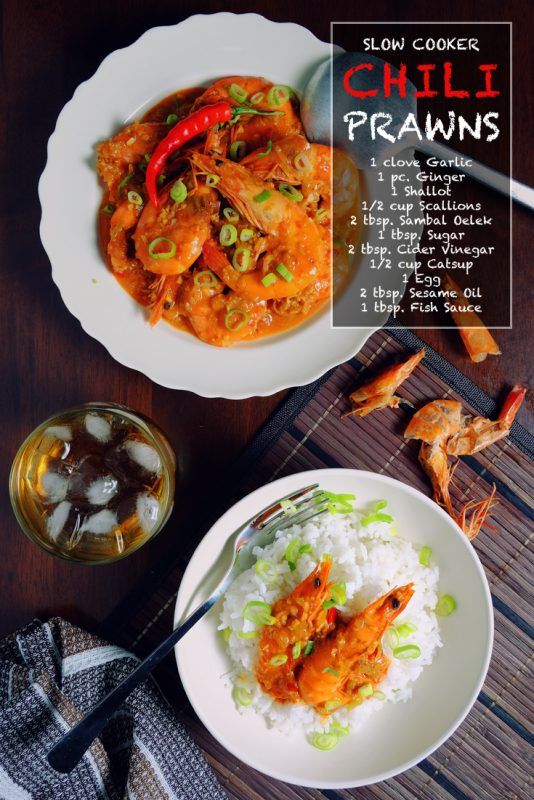 Prawns are such a popular choice for seafood and these Chili Prawns are everything that you would be looking for. The idea of the dish is very simple and it mostly relies on chili to create a complex flavor. For that matter, the prawns actually end up being more flavorful than spicy.
This is also a recipe that allows for considerable versatility. For example, you can rely on different spices and you can add other ingredients, like limes or brown sugar to change the flavor profile. I highlight some key options in the recipe and there is no shortage of different substitutes or changes that you can make.
Slow Cooker Tuna Salpicao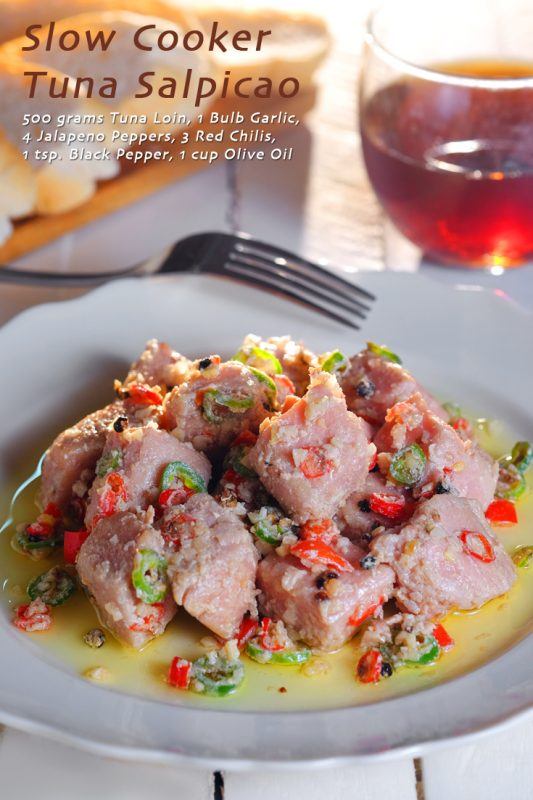 I love the visual style of this Tuna Salpicao and you can see at a glance that the tuna ended up perfectly cooked. For that matter, I swear that this slow cooker version is better than the traditional stovetop Salpicao and it is one of the simplest and most effective ways to serve fresh tuna.
Miso-Poached Salmon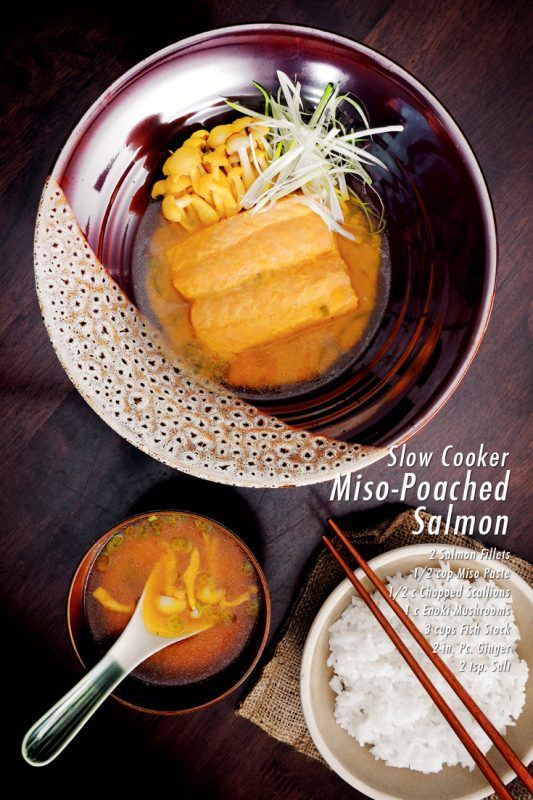 Salmon is often the fish of choice if you're wanting a hearty dinner, so why not give this Miso-Poached Salmon a try? The inspiration for this meal is Japanese cuisine and you end up with those appealing flavors in the salmon itself and also the broth that it is served with. The flavors largely come from the aromatics that you cook it with and, as always, these can be varied somewhat depending on your preferences and what you have access to.
I tend to keep it simple with this dish and serve it with rice. After all, the meal has strong Japanese overtones, so rice does make perfect sense. But, there is always flexibility and I'm sure that you could find other ways to serve it as well.
Slow Cooker Soy-Ginger Braised Squid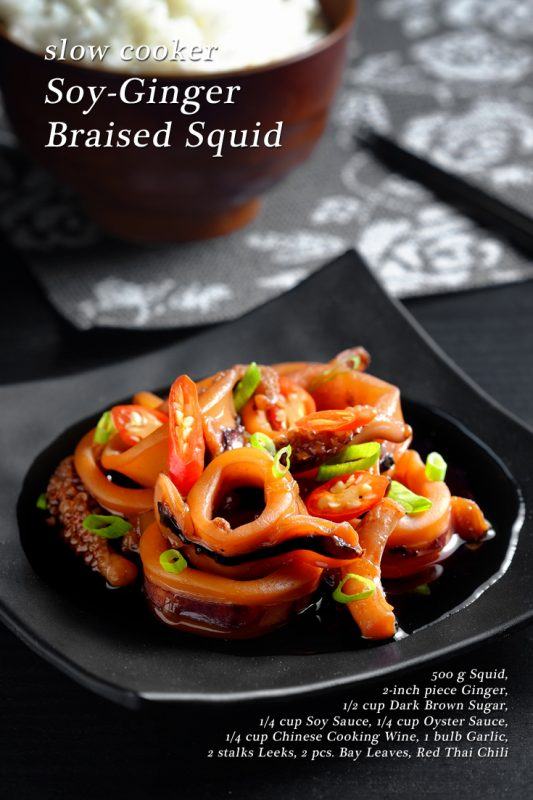 Squid isn't the most common option out there for seafood but it does still have its fans, which is part of the reason for this Soy-Ginger Braised Squid recipe. Now, I know, the convention is that squid shouldn't be cooked for more than a minute, otherwise it tends to get rubbery and tough. But, hear me out.
Most of that time that convention about cooking is entirely true. But, the catch is that you can't incorporate much flavor with such fast cooking. On the other hand, braising gets around this challenge entirely, allowing you to create a flavorful dish without compromising the final texture of the dish. So, even though you're using a slow cooker, you still do end up with tender squid.
Seabass in Coconut Cream Sauce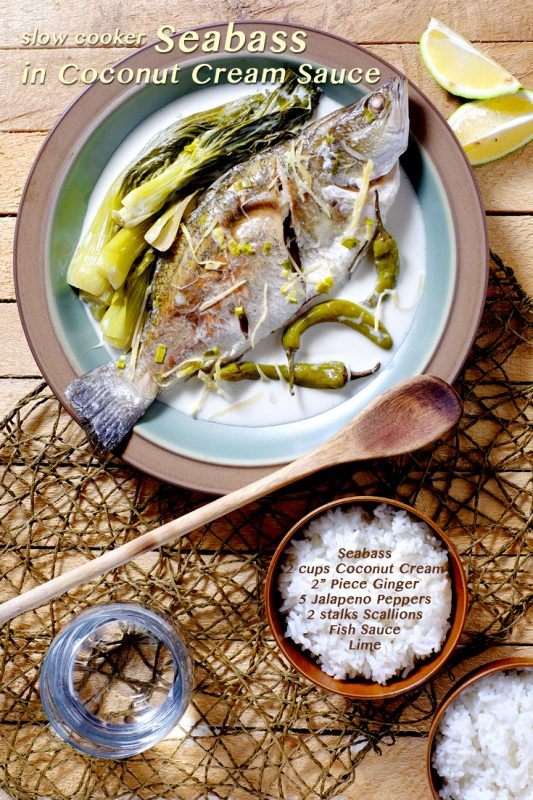 I was excited to make this Seabass in Coconut Cream Sauce recipe, mostly because I love coconut cream. I find that it offers such an appealing rich and nutty flavor to just about any dish. At the same time, a coconut cream sauce pairs naturally with fish, as it helps to highlight the flavor of the fish without drowning it out.
With this recipe, I specifically focused on seabass, as I found some fresh seabass at the market. But, you could substitute in another fish easily and the end result would be just as good.