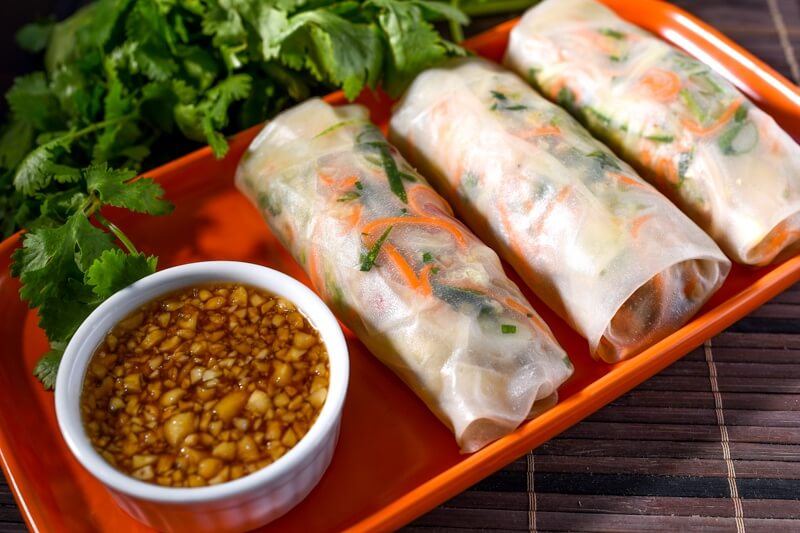 Ingredients
For The Spring Rolls
4

Sheets

Rice Paper

1

Small

Carrot

Julienne

1

Small

Cucumber

cored, julienne

1

Piece

White Onion

thinly sliced
For The Pad Thai Sauce
2

Tablespoons

Tamarind Paste

2

Tablespoons

Fish Sauce

2

Tablespoons

Lime Juice

2

Tablespoons

Palm Sugar

2

Tablespoons

Chopped Cilantro

2

Pieces

Thai Chili

finely chopped

2

Cloves

garlic

minced

2

Tablespoons

Chopped Peanuts
I rarely have spring rolls, but when I do get a craving for some, I'm just not having anything else. And honestly, these Pad Thai inspired ones are my favorite. There's so much play of flavors and textures in these neat rolls that just leaves the palate excited and refreshed with every bite.
Getting more conscious of what I'm eating lately, I know I should be having more of these. They're definitely low in fat and calories, surely gluten-free, high in antioxidants and fiber. . . the list of health benefits just keeps adding on. And if the use of fish sauce may concern some, I know vegan varieties can easily be had from most specialty health shops. Well, I'm sure you know that better than I do if you are into a vegan diet.
Furthermore, this recipe is so flexible and takes almost no time to prepare. It basically is nothing more but a raw vegetable salad, with a Thai-inspired vinaigrette, all rolled neatly inside sheets of rice paper. This means that you could practically put in any vegetable component in, or even some meat or seafood if you wish.
Let us begin by mixing up our Pad Thai-inspired vinaigrette. Much like with any other salad dressing, be free to tweak the proportions in this recipe to suit your taste. A good starting point would be to mix up equal parts of tamarind paste, fish sauce, lime juice, and palm sugar. Taste, then add more of each ingredient to get the right balance of sweetness and acidity.
Then, stir in finely chopped garlic, chopped Thai chili, chopped cilantro, and roughly chopped roasted peanuts. You can't go wrong by adding too little or too much of each ingredient. . . that would really come down to personal preference. Some fresh mint or Thai basil would also be worth adding in here for more freshness.
You may also want to prepare a bigger batch of this dressing for some extra dipping sauce to serve along your spring rolls or for some other dish later.
Tip: This sauce would go really well with some grilled chicken or over cooked rice noodles!


We're more than halfway done! The only task left to do would be to toss all those chopped vegetables in with the dressing and to roll them up in rice paper sheets. Cucumbers, carrots, turnips, bell peppers, onions, apples, pears. . . I'd pick anything crisp and fresh in here.
If the vegans would excuse me for a bit, some grilled chicken slices, braised pork belly, or poached shrimps would be fantastic additions to this salad.
To wrap things up, take a sheet of rice paper and dip it in cold water for a few seconds until soft and pliable. Be sure to do this just as soon as you're ready to assemble your spring rolls. Those sheets of rice paper go from brittle to totally soft and unusable almost in an instant.

Lay the hydrated sheet of rice paper on a plate and get some of that salad close to one of the edges.

Fold both the left and right edges in and roll all the way to the other edge, getting them as snug as you can without causing any tears to the rice paper. If you're new to doing this, you may find the first roll tricky, but most probably be a master with the second or third.