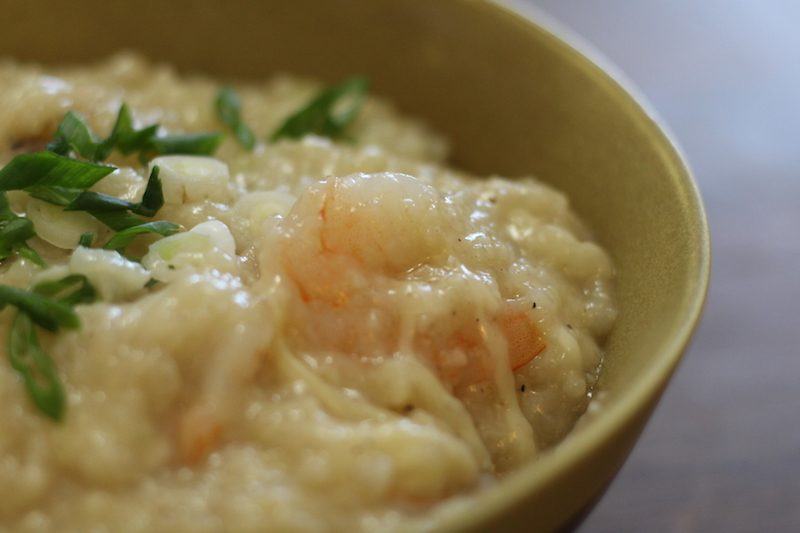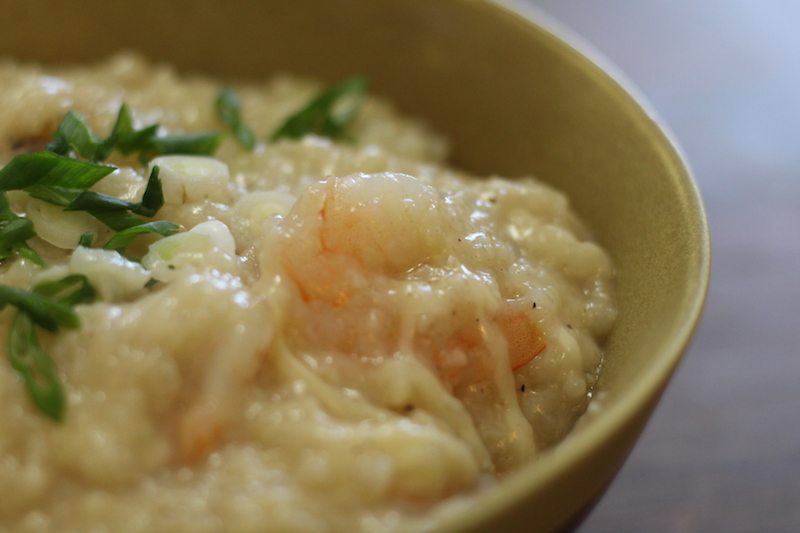 Slow Cooker Shrimp Risotto
Speed - 100%
Simplicity - 100%
Tastiness - 70%
This recipe turned out tasty, but not as originally intended. What I ended up with was more of a rice porridge rather than a risotto. I'll have to try another method next time. You can read below to see what steps I took in order to try to perfect this recipe for yourself.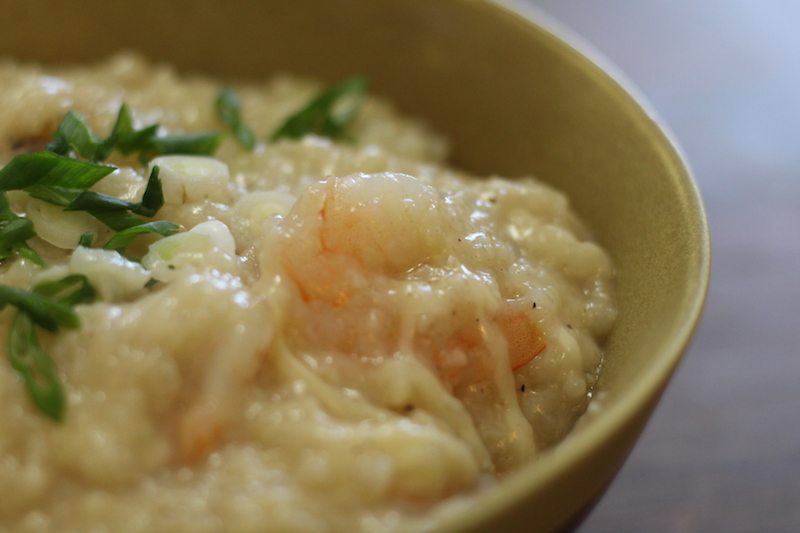 Ingredients
3 3/4

Cup

Chicken Broth

1/2

Cup

Butter

Unsalted

1/4

Cup

White Wine

3

Cloves

garlic

1/2

Cup

Onions

Chopped

1/2

Cup

Parmesan cheese

Shredded

1

Pound

Shrimp

Shelled, Tails Removed

1 1/4

Cup

Arborio Rice

Salt and Pepper to taste
Instructions
Risotto
Mince 2 cloves of garlic

add the rice, broth, and butter and a pinch of pepper

Cook for 2.5 hours on LOW

Add sautéd shrimp and juice

Stir to combine

Add the parmesan cheese and stir until melted
Sauté Shrimp
Mince 1 clove garlic

Heat olive oil in a pan

Sauté garlic until fragrant

Add shrimp and cook briefly on each side until almost done

Add 1/4 cup dry white wine

Cook until shrimp is done

I wanted to make a very quick and easy slow cooker shrimp risotto recipe. Risotto is delicious, but it a very involved meal, that needs at least 30 minutes of your undivided attention to properly cook. You literally have to be in the kitchen stirring the rice the whole time. Leaving your risotto unattended is a recipe for improperly cooked rice that's either under-done or over-done.
So the idea behind the recipe was to just throw everything into a pot, let it cook on low, then stir in the shrimp at the end. This is pretty much what I did.

I hit a few errors in this recipe, and hopefully you can learn from my mistakes. For one, I was testing several recipes that day and mixed up some of the ingredients. I added 12 cloves of garlic instead of 3. Oops. you can see them floating in the finished rice below. Wow. It was a powerfully garlick-y meal.

The main issue this meal faced however is that the rice simply didn't cook correctly. It was not done on the inside despite having used all the liquid. In fact, the rice started to mush together even though it was not done all the way. You can see below that it looks quite overdone, but the rice kernels were still raw inside. I had already added the shrimp to try to salvage a photo, but as you can see it didn't really work out.

After removing the shrimp and recooking the rice on the stovetop (adding water), the arborio rice eventually did cook all the way through. However, by that time it was pretty homogenous and was more of a rice porridge than risotto. It tasted fine – after living in China for several years I grew very fond of zhou, a savory rice pudding, or porridge. With freshly cooked shrimp, it was very taste. However, it wasn't anything close to risotto.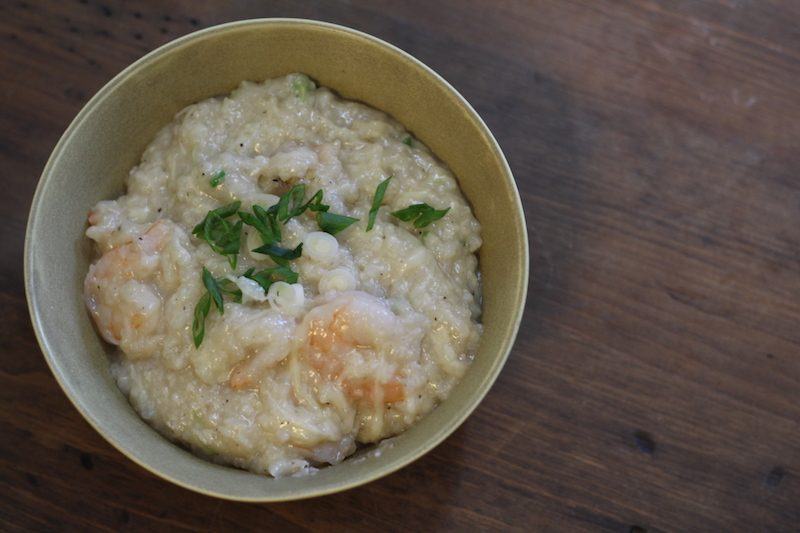 What would I do differently next time? There's a few things you can try.
For one, you could mess with the amount of liquid. You could try adding more liquid in the beginning and have the rice cook longer, for 3 or 4 hours. You could also try reducing the amount of liquid, and topping up every hour or so. This make is less "hands off", but it mimics the original method of making risotto but stretched over a longer period of time.
Another thing I did here is that I didn't take time to sauté the onions and garlic. I just tossed them into the cooker. I felt the flavor came through very strongly, and not in a good way. Sautéing caramelizes the onions and garlic, creating a new kind of aroma and flavor I essentially boiled them, extracting their full, potent, raw flavor.

Though this recipe didn't turn out great, the slow cooker I used was very cool. It was the Crock-Pot Touchscreen Programmable slow cooker. It's a very sleek looking, digital-age slow cooker that's just irresistible compared to the standard, boring, basic Crock-Pot that everyone is used to. It's one of my all-time favorites because it looks great, has a fun touchscreen, and a unique chrome finish.