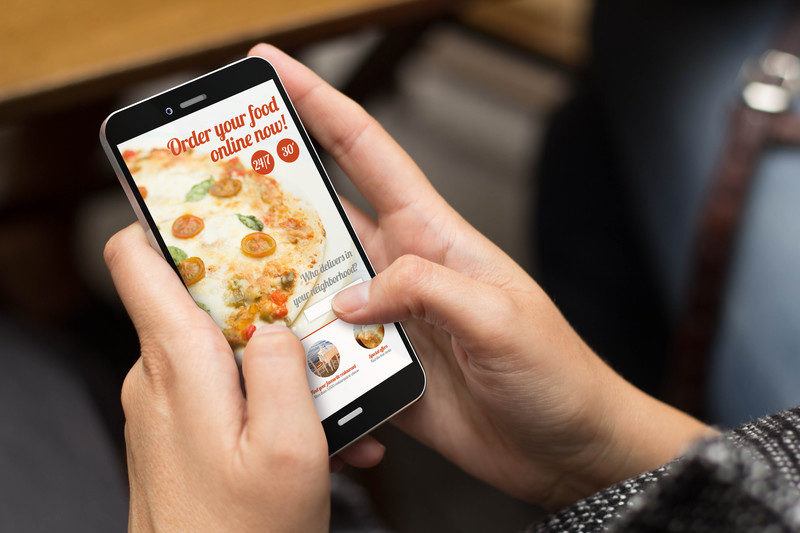 We all have those nights where we simply don't want to cook. Perhaps the day has been too long or you don't have enough food in the house. You could turn to reheating leftovers or relying on a meal delivery service, but those approaches require some prior planning.
If you need something good to eat now, meal delivery service apps are the way to go. These services provide you with food from your local area, typically from restaurants. This gives you the chance to have amazing restaurant food in the comfort of own home – from places that don't normally deliver.
It's a fantastic idea and there are plenty of services to choose from. This list examines those services, including the areas that they operate in, their reputation and what you can expect. After all, you want to use a reliable company.
You may notice that some key companies seem to have been left off the list, like Tapingo and Seamless. That's because mergers and acquisitions are so common in this industry. Large companies, like GrubHub tend to acquire the smaller ones, providing a wider service range and increasing the number of restaurants that they work with.
Uber Eats


Uber has captured the market with ridesharing services and Uber Eats is their attempt to branch out. The service works well, as Uber already has access to a large potential pool of drivers.
When you use the Uber Eats app, you have access to menus from hundreds of different restaurants. You're able to just scroll through the feed for ideas, or you can search out individual cuisines or restaurants.
The checking out process provides you with details about the delivery time and price. You'll be paying for the food itself, along with a booking fee and tax. The Uber Eats app also allows you to track your order. You'll even be able to see the photo and name of your driver.
The one limitation is that reviews are mixed. While many people have an excellent experience with the company, others find the opposite outcome. There are reports of orders getting canceled and of drivers providing poor quality service. The best bet is often just to try out the service for yourself. Experiences are often very different depending on where you live and the drivers that you interact with.
DoorDash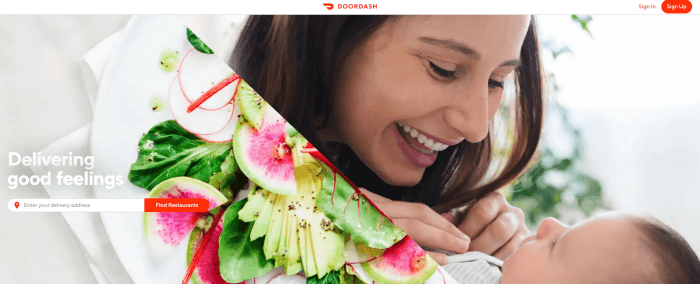 If Uber Eats isn't for you, what about DoorDash? DoorDash is often recommended as an alternative and for good reason. The service is present in a large number of cities and offers an app for Google Play and for the App Store. DoorDash claims that they pick up your order from a local restaurant, delivering it to you in 45 minutes or less.
The actual time will depend on various factors, but still, that's much faster than trying to order and pick up the food yourself. More convenient too. The restaurants that they work with vary depending on location, so you'll need to check out the service to see what is available for you.
As a general rule, you're paying the menu item cost and a delivery fee, but this won't always be the case. DoorDash sometimes charges more than the meal would cost from the menu, based on their arrangement with the restaurant. You can also choose whether to tip your driver or not, which will affect the final amount that you pay.
DoorDash does tend to score better in reviews than most other meal delivery services. Of course, there are plenty of bad reviews too. Services like this tend to create mixed experiences, because they're relying on contractors as delivery drivers. You might even find that the service is fantastic for you, yet bad for someone else in the same general area.
GrubHub
GrubHub promotes itself as the leading food ordering company in the United States. It boasts more than 16 million diners and partners with more than 90,000 restaurants across the United States. This range isn't surprising, as GrubHub has acquired related companies in the industry, including Eat24 and Tapingo.
GrubHub uses a familiar process, where you can browse through the menus of associated restaurants and choose the meals that you are looking for. There may even be deals that can decrease your price. You then place an order, which the restaurant prepares and a driver delivers to you.
While GrubHub has the same approaches as other companies, their wide network of restaurants makes them a more powerful service than most others. You simply have access to more types of food than you would otherwise.
Caviar


With a name like Caviar, it's not too surprising that this service is a little more upper-class than the other options on this list. The basic idea is that Caviar works with high-quality restaurants, rather than cheaper ones or fast food joints. The service is more limited than other options, covering fewer cities.
Caviar charges a higher service fee than most other companies (18%!), but their delivery rate is less. The delivery rate can be particularly low for nearby restaurants, a pattern that you don't find with many other services. What this means for your final price will strongly depend on what you're ordering.
Another cool thing is the reviews. Caviar tends to get more positive reviews than other companies. The app even has an average of just over 4 stars on Google Play. That's impressive for this industry as many delivery apps score much lower. Caviar's customer service also seems to be responsive, which may help ensure that any problems are quickly resolved.
Amazon Restaurants


Amazon seems to get involved in every type of delivery service possible, including restaurant delivery. They do this through their Amazon Restaurants service. Amazon Restaurants works in a similar way to other services, except that the service is only available to Amazon Prime members.
The service is currently only available in a limited number of cities. Amazon also charges restaurants more for the service than options like GrubHub. This pattern is concerning for businesses. It also means that Amazon Prime may have fewer restaurants to choose from compared to other services in an area. The issue may also prevent Amazon Restaurants from expanding as far as competitors.
Still, Amazon Restaurants is an interesting option if you want restaurant food delivered to you. It's particularly good if you're already an Amazon Prime member. It is also one of the few services that you can order from your computer. Other companies force you to use a smartphone only.
Favor


Favor is a particularly interesting company, as they don't just offer restaurant food. Instead, the Austin-based delivery company allows you to order pretty much anything that you would like to. While Favor did work in markets outside of Texas for a while, they have since moved to just operating in Texan cities.
The service tends to get positive reviews and the ability to order anything is certainly a key advantage. The biggest issue is pricing. Unlike most services, Favor doesn't provide full details about the cost before people order. This leaves you in the dark about how much you're going to pay. The design is frustrating. Some customers find that they end up paying much more than they're comfortable with.
Postmates


Postmates promotes itself as offering food, drinks and groceries. As part of this, the company offers a service called Postmates Unlimited. The service costs you $7.99 per month if you pay for a year at a time (totaling a little under $100). With Postmates Unlimited, you get free delivery for all orders above $15. There are also no extra fees for peal pricing or for ordering small amounts.
Of course, the membership is only beneficial if you plan to use Postmates on a regular basis. It would be best to try out the service first and see if you are impressed with what it has to offer. If you're not going to use it often, you can avoid the Postmates Unlimited membership and use the service casually.
Postmates promotes itself as being the most widely available service of its type. That's mostly true, as few companies deliver food from restaurants along with other items. Reviews are generally positive, with some people saying that they receive consistently good service. As always, your experience is likely to vary depending on your local area.
Delivery.com


Like Postmates and Favor, Delivery.com allows you to get much more than just restaurant food delivered. Interestingly, that style isn't what sets them apart. The company also has a very different system of operation. It basically acts as a marketplace – a way to browse different stores and to select what you're looking for.
The biggest difference is that your order won't be sent via contractors from Delivery.com. That's because the company is simply providing an easy way to order from restaurants that already offer delivery as a service. The price and delivery fee that you pay is based on what the company sets, rather than anything from Delivery.com itself.
As part of this, Delivery.com doesn't charge users at all. They seem to make their money by charging businesses. There are even advantages to using Delivery.com, as you can earn Delivery Points. These act as credit that can be applied against non-cash orders that you make.
The style is certainly unusual, but it also works very well, giving you much more control. You're likely to get better service as well. After all, your food is being delivered by restaurant staff members, rather than by random contractors.
Skip The Dishes


Skip the Dishes hasn't been nearly as popular as many of the other companies in this field. Still, that doesn't stop it from being a good choice. Smaller companies often have some key advantages anyway, as they can have a stronger emphasis on customer service and similar areas.
Skip the Dishes has a particularly strong Canadian presence and also serves cities in 4 states within America. The service works like you would expect, allowing you to order through Apple or Android apps with ease. You have the ability to track the progress of your order and to see the price ahead of time.
The company offers a full list of partner restaurants in each city, making it easy to see whether they have suitable options for you. Menus are easy to scroll through and it's simple to see exactly what you will be ordering.
Waiter.com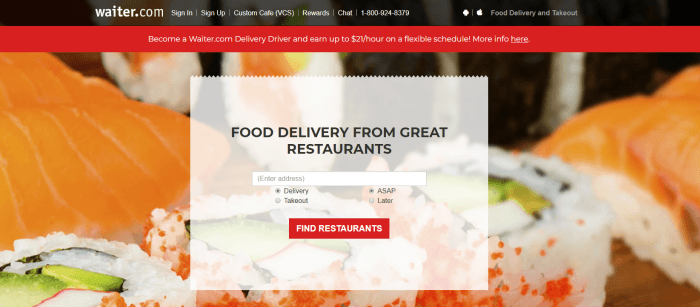 The emphasis at Waiter.com is entirely different than other companies. Instead of focusing on individuals, the service is targeted at companies. It offers a way for businesses to provide their workers with amazing healthy food. Orders can be made as once-off or as recurring services.
Unlike other services, Waiter.com hasn't paired with an extensive number of different restaurants. They're just associated with 6 companies, but they offer access to the full menus from each of these. The selection of restaurants is diverse, giving companies plenty of options to choose from.
Because the focus is larger than the individual, potential customers don't just place an order with Waiter.com through an app. You get in touch with the company instead and talk through your business and how they can help. While the style won't apply to most situations, it is an interesting approach. If nothing else, it's nice to see a company trying something different.
Related Content