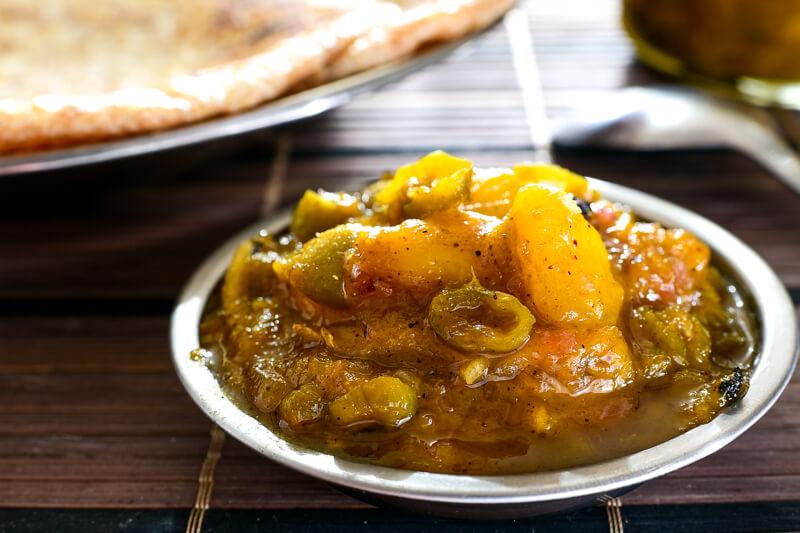 Spiced Mango Chutney
Those spices unbelievably worked well with the flavor of ripe mangoes. Sweet, slightly acidic, fragrant, perfectly spicy. . . this chutney easily makes a simple dish more interesting.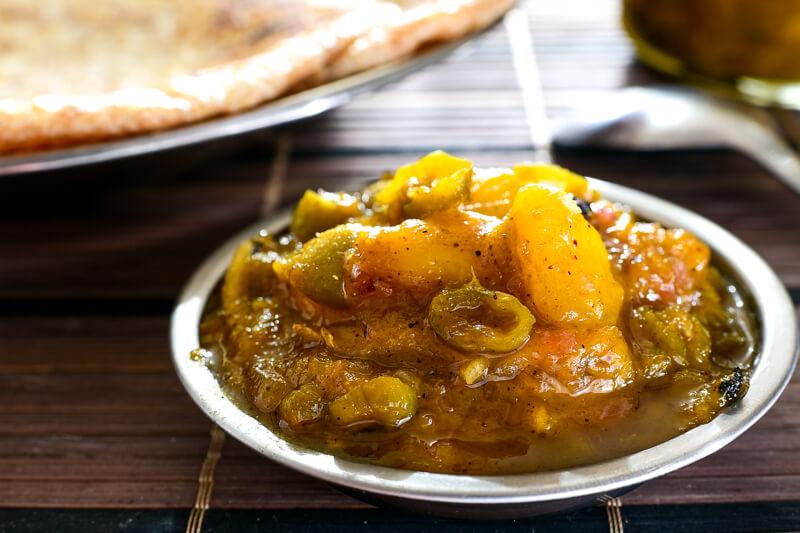 Ingredients
2

Pieces

Ripe Mangoes

cubed

2

Pieces

Jalapeno Peppers

chopped

1

Piece

Shallot

minced

1

thumb-sized piece

Ginger

cut into thin strips

1/4

Cup

Cider Vinegar

1/4

Cup

Brown Sugar

2

Pieces

Bay Leaf

1

Teaspoons

Black Peppercorns

3

Pieces

Star Anise

1

Tablespoon

Garam Masala

1

Pieces

Cinnamon Bark
Instructions
Combine all ingredients in a pot and simmer until thick and syrupy.
Chutneys are basically condiments originating from the Eastern Indian cuisine. Sweet or savory, ranging from a basic tomato relish to a yogurt-based cucumber raita, chutneys are more commonly made spicy with the addition of a considerable amount of fresh red or green chilis. Think of it as nothing different from the more popular salsa, both serving the purpose of being paired with a savory meal.
I'll have to say that out of all the chutneys I've tried, this one made from fresh ripe mangoes has become my favorite. In fact, coming to think of a curry dish comes almost instantly whenever I have a few good mangoes lying around in the kitchen. For me, a basic fish or chicken curry and this spiced mango chutney were simply made for each other.
What ingredients do we have here? Fully-ripe mangoes of course, some strips of ginger, some minced shallots, a few chopped jalapeños, some cider vinegar, and a little brown sugar – not so much different from making a mango jam right? Well, this essentially is a spiced mango jam that's why.
Actually, making this chutney is a lot more simple than making your more typical sweet fruit preserve. Unlike with jams or jellies where finding the perfect balance of acid, sugar, pectin, and moisture may be critical for them to set perfectly, you can practically work on the ingredients for this savory condiment in any proportion that suits your taste.

Intended to be more savory rather than sweet, we're adding in a few spices for a whole lot more interesting flavor. Here's what works for me: garam masala, star anise, black peppercorns, bay leaves, and a few pieces of cinnamon bark. I'm sure you already have an idea how fragrant this chutney's turning out.
Be creative and add more spices into this mix – cloves, cardamom pods, mustard seeds. . . it's hard to go wrong.

Simply combine all those ingredients and spices in a saucepan and set it over low to medium heat.
I would strongly suggest choosing a thick-bottomed saucepan for this task. The sugars in this chutney could easily over-caramelize and eventually scorch over heat. Stirring the contents of your pot every now and then would also be necessary.
A good 10 to 15 minutes of simmering should be enough to let all those flavors come together. You can certainly go for slightly extended cooking times, letting those chunks of mango break down further into a smoother and thicker chutney.

The acid from the cider vinegar and the significant sugar content of this chutney should work well to preserve it. This should easily last for a week in the fridge.

As I've said, I'm not making this chutney without preparing a good curry dish to go with it.


I also like keeping some ready-made Roti in the freezer for a quick snack.