Whiskey isn't like wine when it comes to maturing and aging. While wine ages whether it's in the barrel or the bottle, whiskey is quite different – it ages only in the barrel. Once it's been bottled, it doesn't continue to mature anymore, which makes it important to know how to store whiskey.
That's why whiskey bottles have accurate age labels – the "age" is determined by the time from its distillation to bottling. You can learn about this and more on our article that compares whiskey with bourbon, a popular variant of the spirit.
It's not like whiskey can last forever, though – once you open up a bottle, the whiskey inside it will slowly start to get oxidized.
Oxidation is pretty bad for whiskey, and liquors in general – it causes the flavors of the whiskey to fade, in a process known as whiskey dissipation. While this mostly happens for poured whiskey left outside for an extended period of time, dissipation can happen to uncorked whiskey too – just not as quickly.
So we know that once you open your whiskey bottle, it's on a slow, but steady pace to losing its flavor.
But is there a way to prevent this? While it's impossible to stop the whiskey from going bad forever, there are certain methods and practices you can use to prevent your whiskey from going bad as soon as you open it.
These can range from simple storing methods to occasional maintenance, and it isn't too difficult to pull off once you get the hang of them.
So, we've got some useful tips to make sure your bottle of premium Scotch whiskey doesn't go to waste, and with proper storage, you'll be able to enjoy it for months to come.
How to Store Whiskey
Storing Unopened Bottles
Before we discuss storing opened whiskey bottles, it's good to know how to store unopened bottles too. You'll most likely end up using these tips and methods if you've bought a good bottle of whiskey and you want to save it for a special occasion in the future.
Keep the Whiskey Bottles Away From Sunlight
This is probably the most obvious tip in the book, but it's not a good idea to store your whiskey bottles in areas where sunlight can hit them.
Just like how the sun's ultraviolet rays affect and even ruin certain food and drink, whiskey bottles can get affected by the rays. The ultraviolet rays end up bleaching the color pigments of whiskey, which will make your whiskey look pale.
"But I want to show off my whiskey collection!" I hear you exclaim. And that's perfectly fine – you can show off your collection all you want. But if you do, make sure that your bottles are kept at a location where direct sunlight can't reach them.
You wouldn't want the whiskey to fade and make your collection look less attractive now, would you?
If your collection is situated in an area that's exposed to sunlight, and it's impossible to relocate your collection somewhere else, though, then there are other ways to work around the problem. Windows with UV-blocking coating can prevent the ultraviolet rays from entering, and therefore ruining your collection.
Keep in mind, however, that this doesn't dissipate the heat that comes from sunlight, which can also affect the whiskey.
Store the Whiskey Bottles at a Cool and Stable Temperature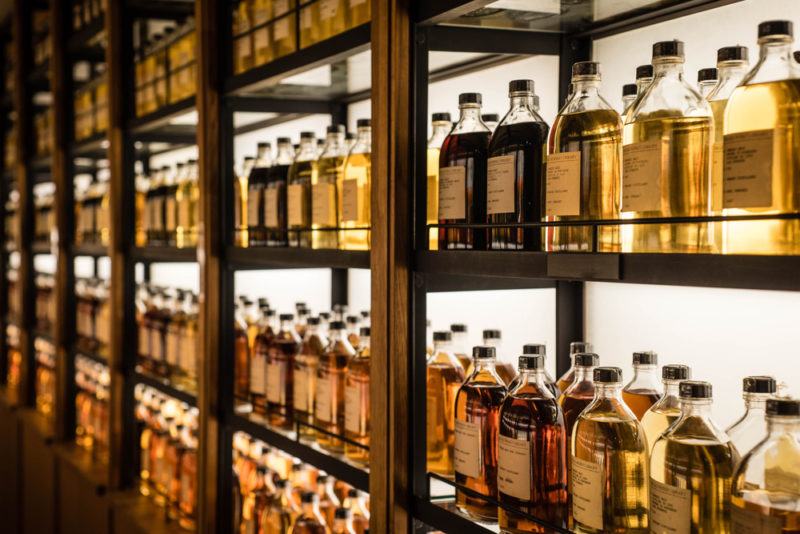 Even if you've stored your whiskey at an area that doesn't get hit by sunlight, high temperatures in the room can affect the quality of the whiskey. But how does that even happen?
To put it simply, heat causes oxidation of whiskey to occur more rapidly. When whiskey is exposed to warm temperatures, it expands – and since it's kept in a glass bottle, the only place for the whiskey to expand towards is the seal of the bottle itself.
With enough time, the expanded whiskey can end up damaging the seal, which then allows oxygen to enter the bottle. It may take a while for oxidation to actually do substantial damage to your whiskey, but you'll notice the effects clearly over time.
So if you want to make sure you enjoy your whiskey as much as possible, keep the place you're storing your bottles at a cool temperature that isn't prone to fluctuations. This means that you'll either need to find a place in your house that's naturally cool or have an area that's artificially cooled 24/7.
The ideal temperature to store your whiskey at is at around 15 to 20° C or 59 to 68° F. If you have room in your fridge or freezer, you can definitely store your whiskey bottles in there instead.
Just remember that whiskey doesn't taste or smell as good when drank cold, so if you do plan on drinking the bottle then make sure to warm it up to room temperature. You can do this by leaving it at your sink for a while until it's warm enough.
Store Your Whiskey Upright, And Not Horizontally
Collectors love storing their whiskey in neat and beautiful arrangements. But ask any pro whiskey connoisseur and they'll tell you that storing whiskey bottles horizontally is generally a bad idea.
While it may certainly look great when shelved horizontally in your collection, and it lets you store whiskey quite conveniently, your bottle may end up going bad a lot faster than you think.
You see, whiskey is pretty strong, and not just in terms of alcoholic content. The cork that holds and seals your favorite whiskey is there only to prevent oxidation from occurring, and it's not the strongest material in the world.
By storing your whiskey horizontally (or upside-down, if you're one of those people), you expose the cork to contact with the alcohol constantly, which can damage and deteriorate the cork over time. Eventually, the cork will end up breaking the seal, allowing oxygen to enter the bottle and begin the process of oxidation.
So if you want to keep your bottle and cork safe, make sure to keep the whiskey stored upright. Don't risk the quality of your whiskey for a slightly better look for your collection, or a little more space in your storage.
Keep The Cork Moist By Turning Your Bottles
Now I know we just talked about the dangers of exposing the whiskey bottle's cork to the spirit for extended periods of time. But no exposure to whiskey at all can be a bad thing too.
Corks are fragile things, a lot more fragile than you think, and they can chip or even crumble when completely dry for long periods of time. To get around this, be sure to lightly moisturize the inside portion of the cork by turning the bottle upside-down for only a few seconds.
This is enough to keep the cork from breaking. You only have to do this for around once a month, so if you have an extensive collection, then setting aside an hour or two of your time to tipping your bottles shouldn't be too difficult.
Storing Opened Bottles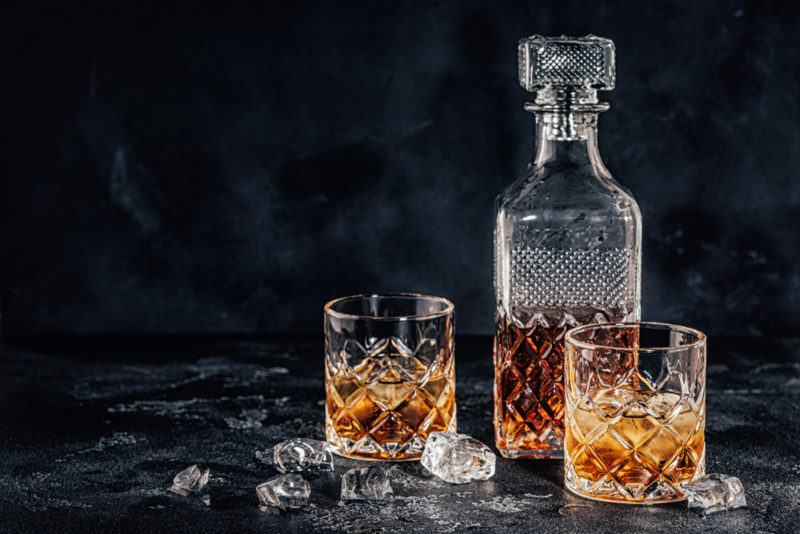 Now that we know how to keep bottles not yet opened safe, here are some additional tips to keep your whiskey from going bad after opening them for a couple of sips.
Keep The Bottles Away From Light and Heat
Just like with unopened bottles, the hazards and dangers of light and heat are still relevant enough to be avoided.
In fact, because you've broken the seal by uncorking the bottle, these dangers can become even more prevalent. Be sure to keep the bottles in a cool and dark area if you want optimum storing conditions. It's not like you're going to want to display open whiskey anyways.
If you've got one, a wine cellar is a perfect place to store the whiskey. If not, then a simple cabinet or pantry can do the job, and even an unused box will do just fine.
As long as it's stored in a cool, dark area, then your whiskey will last for about a year at most (if it's still mostly full), plenty of time for you to finish the whole thing.
Finish Your Whiskey Once It Gets Low
Speaking of finishing the whole thing, you're better off drinking up the whole bottle if you've got only a few glasses left of the stuff.
Whiskey bottles can become catalysts for oxidation the more empty space it's got – meaning that the less whiskey that's in the bottle, the faster the whiskey begins to oxidize. More empty space in the bottle just makes oxidation occur quicker.
Other than by drinking the whole thing once it gets low, there's another way to save the whiskey. By storing the spirit in smaller containers, you leave the whiskey with less and less empty space, making it harder for oxidation to occur.
Conclusion
Whiskey is a little tricky when it comes to proper storage, but if you follow the tips we've talked about in this article, you'll be able to enjoy your whiskey at its best. Simple steps in storing and maintaining your whiskey will definitely pay off in the long run.