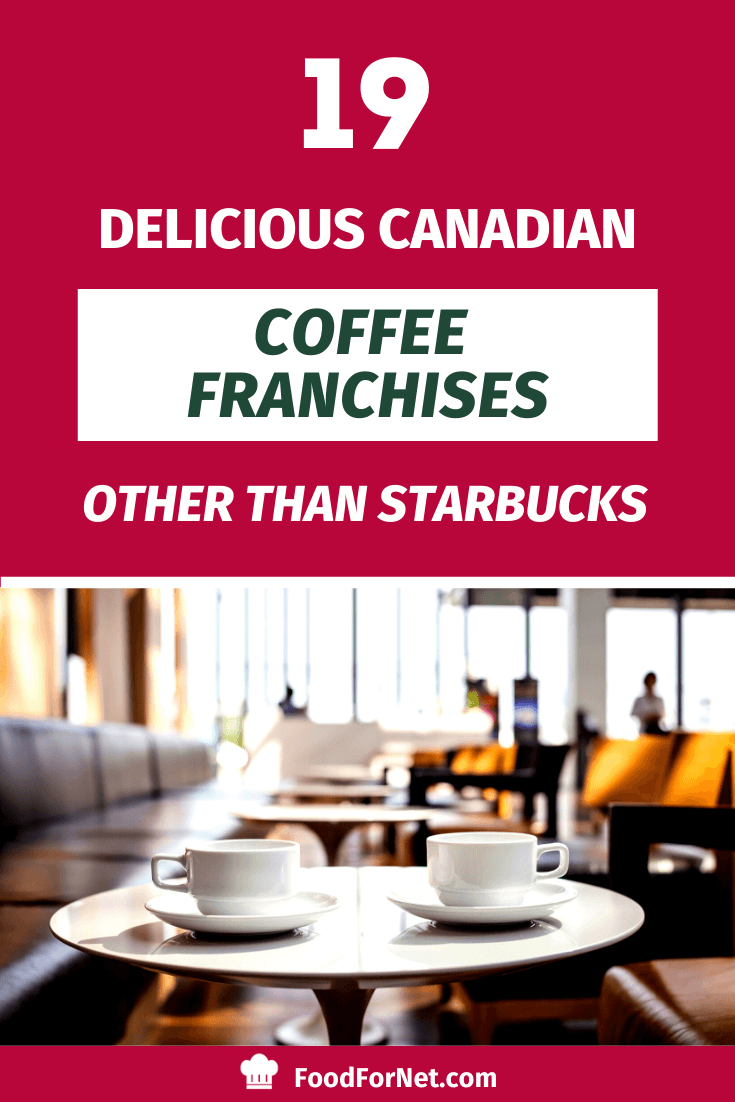 Canadians are tough and know how to make the best of harsh winters, which is why there are so many different places for coffee drinking and socializing to fight the bite.
Whether you are from Canada or are just visiting, be sure to check out at least one of the multitudes of cozy localities to help keep you warm and toasty. When the chill starts to creep in and the days get darker, here are 13 distinctive options to try out across the great north that serve specialty coffee, teas, treats, and merchandise.
They are all options away from the norm that is defined by Starbucks. Many of these franchises started in Canada and are exclusively Canadian. Some are even province specific! See which shop is near you or has the right vibe for your discerning tastes.
Going South? Here are 17 coffee franchises you can find in the US.
Going East? Here are 10 native UK Coffee chains to hit up.
Canadian Coffee Chains
19. Balzac's Coffee Roasters
Named after Honore de Balzac, a dedicated coffee enthusiast and famous French novelist of the 19th century, Balzac's Cafe was created to reflect the je ne sais quoi of the French cafe. The owner spent time in France absorbing the strong cafe scene in France, before bringing the magic back to home.
Based out of Stoney Creek, Ontario, this shop is committed sourcing all ingredients from organic, local where possible, and sustainable suppliers.
With 11 locations, all styled to perfectly reflect the surrounding neighborhood, settle in at Balzac's for a salted caramel latte or one of their French pastries.
18. Bridgehead Coffee
Originally started as a business supporting small-scale coffee farmers in Nicaragua in 1981, Bridgehead Coffee was the first company to bring Fair-Trade coffee to Canada. In 2012, they opened their own coffee roastery, which supplies coffee to each of the 16 storefronts across Canada.
They further demonstrate their commitment to sustainability by using a waste streamlining protocol to recycle or reuse items as well as compostable take away cups and packaging for customer convenience and earth-friendly practice.
In addition to traditional coffee and tea offerings, they have a bakery that produces treats such as French viennoiserie; the category of pastry made famous by the croissant.
17. Cinnzeo Bakery Cafe
Officially known for their giant cinnamon buns and related pastries such as the cinnamon twist, Cinnzeo also has brewed coffee and espresso drinks at participating locations.
You are most likely to run into one of the 14 stores at the mall, where it is a great place to stop for a warm sticky cinnamon pecan roll coated in Philadelphia cream cheese icing. You can also get your hands on packaged buns for your next friends and family gathering.
16. Coffee Time
Isn't it always a good time for coffee? If you agree with this sentiment, why not check out Coffee Time. Originally based in Bolton, Ontario, this coffee franchise has grown to amass 300 operating locations across Canada and internationally in Greece, Poland, China, and Qatar.
They serve coffee drinks and frosty smoothies as well as sandwiches, doughnuts, and other treats. Try the maple glazed doughnut with a Chocolate Coolio shake.
15. Lettieri Cafe
Concentrated in Metropolitan Toronto, Lettieri Cafe embraces history and brings Italian coffee tradition to Ontario. Started by it's namesake family, this cafe specializes in selling brewing equipment such as the classic Italian stovetop espresso maker and other tools of the trade to coffee lovers.
They sell classic espresso drinks, coffee, teas, smoothies, pressed juices, and paninis. For those who enjoy decadent delights, try the white chocolate mocha. For the health conscious, sample the detoxifier juice containing apples, pears, and carrots.
14. Salt Spring Coffee
With flagship stores in British Columbia, Salt Spring Coffee is a cafe dedicated to producing and selling "great coffee that doesn't compromise the earth." Although there are only two standalone cafes in Canada, you can purchase their beans at other retailers and online.
They offer a seasonal coffee subscription as well as superb holiday kits that pair coffee with home brewing equipment such as the Aeropress, a Chemex pour over, the classic French press, or a Hario pour over set.
13. Snakes and Lattes Board Game Cafe
This is likely the most unusual coffee shop in Canada as it exclusively combines board games with cafe atmosphere. This peculiar blend of coffee drinking, snacking on tidbits, and collectively playing games such as Settlers of Catan with a latte in hand.
Their events calendar caters to game devotees with nights for game designers, marathon sessions of Dungeons and Dragons, and even $5 pint nights. It is a markedly singular and lively place to have your coffee or buy your favorite hard-to-find-in-stores games.
12. SPoT Coffee
Billed as your neighborhood cafe, SPoT Coffee crafts the community experience in each of its several Canadian locations. Although it is based in upstate New York, each store reflects the vibe of the locale that it serves.
They pledge to serve the freshest possible coffee and are members of the Specialty Coffee Association of America, which is a top organization dedicated to setting the standard for coffee quality.
In addition to the standard coffee and pastry fare, they serve wraps and pizza and will happily cater a jug-0-joe and snacks for your party needs.
11. Tim Hortons Coffee
Called themselves Canada's Favorite Coffee, Tim Hortons is known for their ubiquitous presence in the country with over 3,000 locations as of 2013.
Serving brewed coffee and specialty espresso drinks as well as breakfast sandwiches, doughnuts, and other baked goods, this spot is sure to have the right type of refreshment you crave.
They also sell their coffee in grocery stores with everything from whole beans to single serve coffee cups for Keurig K-Cup or Tassimo machines.
10. Timothy's World Coffee
Especially known for their presence in the home brewing coffee market, Timothy's World Coffee also has 50 stand alone retail locations in Canada that sell fresh made drinks as well as home brewing coffee pods. They have everything from coffee and tea to rich hot coco, ready for brewing with your Keurig machine.
Try the butterscotch hot chocolate for a special seasonal drink at the shop or pick up a box toasted coconut & salvador coffee Keurig blend to brew at home.
9. Trees Organic Coffee & Roasting House
Based exclusively in the Vancouver and Richmond areas of British Columbia, Trees Organic Coffee & Roasting House has six locations to serve you. They are celebrated for combining coffee, baked goods, and cheesecake for a delectable experience.
It is especially a haven for the cheesecake paramour, but they also have exactly the type of organic, fair trade coffee you desire. They offer wholesale coffee and cheesecake to businesses looking for catering services.
8. Van Houtte
A Quebec coffee standard, Van Houtte is cafe-bistro that offers comforting coffee and the essence of French coffee consumption.
Not only do they serve favorites such as the seasonal pumpkin spice chai latte, satisfying snacks, lunch or desert, they also have a collection of K-Cups for Keurig brewers so you can taste cafe aux Van Houtte at home.
They take pride in offering only the best Fair-Trade coffees from around the world, roasting them to highlight the flavor of each variety. Stop by Van Houtte to embrace the jazzy atmosphere of this coffee shop.
7. Wired Monk
Located primarily on the western side of Canada, Wired Monk is a Coffee Bistro with refreshing coffee and tea selections, freshly prepared baked goods, substantial food options, and whole bean coffee.
Their name pays homage to the benedictine monks who drank coffee to provide exuberance for evening prayers. If you are not in the vicinity of the Wired Monk, you can visit their online store and purchase coffees and merchandise such as travel mugs and cups.
6. JJ Bean
JJ Bean offers a variety of blends and single origin coffees, but the best thing about them is that they do their own roasting!
They even print the roast date on packages of beans so that you can always get the freshest flavor out of every cup. If you don't brew your own at home, you can order a cup in one of their many locations in Vancouver.
5. Take 5 Cafe
Don't be confused by the numerous other locations in the US and around the world with the same name (apparently it's a pretty popular name).
This Canadian cafe has several locations in Vancouver. They roast their beans locally, and their food is prepared by a 5-star chef.
4. Blenz
This Canadian coffee franchise opened their first store relatively recently in 1992. OK, maybe that's not very recent as I think since it's actually over 20 years ago. They've since grown beyond BC and also have locations in the Philippines and Japan.
They are so Canadian, their tagline is actually, "The Canadian Coffee Company". Reviews on Yelp are quite mixed.
3. Second Cup
Started in 1975 as a kiosk selling specialty coffee beans, Second Cup is now a coffee retailer and cafe with 325 locations across Canada.
They actually have their own coffee bean selection and processing methods. They offer espresso style drinks you've come to know and expect from a coffee chain, as well as an assortment of cakes and pastries.
2. Aroma Espresso Bar
The Aroma Espresso Bar is not strictly Canadian – in fact they're an Israeli company, but it is a great alternative when you just can't take another day at Starbucks.
They do offer similar espresso-based drinks but also add some interesting items on the menu like fresh-made sandwiches and soup, as well as bubble tea. The Turkish coffee is worth a try as well! You can find locations in Germany, Cyprus, Romania, Kazakhstan, and Poland as well!
1. Presse Café
Located in a few metropolitan cities across Canada, Presse Café specializes in French food and the French Café experience.
They only serve fresh food (nothing pre-packaged), including sandwiches and pastries. From reading reviews on Yelp, the main attraction seems to be the food instead of the coffee!