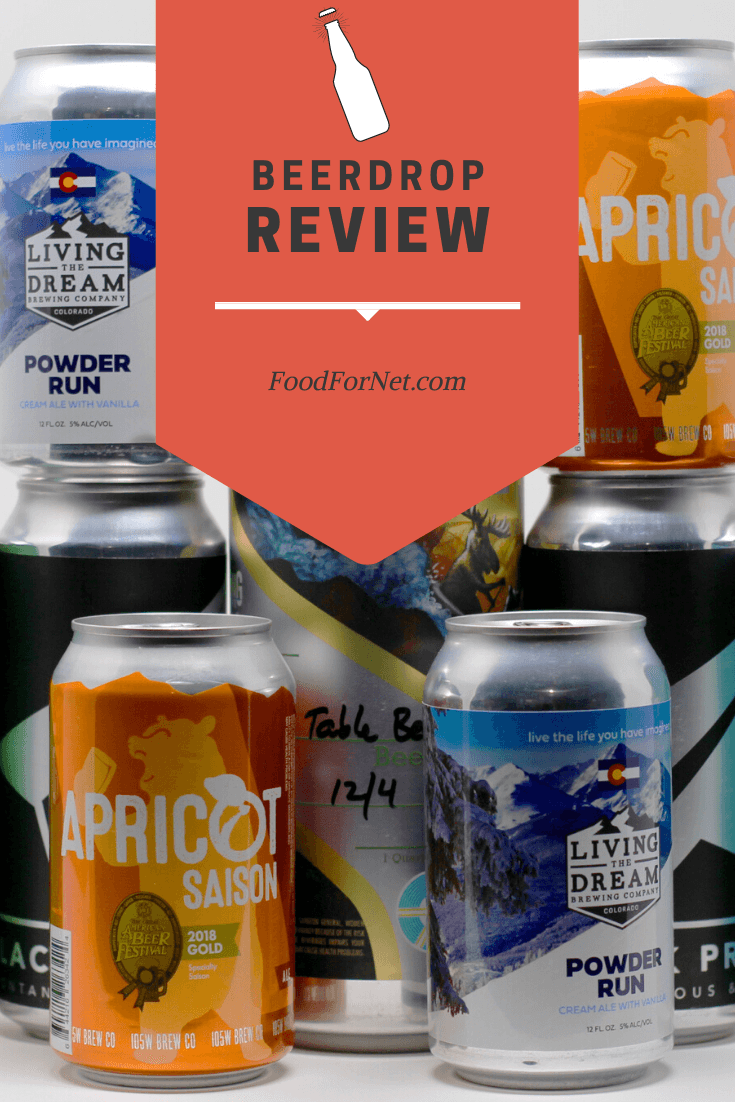 Beer Drop Review
Beer Selection - 97%
Price - 100%
Order & Delivery - 100%
Customer Service - 100%
Club Features & Quality - 100%
Beer Drop is a new beer subscription service, but they have their own, pretty unique version. I bought and tried Beer Drop for two months (with plans on resubscribing later). Here's what I think about the beer, the service, and how it compares to other beer of the month clubs.
Beer Drop Review
How Does Beer Drop Work?
What Does It Cost?
Are The Beers Any Good?
Comparing To Other Beer Month Clubs
How Does Beer Drop Work?
Signing up to Beer Drop is simple. What's cool about this service when compared to other beer of the month clubs is that you actually have more control over the beers you get, without having to hand-select them.
Right when you sign up, you get to pick what styles of beer you like. You can also change this later, so you won't be locked into getting sours all the time if you get tired of them after a couple shipments.
Top Picks*
Hoppy
Sour
Dark
Lagers
Belgian
Malty
Fruit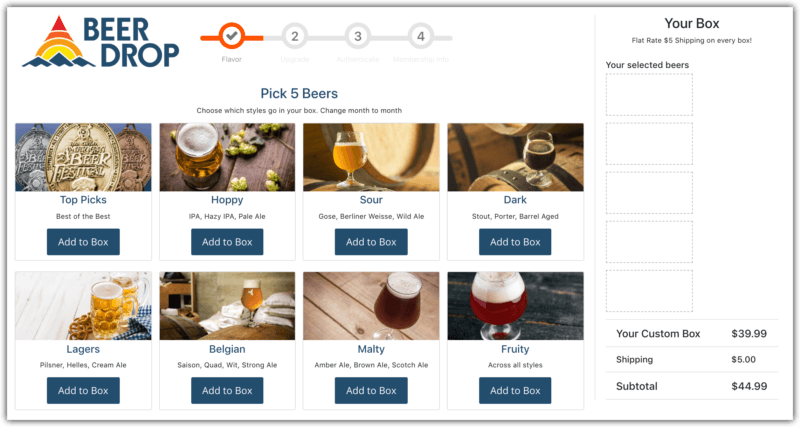 *The Top Picks category is basically a mix of styles, but they are top rated beers. You might think, "Well, why don't I just get that one, and get all of the best beers?". You could do that, but if you don't like IPAs, then even an award winning IPA probably won't impress you.
Each shipment comes with 5 types of beer, but you actually end up with 10 beers, so 2 12oz cans of each beer. There are a couple of upgrade options you can also add (I'll show you below), which can get you bigger sized beers, but that's the base package.
All beers arrived on time, in good condition, and fresh. No issues with packaging, leaks, or delayed shipments!
What Does It Cost?
The base cost for the 10 beers is $39.99, plus $5 shipping. That's very cheap shipping, and even with shipping included, you're still paying just $4 per beer. That's incredibly cheap compared to many other clubs, especially since this is fresh Colorado beer, one of the main centers of craft beer culture.
You can also do some upgrades to your beer.
Beer Drop Plus (+ $10)
Beer Drop Ultimate (+ $25)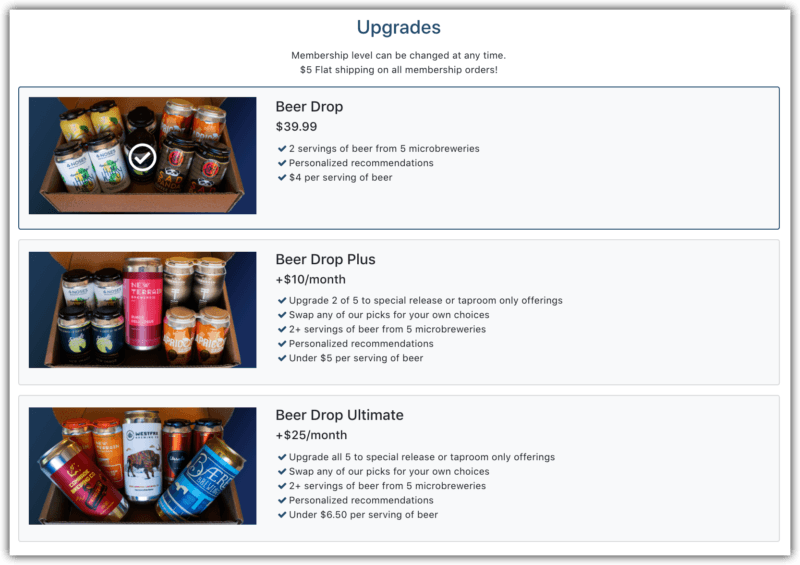 With Beer Drop Plus, you get two beers upgrade to special releases or taproom only offerings. This is the package I got. Though they don't explicitly say which ones were upgraded, I assume it was the 16oz cans. You can see that the Black Project and New Image beers in the image below are 16oz cans.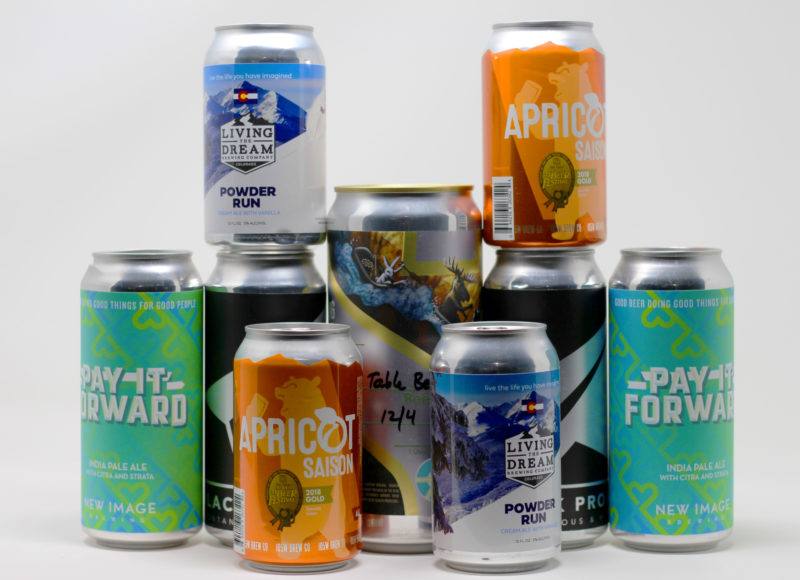 You'll also see a crowler in the picture too. I wasn't exactly clear how the crowler fits into this upgrade, since the other two beers were already upgrade, but I also received a crowler in my second shipment, so it wasn't just a one-off thing.
Perhaps the New Image Pay It Forward (IPA) was just something they had on hand, and the Black Project + Belgian Table Beer crowler were the upgrades. I think this is the case because my second pack only came with one 16oz pair and one crowler. The others were 12oz cans.
Bonus beer! Nice to see that Beer Drop isn't concerned about adding more value!
If you upgrade to Beer Drop Ultimate, then all your beer would be upgraded to 16oz cans and crowlers.
Are The Beers Any Good?
Hell yes! I was an irresponsible reviewer this time around and didn't take many beer tasting notes, or pictures. I guess I'll just have to get another shipment to the house to make up for it. Bummer, I know!
Beer Drop #1
Living The Dream: Powder Run
105 West: Apricot Saison
New Image: Pay It Forward IPA
Shadow Factory: Black Project
Sugarfoot: Belgian Table Beer (crowler)
On the first delivery, I selected sours, Belgians, and Top Picks. I was not disappointed. The Powder Run vanilla cream ale was my favorite. I'm a huge fan of Cali Creamin' from Mother Earth. Just something about the vanilla flavor in light ales is my jam.
I also really liked the Belgian Table Beer. Crushing a crowler to myself probably isn't good for my weight, but it sure felt good going down!
Beer Drop #2
Eddyline: Epic Day Double IPA
Fiction: Beta Capsule (crowler)
New Image: Single By Choice Simcoe
Station 26: Juicy Banger IPA
Uhl's: The Hop Down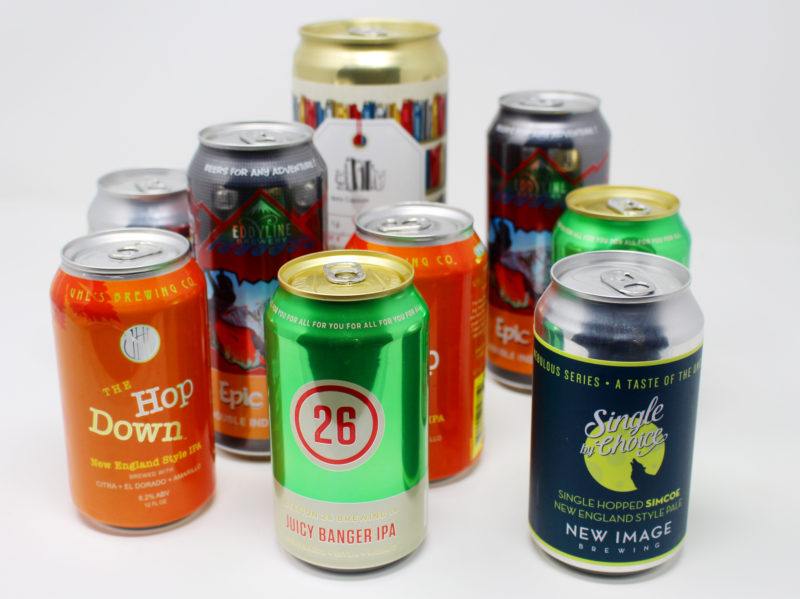 For this delivery, I switched things up and ordered all IPAs. If you're a fan of IPAs, then I recommend you check out this IPA club, but ordering all IPAs from Beer Drop is also an option.
Most of these were juicy IPAs. I love hazy's for sure – probably more than most beer nerds. However, I think they could have done a better job of delivering different kinds of IPAs. I like them red, black, white…anything!
There were plenty of different hop combinations though. Surprisingly, the single hopped Simcoe NE-style IPA was really good. Normally, I really don't like Simcoe heavy beers since they taste too catty but this one was good.
To be honest though, I haven't finished all these beers yet, so there's still a chance I'll open up a clear IPA, but we'll see. Updates soon.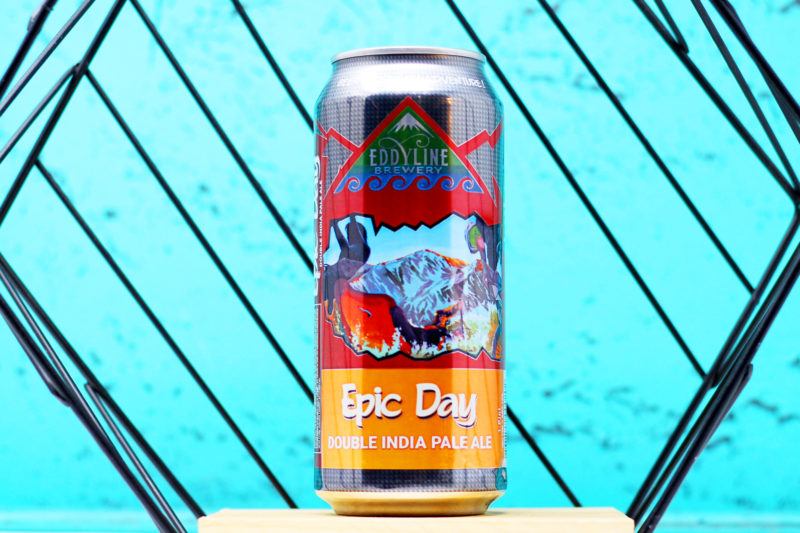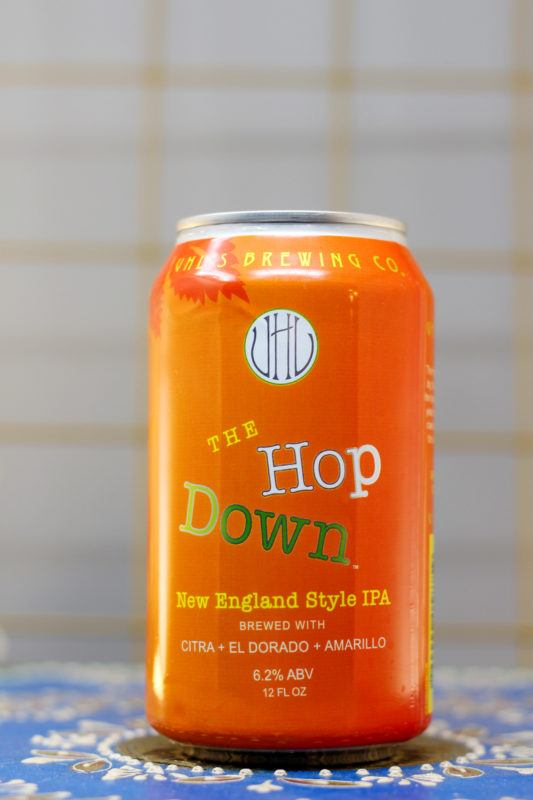 Comparing To Other Beer Month Clubs
I like that Beer Drop does their own thing, and doesn't just follow the tradition of more well-known beer clubs. For beer nerds, Beer Drop is a really good beer of the month club to start with IMO.
They're cheap. They delivery variety. They have access to hot breweries in Colorado. You even get some control.
However, it's easy to forget that there are a lot of people who like "normal" microbrewery beer. Not everybody want's a vanilla chocolate stout aged toasted graham crackers or a triple dry hopped juicy IPA with 14 different hop varieties.
Some folks just like blondes, amber ales, pale ales, and a fruit wheat on occasion.
One really good alternative is the US Microbrew club. They get beer from around the USA (and internationally). Their target audience seems to be more middle-America rather than craft beer nerd. Good stuff!
I also really like Tavour, which does have an auto-ship club feature, but more importantly you can pick and choose exactly what beers you want. Download the app, then get instantly notified as new beers come in so you can pick the ones you want and build your own box.
Tavour is pretty expensive though!
Beer Drop fits right in the middle of those two other options in terms of beer selection. Not quite as hands-on as Tavour, but a little more fun variety than the US Microbrew club.
Canceling Beer Drop
I stopped my subscription to Beer Drop after two months just because I was overwhelmed with beer. I was doing a couple of reviews at once, and started losing track of which beer belonged to which club!
Unfortunately, Beer Drop is one of those places which is kind of convoluted to cancel. There's no cancel button. You have to email them, and then a rep will try to keep you as a member by pausing your membership. Then you have to email back and say, "no thanks".
Update: The Beer Drop owner has commented below that it's no longer necessary to cancel your subscription manually. I haven't gone through the process myself, but I'll take him at his word for this one.
Final Thoughts
Beer Drop is a great beer of the month club, and I'm looking forward to joining again. They've got a great selection of craft beers, and have rock-solid service.
Highly recommended! Join Beer Drop Here.