Rice Flour Pizza Dough Recipe
Speed - 94%
Simplicity - 94%
Tastiness - 97%
This rice flour pizza dough turned out much like a dense bread. Airy and flaky but with significant substance.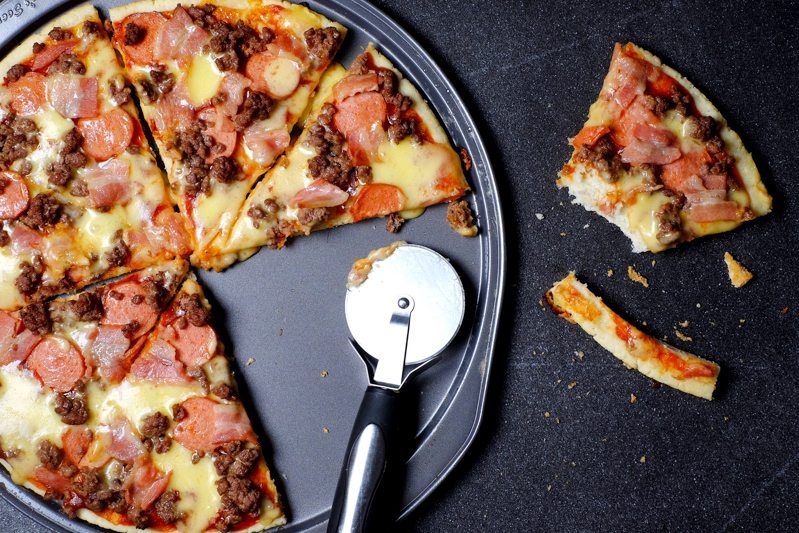 Servings:
1
12-inch Pizza
Ingredients
For the Rice Flour Pizza Dough
2

Cups

White Rice Flour

2.25

Teaspoons

Active Dry Yeast

1

Tablespoon

Sugar

1/4

Cup

olive oil

1

Teaspoon

Salt

1/2-1

Cup

Warm Water (as needed)

1

Piece

Egg
Instructions
Bloom the yeast in a bowl together with warm water, salt, and sugar.

Sift the rice flour into a large bowl. Make a well in the center and add the egg and olive oil.

Pour in the active yeast mixture and work the flour into the wet ingredients.

Turn the dough onto a floured working surface. Knead until smooth and elastic.

Place the ball of dough into a lightly oiled bowl. Cover with a damp kitchen towel and leave to rise for an hour.

Set the risen dough into a lightly floured pizza pan. Flatten out evenly with a rolling pin.

Brush the top of the pizza crust with a little olive oil.

Bake at 400F for 10 minutes.

Spread a mix of tomato sauce and bbq sauce on top of the crust.

Top your pizza with mozzarella, bacon, ground beef, and bockwurst slices.

Broil for 10-12 minutes at 400F.
I've been trying to develop gluten-free recipes for a good pizza dough lately, using every available specialty flour I could find at the local health shop.
So, here's my take on a pizza dough out of rice flour, and I knew from the start that I wouldn't be having any difficulty getting the right mix on this one. After all, I've used rice flour a lot, making spring roll wrappers, which should be very similar to making a "flat bread".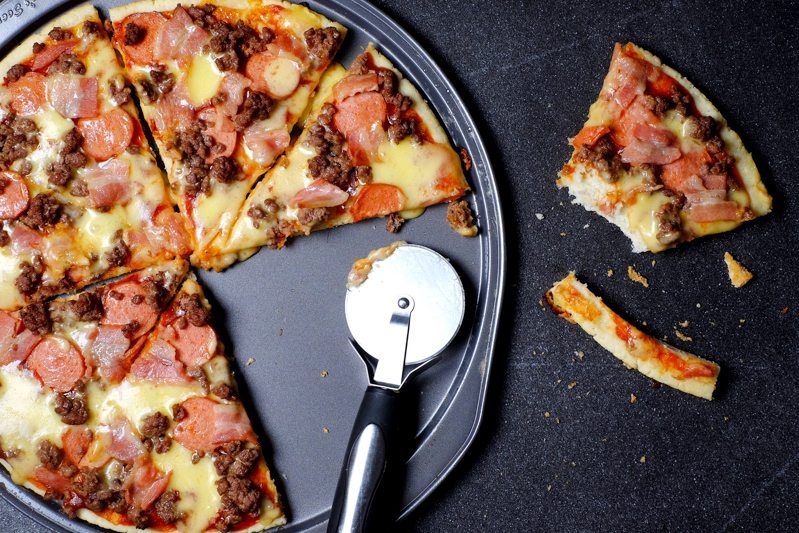 Certain that this flour will give me a workable dough, I decided to add some yeast to try and make it rise.
So let's get started. Leave your yeast to bloom in warm water, together with something it can feed on – salt and sugar. This mix should turn out really foamy otherwise you'll know that you have to start over again.

Sift the rice flour into a large mixing bowl. Make a well in the center and crack in the egg.

Pour in the olive oil and the active yeast mixture. Mix it with the egg, and slowly work the rice flour in from the sides.

The dough will be very sticky at the beginning and then end up really dry. Just keep mixing until it comes together into a ball.
Then tip this ball onto a lightly-floured working counter and begin kneading, sprinkling on more flour if the mixture gets too sticky. You should achieve a smooth dough that is quite elastic but not as much as your typical pizza dough.

Transfer this ball of dough to a lightly oiled bowl, cover it, and leave it for about an hour to rise.

The dough will rise significantly, but not as much by volume as you'd expect from a recipe that uses all-purpose flour.

Transfer the dough directly onto a floured pizza pan and roll it out into shape. Brush the top with some oil, and bake it for about 10 minutes at 400F.

Take your par-baked crust out of the oven then work on topping the pizza.
I just get thinking of a heavy meat dish whenever I hear rice so going for an all-meat pizza came in naturally to my mind. Some bacon slices, some beef mince, and sliced bockwursts sounds good to me. To bring it altogether, I've used a 1:1 mix of tomato sauce and bbq sauce. And, of course, I used mozzarella to complete the pizza without adding any unfamiliar taste. Who wouldn't miss cheese on a pizza?

Yeast, on top of doing its duty to keeping the crust light and airy, gave that familiar freshly-baked bread flavor to this dough.      

Too much meat for the topping? Perhaps. But, this rice flour pie crust really held up well.

Look at this cross section photo that shows how airy this crust turned out. Going gluten-free ain't so bad at all.

This meaty pizza is so fit for a 'man' party. I just don't know if beer is gluten-free.

Here's a cool little company… KettlePizza makes a gas and a charcoal grill insert that can turn your Weber charcoal grill or 3-burner gas grill into an outdoor pizza oven. Cook at Neapolitan brick oven pizza temperatures and make awesome pizza at home!
Rice Flour
As you can probably guess, rice flour is quite simply flour that has been made from rice. There are many variations out there, including brown rice flour, black rice flour, and other options. In this case though, the rice flour simply comes from white rice, which is the most common type out there.
The biggest advantage of the flour is simply that it is gluten-free. Additionally, it is a fairly easy-to-find example of gluten-free flour and it is inexpensive to make as well. Because of this, rice flour ends up being perfect for those on a budget.
Get White Rice Flour on Amazon!

Visually, rice flour also ends up looking very similar to regular wheat flour and this alone is great for baking (or for making pizza dough). Rice flour is most common as an ingredient in noodles and in pancakes, along with acting as a thickening agent for a wide range of different recipes. For example, I used rice flour in my Sous Vide Chinese-Style Fried Chicken dish and it turned out perfectly.
Working With Rice Flour
As with any gluten-free flour, rice flour does present some challenges. For one thing, this type of flour simply doesn't rise as well as any flour that contains gluten. To get around this, many people focus on smaller loaves of bread or recipes like pizza dough, where the product doesn't need to rise much.
Still, Rice flour does have some advantages as it is fairly light and doesn't have a distinctive flavor. As such, it isn't going to alter the flavor of whatever you are making, which is especially relevant for bread.
Unlike some other options, white rice flour can also be used as the only flour in a recipe. This is a major advantage for anybody who doesn't want to have to keep multiple types of flour on hand.
Health And Diet Implications
When it comes to health, there is considerable debate about rice flour and whether it is actually good for your or not. However, much of the answer comes down to what you are specifically looking for and what your parameters are.
For one thing, rice flour is typically considered healthier than wheat flour, simply because it is gluten-free. At the same time, there are some appealing nutrients in rice, which is another reason to consider rice flour as an option.
But, rice flour is fairly high in carbs. For this reason, some people consider it to be unhealthy and the flour is also avoided by anybody on a keto diet. Likewise, some people argue that rice flour is highly processed, although you can bypass that issue by making your own.
Doing so is simple and you just need to grind rice until you get a fine flour. However, you do need a tool that has the ability to crack grains. Many blenders and mixers will do this but not all. Personally, I tend to use a coffee grinder, which works perfectly for that goal.
Regardless of whether you make or buy it, rice flour may not be the healthiest gluten-free flour on the market but it does still offer many benefits. If nothing else, it is a fairly easy to access flour that also works well in a range of recipes.
[wprm-recipe id="33970"