I recently did a motorcycle trip across the USA from LA to New York City. Bikes have small tanks, so I stopped every 100 miles or so, sometimes more frequently if my butt got tired or I was going into a long stretch without any available gas stations. Needless to say, I ended up buying a lot of gas station junk food.
I tried to eat real meals and healthy foods as much as possible, but I definitely ate a lot of gas station junk food because it was convenient, and to be honest, I felt a bit nostalgic!
We've all been on a road trip and looked around at all the full glory of gas station gourmet snacks like hot dogs, nachos, potato chips, and energy drinks.
As an adult, it's not every day that I go to the store and buy myself a bag of Hot Cheetos 'just because', so I had a great time trying some of these snacks for the first time in over a decade. Some were still as great as they were back in the day. Some had me thinking, "I can't believe I used to eat this."
Now that I'm back, I put together a list of my favorite gas station junk foods. Do you see yours on this list? Don't forget to let us know your favorites in the comment section.
My Favorite Gas Station Junk Food
Beef Jerky

Who can go past jerky? It might be a bit tough on the teeth, but it offers a ton of protein and saltiness. It's also a great choice if you're sick of the sweet stuff.
And, why not? Even when gas stations have a crappy selection most offer at least one half-decent bag of jerky.
Powdered Sugar Donuts + Milk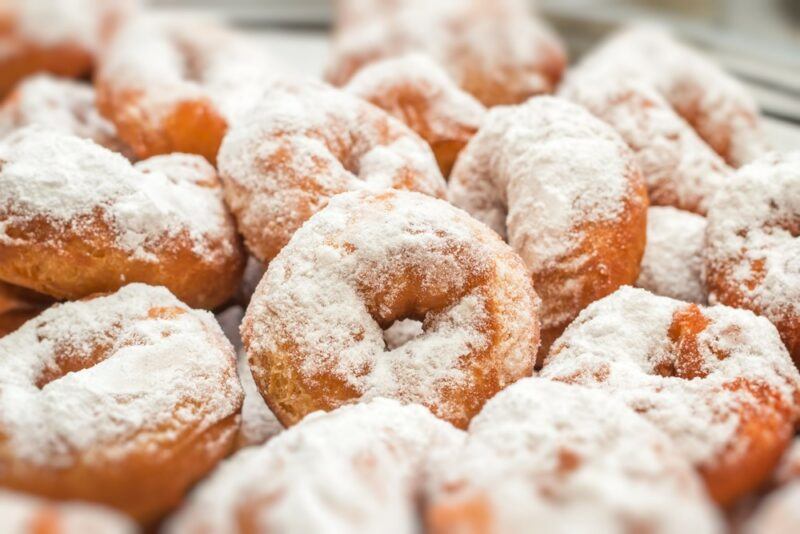 You might occasionally find fresh donuts at a gas station, but most of the time you're looking at small packets of powdered donuts instead. Little Debbie Powdered Donuts are a great option here. How can you go past the price?
Sure, these aren't the most amazing donuts in the world, but they still hit the spot. Have some milk alongside and any staleness becomes almost unnoticeable.
Chex Mix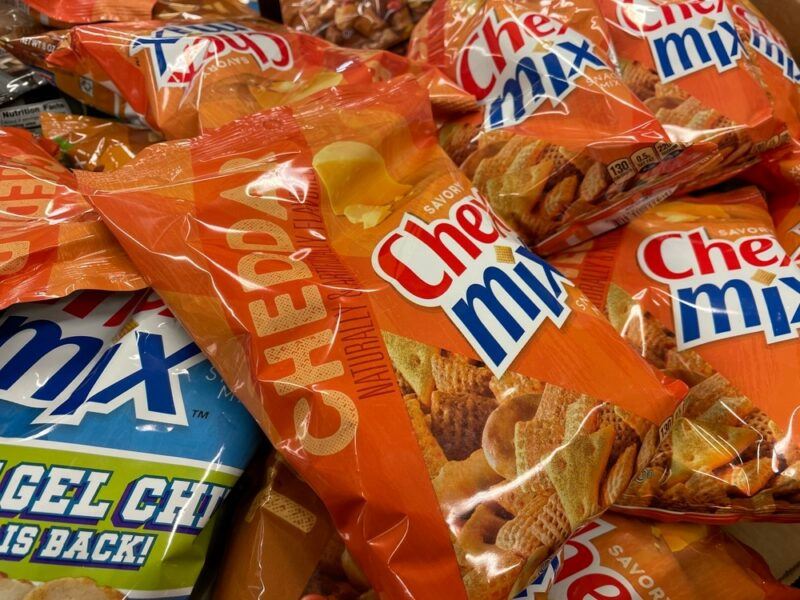 Ah, Chex Mix. You can find at least one variety at most gas stations and there are often multiple to choose from.
Different textures, flavors, and shapes in a single product, what's not to love? Just watch your portion sizes, as scoffing the whole bag can easily lead to digestive complaints.
Stale Coffee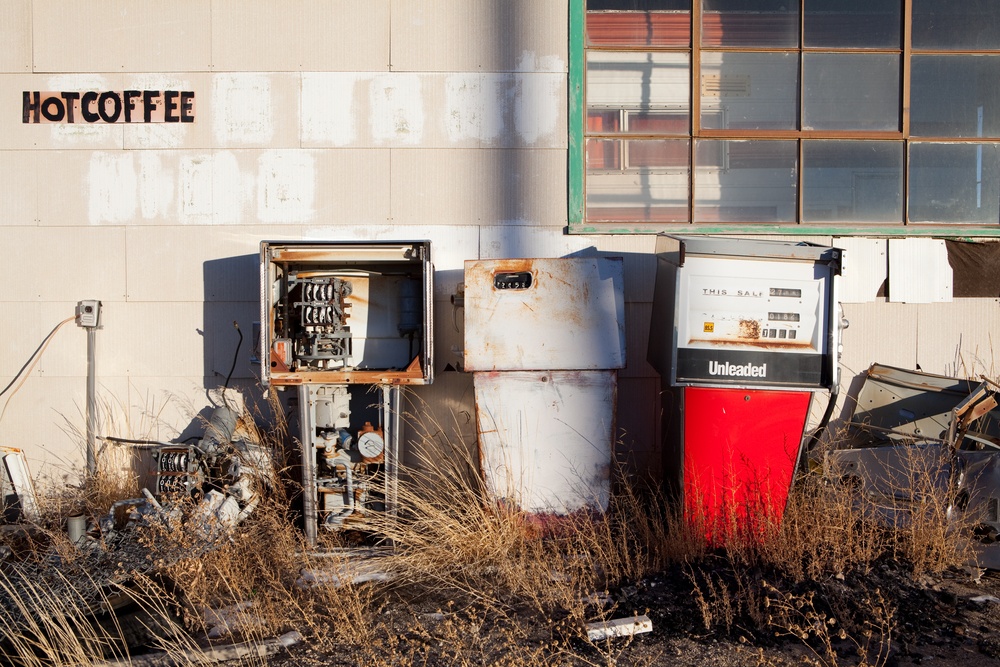 Fresh coffee is better. That goes without saying. Still… the odds of actually getting fresh coffee while you're on the road are pretty slim. You'll probably need to stick with the stale version instead.
Then again, when you've been on the road for hours at a time, even stale coffee can taste pretty amazing.
Slurpee

If coffee isn't your thing, what about a Slurpee instead? It's sweet, cold, and will keep you hydrated (well, somewhat hydrated, at least).
While you won't find a Slurpee branded drink at every gas station, sweet slushy-style drinks are incredibly common. Their quality varies, but most taste good at least.
Hot Peanuts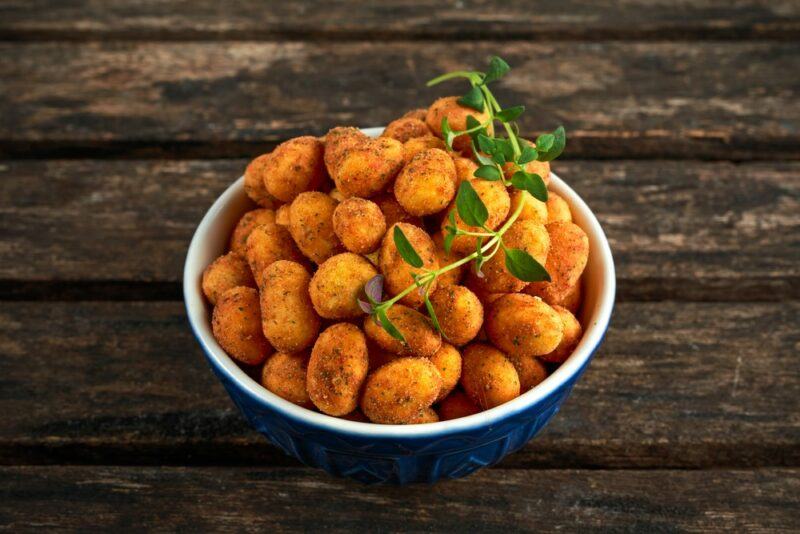 Sure, you could just get regular nuts, but where's the fun in that? Hot peanuts are much more interesting. They might even help to keep you awake if you're getting tired (it's hard to be drowsy when your mouth feels like it's on fire).
Trail Mix

Trail Mix? You mean M&M's with obstacles!
Okay… there are some fairly healthy versions of trail mix out there. Those just aren't often found at gas stations. Gas stations seem to focus on the candy filled versions, which fall squarely in the category of junk food.
Microwaved Burritos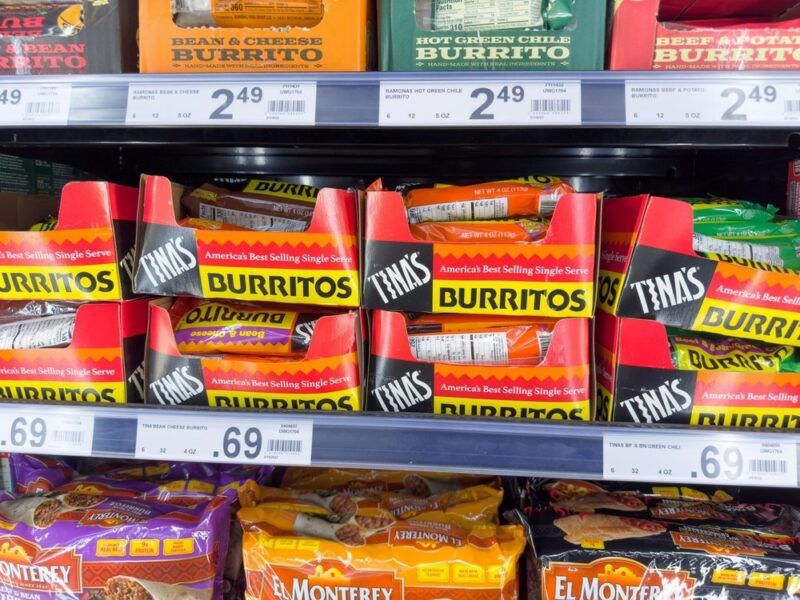 Want something comforting and at least somewhat filling? Microwavable burritos are an easy option.
They're a snack that some people love and others hate, but hey, it's not like you have a whole grocery store at your fingertips.
Corn Nuts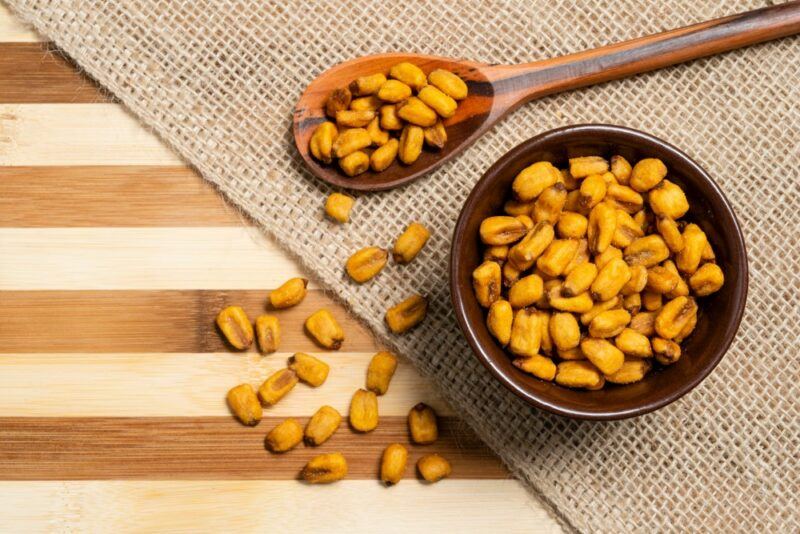 My favorite flavor is Ranch. What's yours?
Corn nuts are often gluten free too. That's a bonus, given that so many other snacks on this list are a bad idea if you're sensitive to gluten.
Pork Rinds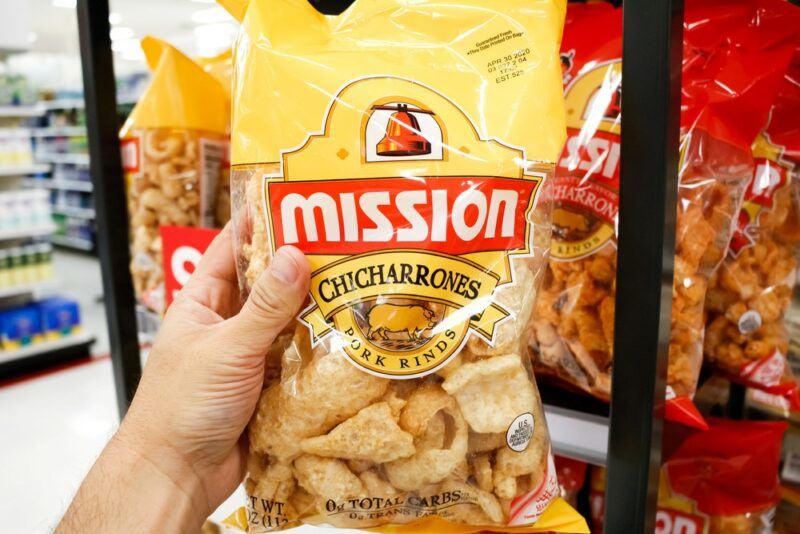 Pork rinds are seeing new heights of popularity, as they give keto dieters a low carb and easy to find snack. They're still delicious if you're not following keto too.
I try not to indulge in this snack too often, as the rinds are pretty high in calories. Still, a road trip is the perfect excuse.
Fake Cheese Nachos
Good for nostalgia once in a while. Just once in a while though. Seriously. These treats sometimes require recovery time.
Sugar Babies

Let's not forget Mike & Ikes either!
For that matter, most boxed candy works well on the road. What are your favorites?
BBQ Potato Chips
Am I the only one that thinks BBQ is the ultimate flavor? #sorrynotsorry to the Salt & Vinegar fans out there.
Flaming Hot Cheetos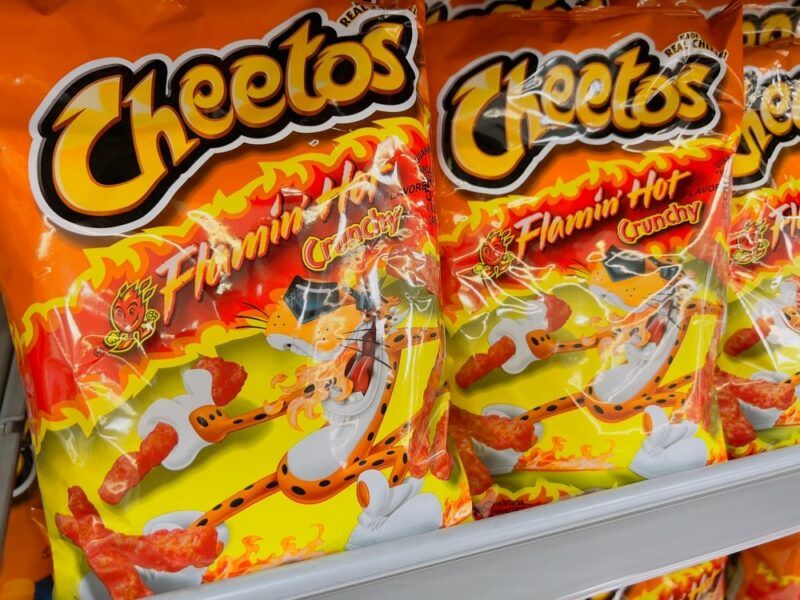 Want to give your tastebuds a workout? Flaming Hot Cheetos will certainly do that for you.
Just be certain you know your limits first. Too much hot stuff on the road can lead to embarrassing digestive issues.
Mystery Hot Dog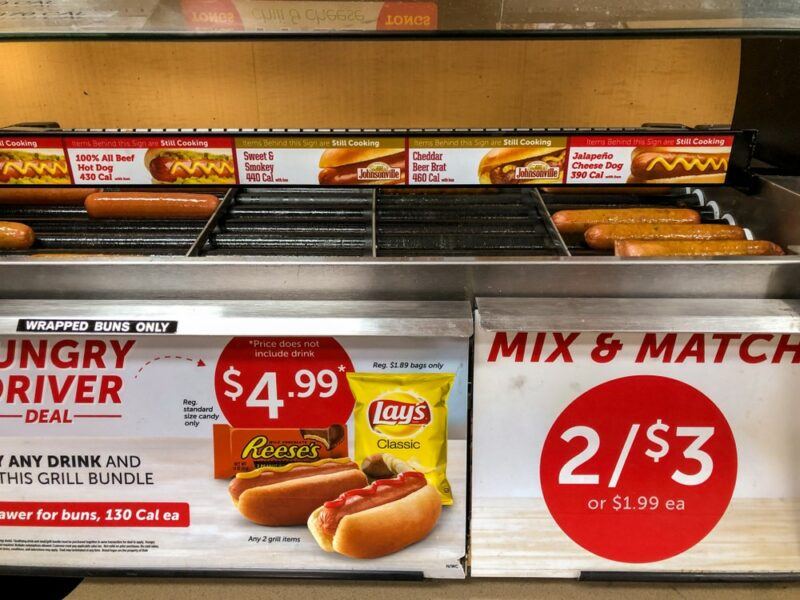 Do you really know what you're eating with these hot dogs? Gas stations often give little indication. You don't know how long they've been sitting there either.
Then again… do you really want to know?
Funyuns
Here we are again with salty and crunchy. That combination is always perfect on a road trip and Funyuns are an easy example. You should be able to find some at most gas stations.
Red Bull
Okay… Red Bull isn't really 'food', but it's certainly junk. Packed with sugar, caffeine, additives, taurine, and other ingredients, the energy drink won't do your health any long-term favors.
Still, when you just need a boost of energy – Red Bull is perfect. And when you've been traveling for a while, sometimes you just need what's going to help right now.
Doritos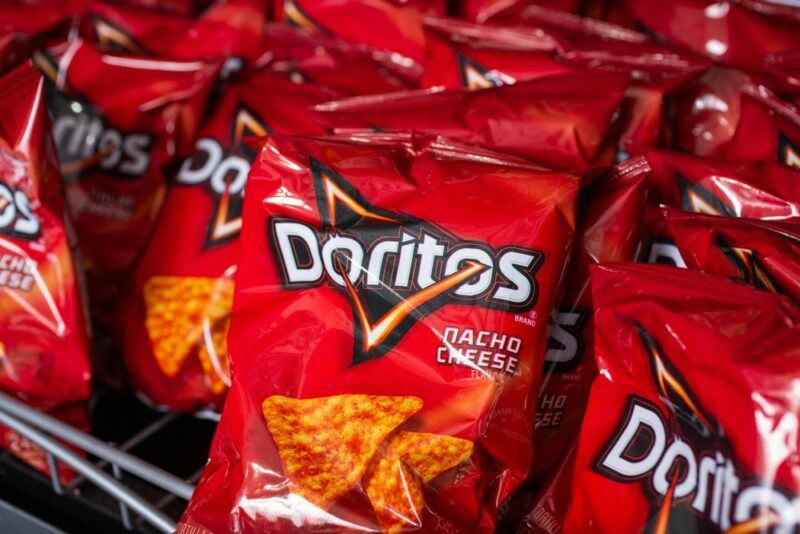 I still can't go past Doritos. They're easy enough to find, yet they still seem like the perfect traveling food (messy, but oh so tasty).
Rock Star
If you don't like the flavor of Red Bull, Rockstar is an excellent alternative. It gives you the same energy kick and comes in plenty of delicious flavors.
There are also sugar free versions of Rockstar. Not surprisingly, these contain most of the same ingredients, just without the sugar.
Chili Dogs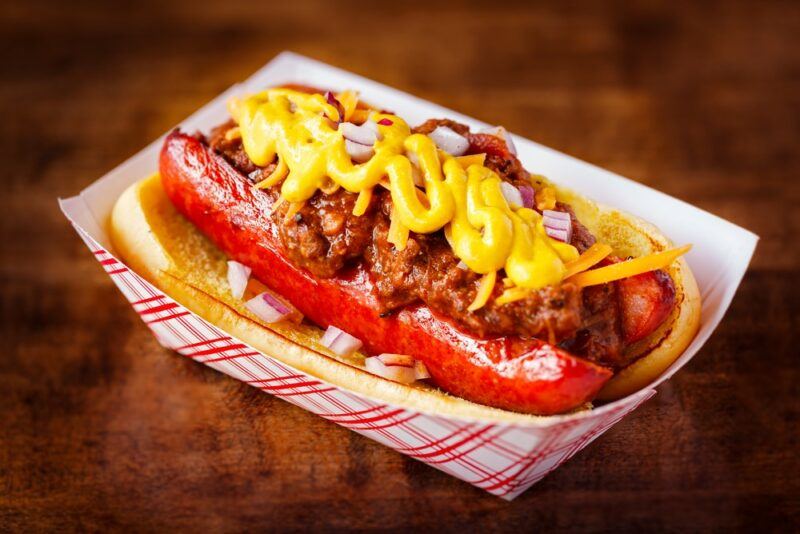 Chili dogs are both the worst and the best gas station treat – when you can find them. They're the best because they taste seriously amazing, especially when you've been on the road for hours.
Still, it's almost impossible to eat one without making a mess. That's frustrating enough when you're at home, but is ten times worse if you're attempting to drive and eat. Best case? Find somewhere to sit and enjoy your chili dog slowly. Don't forget wet wipes for the inevitable cleanup.
"Fruit" Pies AKA Home Run Pies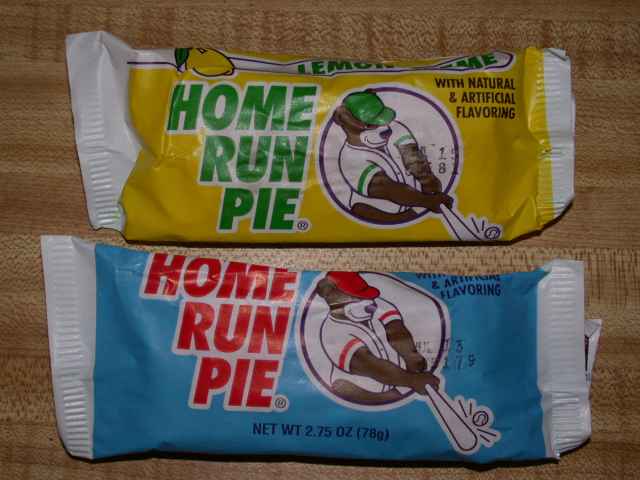 Finding these can be hit-and-miss, but they're still such a treat. There's something about them that just reminds me of my childhood.
My personal favorite was the Ninja Turtle custard pies.
These days there are plenty of other options, so it's easy to find something fairly similar.
Lunchables

Lunchables aren't just for kids. They're also easy road trip snacks, giving you a decent amount of protein in one serving. While they're still processed 'junk' food, they are also healthier than most other options on this list.
Ice Cream Sandwich
Who doesn't love ice cream sandwiches? Sure, they're often a little stale from a gas station, but they're still tasty enough.
Pickles

It's hard to go wrong with pickles. They're pretty much the same wherever you go, no matter how long they've been sitting on the shelf.
Slim Jim

If jerky is too tough on your teeth, then a Slim Jim may be exactly right. Both snacks give you plenty of savory protein in a snack that doesn't leave any mess.
Soft Chocolate Chip Cookie

Who's with me? Chocolate chip cookies are the best, especially when they're soft.
Combos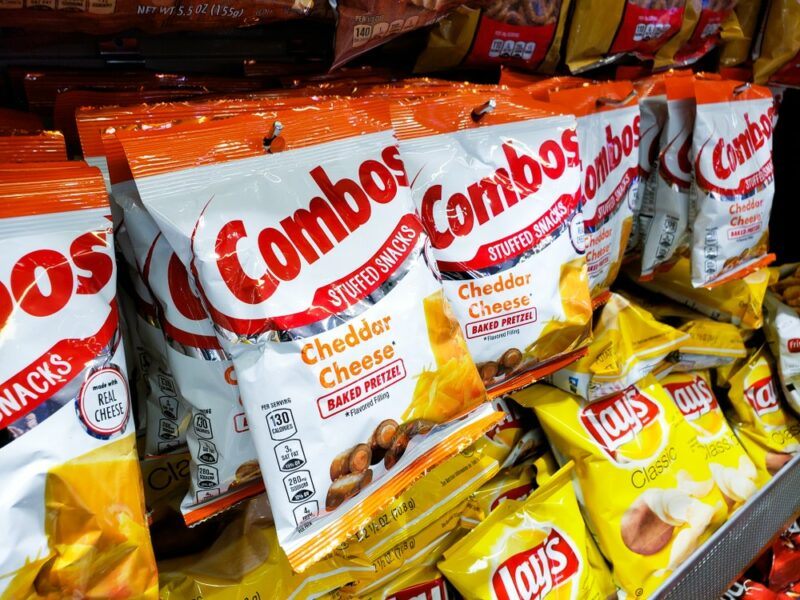 To me, Combos are one of the best road trip snacks out there. They're tasty, convenient, come in plenty of flavors, and are junk food through and through.
Their processed nature may be part of what makes these snacks so appealing, as the additives and flavorings make these little snacks strangely addictive.
Sunflower Seeds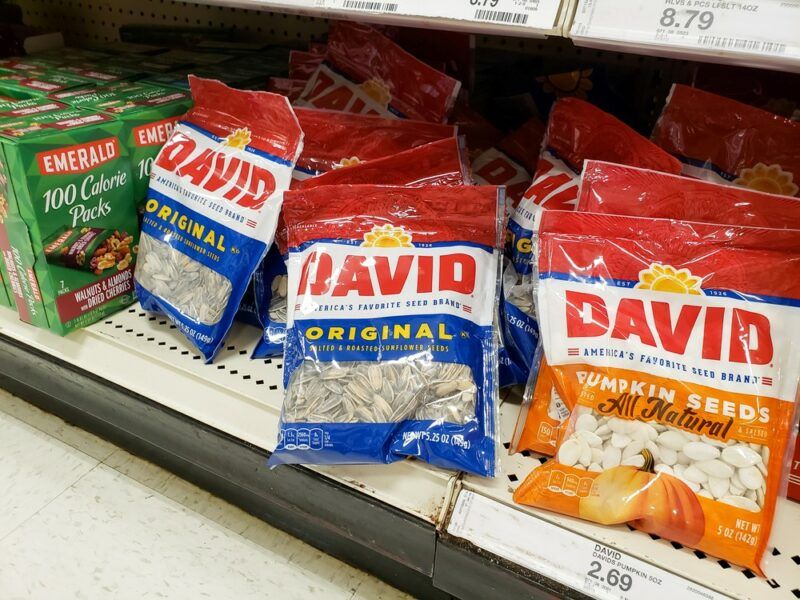 For something healthier, why not turn to nuts and seeds? Sunflower seeds are a crowd favorite, even if you do have the annoying shells to deal with.
Bags of sunflower seeds are also easy to find at most gas stations. That's another reason to rely on them.
Danish Pastry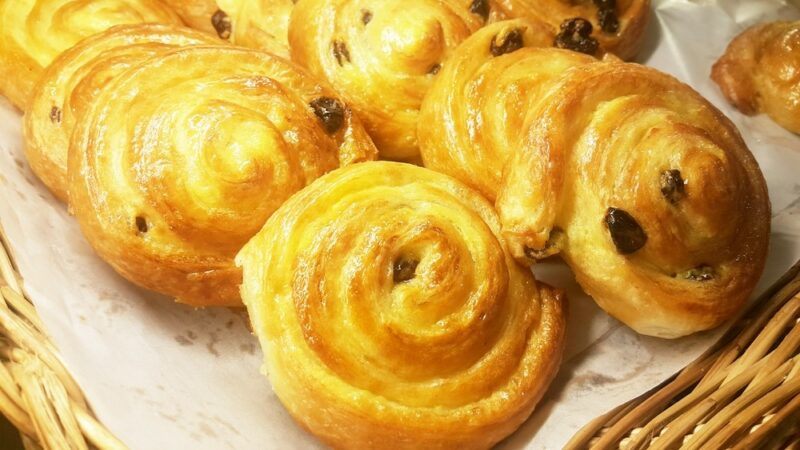 Quality varies here – dramatically. Sometimes you'll get a fresh and delicious treat. More often, you'll get something low quality, slightly stale, and just 'meh'. Still, even the meh versions can be pretty good when you're on the road.
Popcorn

While popcorn can be healthy, the versions you find at gas stations often won't be. That's not all bad, though, as the unhealthiest versions of popcorn tend to be the tastiest.
Snickers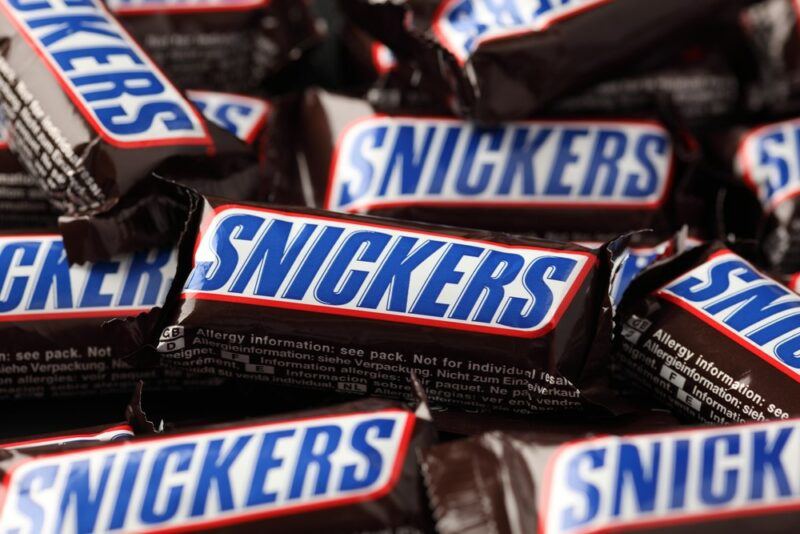 Snickers is the best! OK OK, Twix is a close second 🙂
Red Vines & Twizzlers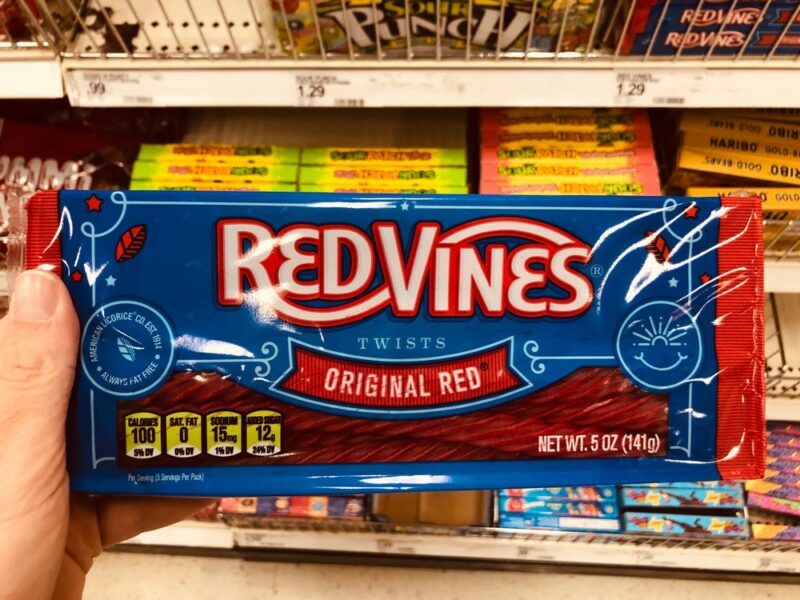 Red Vines and Twizzlers are often called red licorice, although they aren't licorice in the traditional sense. Regardless, they're delicious and easy to eat when you're driving.
Boston Baked Beans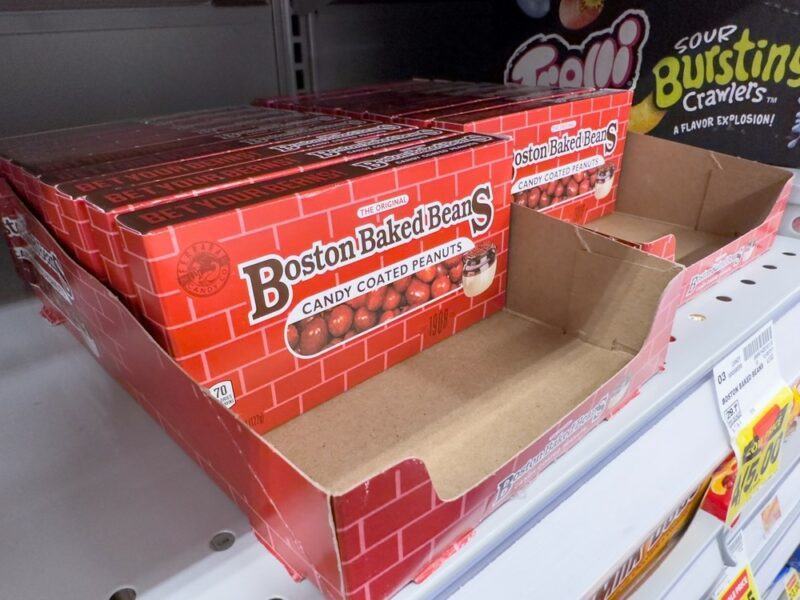 To be clear, we're talking about the candy here, not literal baked beans. For those not in the know, these Boston Baked Beans are actually peanuts coated in candy.
Strange as that idea sounds, it works well, creating a treat that's tough to pass up.
Gas Station Pizza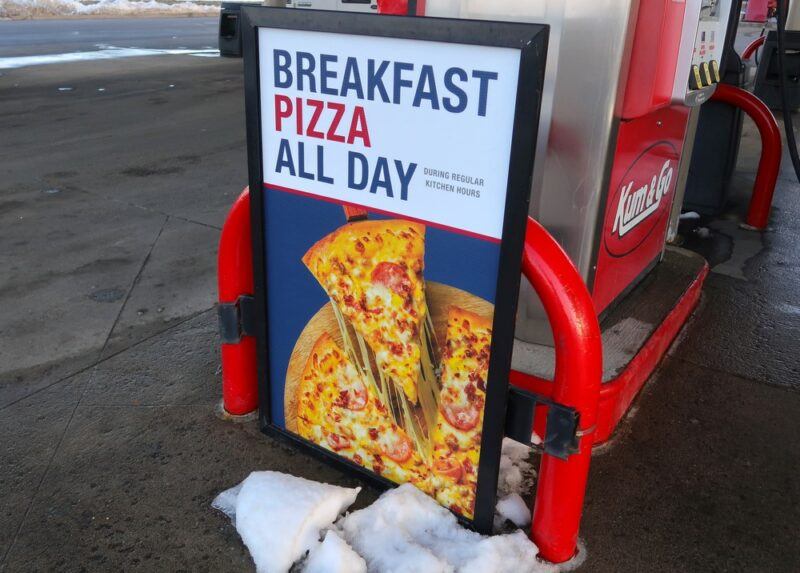 Gas station pizza is very very hit and miss. Okay, when you compare it to regular pizza, it pretty much always disappoints.
Yet, it's still one of those foods that many of us love to hate. It's greasy cardboard, but at least it's familiar greasy cardboard? Something like that. Honestly, sometimes I have no idea why I love the foods I do.
Charleston Chew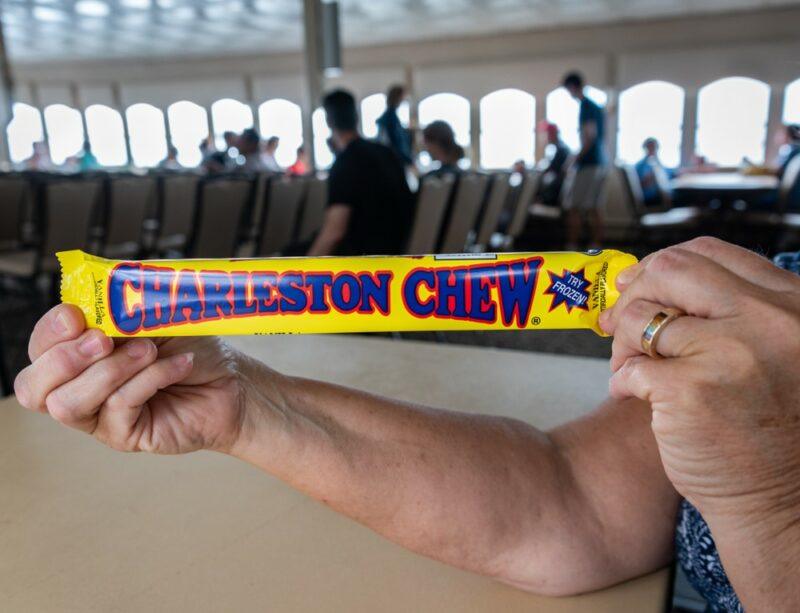 Whether you choose the long or the mini version, the Charleston Chew remains a classic. If nothing else, the treat is a huge dose of nostalgia.
Sun Chips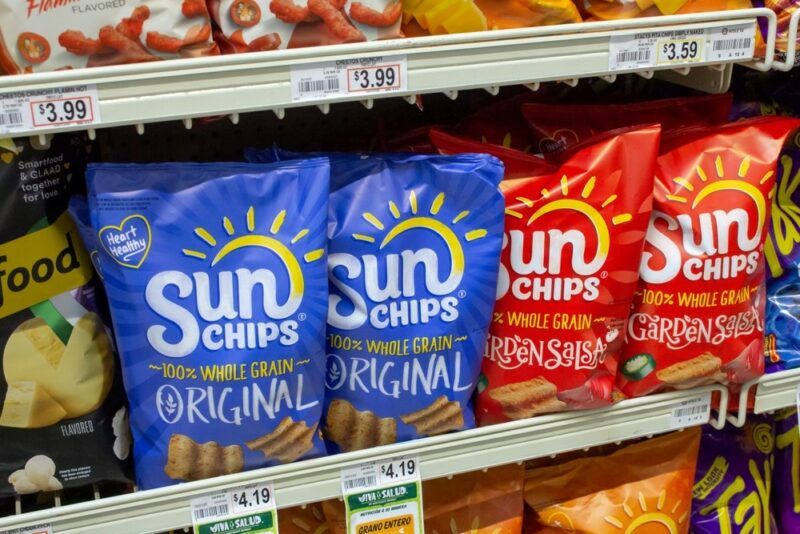 Crunchy, tasty, and a bit different than regular chips – how can you go wrong?
Sour Gummy Worms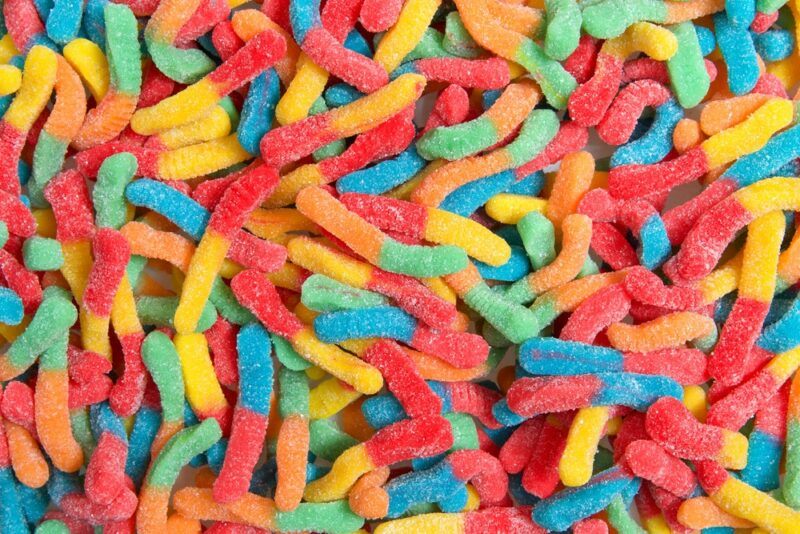 Sour treats are too often ignored, which is a shame, as they can be truly wonderful. Sour gummy worms are my personal favorite. That's partly because of their taste and partly because they're so easy to find.
Whoopie Pie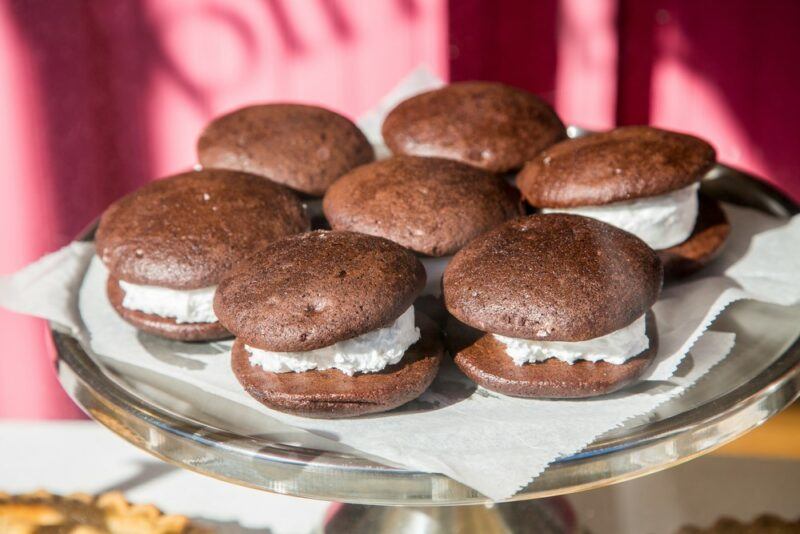 We can't miss the whoopie pie, right? You'll most often find processed and packaged versions, but might get lucky with something fresh too.
Red Hots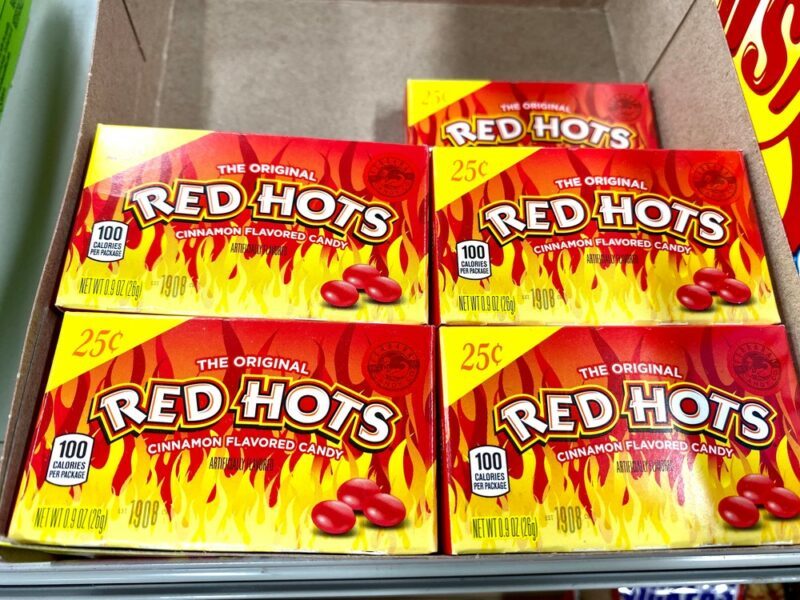 These intense treats aren't for everyone (seriously, they even lit up the comments section). Yet, they're still one of my favorites and certainly make the journey more interesting.
Taquitos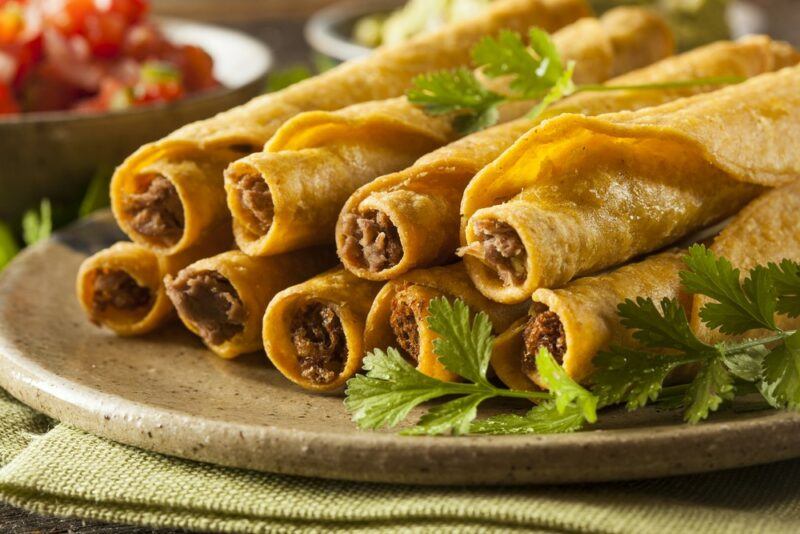 Taquitos feature at many gas stations too. Like hot dogs, you often don't know precisely what you're getting. Perhaps that's half the fun. Regardless, they're often tasty and tend to be easy to eat as well.
Takis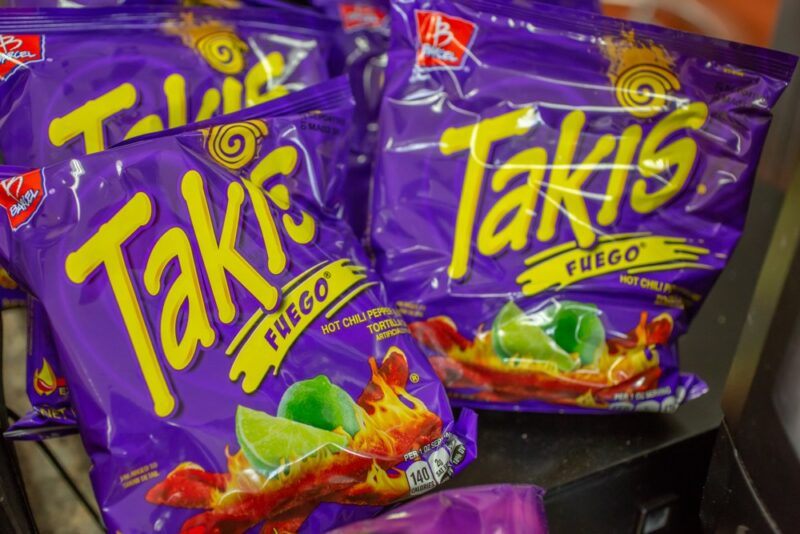 Finally, we have Takis. They come with a burn like Hot Cheetos and are just as addicting. You might even find yourself eating an entire bag if you're not careful.
If your favorite didn't make the list, let me know what it was in the comment section!
Related Content