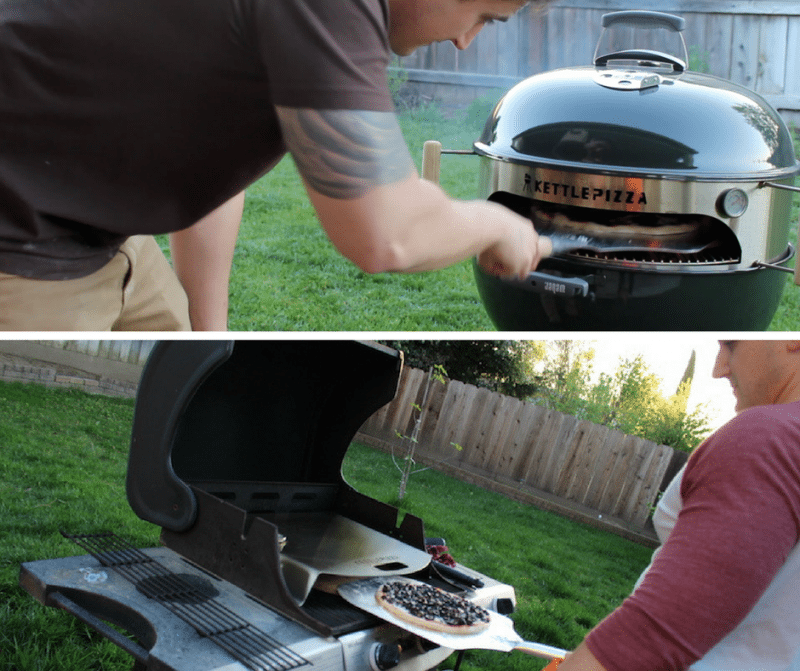 Quick FYI: FoodForNet is an affiliate of KettlePizza, Amazon, and other products featured on this website.
KettlePizza Gas VS Charcoal
I'm already firing up both my gas and my charcoal grill getting ready for the 2017 grilling season. But this year I've discovered that you can make really good pizza on a barbecue using a pizza stone, a pizza peel, and an accessory from KettlePizza.
They make a version for Weber kettle grills (the most popular brand/style), as well as one for 3-burner gas grills. I couldn't decide which one to get, so I bought both. In this post, I'm going to talk about the Charcoal KettlePizza VS the KettlePizza Gas, and which one you should get if you can't decide.
I'll cover:
how each works
how to set each of them up
how the pizza tastes
the pros and cons of each style
Of course, if you only have one style of grill in your backyard, then the decision might already be made. But for many of us grilling-enthusiasts, we have both! Lucky for me, I run a blog about food so can buy both and mess around with them whenever I want.
But if you can only get one, keep reading to find out which one will be best for you. They are quite different in some areas, and I already know which one I prefer (I'll tell you which in the final conclusion at the end).
KettlePizza Charcoal Review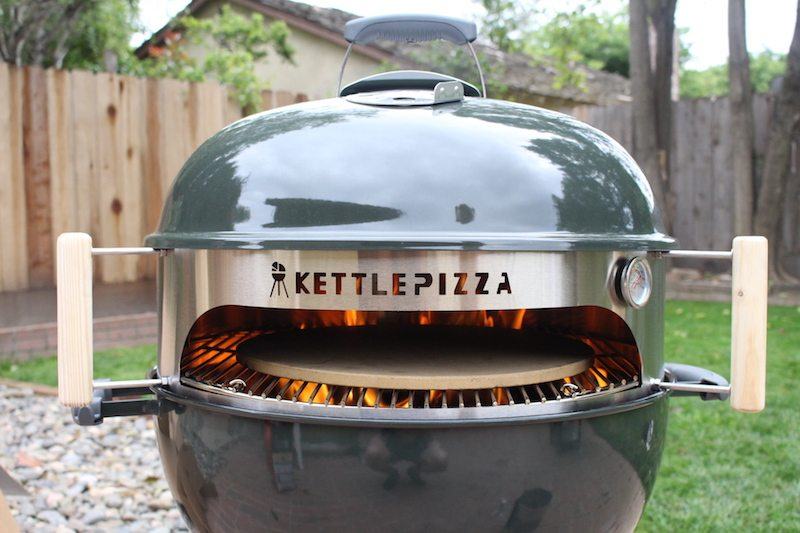 Getting Started With KettlePizza Charcoal
First of all, do you have a Weber Kettle grill? KettlePizza was made for this specific style of grill. Though there are other popular charcoal grills out there, KettlePizza might not fit. It's made to fit 18.5 inch or 22.5 inch round grills. Something like Big Green Egg or other ceramic grills. According to their website, here are some other brands it will work with
Stok
Smoky Mountain (Weber)
Getting set up with your KettlePizza Charcoal does take a bit of assembly, but it's not at all complicated. I figured it out! There's just a few wing nuts and nuts/bolts to put together.
You'll also need some wood chunks. A city boy like myself has to buy the chunks for the store. It'll cost about $8 for a small bag (5 lb), or $20 for a large bag (20 lb). I use about one bag to make 5-6 pizzas. Your fuel usage may vary depending on how well you time your pizza preparation with the optimal cooking time.
Don't forget the coal, pizza stone, and pizza peel! Some KettlePizza packages come with the stone and peel included. It depends on whether you want their brand of tools, or want to use your own.
I do highly recommend using their pizza stone though. It's made to withstand temperatures up to 1200ºF to prevent cracking. It's also thermal shock resistant, meaning if you heat or cool it too fast, it won't crack. Heating too fast could be an issue for normal stones because once you get that fire burning, it heats up quick! I went from ambient temperature to 700º in less than 10 minutes.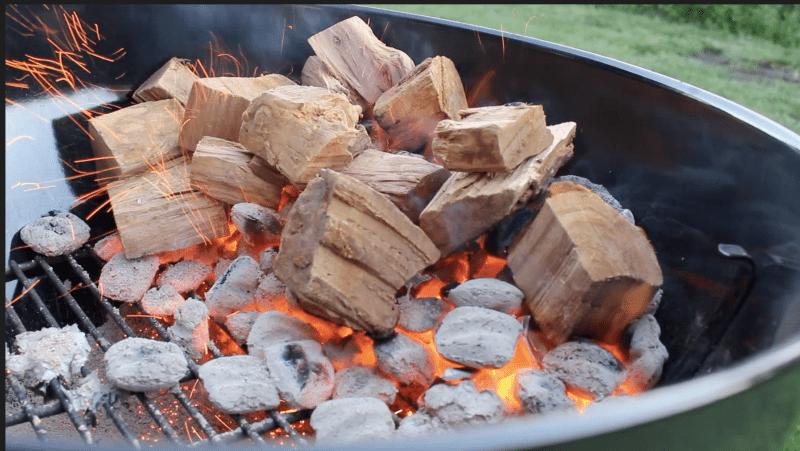 Making Pizza With KettlePizza Charcoal
Making pizza with a KettlePizza charcoal is as much fun as it looks. The really cool thing about this grill accessory is that you can make pizza just like those $6,000 backyard wood-fired ovens even though you spent just a fraction of the cost to buy or build one yourself.
What else is a wood fired oven but an extremely hot oven that's filled with burning wood and smoke? So the pizza you make with KettlePizza is legit.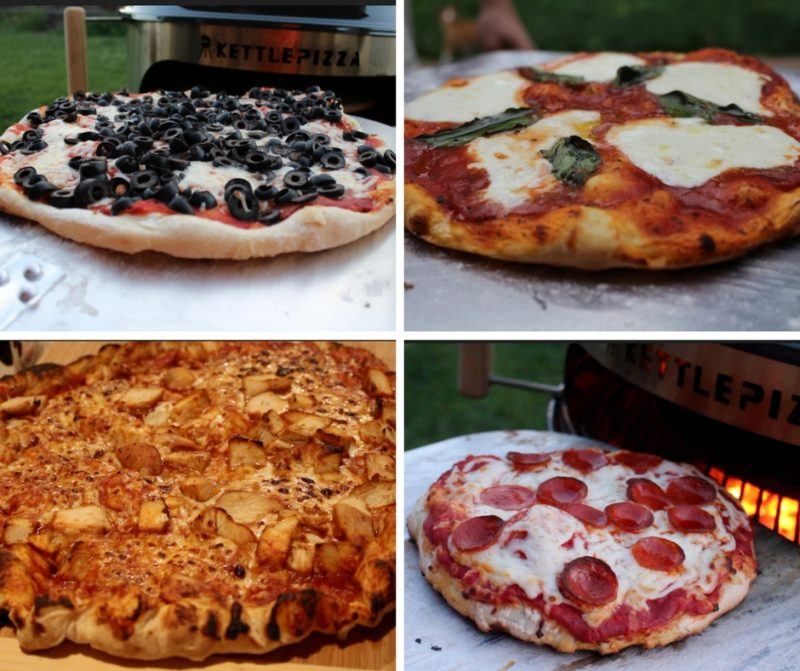 There is a bit of a learning curve though.
My first trouble was running into temperature issues. I wasn't using enough wood to get up to proper Neapolitan pizza cooking temperature. I threw on 3-4 chunks, and reached a high of about 600º. Then by the time I got out to cook the pizza it was already dropping below 500º, so it took about 10-15 minutes to fully cook the pizza (it finished around 400º+). It didn't quite have the crispy bottom that wood fired pizzas have.
The next time I did much better, but had to refuel twice between making pies. This involves removing the lid, which lets out a lot of heat, and you have to start over! However, I was patient, and made some truly delicious pizzas this second time.
So third time, I thought, "More is better", and dumped a load of wood onto the bed of coals. Things got hot, fast, and stayed there. But I couldn't track how how it was (way over 700º I suspect), and I burned a few crusts.
So the first lesson? There's a fine balance to be had to make perfect piazza on KettlePizza Charcoal.
It's not all KettlePizza's fault though. I'm constantly experimenting with dough as well. If you browse any pizza-nerd forum, they are always talking about what the perfect dough preparation process is!
The second lesson? It takes skill to make perfect pizza, but who cares. My very first pizza on the charcoal grill was great, and even my burnt pizzas tasted awesome. Learning is part of the fun. The point of getting a KettlePizza insert is not to be a pizza nerd, it's to have fun and enjoy life!
Cleaning The KettlePizza Charcoal
Cleanup does take a bit of work, but it's not too bad. Mainly, you have to put away you charcoal and wood, toss the ash (not hot) in the garbage or maybe even in your garden. If you spilled any toppings, you can let those burn off naturally as the grill cools down. The Gas Pro version of KettlePizza is a little easier to clean up.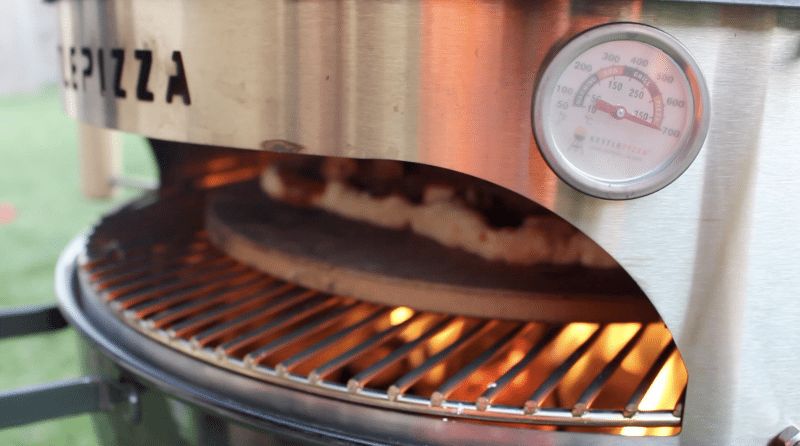 Pros
Delicious wood-fired taste
Fun to use
Impressive to watch
Cheaper option
Weber charcoal grills are portable
Larger opening for getting pizza in/out
Cons
Requires fuel additions (charcoal, wood)
Hard to maintain consistent temperature for more than a few pizzas
Needs a place to store when not in use
==> Get Charcoal KettlePizza From Amazon
KettlePizza Gas Pro Review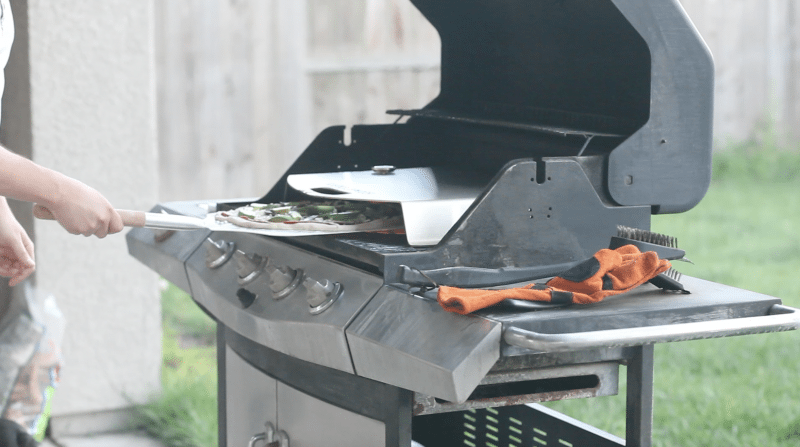 Getting Started With KettlePizza Gas Pro
Getting started with the KettlePizza gas pro is very easy. Actually, the only think you "have" to do is to screw on a small wing nut to get the temperature gauge attached. Other than that, you're ready to go. I wish there was more to tell than that, but it's pretty simple.
I guess you can spend all your time learning how to make pizza dough, or chopping ingredients.
I think the only thing KettlePizza could improve here is the "unboxing" experience. I'm used to Apple products, or companies like Joule that make a fantastic presentation of their product while you unwrap it. When my KettlePizza Gas Pro came in the mail I didn't even know what it was because it was an unlabeled, white box. LOL.
Despite that, once I figured out what it was, I was making awesome pizza by the afternoon of the same day it arrived!
Oh, don't forget that you will need a pizza stone and pizza peel. I prefer the aluminum peel, and I highly recommend you get the KettlePizza official pizza stone since its made for the grill and much more crack resistant than other types of pizza stone.
I wrote a post on grill approved pizza stones here, but since I've used the KettlePizza brand stone on both gas and charcoal, at 800º+, I can personally vouch for them!
Making Pizza With KettlePizza Gas Pro
The pizza making process is very simple. I like to make my own dough, but you could also buy pre-made dough, or even a pre-made pizza. While learning to cook pizza in my backyard,
I picked up a few tips to share. One, is that some ingredients do well without cooking, while others need to be precooked. If you're heating the pizza at 700º or more, it cooks in just a few minutes. So you should precook meats like bacon or sausage. I also cooked my portobello mushrooms because there were pretty thick.
Other veggies like jalapeños, pineapple, or bell peppers can be raw for more flavor, or precooked for mild flavor.
Also, careful for watery things like olives or other canned foods. They can make certain parts of your pizza soggy if you don't dry them properly before topping your pizza.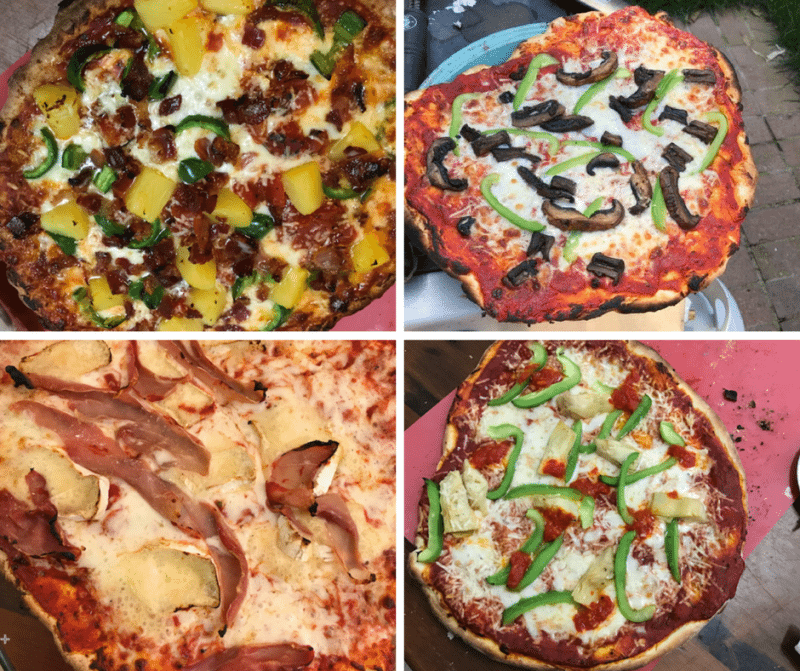 As far as flavor goes, you don't get any kind of special "flavor" from cooking on gas. You do however, get to enjoy any flavors you put on your pizza! Using the KettlePizza Gas doesn't quit mimic the wood-fired pizza flavor and experience, but it does make awesome pizza.
There are still a huge number of advantages to cooking pizza outside on a grill, including
keep the house cool in summer
enjoy time relaxing with friends
fun and easy project for the kids
great way to have family night
I've also thought about experimenting with the Amazen Pellet Tube Smoker I bought a while back. I want to get that thing smoking while I grill my pizza and see how that does. You still won't get the effect of the big flames baking your pizza, but it could give a bit more of the wood-fired taste. We'll see!
Cleaning KettlePizza Gas Pro
Cleaning is easy! As long as you don't drop any toppings on your pizza stone, and don't lose a pizza on your grill, there's nothing to clean at all (except your dishes). Just close your grill, let the pizza stone cool down slowly, and it'll be there for next time you want to cook.

Pros
Easy to set up & use
Fewer tools needed to cook pizza
Easy to control temperature
Easy to clean up
Easy to store
Consistent temperatures
Cons
More expensive
Smaller clearance for pizza
No wood-fired flavor
Less "exciting" than building a fire
==> Get KettlePizza Gas From Amazon (hover for current price, click on mobile)
Comparing KettlePizza Charcoal VS KettlePizza Gas
Stats Comparison
Charcoal
Full Device Height, Width, Depth: 22.5 x 22.5 x 7 (inches)
Weight: 17.7 lbs
Opening: 17" Wide, 3.25 High
Max Temp: 700ºF +
Gas
Full Device Height, Width, Length: 3.5 x 24 x 17 (inches)
Weight: 26.9 lbs
Opening H x W x L: 2.75 x 20 x 16 (inches)
Max Temp: 700ºF +
The KettlePizza Charcoal is quite a bit larger in size than the KettlePizza Gas, but the Gas is heavier. I find that carrying the charcoal version around is a little cumbersome, and it's also a little difficult to store.
You will be able to break it down and store it in the original box during Winter, so long term storage is not a huge issue. You could also opt to just leave it on the grill and store it wherever your grill is. One commenter says they just leave it outdoors and even after several years like this, it works great and hasn't broken down or rusted.
That being said, the the gas version is much easier to store. You can put it on or under pretty much any box, or lean it up against something. You could even store it inside your grill and it would be protected from the elements.
Regarding opening size, the charcoal version gives you more room to get your pizza in and out of the grill. The gas version is very low to the grates, so you need to be quite accurate when getting the pizza in. You can always lift up the device if you want, but that lets the heat escape! (I do this occasionally when the toppings are too tall).

Charcoal VS Gas Cooking Experience Comparison
The two most important categories of comparison in my opinion is the cooking experience, and the final pizza taste/quality comparison. After all, the point of making pizza in your backyard is to have fun and eat good pizza, right?
The advantage of using coal is that it's more fun, and more authentic. You get to start a fire, and smell the cooking process happening. It's an event, and you can enjoy the process. Barbecuing isn't about doing things as fast as possible, it's about enjoying the evening with a beer and making good food. That's what you get with the charcoal experience. It's work, for sure, but it's fun work. It's kind of a pain in the butt to reload the charcoal and wood chunks once you've got things going, but it's not that bad.
Plus, the smell! Not only can you smell the delicious dough cooking, but you can also smell the wood burning smell, which brings back great memories of cooking over a campfire. You don't get that with the gas grill.
On the other hand, cooking on the gas grill offers a lot of advantages too, namely that it makes the whole process faster and easier. There's no setup required, and there's very little cleanup. There's also no refueling necessary.
But the main reason to go with gas is consistency. At least for a novice pizza maker, I've found it much easier to get consistent results with the KettlePizza Gas Pro. Consistent heat means I can work on perfecting other parts of the pizza making process like dough, ingredients, timing, and procedure.
The option to turn your burners from high to low, or turn some on/off give you a high level of control over the heat output of your pizza oven. If you want to cook low and slow at 500-600º, then you can do that. You can also jack it up to 700-800 (or higher) if you want.
After getting frustrated with constantly needing to refuel the KettlePizza I loaded it up with a bunch of coal and wood and let it run. I got it up to up past 700º for a long time. But it got so hot that it started burning the bottoms of my pizza dough. There are many possible solutions to fixing this problem, but my main point is that it does take some tweaking and experience to get the coal fire just perfect for pizza making.
Though you are missing the wood burning smell and flavor from the gas version, I think the ease of using it makes it less stressful to cook, therefore more fun to eat the pizza. Imagine trying to make pizza for your family and burning them! But I stress about that kind of stuff.
I also want to try using a pellet smoker accessory for the gas grill to see how that affects the flavor of the pizza. I'll update this post when I do.
So as far as cooking experience goes, if you have the time, patience, and skill, charcoal is a the winner because it's more fun. If you want consistent pizza and easy cooking, then gas is the way to go.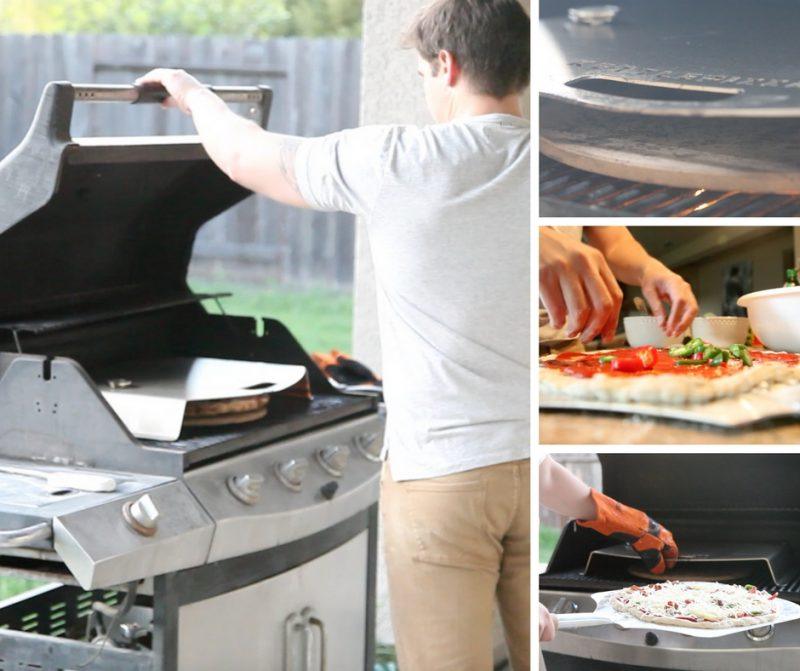 Charcoal VS Gas Final Pizza Comparison
Talking about pizza comparison, both the charcoal and gas versions of KettlePizza make really tasty pizza. Actually, if you monitor your pizza properly with each of these cookers, the quality of your final pizza has more to do with the quality of your pizza dough and ingredients that you use.
I have found that making the dough 24 hours before and letting it rise for a day before cooking helps a lot with flavor development (split into smaller balls then let it rise in a warm environment 1 hour before cooking).
But you are probably looking to compare the wood-fired flavor to the gas-fired flavor!
Honestly, you can taste the wood smoke in the final product of the KettlePizza charcoal. I did read somewhere that the pizza sitting in a wood-fired oven for 2-3 minutes takes on so little flavor that you wouldn't be able to taste the wood flavor, but that was talking about using apple wood versus cherry wood.
In that case, it's not like slow smoking where you can taste different wood flavors. But in terms of tasting the smokey flavors in the crust, you really do, and it does taste more authentic than cooking on the gas grill.
However, I've burned fewer pizzas on the KettlePizza gas. Also, the "main attraction" for most pizza cooking is going to be the cheese and other ingredients. I think a lot of people are not Neapolitan pizza connoisseurs, and might not be able to tell a difference, especially when a few beers are involved.  So with a gas oven, you may find that your pizzas are more consistently cooked thoroughly, but not overdone, and create a better presentation of the final product.
Then again, when you pull a pizza out of a blazing pizza oven in your backyard, it's pretty impressive. Visuals are important for tasting!
So to compare my best pizzas coming out of the gas and the charcoal versions, the best tasting pizza was from the charcoal KettlePizza, hands down. Yum!
Who Is Charcoal KettlePizza Best For?
The charcoal Weber grill insert is going to be best for someone that absolutely wants the wood-fired taste and wood-fired experience. You can taste the difference, so it's worth getting the charcoal insert if that's important to you.
Kettle grills are shorter as well, so if you are planning on having the kids help, then this might be a better option as well – though it depends on how old your kids are!
As a portable option, the kettle grills will be able to follow you to campsites, tailgating, the park, or a friends house. Your gas grill isn't going anywhere, and I haven't found a 3-burner portable grill yet that'll fit the gas insert.
==> Get Charcoal KettlePizza From Amazon
Who is KettlePizza Gas Pro Best For?
For those that just want to focus on making pizza outdoors and are too bothered by the "authenticity", then the Gas Pro insert is the way to go. It's a easier to set up, use, and clean up, and you'll get more consistent results with your pizza. It's also more convenient to store and use at a moments notice without any extra tools or gear needed.
==> Get KettlePizza Gas From Amazon
Final Decision
Personally, my favorite is the KettlePizza Gas Pro. Although making pizza on the Weber grill with the KettlePizza charcoal was fun, it was a lot of work to keep the fuel going for more than a few pizzas. Plus, I had to make trips to the store to get fresh coal and wood between testing times. I can just envision myself having half a bag of wood chunks, thinking it's enough for a few pies, then running out mid way through.
I'll sacrifice a bit of authenticity for convenience.
What was your decision? Which one suits your personality and pizza mood best? Let me know in the comments!