To be honest, I had never heard of a cheese of the month club until I got involved with the Monthly Clubs Beer of the Month Club. In one of their newsletters, they mentioned that cheese actually goes better with beer than with wine, and I was instantly convinced that I should join the Monthly Clubs Gourmet Cheese of the Month Club as well. What can I say, it was great advertising!
That's one of the reasons I prefer Monthly Clubs over many other available cheese of the month clubs out there. They do a lot to educate the customer, and for me, that's a large part of the interest in joining these clubs.
Sure, it's great to receive delicious food and drink every month, but I could probably source that myself at the local grocery store. Part of the fun is having the good stuff picked out for you, then learning a bit about it as you eat!
There is a monthly newsletter with details about the type of cheese (like how it's made) as well as the specific brand of cheese that's included in your box. But before I get into too much detail about the specific cheese I got with my 2-month subscription, let's look at what's included as part of your membership.
What's Inside Monthly Clubs Gourmet Cheese of the Month Club
Club Name: Monthly Clubs Cheese of the Month Club
Theme: Hand-selected, artisanal cheese from around the world
Website: www.cheesemonthclub.com
Cost: $34.95/Month + $14.00 Shipping
Cheese Included: Three ½ lb. artisan cheeses
Notes: Includes an interesting newsletter about the cheese style, cooking & pairing suggestions, tasting notes
About Cheese of the Month Clubs
Unlike beer and whiskey clubs, it seems really hard to find good cheese in my area. I'm in California, so there's no shortage of it, but I live in a small-ish town, so we don't really have access to it. Perhaps because unlike beer and whiskey, it doesn't store well. You need to refrigerate, deliver, and consume within a specific period of time.
Whatever the reason, I simply don't have much to choose from at my local SaveMart or Raley's other than mozzarella and camembert. I could drive 20 minutes to a nearby city, to a single store that has a cheese monger, but even then, the selection isn't as extensive as you're going to find in cities like LA or San Francisco.
Enter: Cheese of the month clubs!
I joined about six different clubs, each offering a different style of offering. Both MonthlyClubs.com and Amazing Clubs [LINK] offer a similar club, for a similar price: three cheeses for about forty bucks including shipping.
Monthly Clubs delivers their cheese in an small, unassuming cardboard box. Inside is a styrofoam container with ice packs to keep the cheese cool. Even in the hot California summer (100ºF +), it still arrived cool, although if your cheese is warm, that's not a big deal. Just refrigerate it again and it should be fine. I was at home to get the cheese immediately, so if it's at 100º for eight hours, that might be a different story!
My Subscription Experience
Month #1 Delivery
Amazing cheeses were delivered for my first box. I was impressed.  Each piece was wrapped in wax paper, and looked truly authentic, like from a legit cheese monger. I could just imagine the giant cheese wheel they were cut from.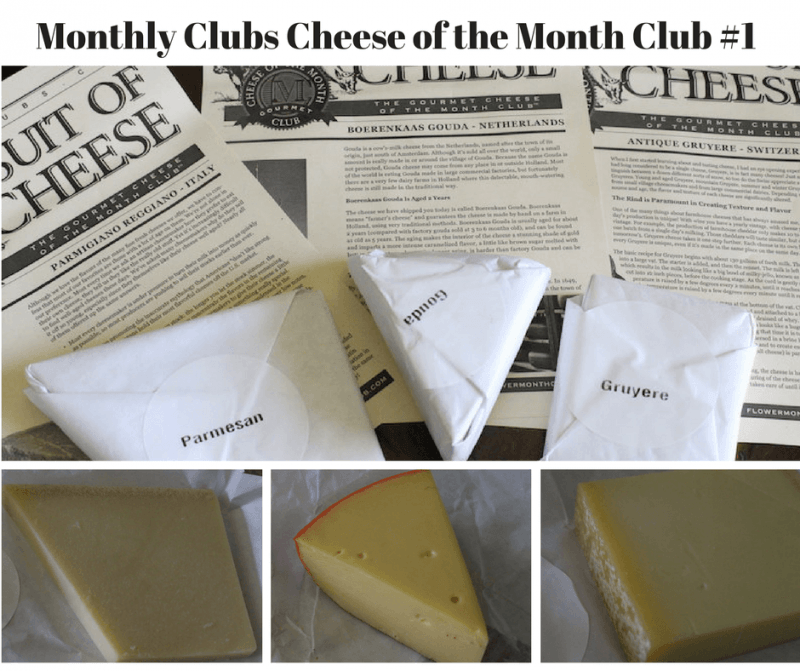 My favorite was the Antique Gruyere. I had never had something like this before. The tasting notes described it as having a flavor of caramel, brown sugar, and melted butter. That's why I like reading the tasting notes: they can really enhance your eating experience!
The Gouda was aged two years, which was surprising to me. That sounds like a long time for a piece of cheese. I pretty much just ate this with crackers throughout the week. Soft cheeses go fast.
The parmesan was pretty standard, but it was high quality. I used this for a lot of things. parmesan lasts for a while. I put it in a risotto and on some spaghetti with red sauce.
Month #2 Delivery
The second delivery from Monthly Clubs Gourmet Cheese club was slightly less impressive, though still good! To be honest, I was busy this month, so didn't read the notes. I didn't quite know what to do with the Pinconning, so I just ate it with crackers again. The Edam went similarly. The Piave seemed pretty much like parmesan, so I used it for risotto again.
My favorite was the Piave though, and I will keep an eye out for that one. It was like parmesan, but clearly different. The flavor was definitely unique.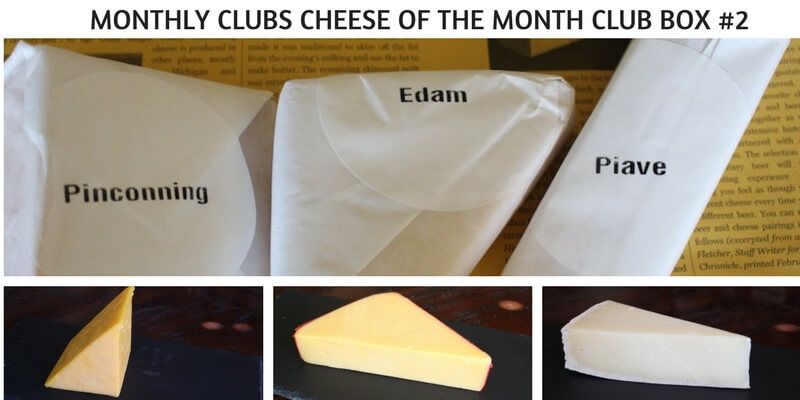 Comparison to Other Cheese of the Month Clubs
Price Comparison
Once my other reviews are done, I'll add more extensive info here about price comparisons, but it's hard to compare when other clubs include fewer cheeses, but also include more food and drink. For now, I'll compare to Amazing Clubs and Clubs Galore since they both offer the three cheese option.
Monthly Clubs: $34.95 + $14 Shipping = $49
Amazing Clubs: $44.95 + Free Shipping = $45
Clubs Galore: $45.99 + Free Shipping = $46
So far, it looks like Monthly Clubs is the most expensive!  However, consider that both Amazing Clubs and Clubs Galore require at least a 3-month membership. So, total minimum cost for the clubs will be
Monthly Clubs: $97.90 (2 months)
Amazing Clubs: 

$134.85

 (3 months)
Clubs Galore: $137.97 (3 months)
You can see how the price changes now! Of course, this is assuming you want the minimum amount of months for a trial period. But if you choose 3 months or more for Monthly Clubs, then you can look at the actual month-to-month cost.
So far, I've only had two months cheese clubs, so I can't tell if one has higher quality of product than the other. My impression is that Monthly Clubs has a higher quality selection. I have enjoyed all cheeses they sent. Amazing Clubs had two selections which I was lukewarm about. I'll update after month 3 of Amazing Clubs!
Cheese Comparison
My other cheese clubs are still coming along, so I don't have a lot to report right now. I'll update more when I have details and links to full reviews. However, there are two great things I can say about Monthly Clubs Gourmet Cheese Club versus the other clubs.
They deliver quickly
They offer a 2-month minimum
I ordered at least 5 different cheese clubs at the end of July. Monthly Clubs delivered within a week. About half the other clubs didn't deliver their first shipment til the end of August. Also, most other clubs require a 3-month minimum when you order a set amount of deliveries. A lot of clubs do offer a month-by-month payment system, but if you pre-order, you need to commit to at least three months.
So I am stopping the Gourmet Cheese club early just to save some money, which is why I finished this review first.
I will also just note that some other clubs include things like wine and food to pair with the cheese. They are usually more expensive, and include fewer cheeses, but more details on that soon.
Who is the Gourmet Cheese Club Best For?
If you love cheese, or know someone that does, this is a perfect gift…even if it's a gift for yourself. If you are like me, and stuck in an area without access to specialty cheeses, this is also a good club for you.
Even if you can go to the store and buy anything you want, just having access to the newsletter with tasting and  pairing notes can really enhance your tasting experience.
Final Review
$48/month is a lot to pay for three chunks of cheese. That's $16 per 1/2 pound of cheese! However, there's more to factor in here. We're cultivating a cheese-loving experience.
It's hand selected artisan cheese delivered to your door. It comes with tasting notes and cooking suggestions. A cheese of the month club is about enjoying cheese to the fullest, not just about getting the best deal. Otherwise, we'd all be eating cheddar from the discount aisle.
In short, this makes a great gift for a few months. I think a 3-6 month gift would be a great Christmas present or birthday gift for any cheese lover or cook. Combined with a beer club or wine club, it would be an amazing gesture.
Even for yourself, it could be a great way to test the waters of artisan cheese and have help to navigate the complex world artisan food and drink.