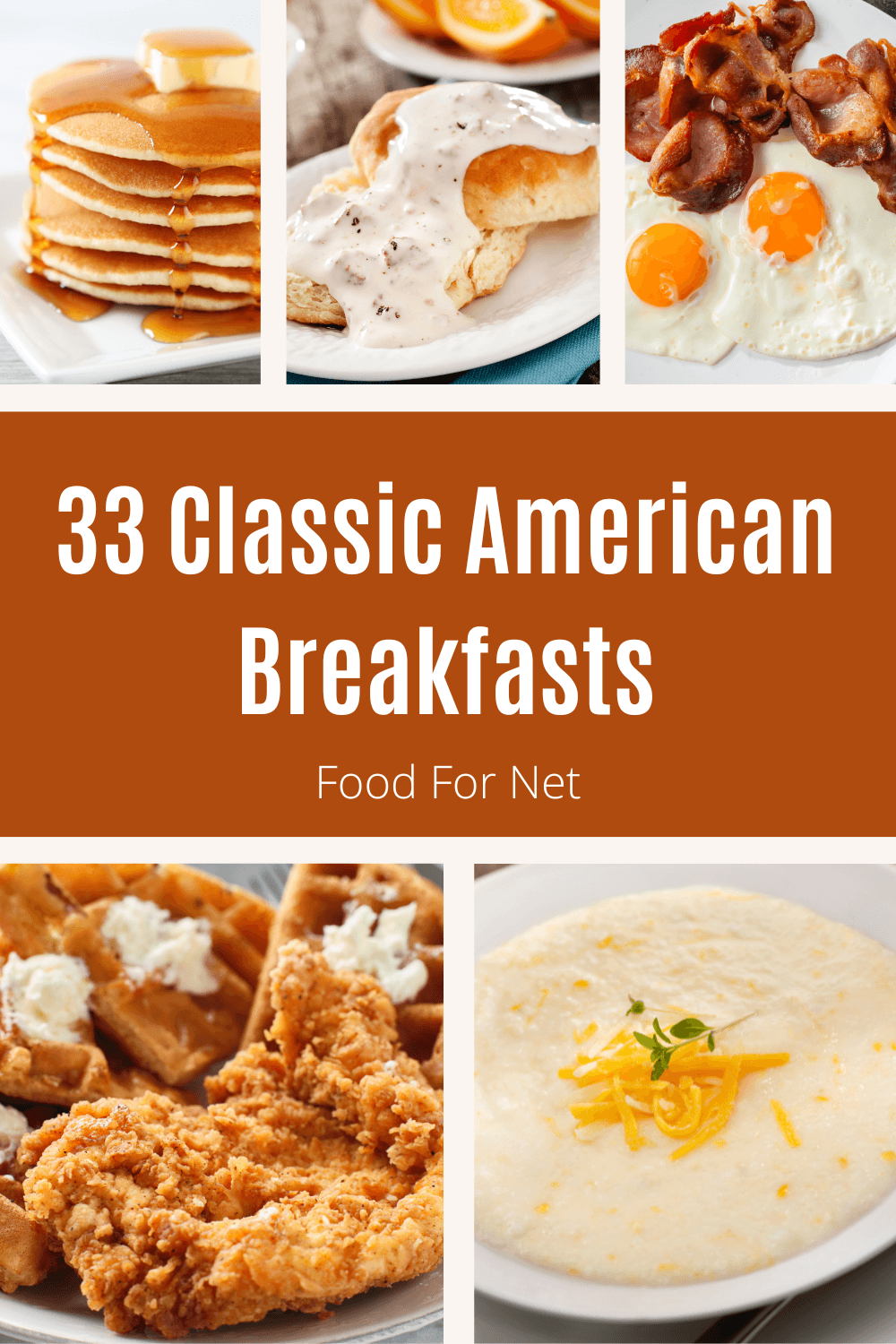 Breakfast – the most important meal of the day. It's also my favorite meal of the day. After having lived in Europe and China for a decade, it's my opinion that nothing beats standard American breakfast foods in terms healthy, filling, and delicious meals.
Diner style potato hash, fluffy pancakes, bacon, sausage and some kind of egg, along with a cup of coffee in the morning is all you need to keep you going until noon. There's just something about a hearty breakfast (infused with coffee, of course) that really sets my day off in the right direction.
Maybe it's the fact that working a typical 9-5 means most of us don't really have time to sit down for this meal except on the weekends or special occasions. I'm sure there's some psychological effect of being a kid an only big breakfasts on the weekends when mom had time to cook. Who knows.
Regardless of whether or not you share my nostalgia, breakfast is a meal that can do a lot for you. Getting some calories in your body early in the morning gives you some kindling to start the furnace and get your muscles moving in the morning.
Protein keeps you full until lunch, and liquids cure your dehydration from sleep, meaning you'll be able to think more clearly. Despite recent studies showing that adding breakfast to your schedule isn't the 'easy way' to lose weight, it's still a very simple way to start your day on the right foot.
Best American Breakfast Foods
Many of the meals on this list are traditional American breakfasts, including those we've been eating for generations. Others are more modern additions. After all, we're now becoming a global village and foods from many other countries are starting to be a part of our breakfast traditions.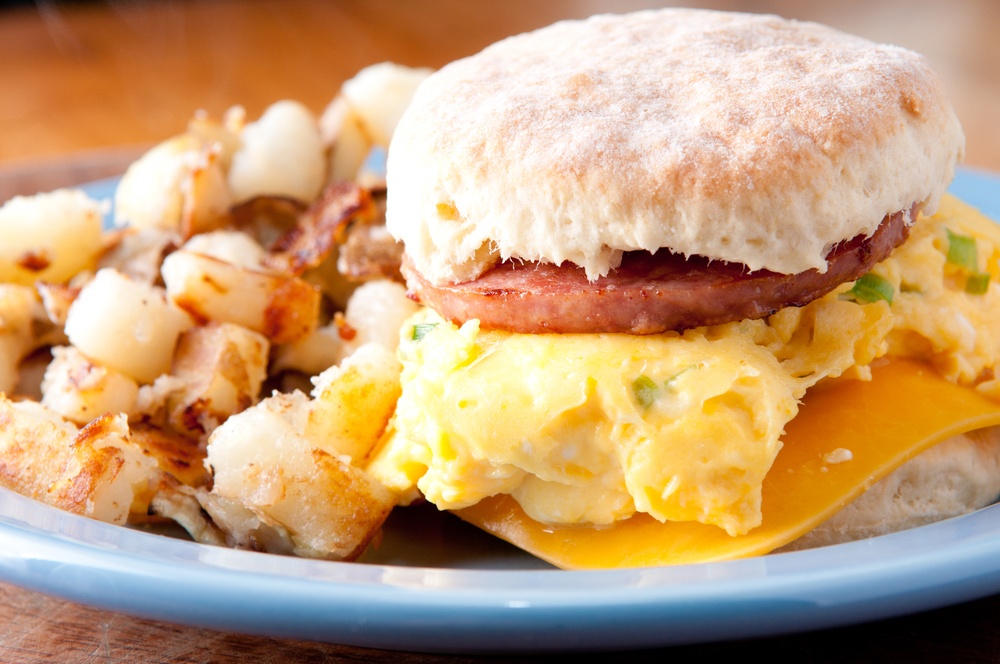 Here's a list of 24 classic American breakfast staples…even though French toast, Belgian waffles, and English muffins might make you do a double take.
Pancakes and Maple Syrup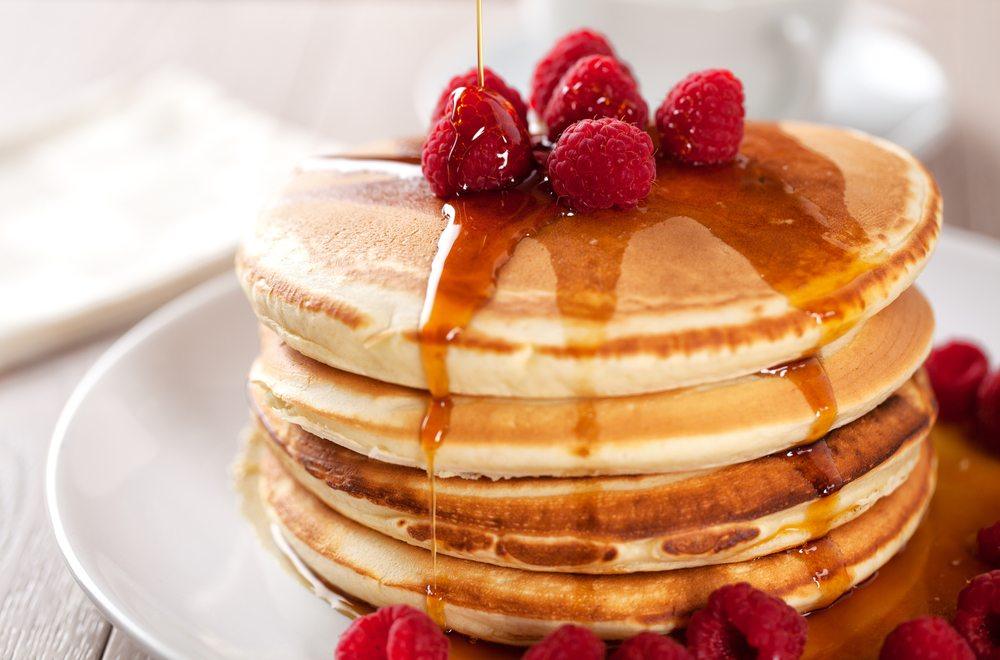 Who doesn't love waking up to the smell of pancakes? There is something about pancakes that suggests that the day is going to be great, especially if you are sharing them with your family.
Regardless of how much of a hurry you are in, pancakes is one breakfast that you really do need to take slow. This makes them a fantastic way to slow down and get your day going on the right food, rather than rushing right from the start.
Ingredients
1.5

cups

all-purpose flour

3.5

tsp

baking powder

1

tsp

salt

1

tbsp

white sugar

1.24

cups

milk

1

egg

3

tsbp

melted butter
Instructions
Sift Together Dry Ingredients: In a large bowl, sift together the flour, baking powder, salt, and sugar.

Mix Wet Ingredients: In another bowl, beat the egg and then mix in the milk and melted butter.

Combine Mixtures: Pour the wet mixture into the dry ingredients and stir just until blended. Do not overmix; the batter should have small lumps.

Heat Pan: Heat a lightly oiled griddle or frying pan over medium-high heat.

Cook Pancakes: Pour or scoop the batter onto the griddle, using approximately 1/4 cup for each pancake. Brown on both sides and serve hot.

Enjoy your pancakes with your favorite toppings like maple syrup, fresh fruits, or a dollop of whipped cream!
Ingredients
1.5

cups

all-purpose flour

3.5

tsp

baking powder

1

tsp

salt

1

tbsp

white sugar

1.24

cups

milk

1

egg

3

tsbp

melted butter
Instructions
Sift Together Dry Ingredients: In a large bowl, sift together the flour, baking powder, salt, and sugar.

Mix Wet Ingredients: In another bowl, beat the egg and then mix in the milk and melted butter.

Combine Mixtures: Pour the wet mixture into the dry ingredients and stir just until blended. Do not overmix; the batter should have small lumps.

Heat Pan: Heat a lightly oiled griddle or frying pan over medium-high heat.

Cook Pancakes: Pour or scoop the batter onto the griddle, using approximately 1/4 cup for each pancake. Brown on both sides and serve hot.

Enjoy your pancakes with your favorite toppings like maple syrup, fresh fruits, or a dollop of whipped cream!
Toasted English Muffin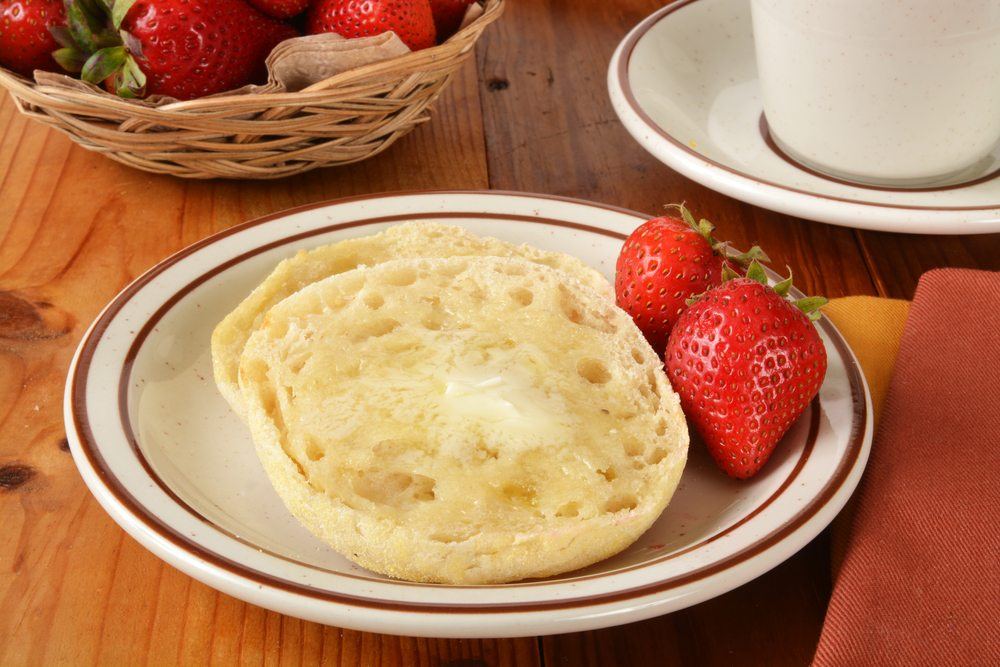 Having a toasted English muffin can be an easy and fast option for breakfast. One of the great things about these is that there are so many different options for toppings – so you can really tailor them towards what you like to eat.
Some of the simpler options are butter, Nutella or cream cheese, but there are also many more interesting and complex alternatives. In fact, you can simply treat an English muffin much like a sandwich and use this as a guide for what to put on them.
Eggs Benedict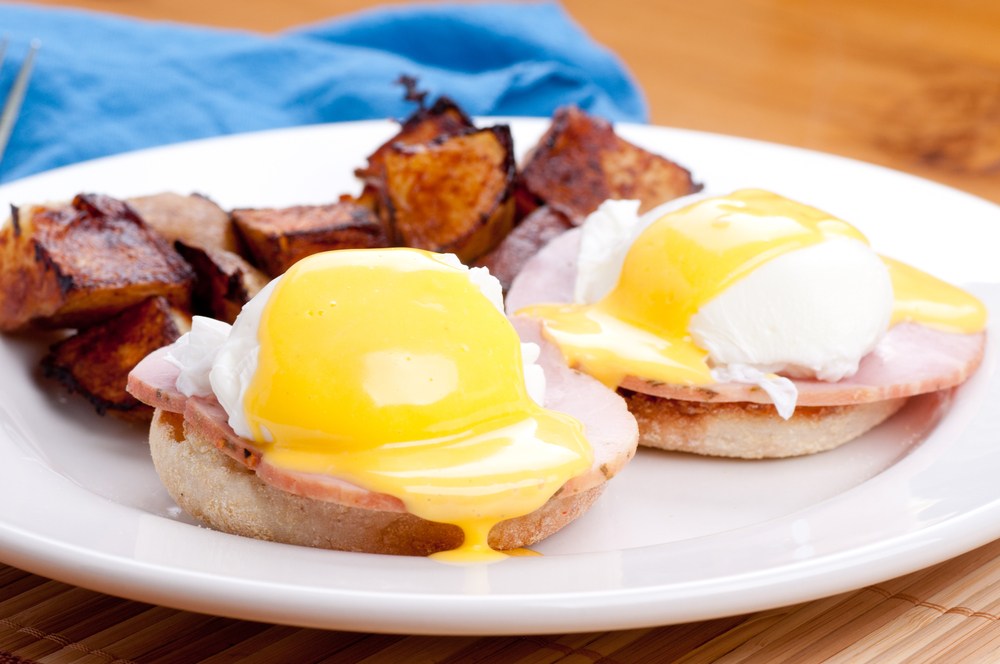 Eggs benedict is one of the most common example of using English muffins as a breakfast food. These are really common at restaurants, but they are also surprisingly easy to make at home.
The breakfast simply includes an English muffin, some type of ham or bacon (Canadian bacon is often used), a poached egg and hollandaise sauce. The combination of flavors works very well together, and this is also a high protein breakfast, which can help you to feel full for longer.
Cereal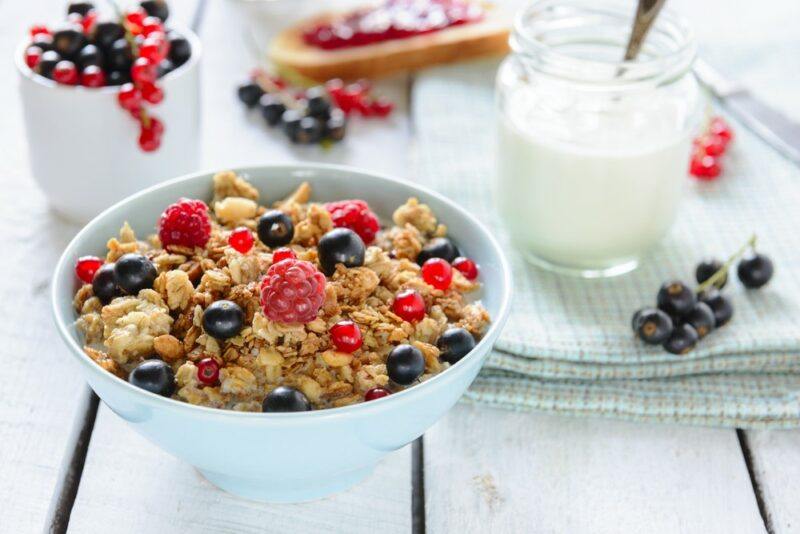 How can we talk about breakfast without mentioning cereal? Seriously. Cereal remains popular among countless families, partly because it's a breakfast that requires no cooking and can be eaten quickly.
Plus, there's an endless range of different types of cereals to choose from. Some of these are relatively healthy, while others tend to be highly processed and packed with sugar and additives.
While cereal isn't as filling as many of the other entries on this list, it's an excellent go-to for days when time is short.
Biscuits and Gravy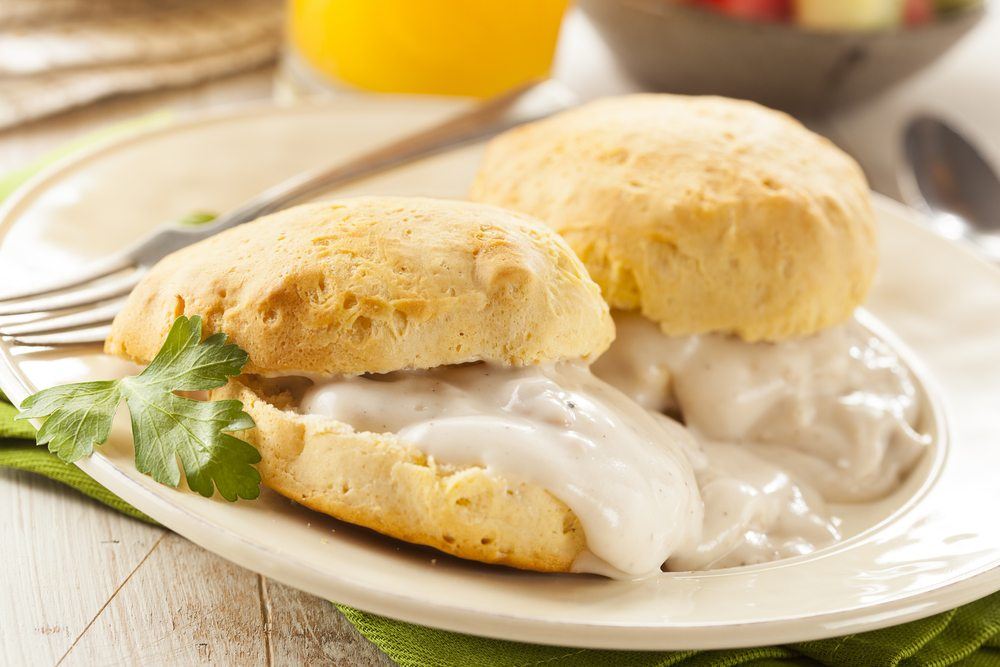 Biscuits and gravy is a particularly common breakfast in the United States, especially in the South, although the meal isn't very common in other parts of the world (it even regularly features as a weird American food).
In fact, the word biscuit in British English refers to cookies, so the phrase biscuits and gravy doesn't even make sense in British English. Despite this, the American version of biscuits and gravy can be a particularly hearty breakfast and a great introduction to the day.
Bagel with Cream Cheese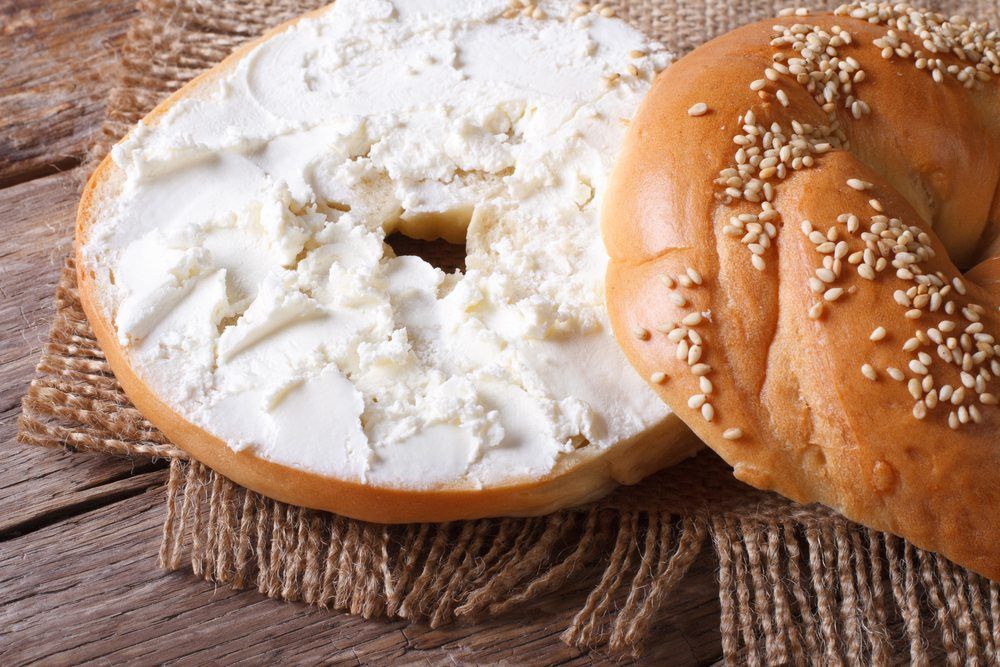 Bagels are a great option for an easy breakfast, especially as you can cut them in half and stick them in the toaster to warm them up. There are a lot of different varieties to choose from, including ones topped with sesame and sunflower seeds, as well as ones with different dough types, like rye and whole-grain.
As with English muffins, there are a wide range of options for toppings. Cream cheese is a particularly good option and another common approach is cream cheese along with smoked salmon.
Cinnamon Rolls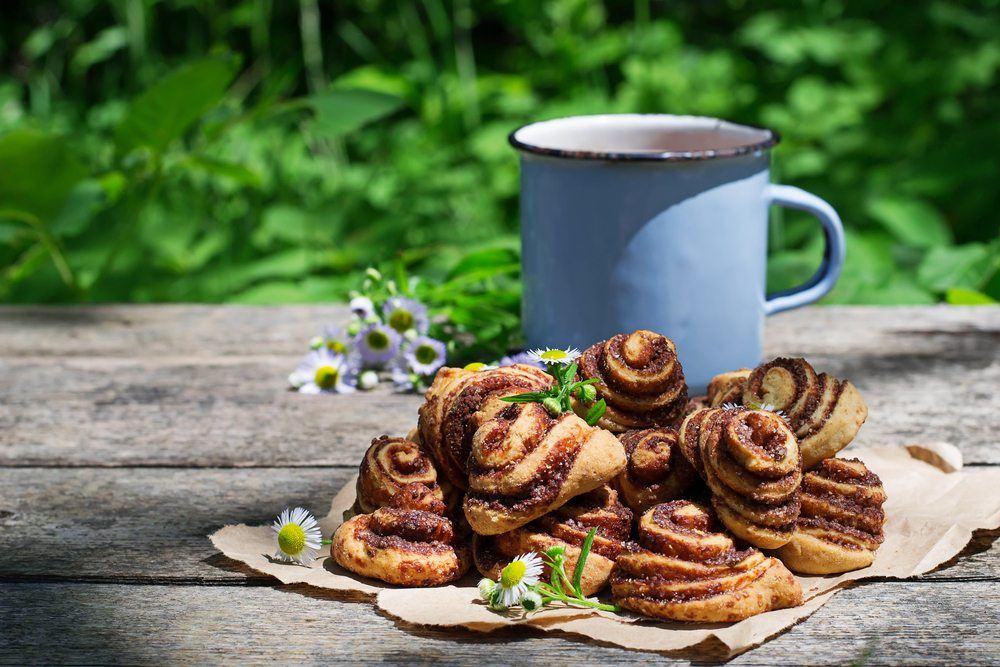 Cinnamon rolls are a particularly appealing breakfast choice for anyone who enjoys sweet foods. They are also particularly appealing because of the taste of cinnamon, as this is a really good breakfast flavor.
Many people buy cinnamon rolls as-is or buy ones that just need to be put in the oven, but actually making them from scratch isn't actually as challenging as it seems. The sweet and sugary nature of this breakfast means that this makes a good treat, but not something you should have as breakfast every day.
Fresh Fruit

Fresh fruit is often a valuable part of breakfast. This can be as simple as slicing a banana over cereal, having a yogurt parfait with berries, or even just grabbing an apple while you're heading out the door.
Fruit has plenty to offer too. Not only does it taste delicious, but it also provides plenty of antioxidants and gives you a fast boost of energy.
Thankfully, most of us don't just rely on fruit for breakfast. Doing so wouldn't work well, as you still need a source of protein to keep you satisfied.
Belgian Style Waffles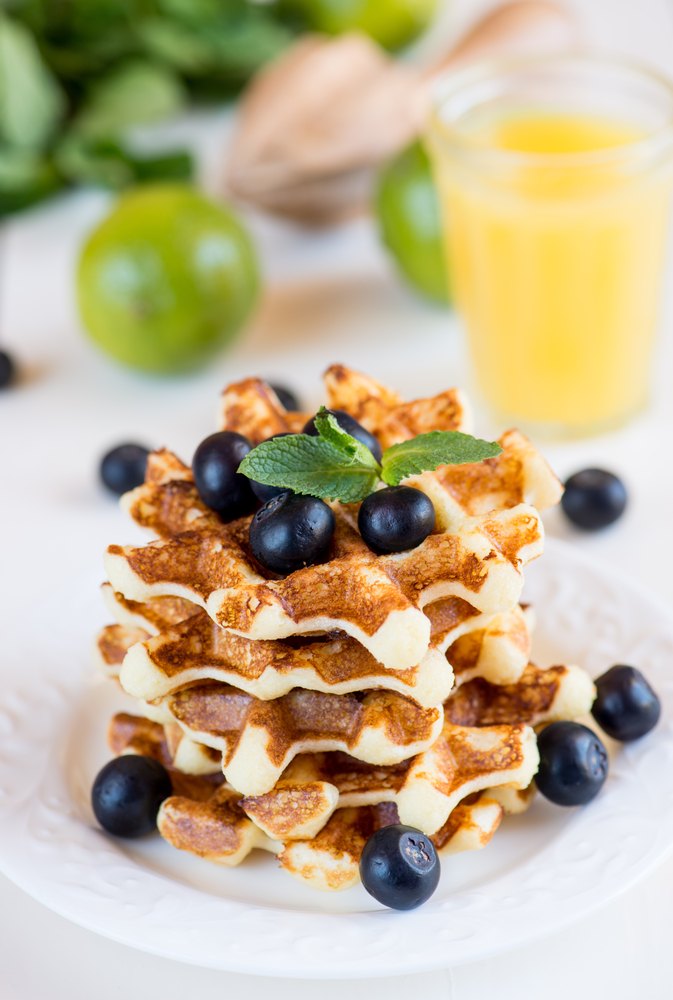 Belgian waffles tend to have large squares, deep pockets and relatively light batter. When done right, the waffles will tend to be crispy on the outside, but light on the inside.
The deep pockets mean that there are a huge range of potential toppings, including fruit, syrup, chocolate sauce, ice cream and frequently combinations of all of those. Breakfast versions of the waffles tend to focus more on fruit and syrup flavors, but even then, there are a lot of different options.
Breakfast Burrito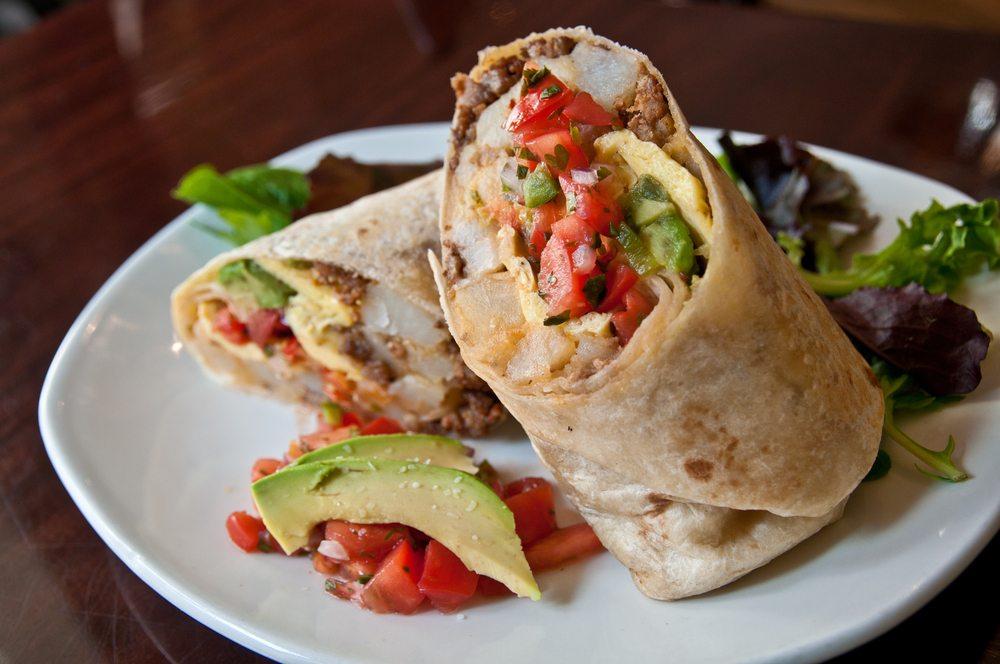 Breakfast burritos are a more savory option for breakfast, but they are also a very hearty option. Like a normal burrito, these typically involve a flour tortilla that is wrapped around the filling. The difference here is the specific filling.
Breakfast burritos often make use of breakfast staples, like scrambled eggs, ham, cheese, sausage, bacon and hash browns, but once again, the options for variation are endless. Salsa, potatoes, avocado, beans, spinach, feta, and mushrooms are just some of the many other potential ingredients that can be included.
Grits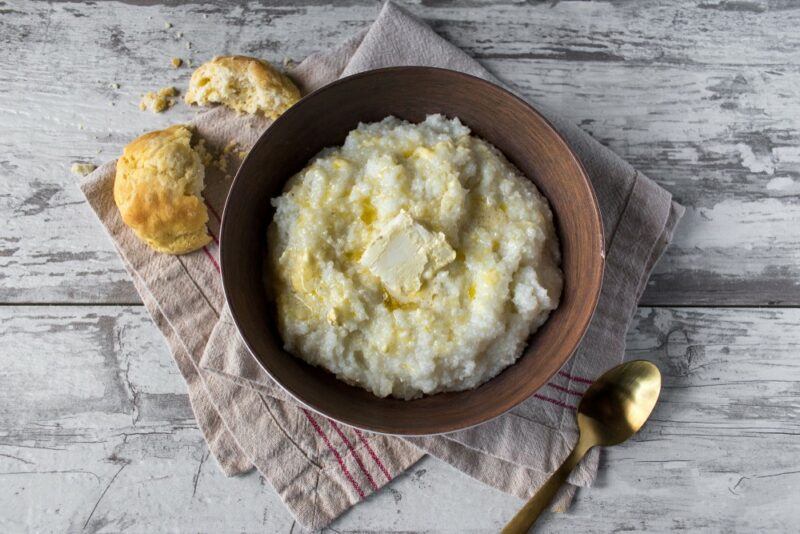 Grits are especially popular in the South, although most people in the United States have at least heard of them. Grits still regularly feature as a breakfast food, often with extra toppings like cheese and butter to make them taste simply amazing.
Shrimp grits are particularly good, as these give you extra protein and keep you full for longer. Of course, if you're preparing these in the morning at home, you might turn to bacon or some other source of protein instead.
French Toast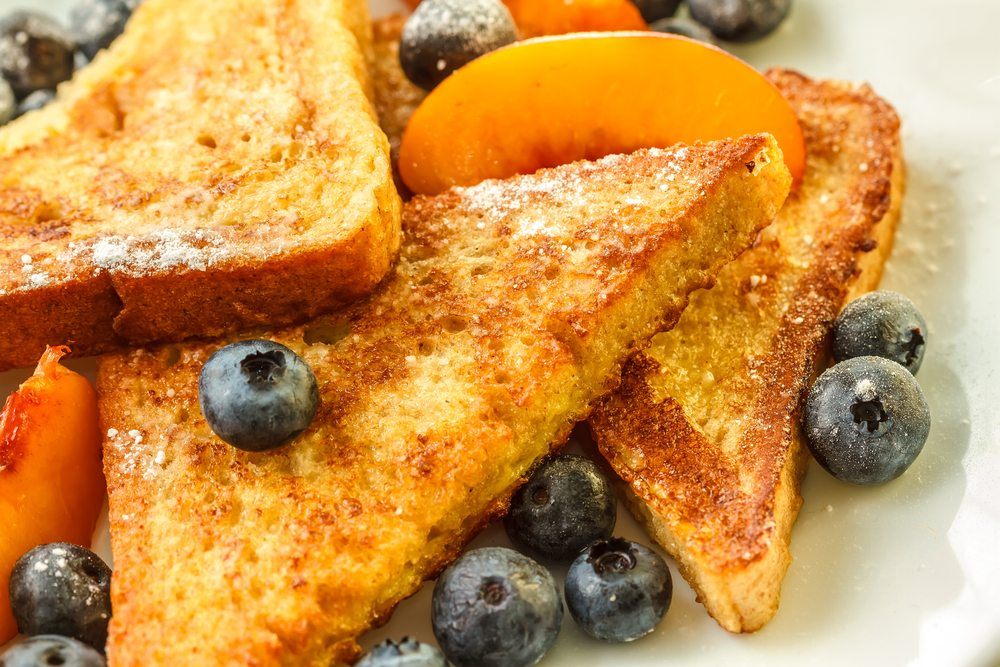 French toast is another nice addition to breakfast. This one is often associated with lazy Sunday mornings, but it can work nice any day, especially as it is relatively fast to prepare.
The basic approach involves soaking or dipping bread in a beaten egg mixture and then frying them. There are, of course, many variations depending on the specific recipe that you choose, including the use of milk or cream in the mixture, as well as spices like nutmeg, vanilla, cinnamon or sugar.
Bacon and Eggs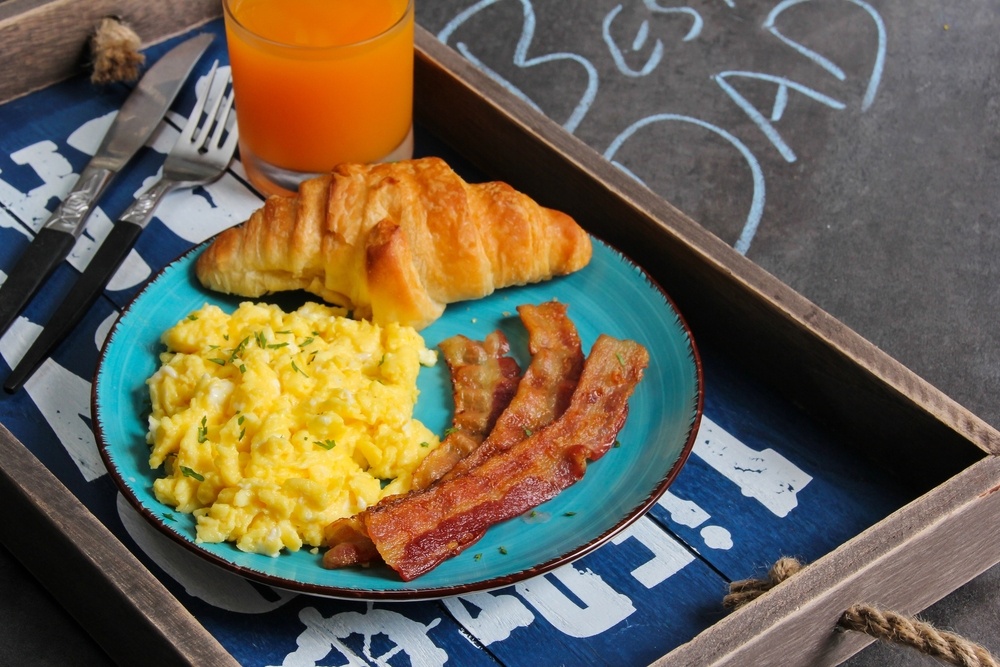 Bacon and eggs are two foods that most people associate with breakfast – and with good reason. The flavors work well together and often you will see some type of starch included, such as a croissant, some toast, fried potatoes or hash browns.
You might see the eggs scrambled, poached, fried or even occasionally hard boiled. Regardless of the variations used, bacon and eggs is still a particularly satisfying way to start the day.
Protein Shake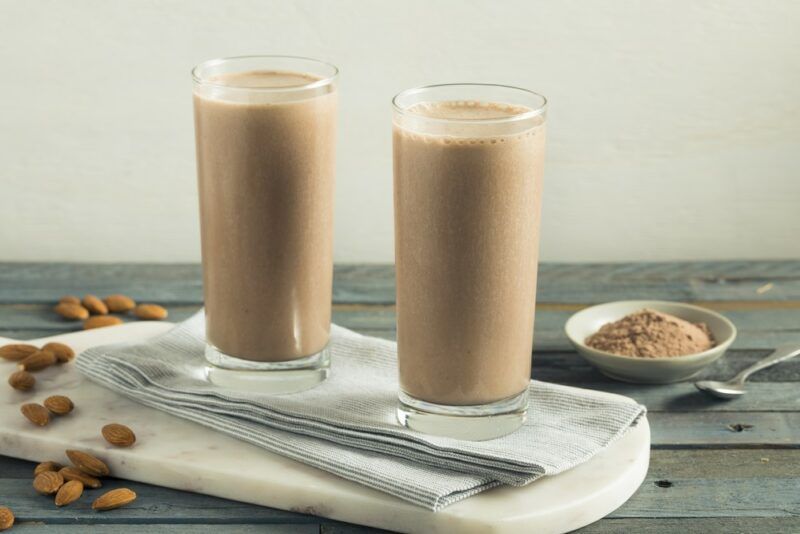 When made well, protein shakes give you most of the nutrients that you'd get from a meal in a very easy to consume form. This makes the shakes exceptional when you have little time in the morning or just can't stomach the idea of food.
Protein shakes are also popular for weight loss, as they contain fewer calories than a full meal. The approach works well for some people, although others find that they get hungry again too quickly.
As with all meals, it's important to focus on what works well for you. We vary dramatically from each other, so it's not surprising that the best breakfast for one person doesn't work well for another.
Fruit Smoothie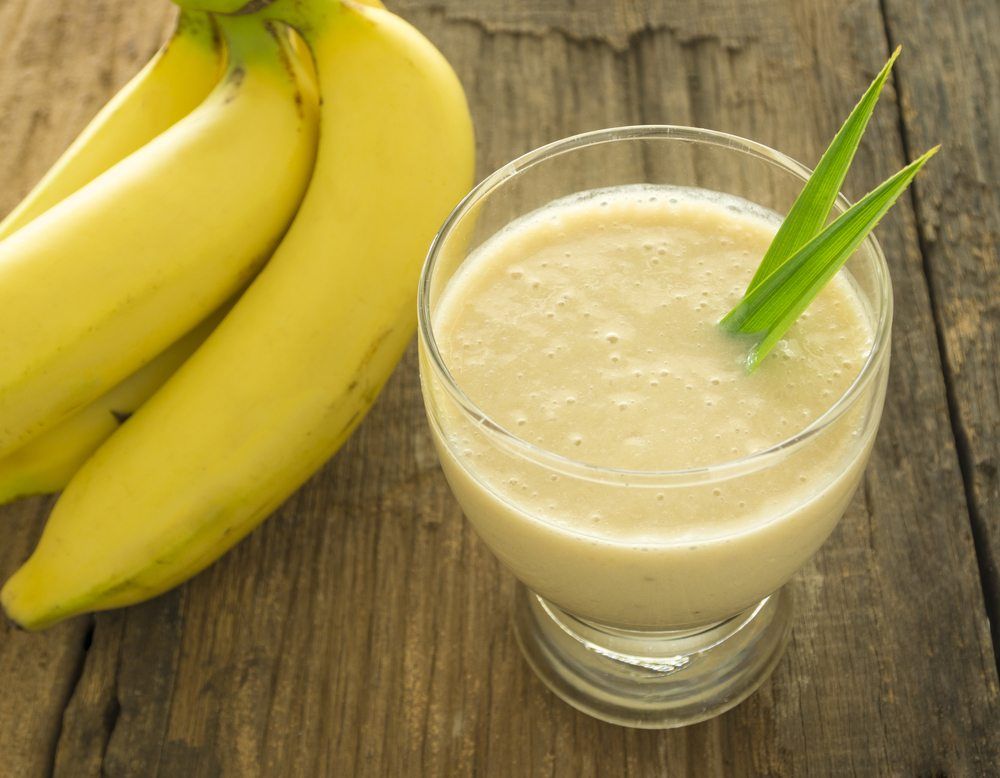 Fruit smoothies are a more health conscious way to start the day, and they work really well for people who don't have a whole lot of time. After all, you can put them in a to-go container and drink them along the way. Fruit smoothies also work well as a way to add in other healthy components to a diet.
For example, people often mix in leafy greens or protein powder to make a more complex and filling smoothie that sill largely tastes like fruit. As always, there is a huge number of different variations that can be tried and people tend to tailor their smoothies towards their own preferences.
Plain Toast & Butter or Jam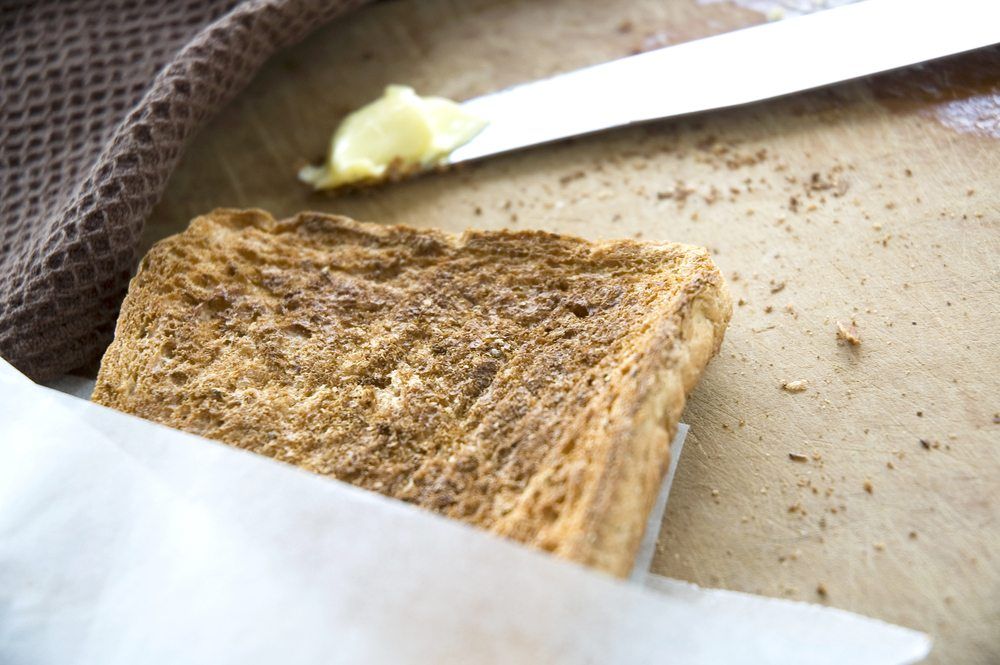 Toast is probably one of the simplest options for breakfast, but it still remains an extremely common one. After all, to cook the toast you just need to stick a few pieces of bread in a toaster and wait for them to be done.
Then it's just a matter of adding on whatever toppings you like, such as butter or jam. On busy days, I have a tendency just to eat the toast as I am going out of the door – as that lets me make sure I at least have something in my stomach to keep me alert.
Hashbrowns AKA Potato Pancakes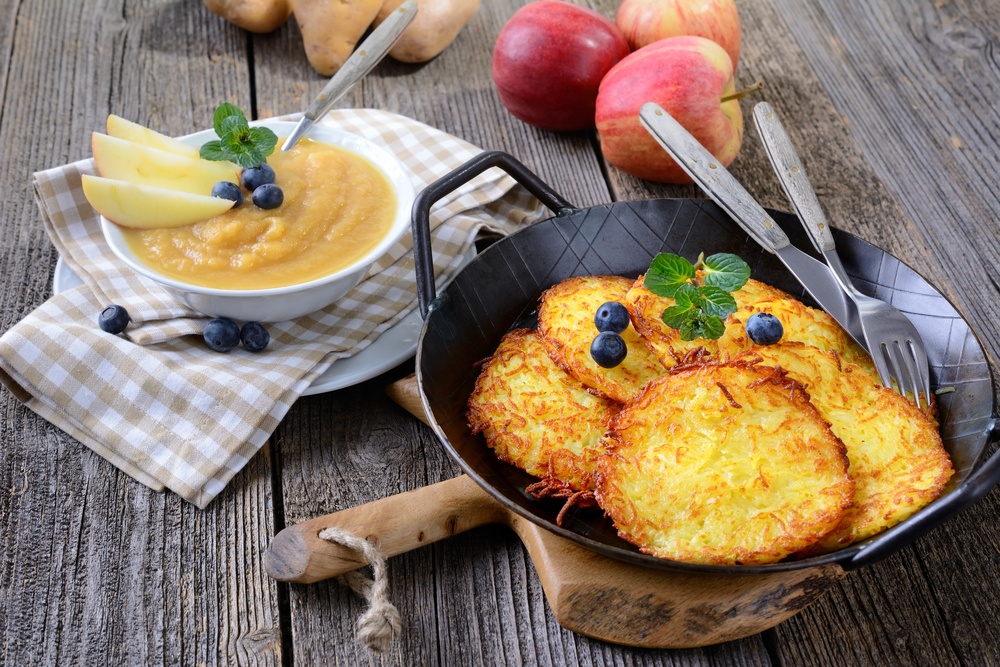 The term hash browns basically refers to potatoes being pan fried after being shredded, although there are some variations on the definition. Often you will find these in the form of hash brown patties, although the loose shreds of hash browns are also common.
While hash browns aren't commonly used on their own as a breakfast item, they are frequently used on the side of other parts of the meal, like eggs and bacon.
Sweet Crepes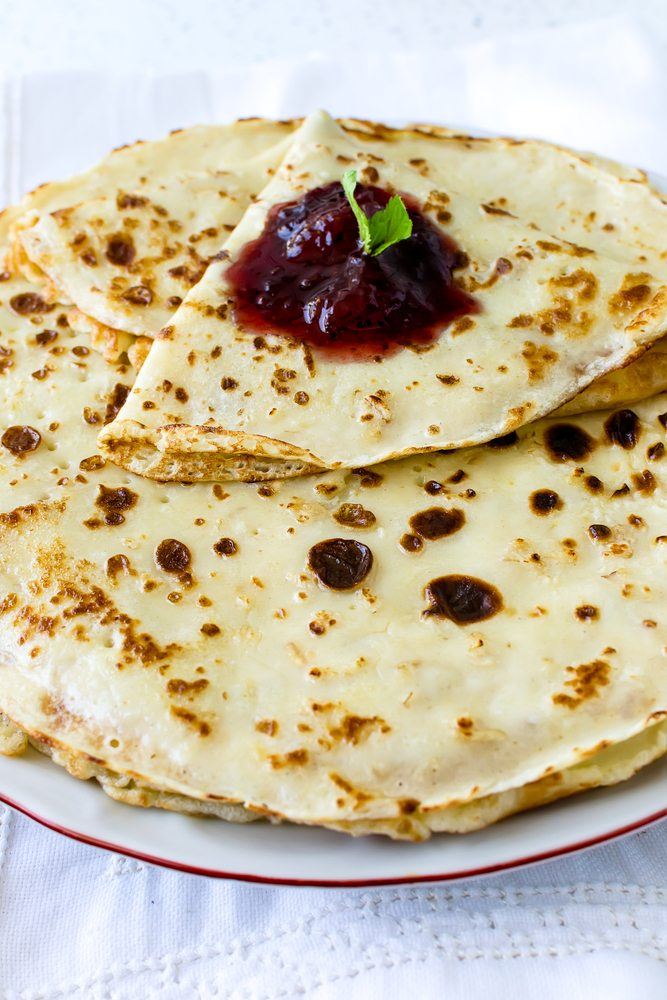 Crepes have a lot of similarities to pancakes, but they tend to be thinner and lighter. This makes them perfect for fillings, and often you will see crepes rolled up with fillings in a similar way to burritos.
The term sweet crepes generally refers to the fillings, because crepes are generally made in the same way regardless of whether sweet or savory fillings are used. Some common sweet options for crepes include fruit, powdered sugar and chocolate syrup, a berry sauce, or sugar and lemon.
Breakfast Parfait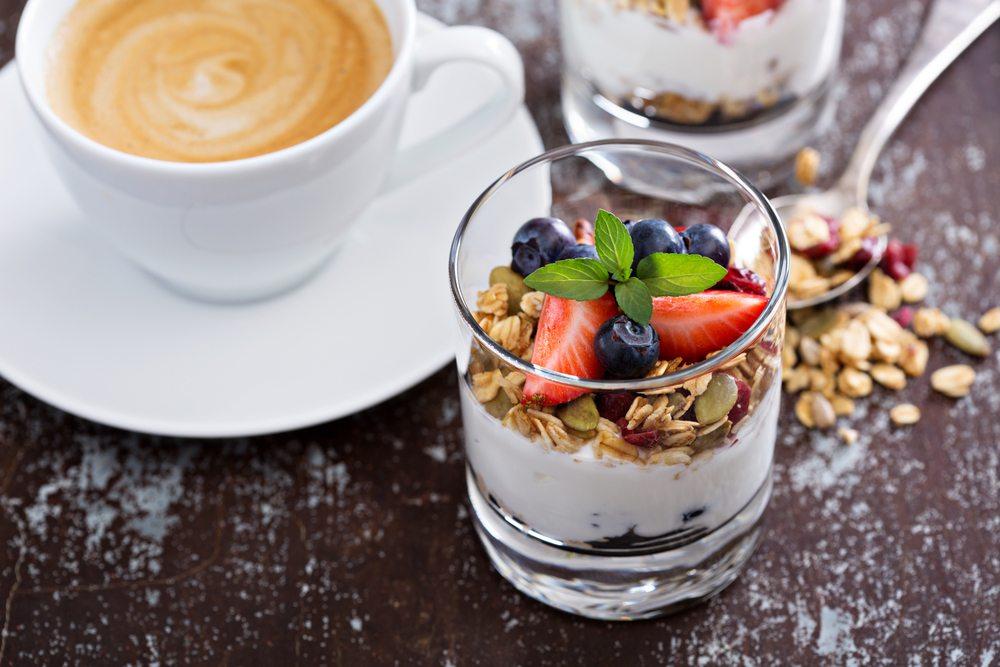 Parfaits are a great option for getting granola, fruit and yogurt into your breakfast in a more interesting and more portable way. If you make these up in portable containers (mason jars are especially common), the parfaits become something that you can make the night before and take with you for a very easy breakfast or lunch.
Many grocery stores also offer their own versions of parfaits, but as is often the case, homemade ones do tend to be better.
Chicken And Waffles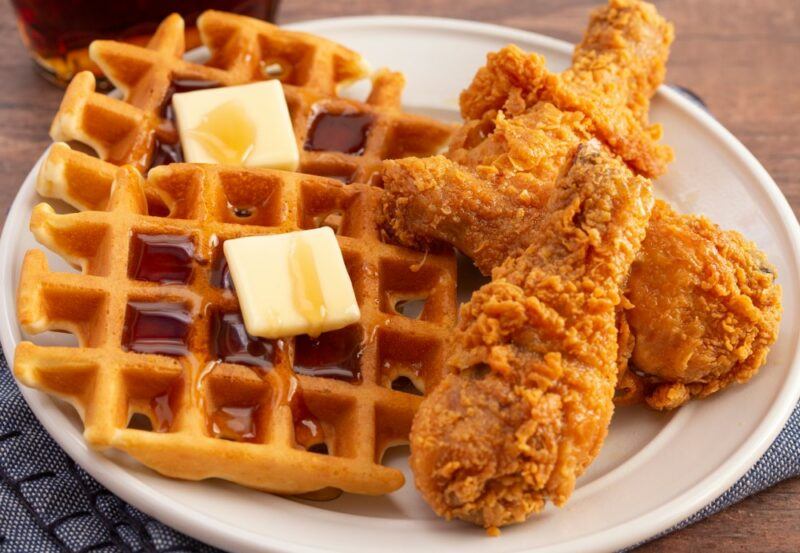 Here's another Southern dish that remains a popular breakfast choice. You're looking at waffles, syrup, and fried chicken, so this certainly isn't a healthy meal. Still, the protein from the chicken should help to fill you up.
While this meal is quintessentially American (you won't find it in many other places), it's still not a common breakfast. The meal requires too much effort first thing in the morning. You'll probably only have this at a restaurant or on very special occasions at home.
Griddlecakes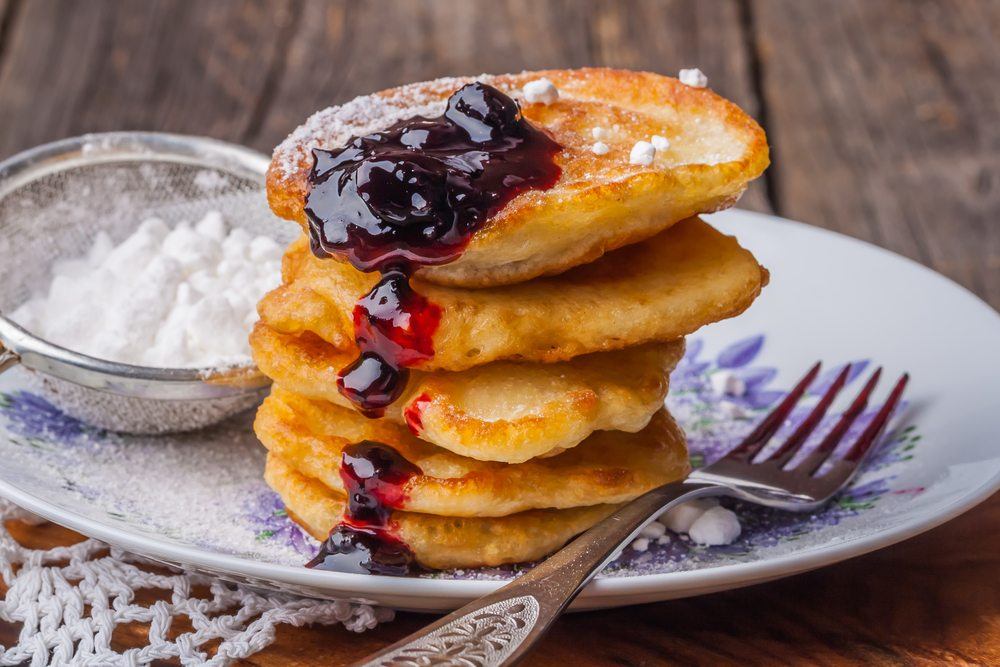 Griddlecakes are another interesting breakfast addition. The term is a confusing one, as it is often considered a synonym for pancakes, yet can also specifically mean cake- or biscuit-like foods cooked on a griddle. In the latter case, you can see a wide range of variety in recipes and end products.
Regardless of the specific definition or recipe, griddlecakes are a very good breakfast option, Often you will end up with a hearty and sweet breakfast that offers a great way to get your day going.
Sausage and Egg Sandwich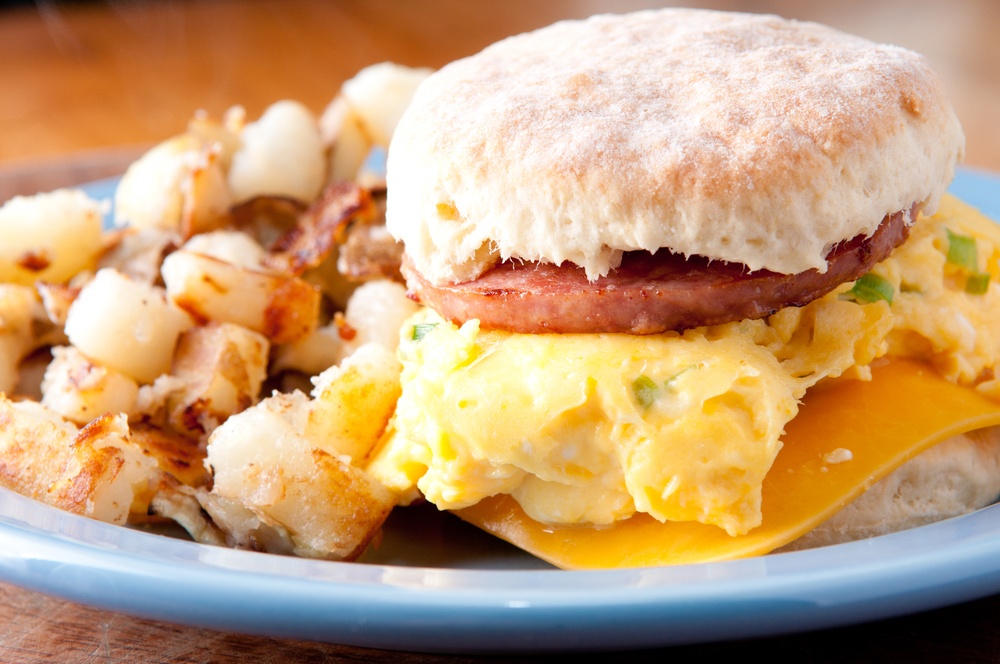 As fast food restaurants will testify, breakfast sandwiches (like this sausage and egg one) are a very popular way to start the day. As with other options on this list, sandwiches like this are great because they are relatively portable while still offering that breakfast taste.
This type of sandwich can be made on normal bread, but more common alternatives are English muffins and ciabatta buns. Whatever approach you take, they are certainly delicious and great fuel for the day.
Stuffed Omelet

Omelets come in endless varieties, especially when you are considering the stuffed variety. This type of omelet essentially acts as a sandwich, with the fillings wedged between the two sides of the omelet – although you certainly can't pick it up and eat it like a sandwich.
Most omelets rely on cheese as some part of their filling, such as mozzarella, cheddar or even feta cheese. Beyond this, fillings can include a wide range of combinations of different meats and vegetables.
Croissants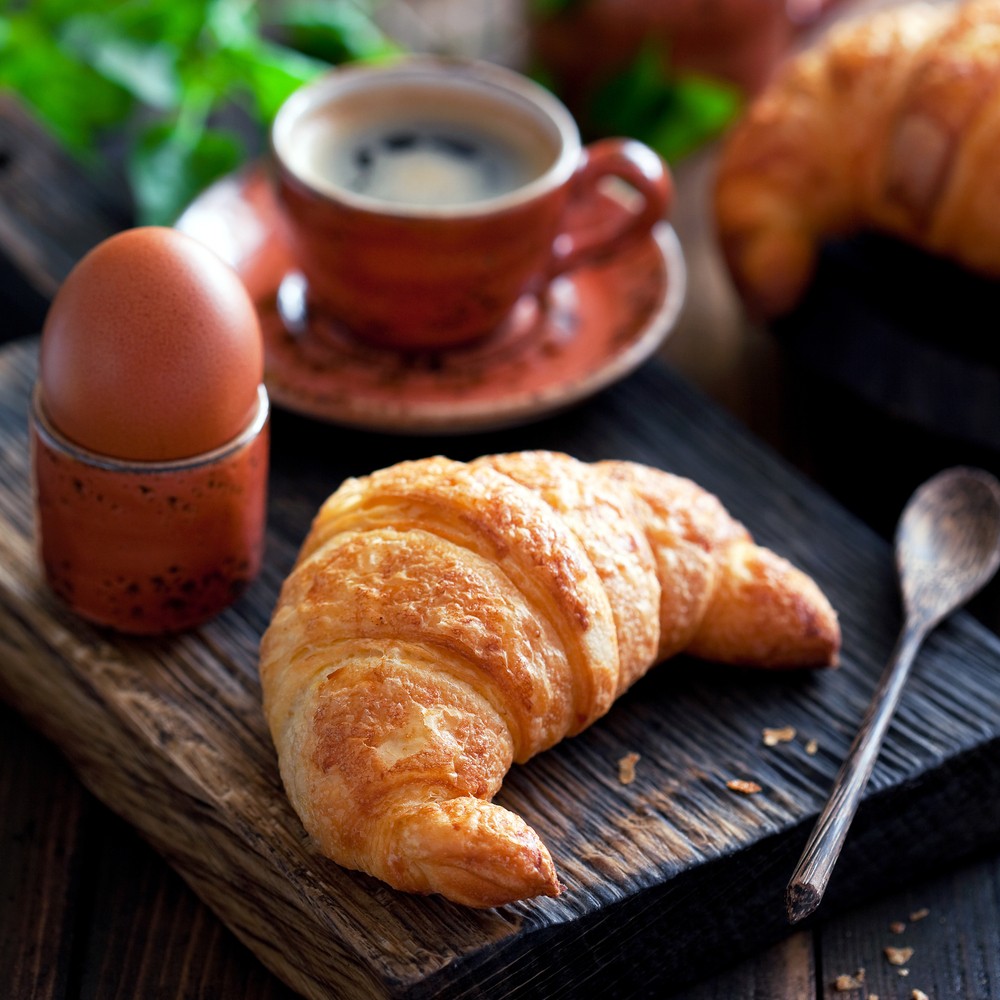 Croissants originate in France and have been particularly common in both France and Austria throughout history. However, they are becoming increasingly popular as a breakfast staple in the United States and are easily recognizable by their crescent shape.
Croissants tend to be flaky and buttery, although their relatively light substance makes them largely unsuitable as the sole component of a breakfast. Nevertheless, they are especially common in a continental breakfast and many people do start the day with a croissant and a cup of coffee.
Breakfast Sandwiches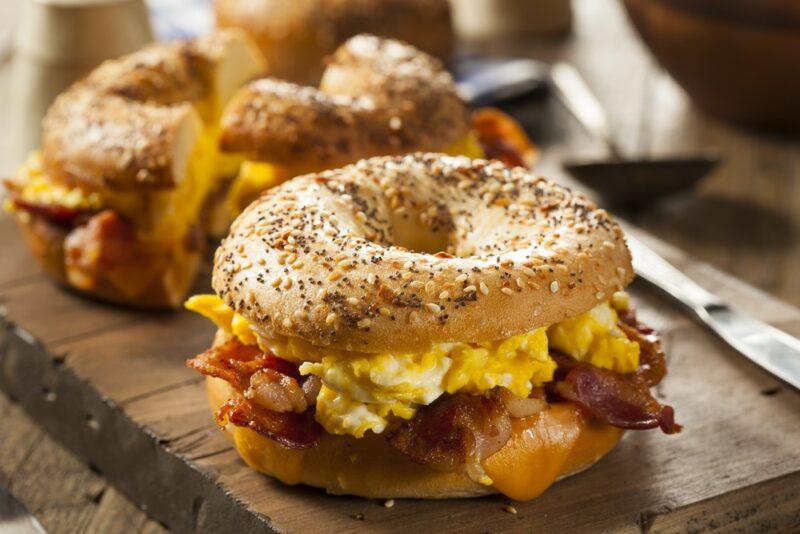 We've already talked about sausage and egg sandwiches, but there are plenty of other types of breakfast sandwiches as well. Some rely on ham or bacon instead of sausage, while others get even more creative.
Honestly, there's no limit to what you can include in breakfast sandwiches. You can choose any combination of ingredients that you like. You don't even need to focus on traditional breakfast foods.
Blueberry Muffins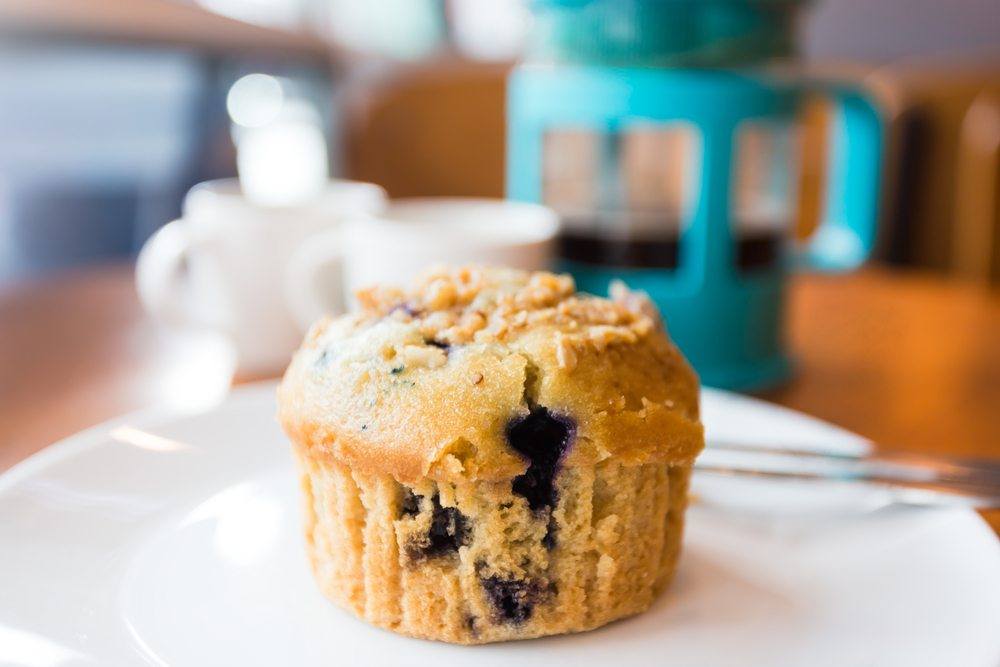 Blueberry muffins are a fairly common anytime food, but they are also a good addition to a breakfast.
They are light enough to work well with a cup of coffee for people who don't like eating very much in the morning. Yet at the same time, a blueberry muffin can be a good way to round off a more hearty breakfast and satisfy any lingering cravings for sweets.
Huevos Rancheros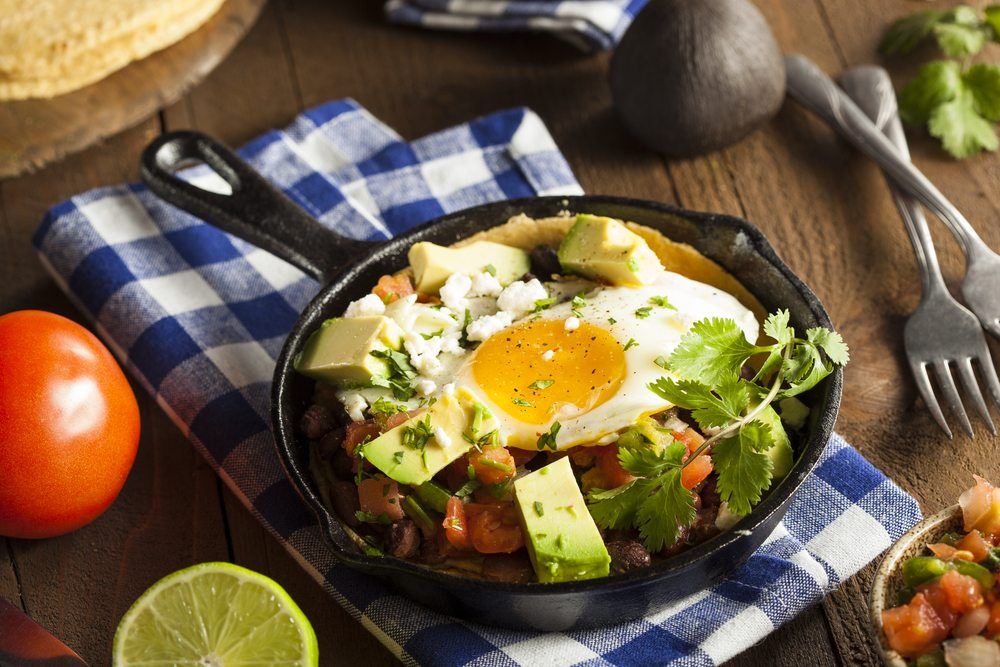 Huevos rancheros doesn't sound like a particularly American dish, but it is a dish with Mexican origins that is becoming increasingly common in the United States. At its heart, this is an egg-based dish that uses elements of traditional Mexican cuisine.
The dish includes the use of, tortillas, tomato-chili sauce, refried beans and rice. However, there are also many variations to the dish, including additions like sour cream and lettuce that aren't part of the dish's original culture.
Scrambled Eggs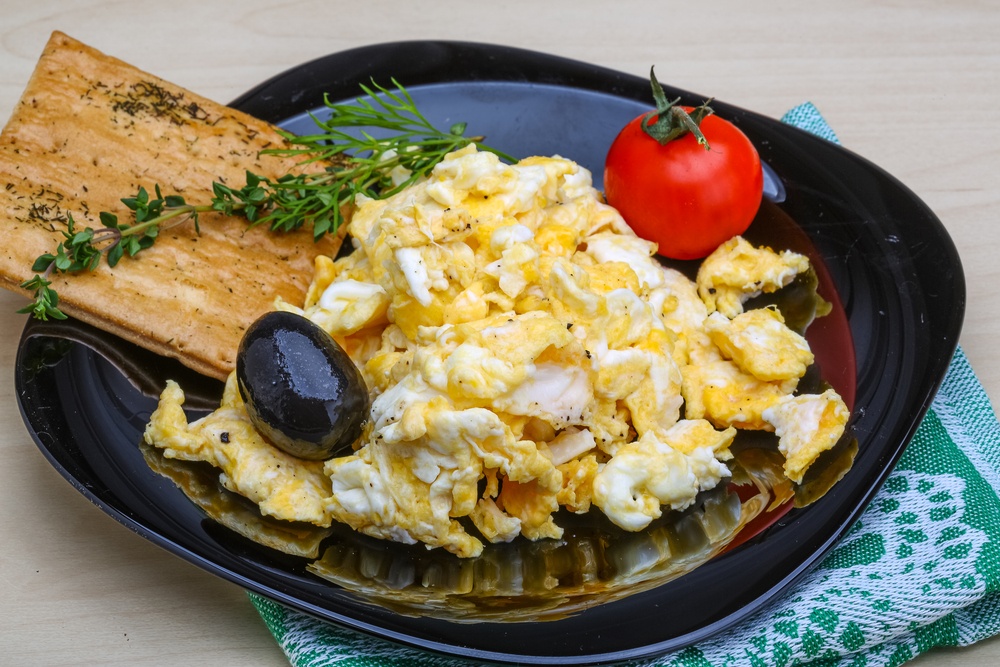 Scrambled eggs are fast, easy and extremely common as an addition to breakfast. The protein from the eggs makes them especially appealing as a breakfast option and the eggs can offer a hearty start to any day. There are many variations that can also be made with scrambled eggs, such as including ham, cheese or chives as part of the egg mixture.
While most people use either milk or water to make the eggs, they can also be made using cream, which creates a richer (and less healthy) dish.
Bacon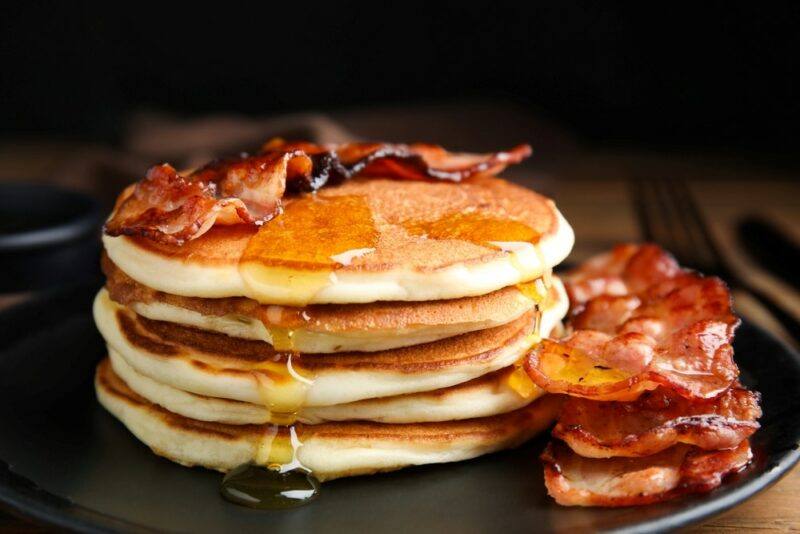 Bacon is one of the classic breakfast ingredients. It's used over and over again in countless different meals. Honestly, it's hard to find a breakfast that isn't made better by adding a little bacon.
Hot Oatmeal or Porridge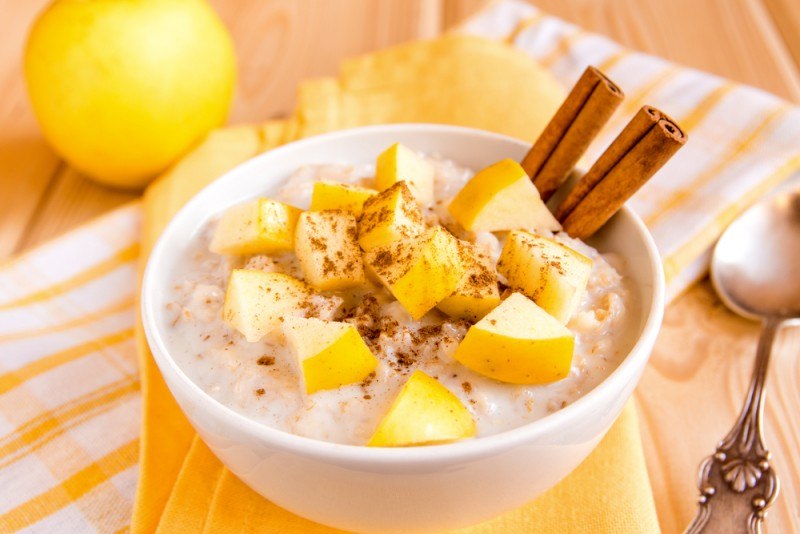 Porridge itself has a long history of being a common breakfast food and oatmeal is the latest example of this (generally speaking, oatmeal can be considered a kind of porridge).
Both types of breakfast contain oats and a type of fiber that has been associated with lowering cholesterol. While oatmeal and porridge can be very good additions to the breakfast table, be a bit wary around the pre-packaged and flavored varieties. Often these are high in sugar. You are better off choosing plain versions and flavoring them yourself.
Quiche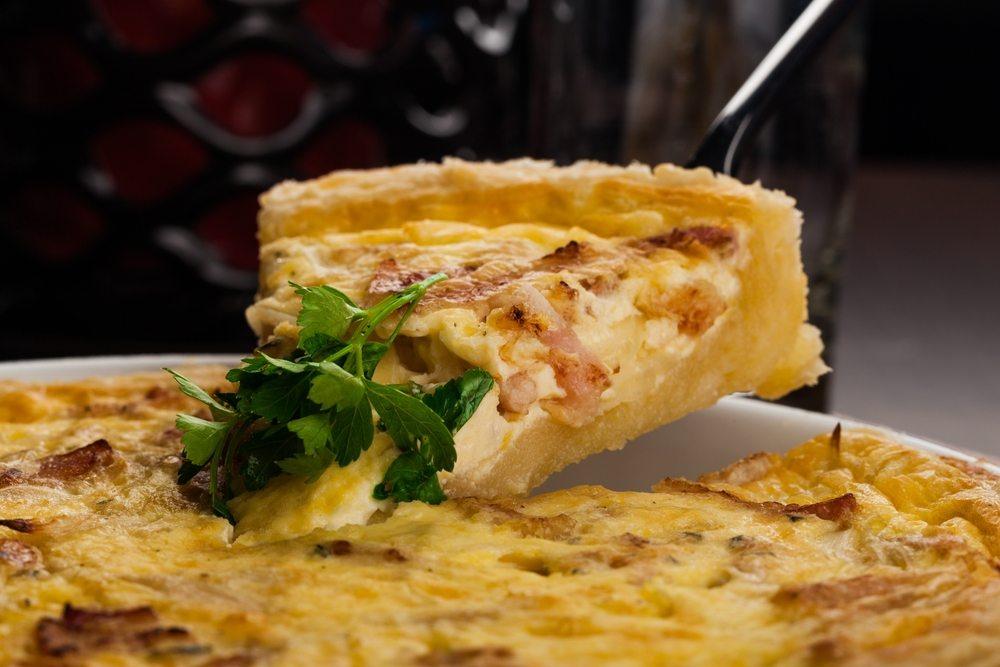 As an egg and cheese based dish, it's pretty easy to see why quiche can be used as an appealing breakfast food. Like the one in this image, ham or bacon is also a common addition, and other potential ingredients include mushrooms, sweet potatoes and spinach.
The most common approaches to quiche involve the use of pastry, but for those who don't want the effort, crustless recipes do exist.
Leftovers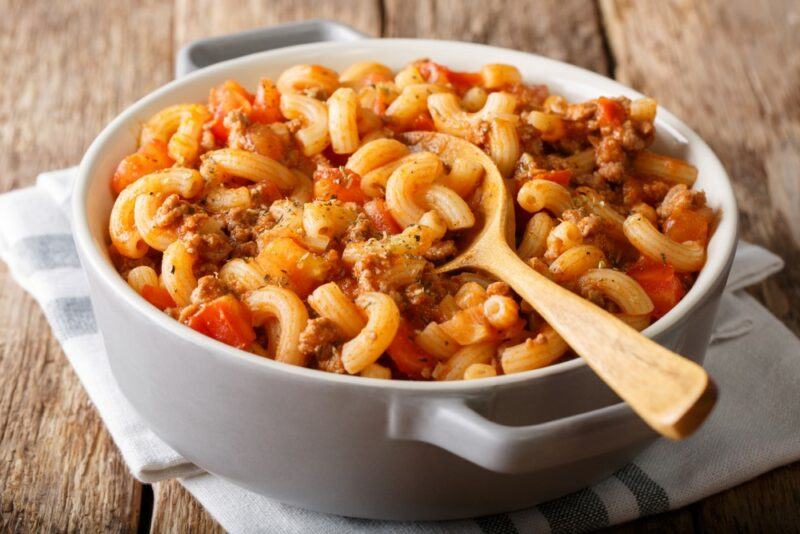 Most of the foods on this list have been classic breakfast foods. But, that's not all Americans eat for breakfast. Many of us simply grab whatever we can find. That often means we're eating leftovers from last night for breakfast.
Leftovers are often fantastic, as you're getting a well-balanced cooked meal that requires almost no effort. Serving leftovers also helps ensure that no food goes to waste.
2020 BONUS! Avocado Toast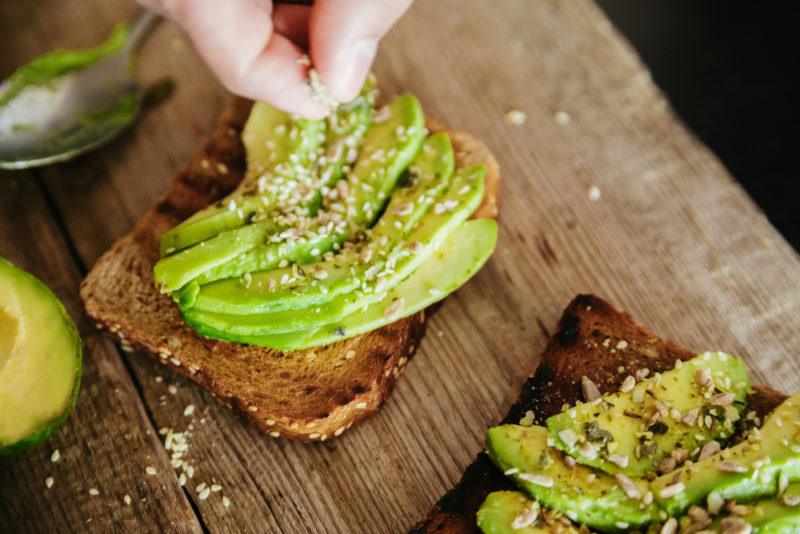 Millennials get made fun of constantly for enjoying avocado toast, but it's legit really good – and good for you! You can't go wrong with a shot of complex carbs and healthy fats right in the morning. If you aren't buying it from a restaurant for $15 then it's really not that expensive.
An avocado is what – $2.50 max from the store?
Cheap. Healthy. Satisfying. Energy delivering. Welcome to the day!