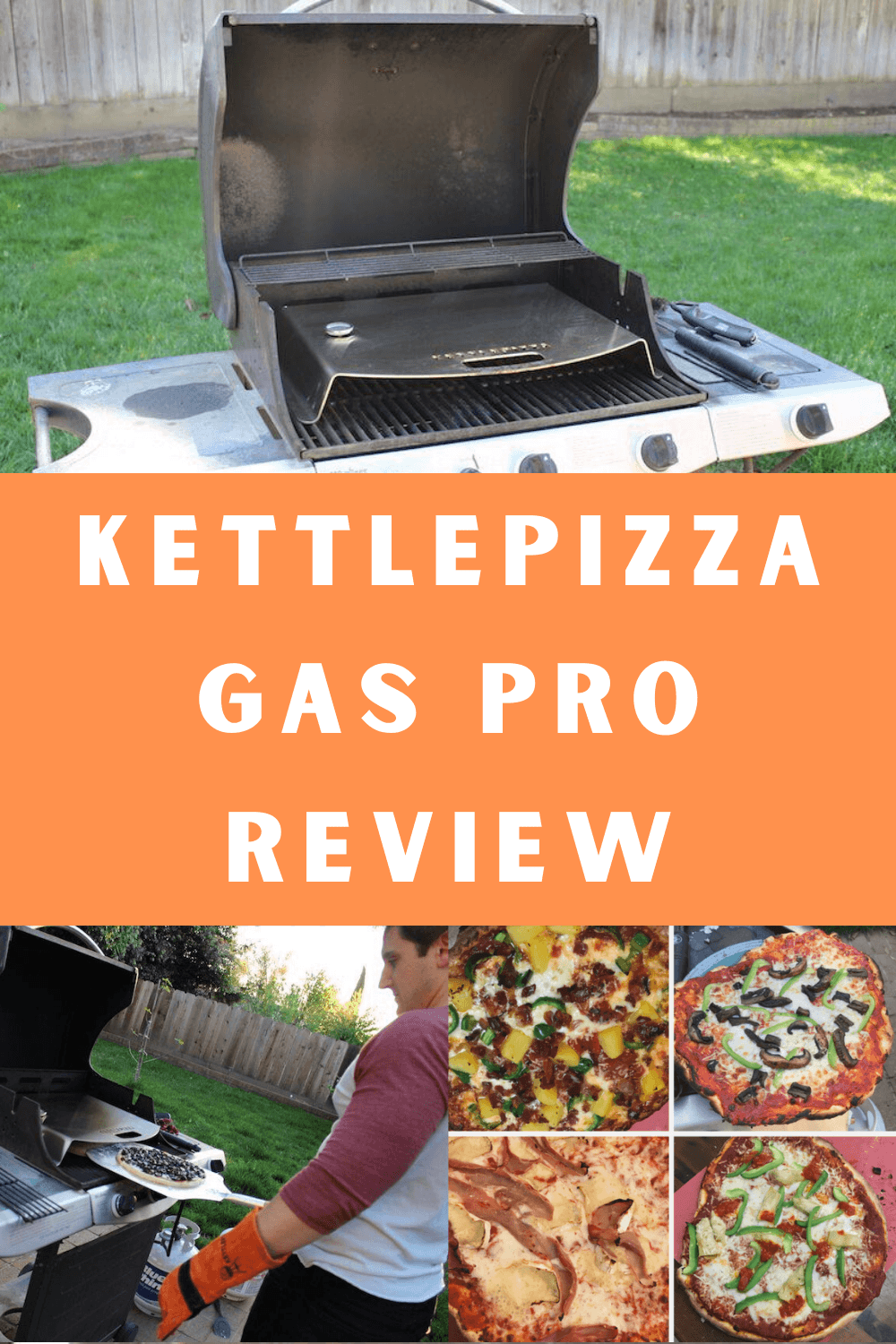 KettlePizza Gas Pro Review
Quality - 100%
Features - 100%
Price - 95%
Personal Experience - 100%
Value - 99%
The KettlePizza Gas Pro is my #1 choice for accessories that can turn your backyard gas barbecue grill into a pizza oven. It's a very simple device that you just place on top of any 3-burner grill. It can reach temperatures over 700ºF to cook pizzas just like the pros, right in your own backyard! It's easy to set up, simple to use, and requires almost no cleanup. Storage is easy as well It's a really fun and unique way to spice up your summer grilling and explore the art of pizza making without investing a ton of time and money into buying or building your own wood-fired pizza oven.
There are lots of backyard pizza makers, but Kettlepizza is the original. Kettlepizza Gas Pro was the original "gas powered pizza oven" that could turn your average gas grill into a 700ºF pizza oven. I bought and tested it to see if it was worth the cost, and boy was it!

Gas Grill Pizza Oven Kit – KettlePizza…
Gas grill pizza oven enclosure allows optimum cooking temperatures for cooking pizza outdoors
Made of the highest quality American Made stainless steel for years of use
Made in USA, Patented
Does not include grill, stone or pizza peel
Summer is coming up and I'm ready to start grilling! But while everyone is talking about grilling steaks, I'm ready to start grilling pizza. I learned that you can actually grill a pizza in an outdoor oven just by accident as I was researching some stuff for wood fired pizza ovens.
I first learned that there was a product called KettlePizza, but that it required you have a coal-fired kettle grill. You know, those standard ball-shaped coal grills that Weber Sells? Well, I didn't have one of those.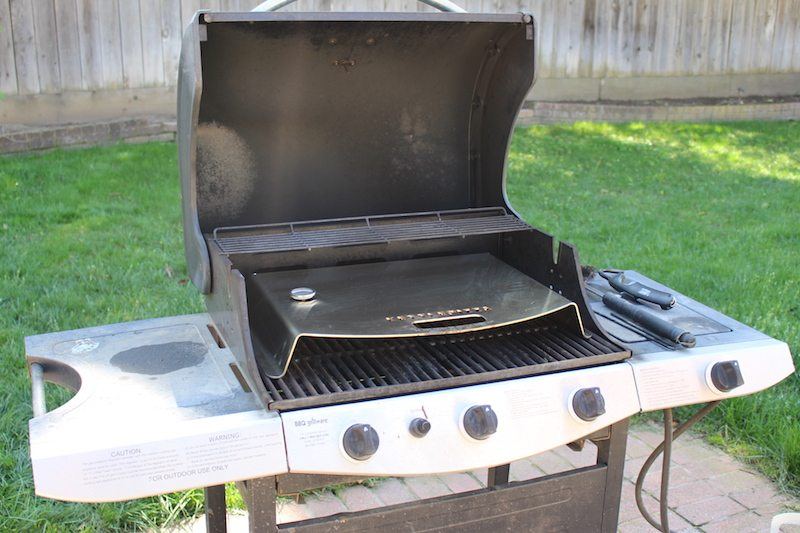 But KettlePizza also makes a version for the gas grill. Awesome. It works on your standard 3-burner grill (or larger), and that's exactly what I have at my house.
So I bought the KettlePizza gas, and have been testing it for a few weeks now. In my KettlePizza Gas review I'll talk about the main features of the device, how it works, the quality of the pizzas it produces, and how it compares to similar products.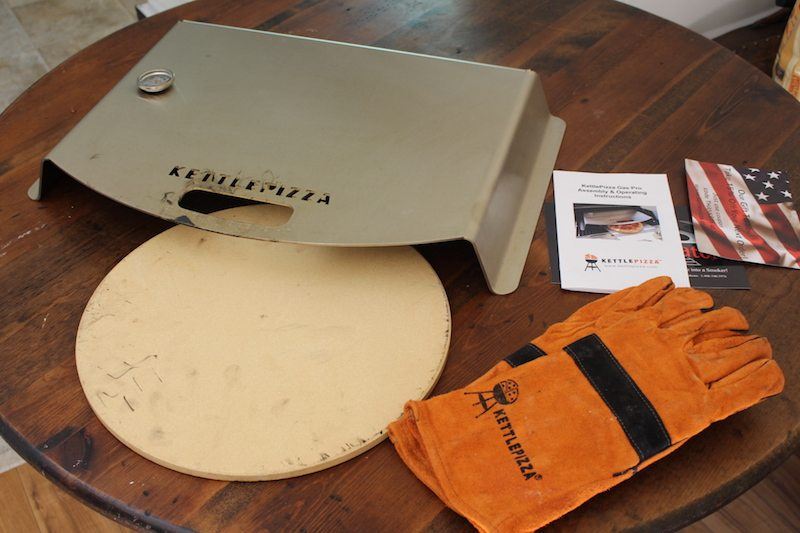 Here's my KettlePizza after a few pizza sessions (about 10). I was so excited to test it out that I forgot to take the "brand new" shots. You can see that I've already got some melted cheese baked onto the metal and the pizza stone (included with the kit) is already getting some black spots on it.
That's OK though – it's bound to happen when you're cooking bread and cheese at 700º. No worries, it won't affect the flavor of the pizza or the function of the device.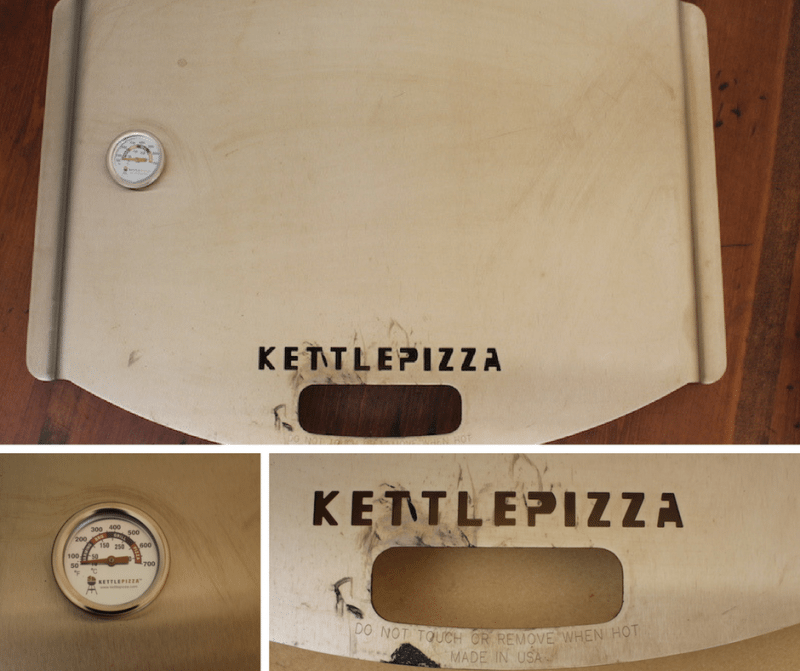 ==> Get the KettlePizza Gas Here!
How The KettlePizza Gas Pro Works
It's super simple to get started making homemade pizza in your backyard. I was literally making pizzas the same day it arrived. In fact, I work from home so when the mailman arrived at around 1PM I had pizzas done within the hour. The simplicity of setting up, baking, and cleaning up is one of the star features of this product.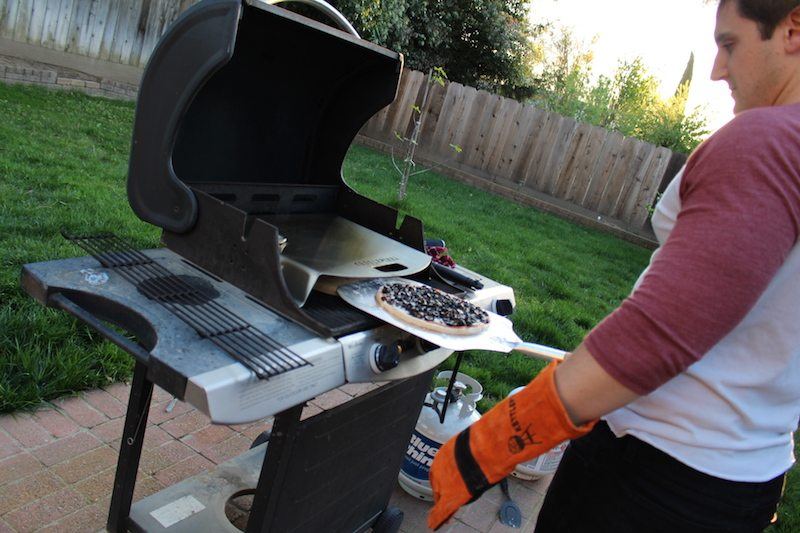 Actually, the hardest part of making pizzas on a gas grill is learning how to make good pizza dough. There's a whole science to it. In theory, it's just water, yeast, flour, salt, and olive oil. But once you dig into the art of pizza making, there's all types of nuanced approaches. Many people let their dough rise for 24 hours, and some people use specialty "type 00" flour.
But you don't need all that. I was able to produce great pizza with standard all-purpose flour, dry instant yeast, water, salt, and olive oil. I let the dough rise for about an hour, and baking the pizza itself only takes about 5 minutes.
So you can get as deep, or not, as you want into the "art of pizza making". For a backyard barbecue, I say keep things simple!
Cooking Experience
I was a little upset that on my very first pizza I made a few mistakes, so let me help you avoid them.
Heat the pizza stone at the same time as the KettlePizza Gas Pro. It should be hot when you cook your pizza.
Use sufficient flour on your pizza peel. The dough will stick pretty easily. Otherwise, you really have to jerk the pizza back and forth to get it off the peel and you'll lose toppings as a result
The space between the top of the KettlePizza Gas and the pizza stone is pretty small. Keep your peel relatively flat when inserting and removing the pizza or your toppings will sear and stick to the top of your KettlePizza
Don't touch the metal, even with the gloves. OK, you can, but briefly. These gloves are not meant to handle 700ºF metal. It will burn your fingers even through the gloves
But other than those simple mistakes, it's very easy to use. I closed the grill top to heat it faster and it was ready to cook in about 10-15 minutes. Pizzas need to cook for just 2-3 minutes, with a turn, then 2-3 minutes, because the back gets hotter than the front of the grill.
The temperature and time you cook depends on your preference. I went fast and hot for crispy thin crust. You can go lower and slower if your crust is thicker and you need toppings to cook. Experiment and see what works best for your tastes.
Here are some of my creations!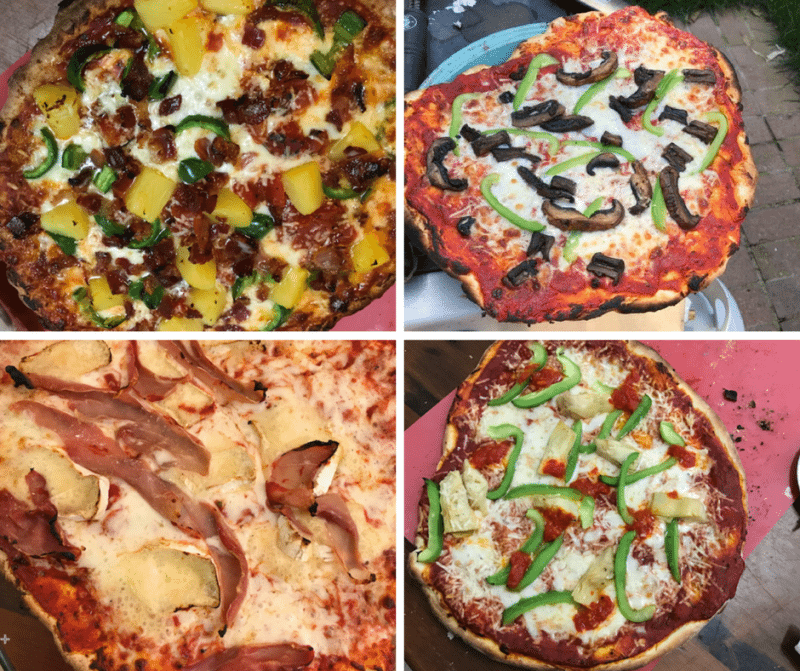 It's very easy to store and clean the KettlePizza Gas because it's made out of very sturdy metal, and there are no moving parts. I was surprised that it was a little heavy because it looks so "minimalistic". I have no doubt that this product will last a lifetime.
==> Get the KettlePizza Gas Here!
You can actually use the KettlePizza to cook other things as well. I don't really see the advantage to cooking steak like this – perhaps a more uniform heating environment instead of super hot bottom and less hot top? But one cool idea I did see on YouTube was grilling garlic bread on top of the metal. I don't feel so bad about spilling cheese on mine now!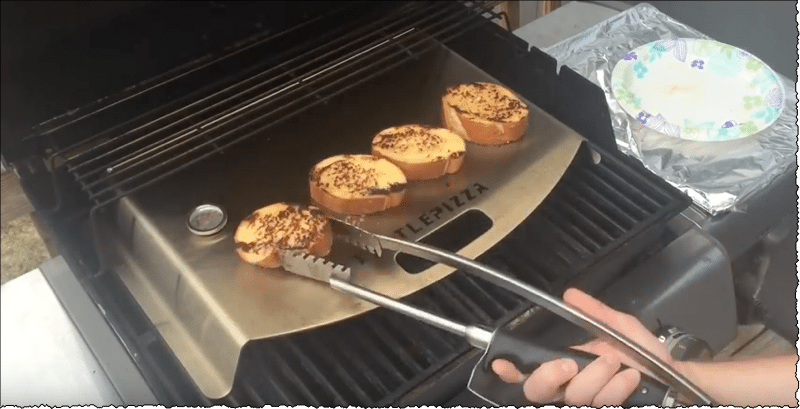 Technical Stuff
Unit Size: 6″h x 23″w x 16″d, 27 lbs
Max Temperature: 700ºF+
Construction Material: Stainless Steel (one piece)
I suspect that this device reaches temperatures higher than what's listed on the dial (700ºF). The speed that it cooked my pizza was much faster than the other products I tested which claim to reach 750ºF+. I need to get an infrared thermometer gun to accurately test it, but I figured this piece of information was useful for now. I'll update when I get a precise temperature. The back of the device gets the hottest, so be sure to turn your pizza once or twice while cooking.
It also helps to sprinkle some flour or cornmeal on the peel as well as the pizza stone (before heating it) to help with preventing sticking.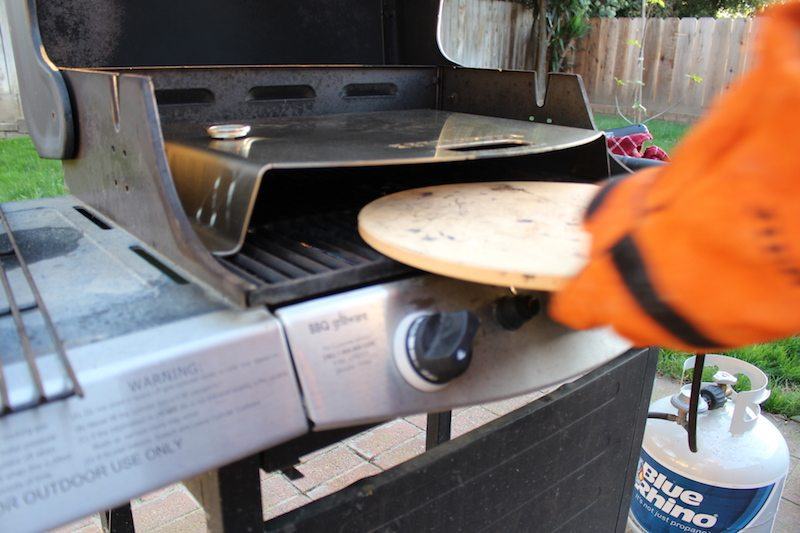 Video: KettlePizza Gas Pro In Action!
I've been working with my girlfriend on shooting some professional videos for all these outdoor pizza products I'm testing. The KP Gas was the easiest to work with and the fastest to set up, so it's the first one we did. I plan on doing a voice over one with some insight into the device and cooking pizza with it, as well as some comparison videos.
But for now, I just wanted to add some cool music and show you what it can do! Let me know what you think in the comments 🙂
Comparing The KettlePizza To Other Gas Grill Pizza Cookers
BakerStone Pizza Oven Box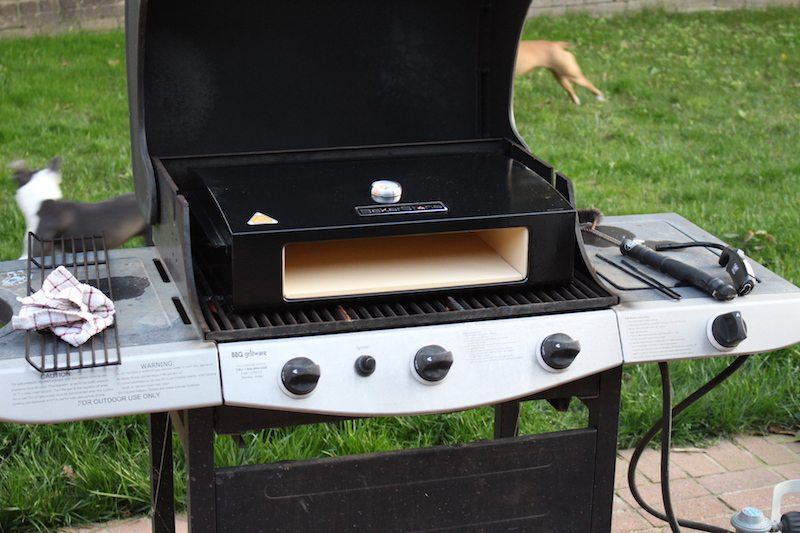 Who Is The KettlePizza Gas Best For?
If you want to get the best product to turn your current gas grill into a pizza oven, then this is the product to get. It is my favorite of the outdoor pizza ovens that I've tested so far, and marginally better than the other main product in this category (the BakerStone).
For me, the simplicity of the setup, pizza making, cleanup, and storage are the things that really made it stand out.
If you don't have a gas oven, or prefer to get that "smoky" charred flavor from a wood-fired environment, I recommend you check out the KettlePizza Weber grill insert (links to full review).
It's the same brand/company that makes this gas accessory, but for weber charcoal "kettle" grills. The flavor is a little better in my opinion, but it does take more work to manage the coal/wood fuel for your fire. Still easier than a regular wood fired oven though!
Conclusion
Baking pizzas in your backyard is really fun. While everyone is grilling the typical steak, pork chops, chicken legs, etc, you can be investing new pizza recipes daily…or just perfecting your favorites.
Grilling pizza outside is also great because it doesn't heat up the house, and you can do things in the meantime like play with your dog in the wonderful weather or watch your kids play while you have a beer. There's something special about spending the summer days in your own backyard, and making delicious & creative food just enhances the experience.
Pros/Cons
Pros
simple to set up
easy to use
cleanup is a breeze
gets very hot, very fast
changing the pizza stone is easy
much cheaper than building or buying a wood fired pizza oven
portable!
great reviews from myself and other customers so far
Cons
more expensive than other similar products
small area between pizza stone and top of KettlePizza takes a few tries to get used to