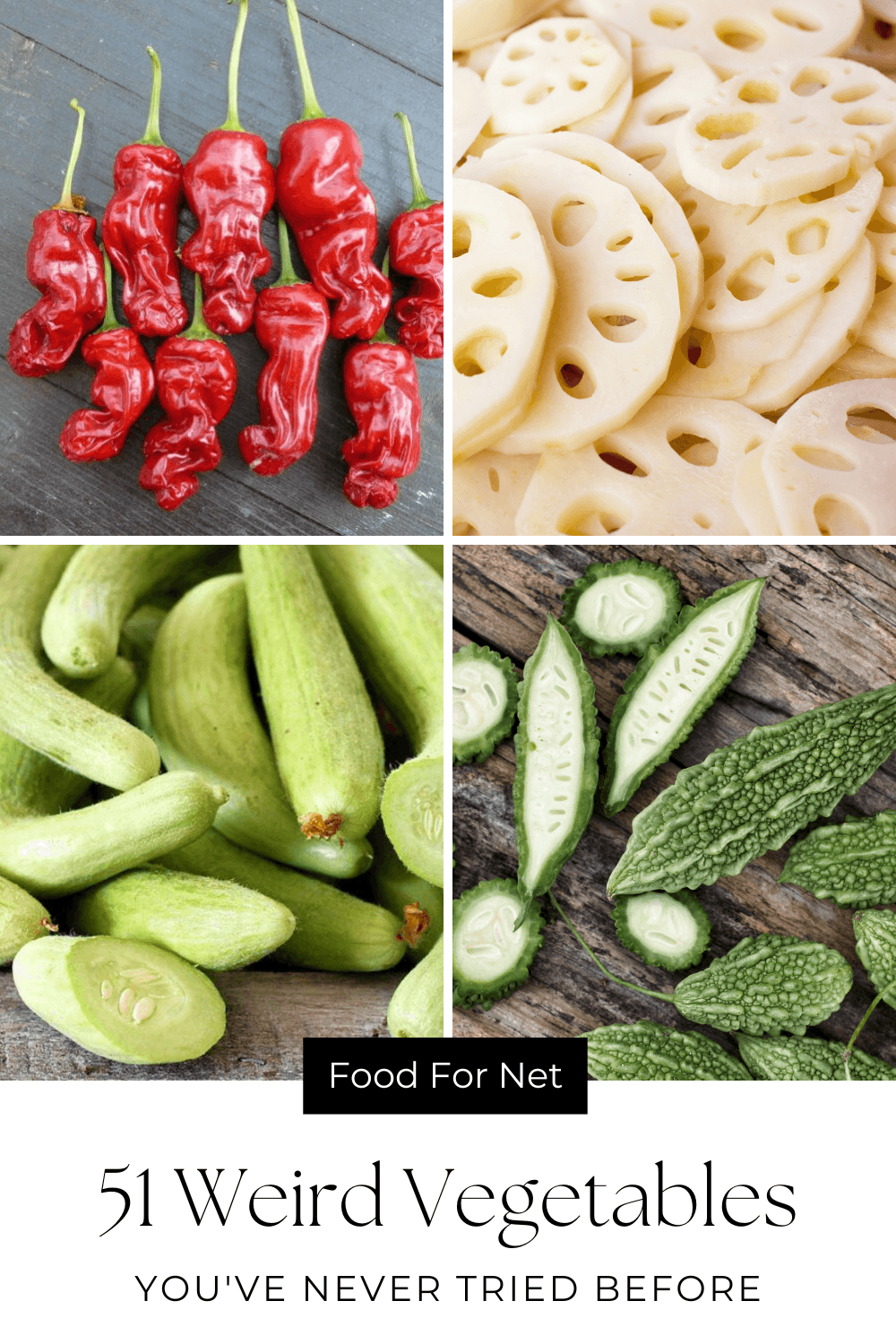 I don't know what it is about me that I love to list things. After the massive list of 66 exotic fruits from around the world, I had to take on the next thing and list as many weird/cool vegetables I could find. Many of these I've actually seen and tried in my travels through Southeast Asia, but some of these goodies from Africa or South American I had never heard of until now.
Oh, and one more thing. Before I get too many angry emails in my inbox, I know that a few of the foods on this list of 36 weird vegetables are not actually vegetables. Anything with a seed is technically a fruit. But whatever man, close enough.
According to Wikipedia, "In everyday usage, a vegetable is any part of a plant that is consumed by humans as food as part of a savoury course or meal."
So there are some things which are considered vegetables in the culinary vocabulary, but are not vegetables in the botanical sense. And if you like weird stuff, you'll really like these 30 fruits & veggies with unique colors like black garlic, purple broccoli, and red bananas! Or, what about these 32 weird American foods?
Countdown To Weird Vegetables!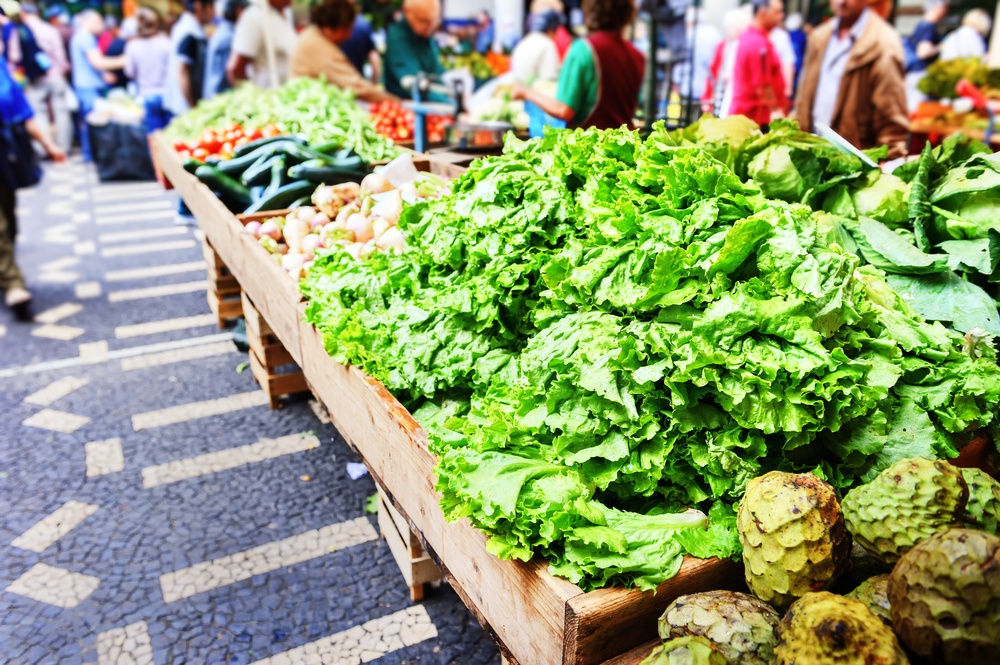 PS. I've also got a big list of heirloom vegetables worth mentioning for all you veggie lovers out there.
51. Mashua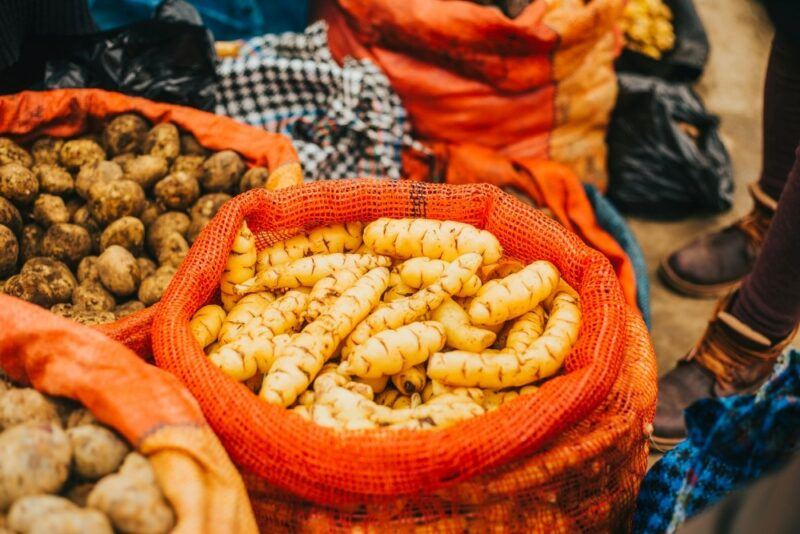 Mashua is a type of tuber that hails from the Andes. It's often grown alongside some of the other veggies from this list, including the ulluco and the oca (known as a yam in New Zealand).
Tubers from this plant often come in different colors, including yellow, white, and purple. This makes them look amazing, especially if you include multiple colors within a single meal.
As for flavor, mashua tastes much like a strong radish when eaten raw. The flavor tones down if you cook the tuber, giving you a turnip-like taste instead.
50. Olluco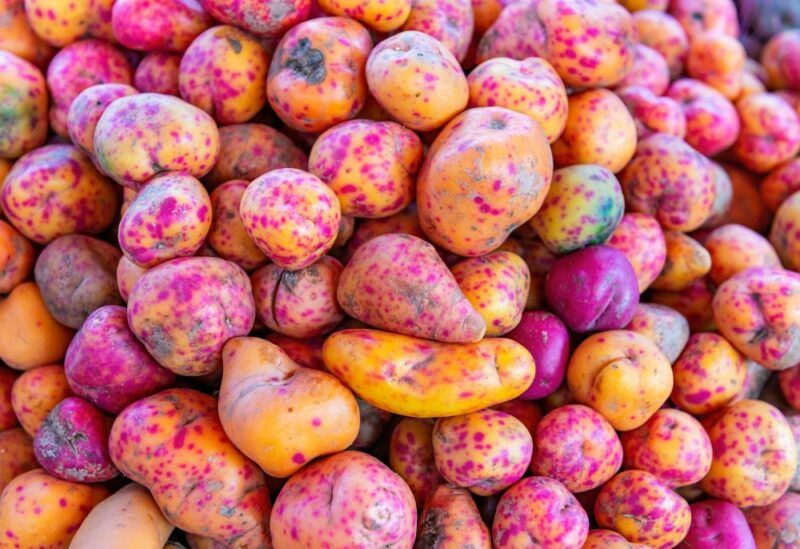 The olluco (also written as ollucos or ullucus) is another root vegetable. It looks much like a colorful potato at first glance, yet the vegetable isn't as similar as you might expect.
The biggest difference is the texture, as ollucos are much more watery than any potato. This means you can't roast them or use them in many traditional potato recipes. However, they can easily be sliced into rounds or strips, then included as part of stews and similar recipes. 
49. Parsley Root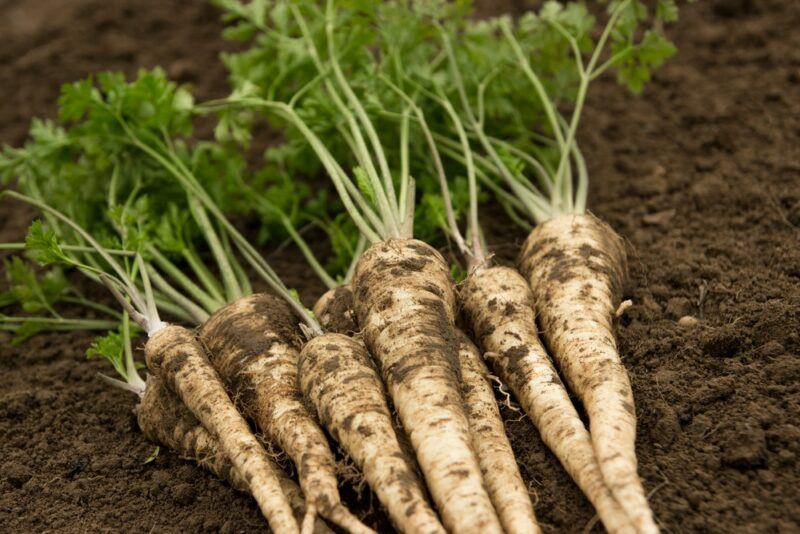 Parsley is well-known, but most of us are only familiar with it as a herb, rather than as a vegetable. Yet, parsley actually has an impressive root system and the roots can be used as a root vegetable.
If you're trying to grow parsley root at home, the variety of parsley makes a big difference (as some have larger roots than others). The variety Hamburg parsley is particularly popular for its root, giving you a delicious vegetable that you can use in meals or even eat raw.
48. Skirret
Skirret is a hardy plant with small white flowers and many thin roots. These roots taste much like parsnip, except with a notable nutty flavor. And some sweetness. While the vegetable doesn't have a high yield, it is still delicious and worth growing in your home garden.
The roots can be eaten raw, just like a carrot. Most people choose to cook them first. They can even be roasted together with other root vegetables to give you a varied dish. 
47. Watermelon Radish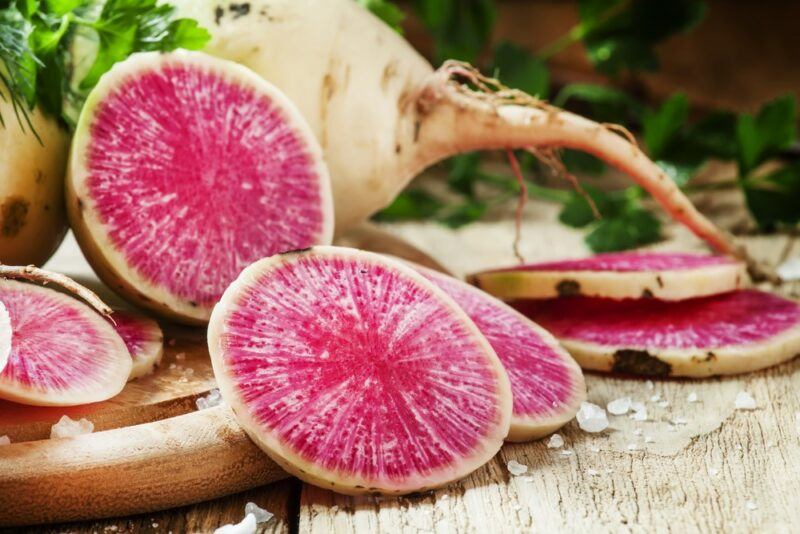 Traditional radishes are common and somewhat boring. These watermelon radishes mix things up, as their interior really does look like a watermelon.
The radishes don't taste like watermelon though. They have a slightly sweet and peppery flavor instead. Interestingly, this flavor tends to mellow as the radish matures. Most radishes go in the opposite direction, where the flavor gets more intense over time.
46. Root Chervil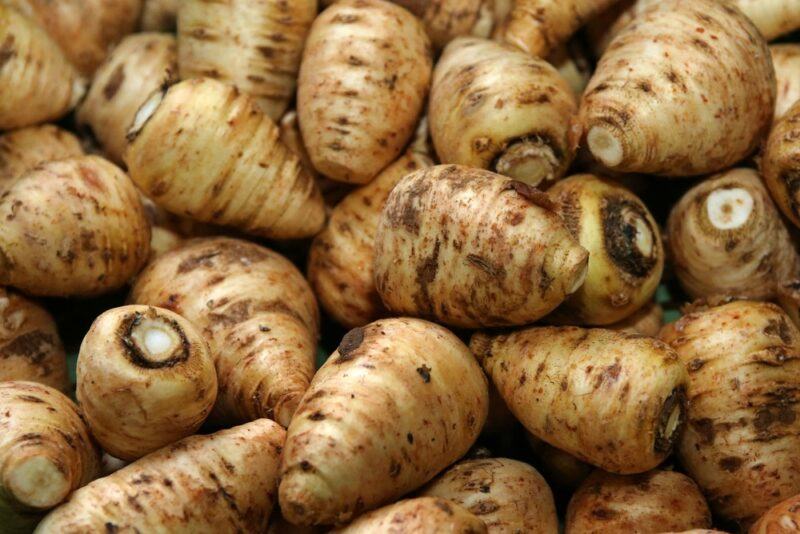 Root chervil is sometimes called turnip-rooted chervil, which is a reference to the turnip-like root of the vegetable. However, it's a slightly misleading name, as the roots aren't as large as a turnip.
Still, despite the relatively small size, root chervil is worth cultivating, especially as it is easy to grow. The flavor is appealing too, as the roots are subtle and taste a little like chestnuts.
Plus, if you cultivate the root yourself, you can also use the foliage as a herb. The flavor here is fairly similar to parsley, so you can simply use it instead of parsley in dishes.
45. Winged Bean

Don't these beans look stunning? Each of the pods has a type of winged edge, which is where the beans get their name from.
Interestingly, the bean pods can actually be eaten raw, even when they're not ripe. They can be cooked too, giving you a nutrient-rich and delicious ingredient. The beans tend to be crunchy, especially when raw, making them a fantastic way to tweak the texture of many meals. 
44. Agretti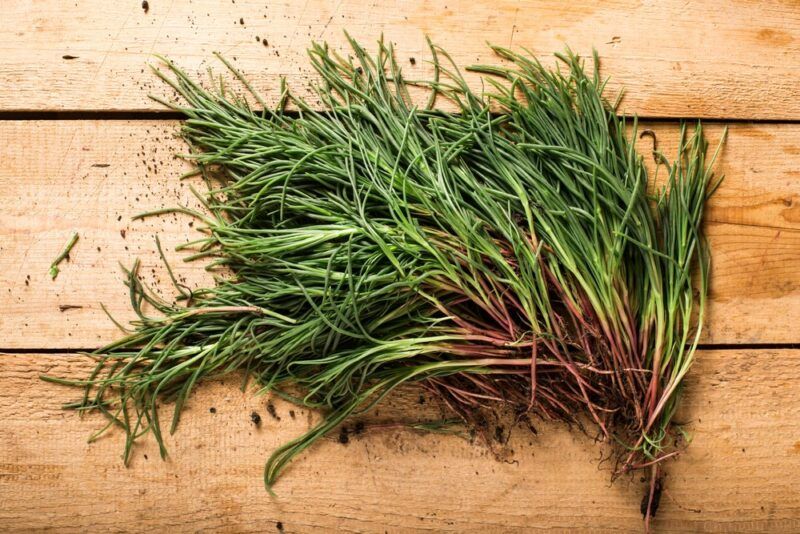 Agretti hails from the Mediterranean and is unusual in many ways. For one thing, it typically grows on seashores and thrives in coastal gardens. It can be grown further inland too, but typically only in light soil types.
The vegetable is actually related to spinach, although you wouldn't guess that from looking at the thin leaves. The flavor is interesting too, as agretti has a subtle mineral and salty flavor.
Agretti is most often cooked and used as a side dish or as part of a more complex meal (like being served with pasta). However, agretti can also be consumed raw. It's crunchy when eaten this way, which makes it a perfect addition to salads.  
43. Armenian Cucumbers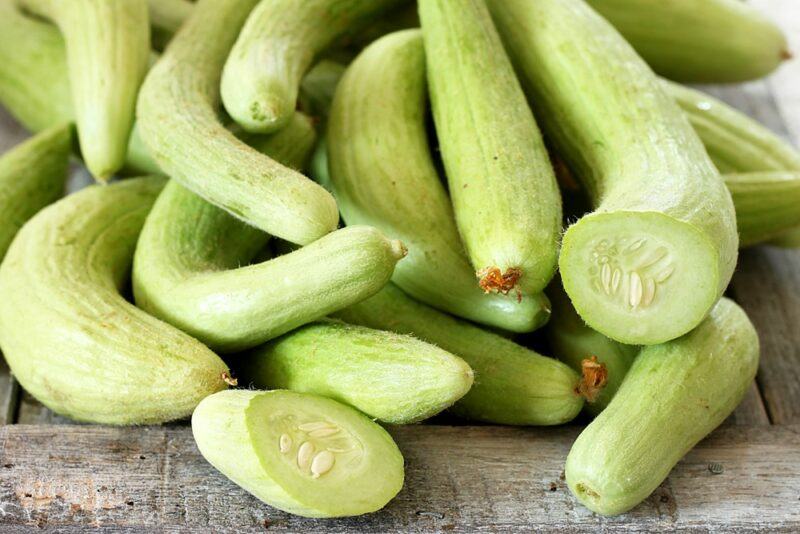 Despite the name, Armenian cucumbers aren't actually a form of cucumber at all. They're a type of musk melon instead. The name comes from the fact that these veggies look like cucumbers both inside and out.
The texture and flavor also start off just like a cucumber. However, Armenian cucumbers quickly change to be crunchy like a carrot. Their flavor even starts to be reminiscent of watermelon.
You'll also need to pay close attention when growing these melons, as they mature extremely fast. They can even go from being too small to far too big within 24 hours.
42. Luffa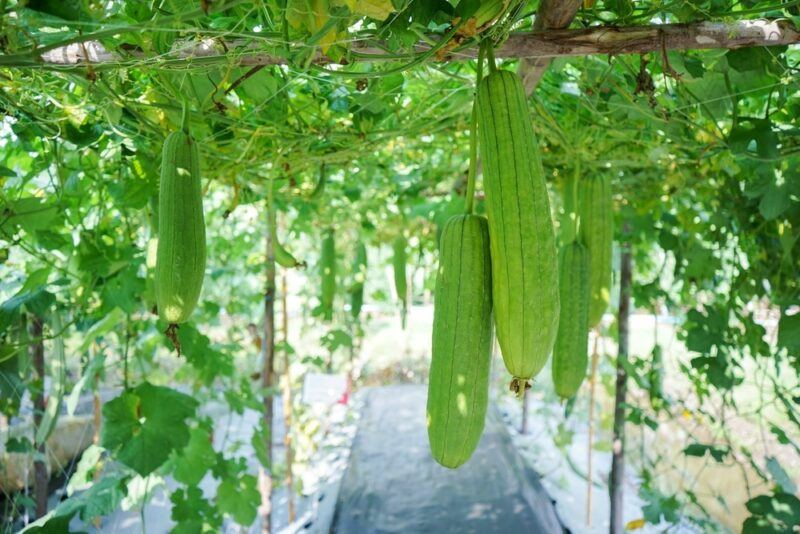 When brought to maturity and dried, luffa can actually be used as a sponge (you know, loofahs). However, that's not the only way to use the plant. If luffa is harvested earlier, then it can be used as a vegetable instead.
The immature version of the plant looks and tastes much like zucchini. The main difference is that luffa tends to soak up liquid better than zucchini, an effect that isn't too surprising.
41. Peter Pepper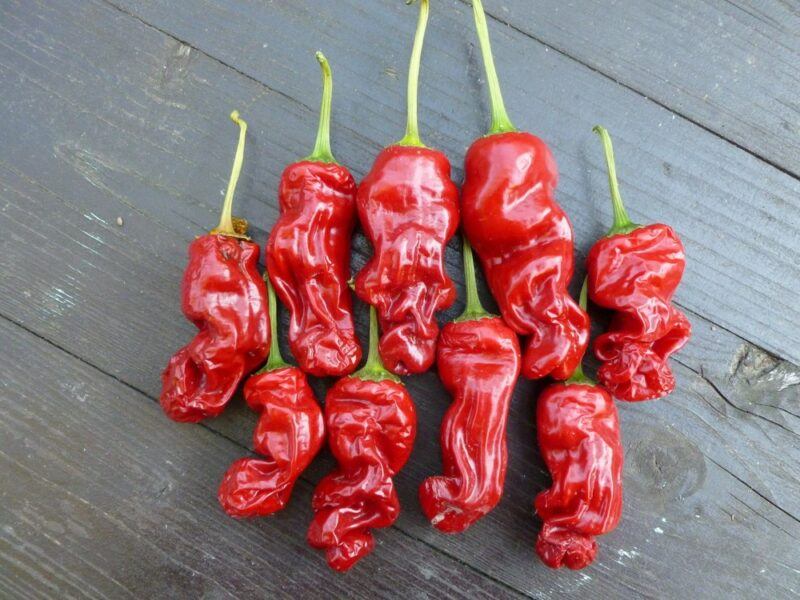 These little peppers are most famous for their shape, as they do look surprisingly phallic. That appearance is even referenced in the name.
The Peter pepper isn't something to take lightly though, as this is a pretty hot pepper. It comes in at between 5,000 and 30,000 SHU, which is enough to make most of us sit up and take notice.
The heat makes these peppers fantastic for hot sauces and spicy salsas. You can experiment with them in other recipes too, like gumbos and stews.
40. Taro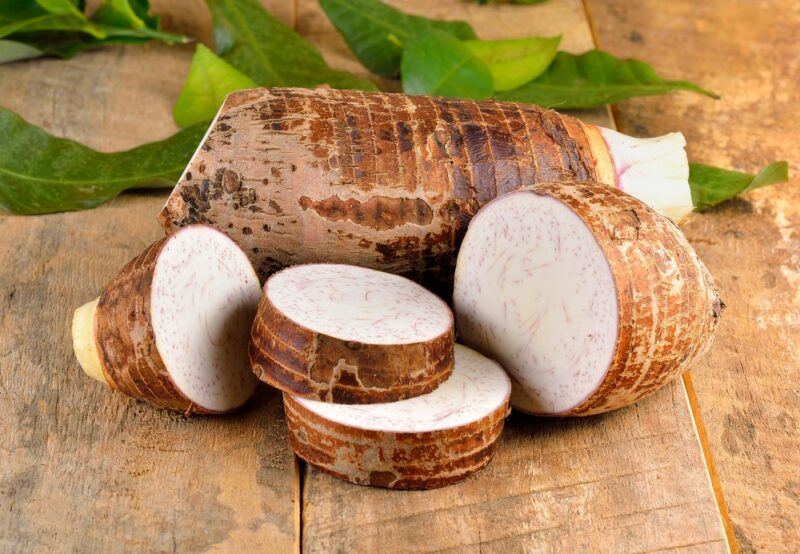 Taro may be unusual or incredibly common, depending on where you live. In fact, it's a widely cultivated plant that's particularly common in South Asian, Oceanic, and African cultures.
Taro is considered a root vegetable, although other parts of the plant can be consumed as well. It has a similar flavor and texture to sweet potato, and features in a variety of recipes. You'll even find taro bubble tea, taro buns, and taro cakes, which sometimes take on a purple color from the root.
The one catch is that taro needs to be cooked before you use it. Consuming the root raw isn't safe and could easily make you sick. 
39. Black Carrots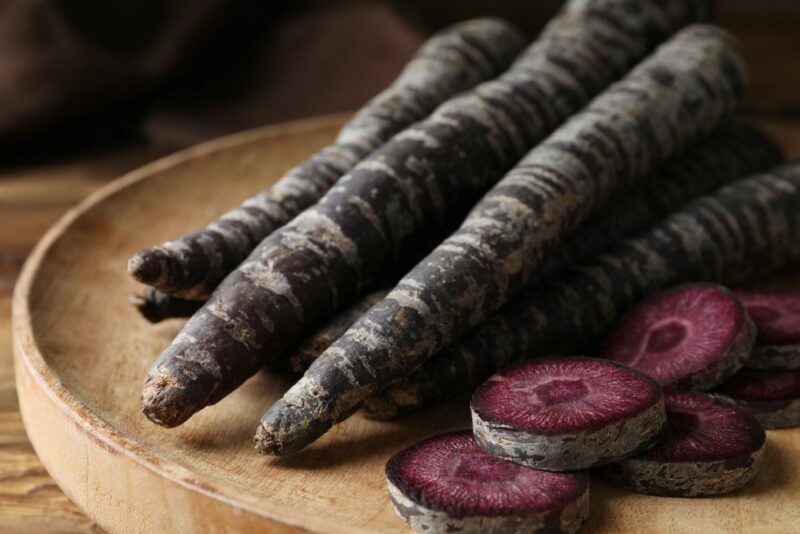 If you're bored of regular carrots, why not try black carrots instead? These are a cultivar of carrots that is actually quite common in other parts of the world.
The black coloring means this carrot cultivar is high in anthocyanins (while orange carrots are high in beta-carotene instead). Anthocyanins are an antioxidant pigment molecule, which makes them very relevant for your health.
The flavor is different too. In particular, black carrots tend to be sweeter than you might expect, but also have a slightly spicy aftertaste. However, this flavor changes somewhat depending on the variety.
38. Banana Squash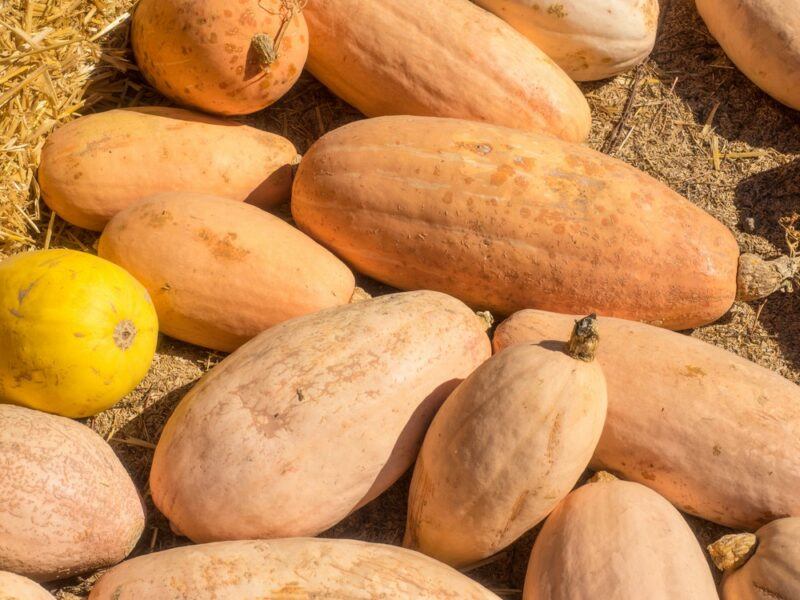 Banana squashes are seriously huge. They can grow to more than 2 feet in length and reach a weight of around 35 pounds.
Not surprisingly, these squash are hardly ever sold whole. You're more likely to find them sold in small sections, perhaps even in your local grocery store.
Despite being unusual, this type of squash isn't difficult to use. You simply prepare and cook it just like you would any other type of winter squash. As such, you can easily steam, roast, or bake the squash. You can even use it as a replacement for other types of squash in a recipe.
37. Red Radicchio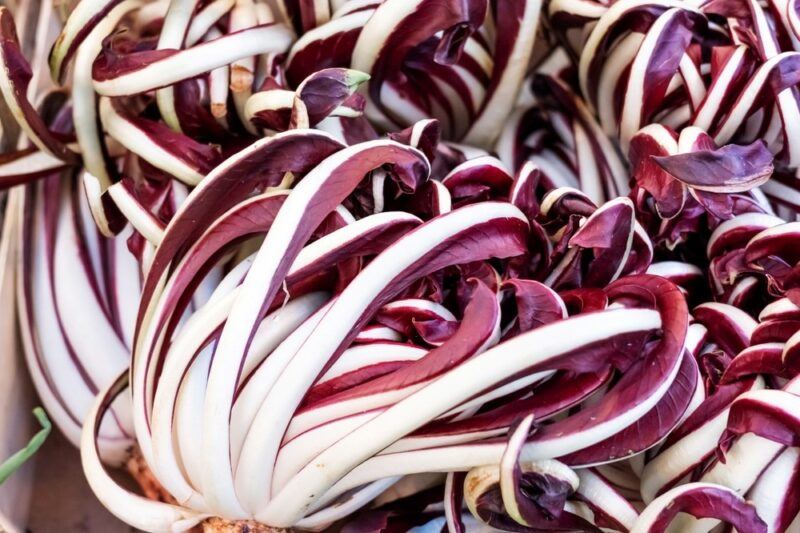 Doesn't this leaf vegetable look stunning? It's often thought to be lettuce, yet is actually a type of chicory. Because of this, radicchio has a distinctly bitter flavor. This mellows as you cook the chicory, but doesn't disappear entirely.
36. Black Radish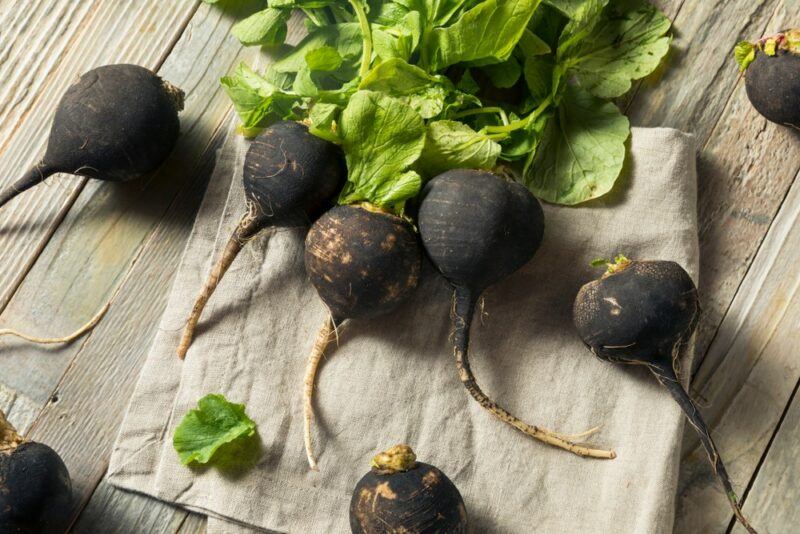 Black radishes are more commonly found in Europe, but can also be found within the United States at select specialty grocery stores or local farmers markets. They have a very pungent flavor and aroma, kind of like a horseradish.
You definitely don't want to eat them raw like a carrot. They can however, be shredded or diced included in salads or other veggie mixes for to add a bit of bite. They can also be roasted and doused with butter to make them more palatable.
35. Okinawan Purple Sweet Potato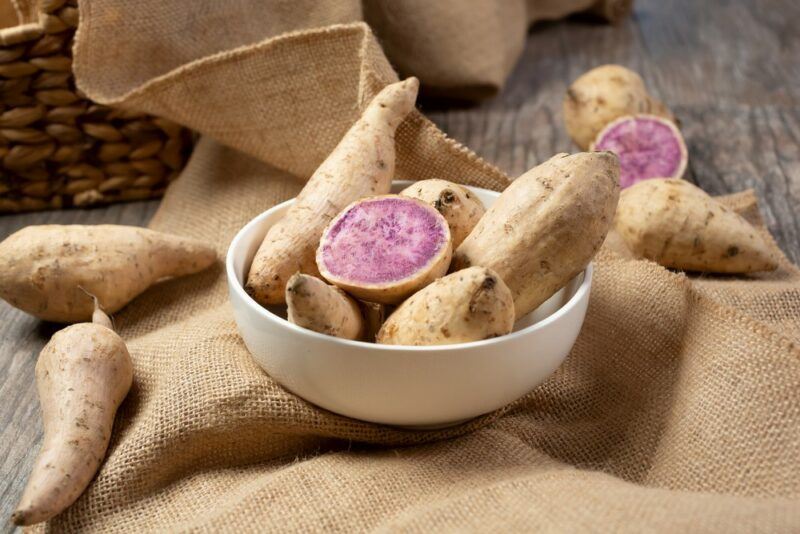 Okinawan purple sweet potatoes are also called Japanese sweet potatoes and the flesh of the potato is an appealing shade of purple. They tend to be drier and denser than normal sweet potatoes, and they are best cooked for longer than normal sweet potatoes.
Their taste is similar to normal sweet potatoes, although they can taste a little richer and more 'winey'. They are great for adding color to dishes, and are cooked the same was as other varieties of sweet potato.
34. Chinese Artichokes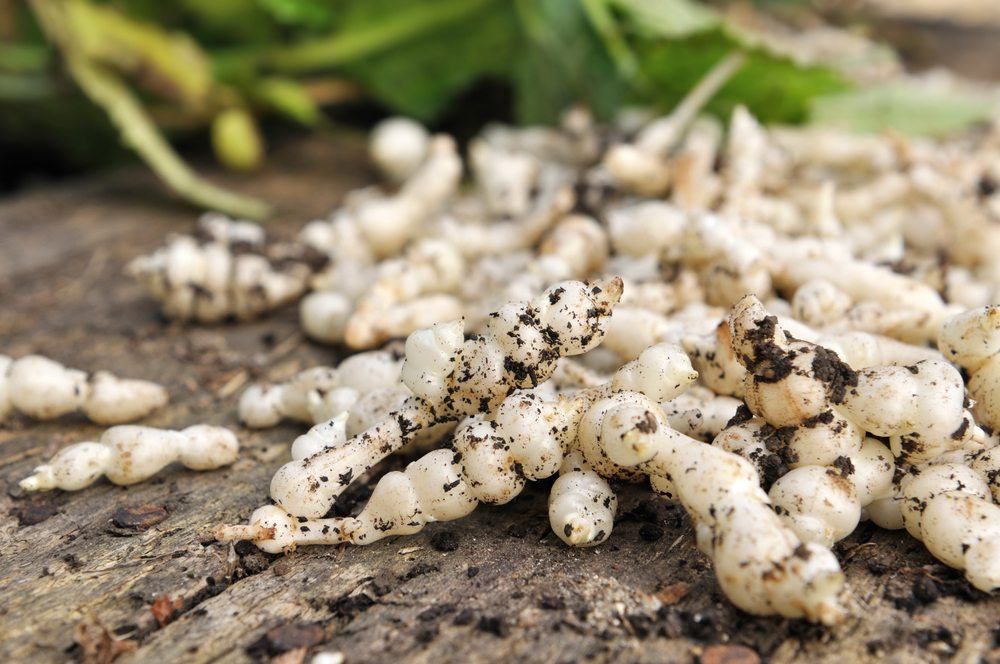 In both Chinese and Japanese cooking, Chinese artichokes are most often pickled and may be served as part of traditional dishes. The tubers can also be cooked in other ways, such as sautéing in butter or boiling in stock, and can also be eaten raw.
The taste of the tubers is similar to other types of artichoke, although they do also have a little bit of a nutty sweetness as well. The vegetable can be challenging to find, as harvesting it is labor-intensive and the vegetable does not keep for long.
33. Fiddleheads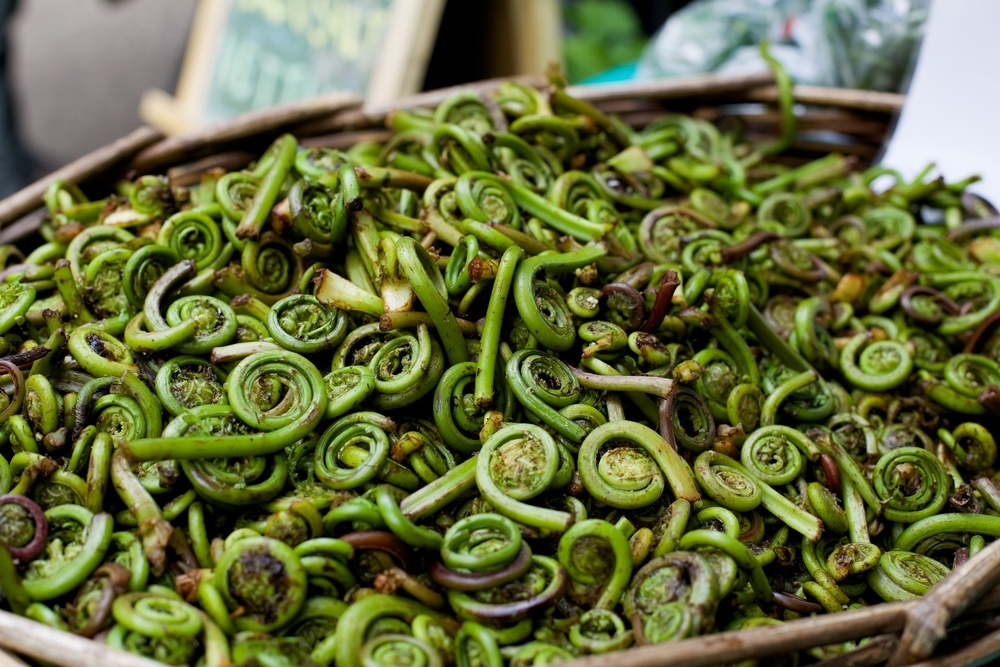 Fiddleheads look as cool as their name suggests. The vegetable is actually the fronds from a young fern when they are still rolled up, and many different species of fern are used.
They contain many different vitamins and minerals, and should be cooked before consumption. There are multiple ways to cook fiddleheads, but safety recommendations suggest that they should be either boiled or steamed prior to any other cooking method.
Their taste is similar to asparagus, with a bit of added nuttiness.
32. Ramps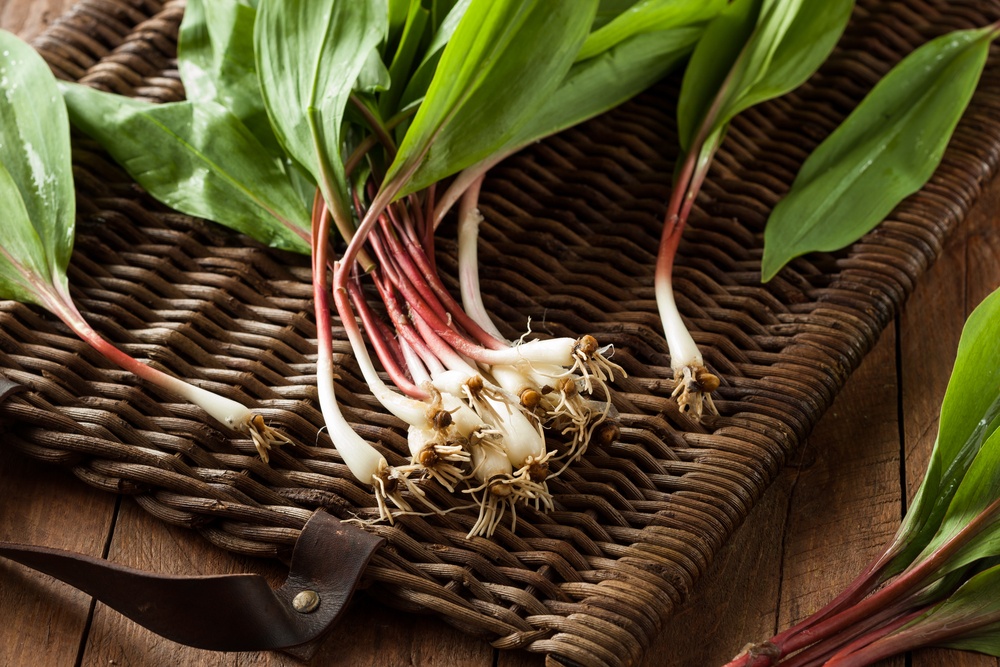 Ramps are known by a wide range of names, including spring onions, wild leeks, wild garlic and wood leeks. They are a form of wild onion and are particularly popular among chefs.
Some of their popularity seems to spring from the short season of the vegetable and the fact that ramps are one of the first vegetables to emerge in the spring. Farmers markets tend to be a good place to find this vegetable, although every so often stores like Whole Foods will also stock them.
31. Dulse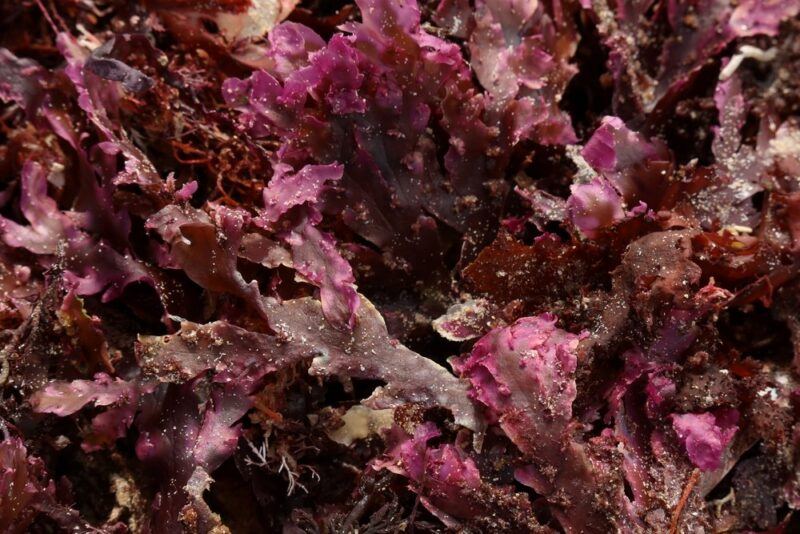 Although it looks like red cabbage, dulse is actually a type of seaweed that is attached to rocks as it grows. Dulse is used either fried or fresh in a range of foods, such as chowders and soups, and has a salty taste that complements many dishes.
Dulse has become particularly popular because it contains significant levels of both iron and potassium, while also boasting significant levels of omega fatty acids.
30. Jicama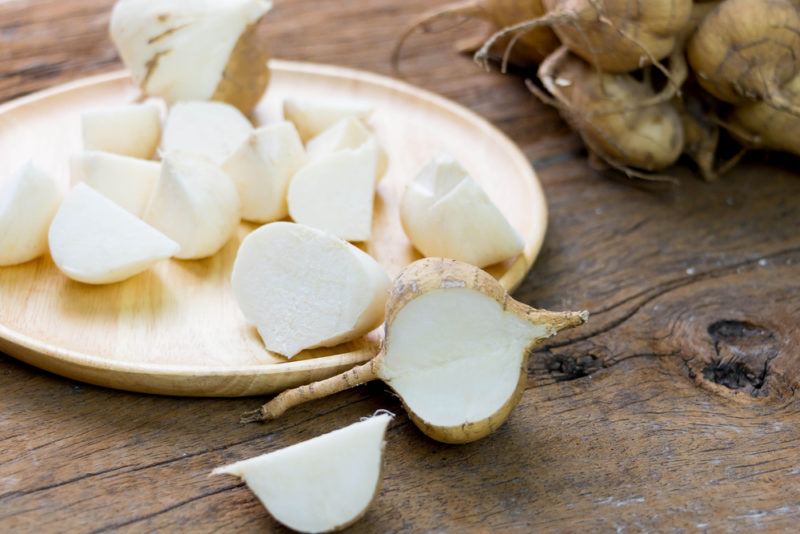 Jicama is an edible root vegetable with many similarities to a turnip. The white flesh of the vegetable has a mild flavor and can be eaten raw or cooked.
When using jicama, the skin can be peeled with a simple vegetable peeler and the flesh will not become soggy or brown once it has been cut. This makes it a good addition to many salads and platters. Jicama is best used with quick-cooking methods, to help keep the freshness of the vegetable.
29. Kohlrabi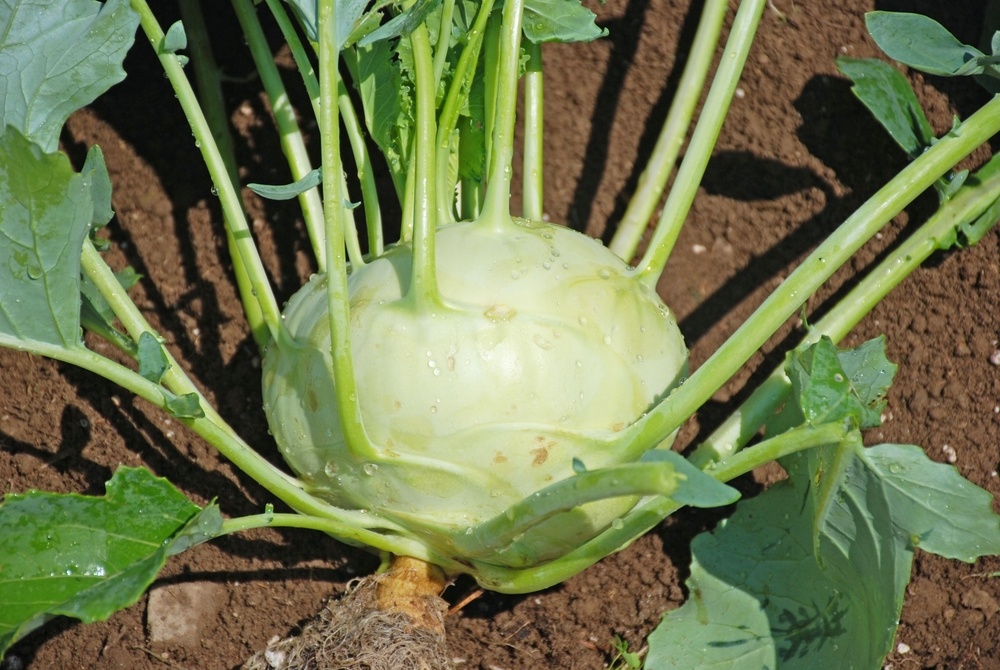 Kohlrabi is not the most attractive vegetable out there, but it can be a good addition to a meal with a little bit of work. The outer layer of the bulb is tough, and needs to be peeled away before you can do anything.
There is also a fibrous layer below this that needs to be peeled as well. After that, the inner part of the bulb can be used, either raw or cooked. Some approaches for using kohlrabi include cutting it up for salads, as well as roasting or stir-frying the vegetable.
28. Romanesco Broccoli AKA Romaneque Cauliflower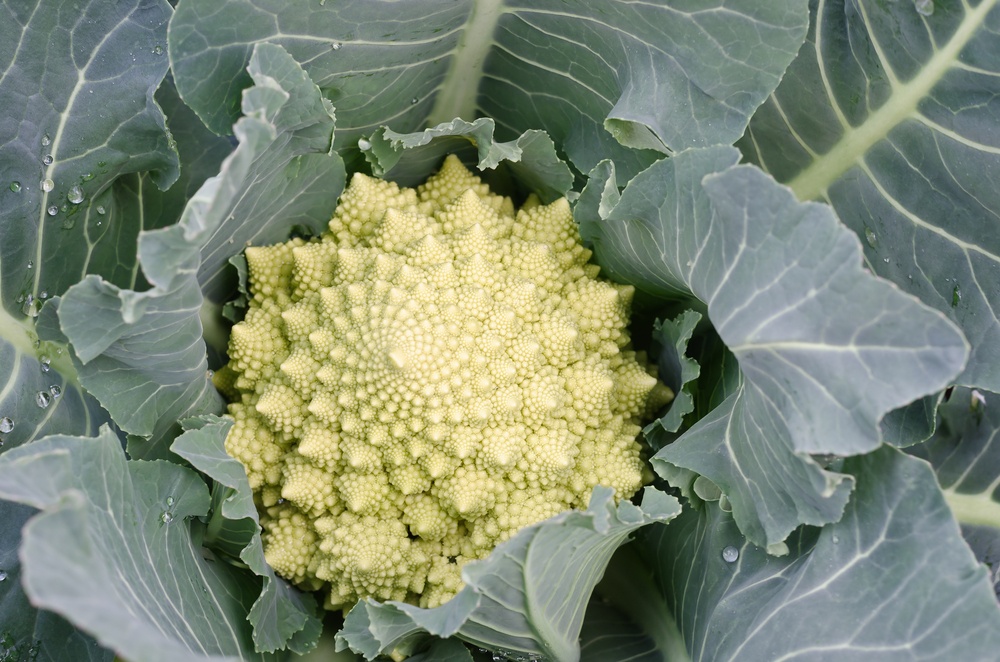 Sometimes simply called Romanesco, this vegetable is part of the cauliflower family. It has a similar taste to cauliflower as well, although some consider it to be a little milder and sweeter.
Like cauliflower, the vegetable can be eaten raw, although it will also hold its texture and flavor if cooked lightly. The most unusual part of this vegetable is its fractal-like visual appearance, which is certainly a talking point for those who haven't seen it before.
27. Salsify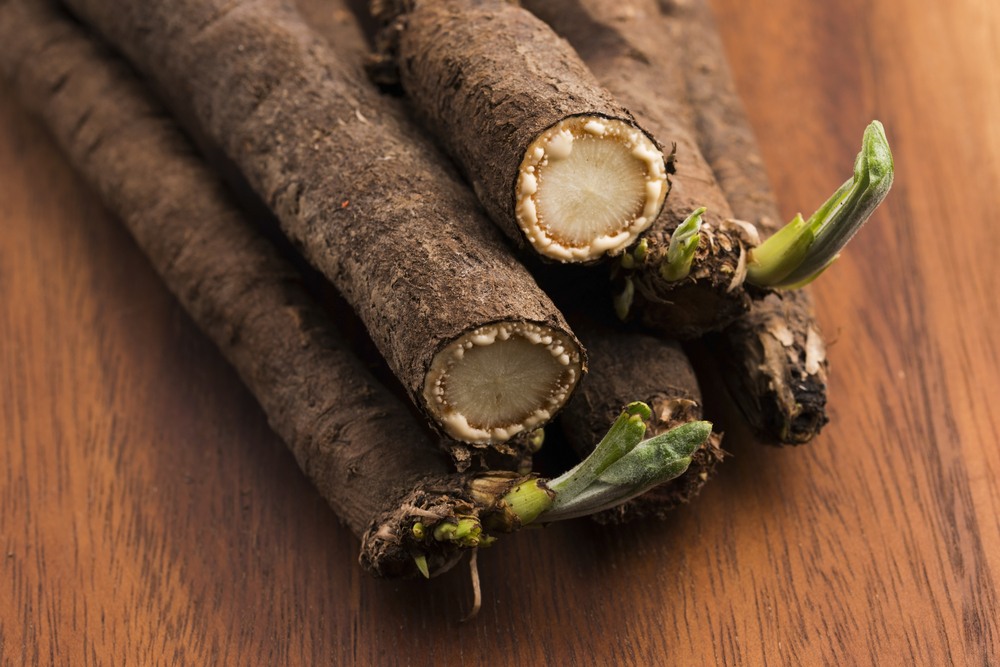 Salsify is a root vegetable that has the unfortunate luck of looking just like a brown stick. Yet, this is actually a tasty and a versatile vegetable.
Surprisingly, it tastes mildly like an oyster when cooked, which has earned it the nickname 'oyster plant'. Salsify can be cooked in a range of ways, including fried, mashed or boiled, and can be added to many different meals, including both stews and soups.
There are also different colors, including black and even purple salsify.
26. Samphire AKA Sea Beans/Asparagus/Pickles, Pickleweed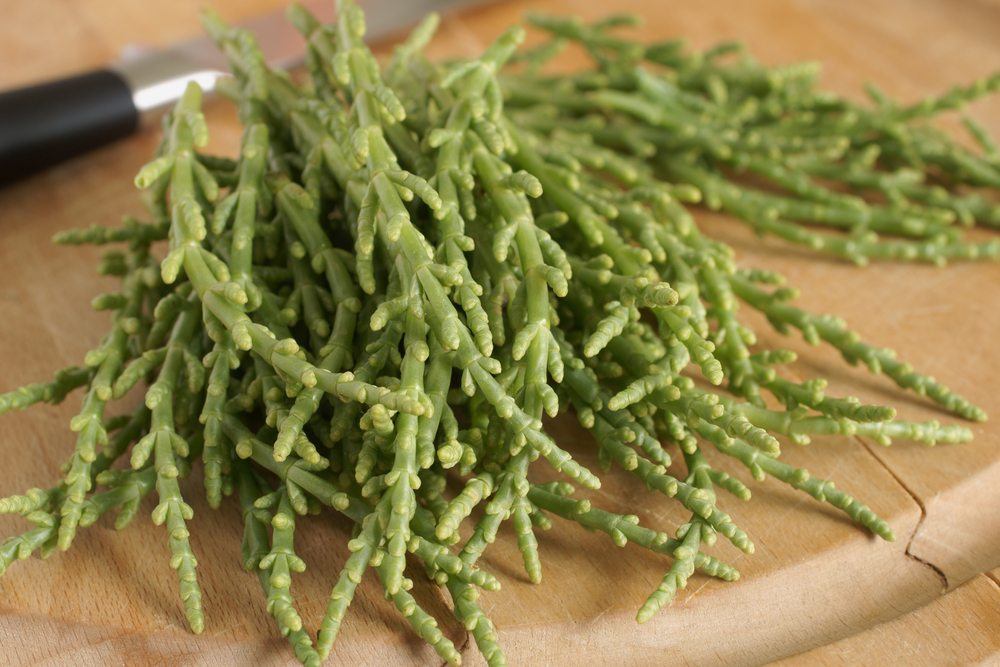 Samphire has started to become a popular and trendy garnish in restaurants and in home cooking, although it makes a good ingredient to dishes too.
The plant traditionally grows along the coast in the United Kingdom, although popularity in the United States is growing. Commonly the plant is picked, and when cooked it tends to have a fishy and salty taste.
25. Sunchoke

Sunchokes are a particularly versatile vegetable that has a similar taste to artichokes. They can be eaten both raw and cooked, and one common approach is to slice up the vegetable thinly and use it in salads.
You do want to be a little careful with sunchokes, because they are also noted for causing some issues with bloating and gas – leading to an unofficial name of 'fartichoke'. This impact is not significant for everyone, but it's worth being cautious the first few times you try the vegetable, just in case.
24. Tomatillo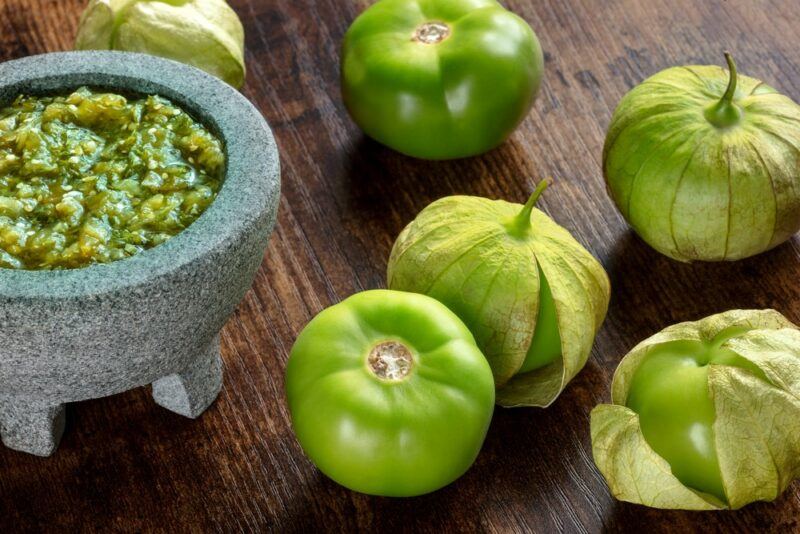 The tomatillo is considered to be a staple ingredient in Mexican cooking and is also common within the United States. The fruit tends to be roughly the same size as a small apricot, although there is considerable variation in sizes.
The taste can also vary considerably, with some tasting mild and sweet, while others taste sour. While they can be eaten raw, tomatillos are more common in recipes, like salsa, or roasted, which mellows the flavor of the fruit.
23. White Asparagus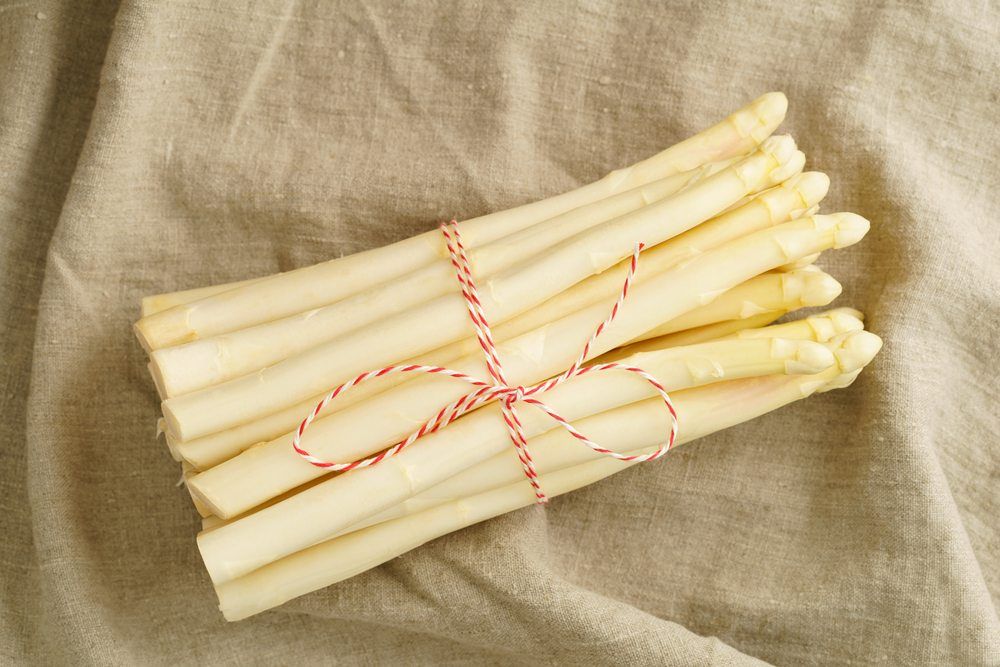 While green asparagus tends to be a common addition to the table, white asparagus is a rarer delicacy, but it can be worth the effort. White asparagus is similar in taste to normal asparagus, although it can be a little milder.
The color difference comes from the way the plant is grown without being exposed to direct sunlight, so it isn't actually a different species or variety of vegetable.
22. Oca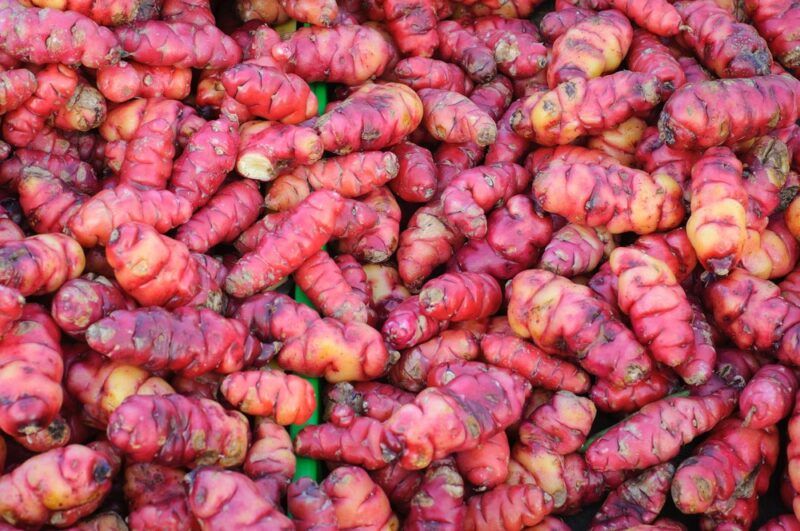 This unusual vegetable has a few different names and is particularly common in New Zealand, where it is simply known as a yam, even though it is not a true yam. Interestingly, the vegetable originated in Peru, where it is still regularly grown today.
The oca is a particularly high source of carbohydrates and energy, although the exact nutrition varies as there are many different varieties of the oca. Oca are commonly roasted, like a potato, but they can also be grilled, fried or even candied. Some varieties are best raw, although other oca varieties only taste good after they have been cooked.
21. Tiger Nut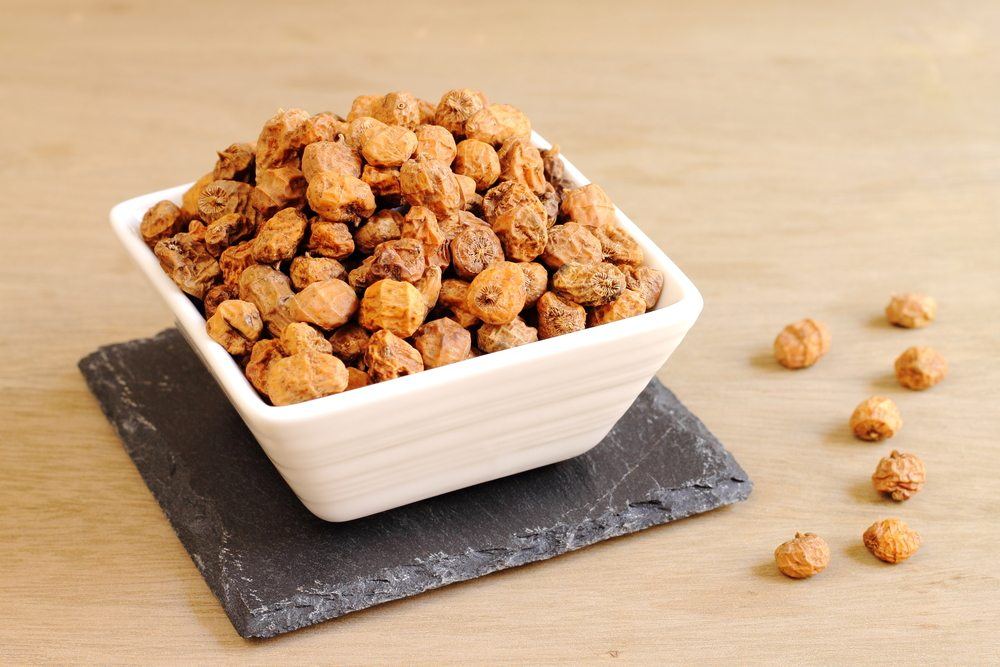 Despite the name, tiger nuts aren't actually nuts at all. Instead, they are a type of tuber, although they do have a slightly nutty and earthy taste.
Tiger nuts make a good alternative to nuts as a snack because very few people are allergic to them and they also tend to be high in fiber and very satisfying.
20. Celeriac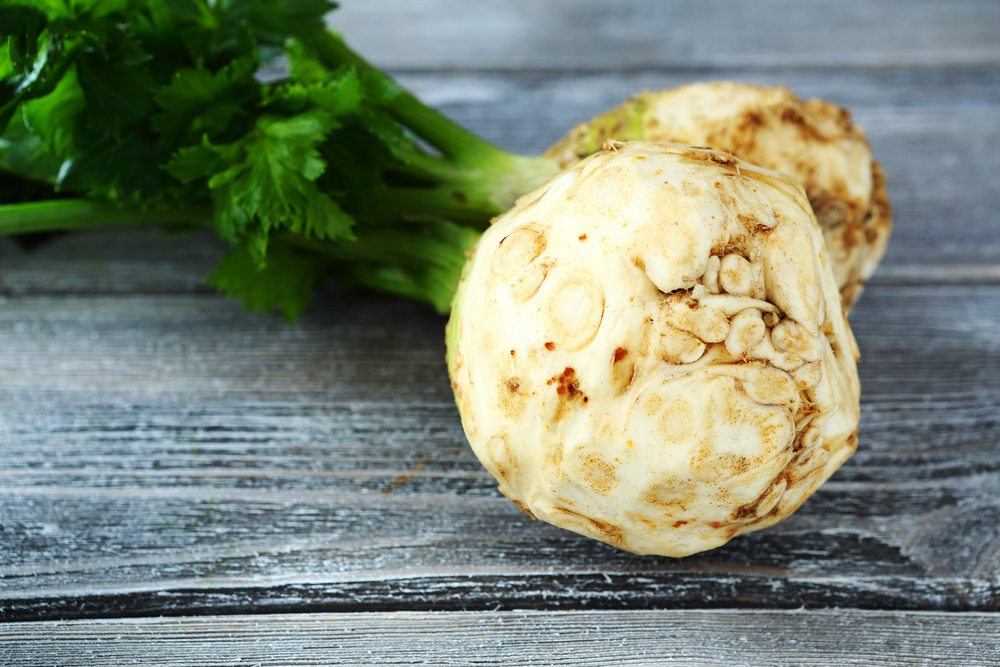 Celeriac is a really good example of an ugly vegetable, but it is also a surprisingly tasty vegetable. Although it is largely unheard of in the United States, celeriac does have a long history in Europe and is frequently used in salads as well as in cooked dishes.
The vegetable is a fantastic alternative for potatoes in meals and can be prepared in similar ways. The advantage of this particular choice is that unlike potatoes, celeriac contains hardly any starch.
19. Kai Lan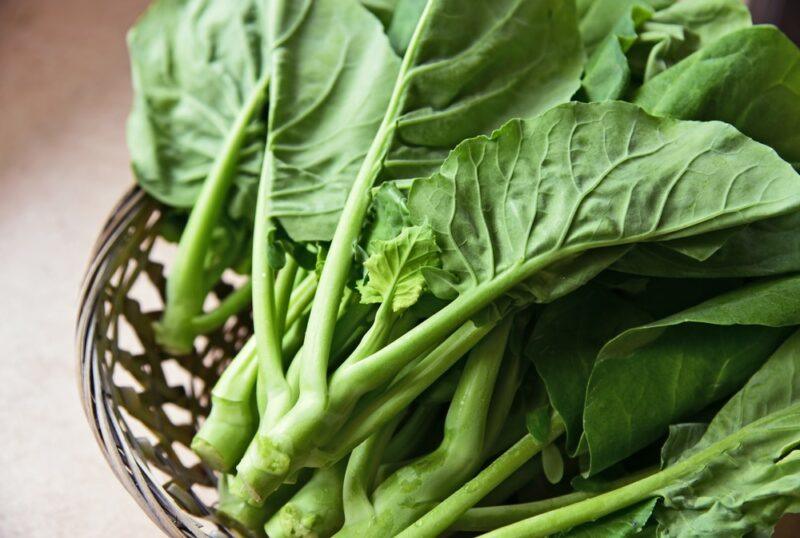 Also known as Chinese kale or Chinese broccoli, kai lan is a very common leaf vegetable in Chinese cooking. It is used in a wide number of ways, including steamed, stir-fried and boiled, and can also be eaten raw. Ideally, the youngest parts of the plant are chosen, as these tend to be the most tender and the sweetest.
18. Nopal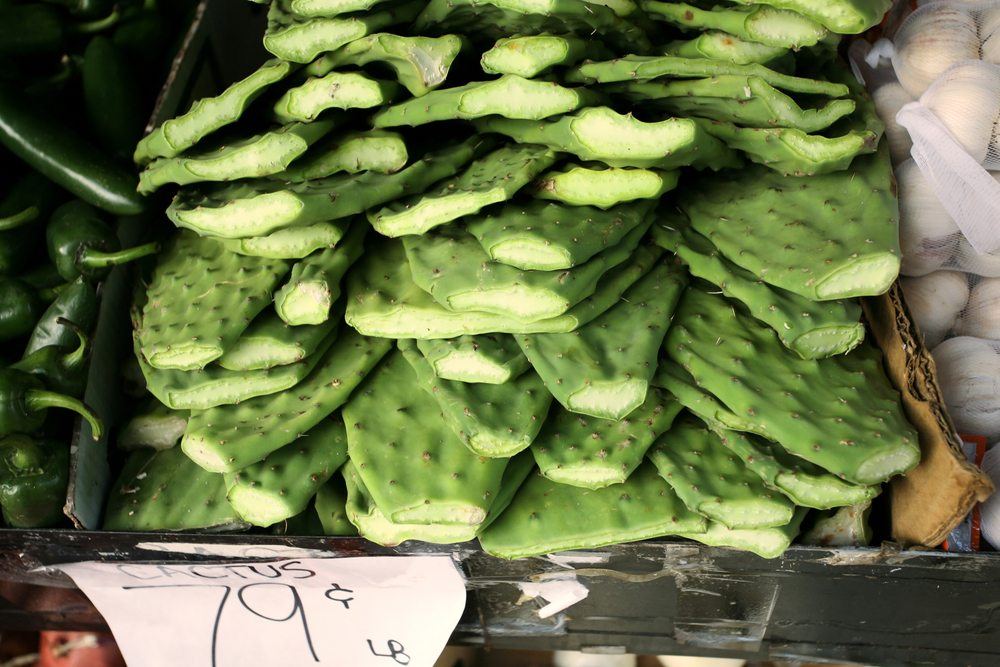 As you can probably tell, nopal is a type of cactus. Specifically, the name refers to cacti from the genus Opuntia, although this encompasses a large number of different species.
Nopal is common in Mexican food, in recipes such as stews, soups and salads, although it is also frequently eaten raw (with the spines removed). Some research has also looked into the plant for its potential role in diabetes management, although more research in the area is needed.
17. Manioc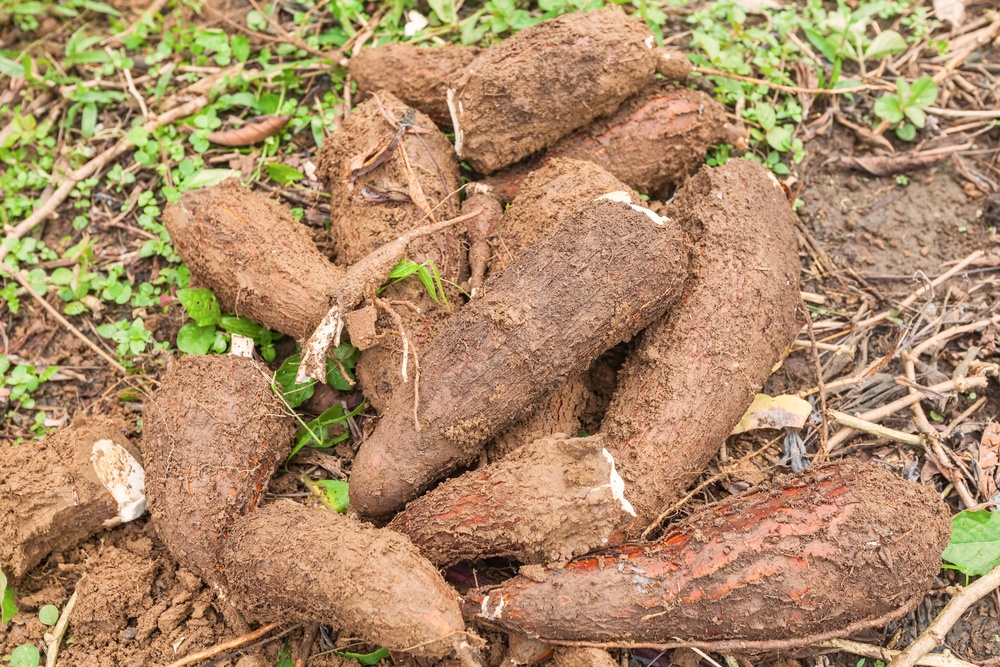 Also known as yucca and cassava, manioc is a common tuber in many parts of the world, acting as a solid carbohydrate base for meals. It is particularly significant because it is drought resistant and very hardy.
The sweet version of manioc is what we commonly eat, and it can be used in much the same was a potatoes. Like potatoes, it also has a mild flavor, which makes it easy to pair with a wide range of seasonings.
16. Yardlong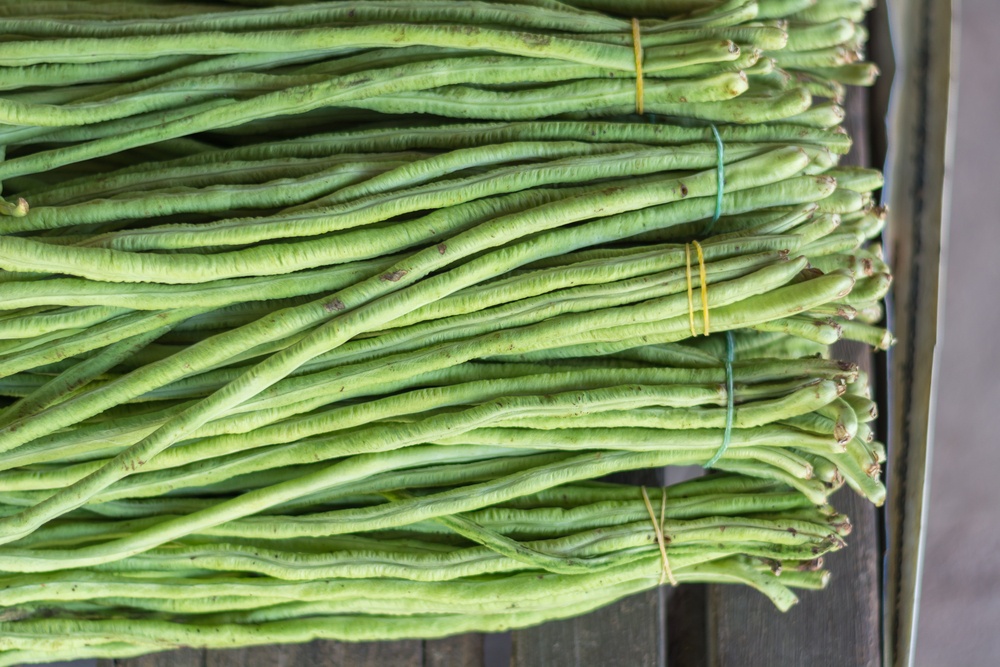 Despite their name, yardlongs tend to only grow to around half a yard in length. Additionally, many consumers prefer the beams when they are around 10-12 inches long, which is typically before the beans have fully matured.
The beans can come in both black-seeded and red-seeded types, although the black-seeded is the most common for human consumption.
15. Apollo Broccoli AKA Broccolini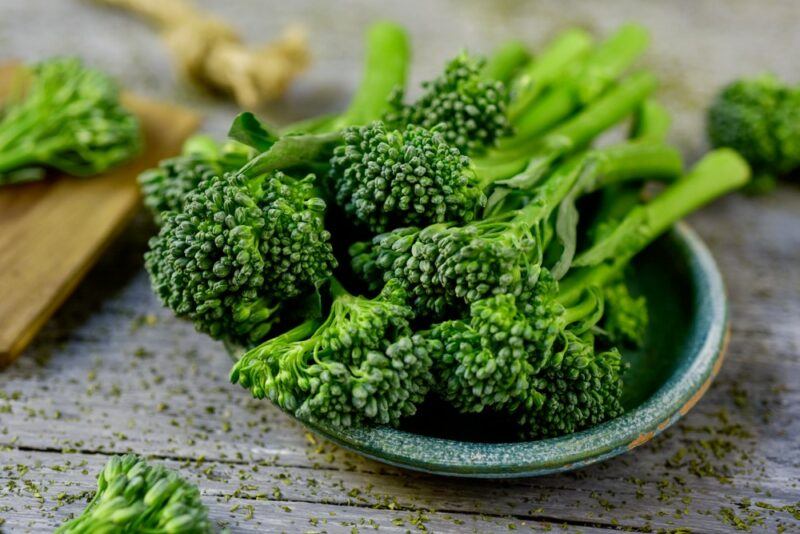 Apollo broccoli has many similarities to regular broccoli, although it tends to have longer stalks and the florets are considerably smaller.
The vegetable is actually a hybrid between kai lan and broccoli, even though people often refer to it as a young version of broccoli. Like broccoli, the whole vegetable can be eaten and it has a taste somewhere between asparagus and broccoli.
14. Dragon Carrot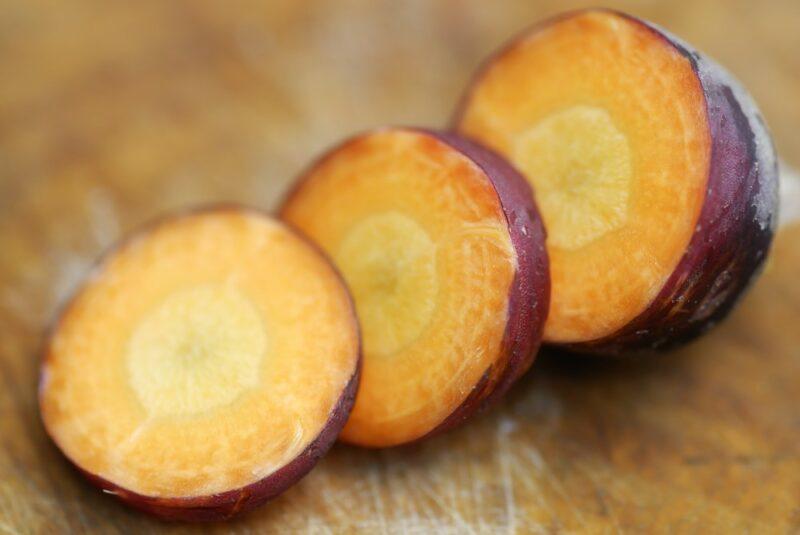 These deep purple carrots are an unusual addition to the garden and to the plate, but they are growing in popularity. The carrots have a complex flavor that offers both spicy and sweet notes.
This makes them a lovely addition to salads or platters, and they have the advantage of really standing out on the plate, although they can also be cooked like regular carrots. Like normal carrots, dragon carrots are easy to grow and the seeds have become relatively easy to find.
13. Red Perilla (Shiso)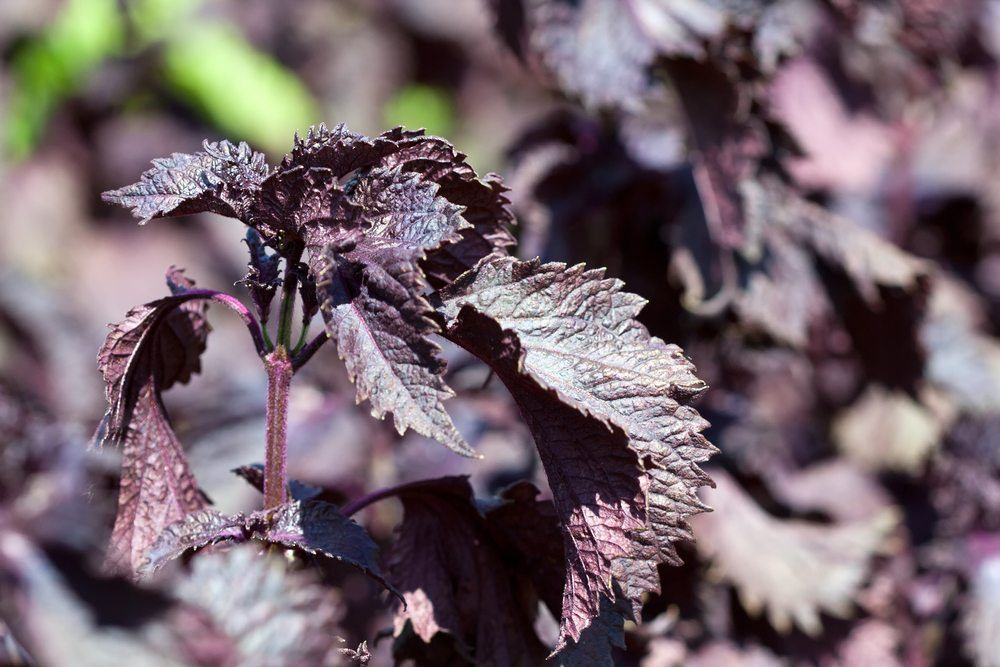 Red perilla is a Japanese herb known for its aromatic leaves. It also has a long history of being used in traditional medicine and as part of tea, although it is now used in many modern Japanese dishes.
The herb is especially useful as a seasoning for a wide range of foods and is often used in the place of basil for cooking. The physical appearance of the herb also makes it popular as an ornamental plant, especially as it has a nice smell and is easy to grow.
12. Chinese Flowering Leek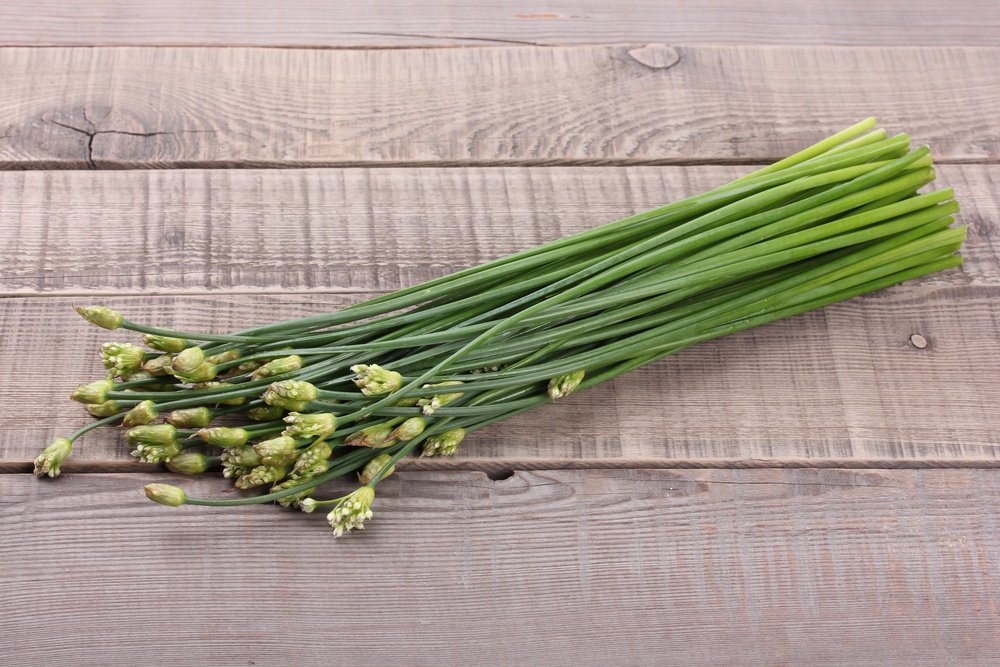 Chinese flowering leek is another vegetable that goes by a lot of names. One particularly common one is garlic chives, which goes a long way in explaining the vegetable and what it is used for.
As that name suggests, the Chinese flowering leek has a similar taste to a chive, but tends to be more garlicky (although not as much as actual garlic). This vegetable can be used in any dish that you would use chives in, although the difference in taste means that you can be more liberal than when using normal chives.
11. Winter Squash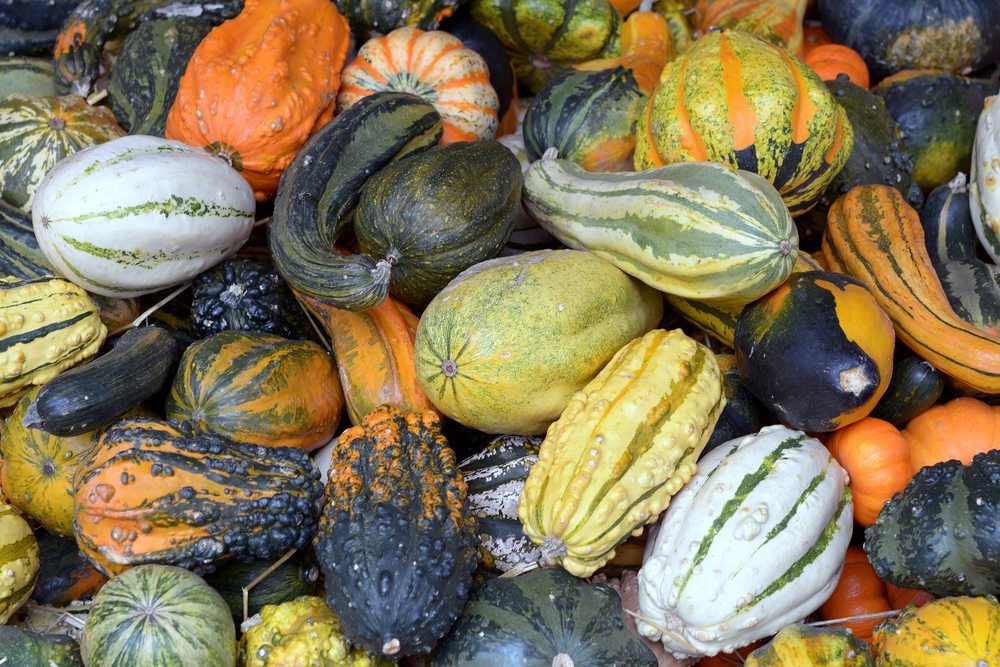 Winter squash is a type of summer-growing fruit and the term encompasses a number of different species of squash.
The name specifically refers to varieties of squash that are harvested once they are fully matured. At that point, the seeds of the squash have developed fully and the rind of the fruit forms a tough rind.
Typically, the fruit is eaten cooked. Pumpkin is the most common example of a winter squash and another example is spaghetti squash, although there are many other types of winter squash.
10. Winter Melon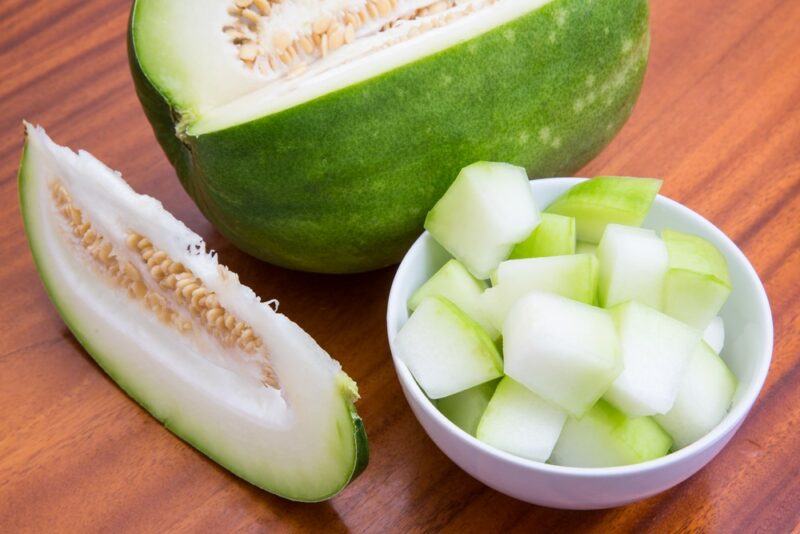 Winter melon is one of only a few types of vegetables that grow in the winter in countries like China, hence the name. Despite appearances, winter melon is considered a vegetable and the flesh of the fruit is savory, not sweet.
As such, it is eaten in many savory dishes, such as stir-fries, soups and curries. The melons are also large, growing to weight more than 30 pounds when they are fully matured, and are often sold by the slice because of this.
9. Wax Gourd

This interesting vegetable also goes by the name winter melon, white gourd, and even Chinese watermelon. It's native to Asia and is frequently used as an ingredient in curries and soups. The vegetable even sometimes features in drink recipes. 
The other notable feature of the gourd is its size. It grows much bigger than you'd expect, sometimes reaching more than 30 inches in length. That means there's plenty of the melon for whatever recipe it's being used in.  
8. Chinese Water Spinach AKA Hollow Heart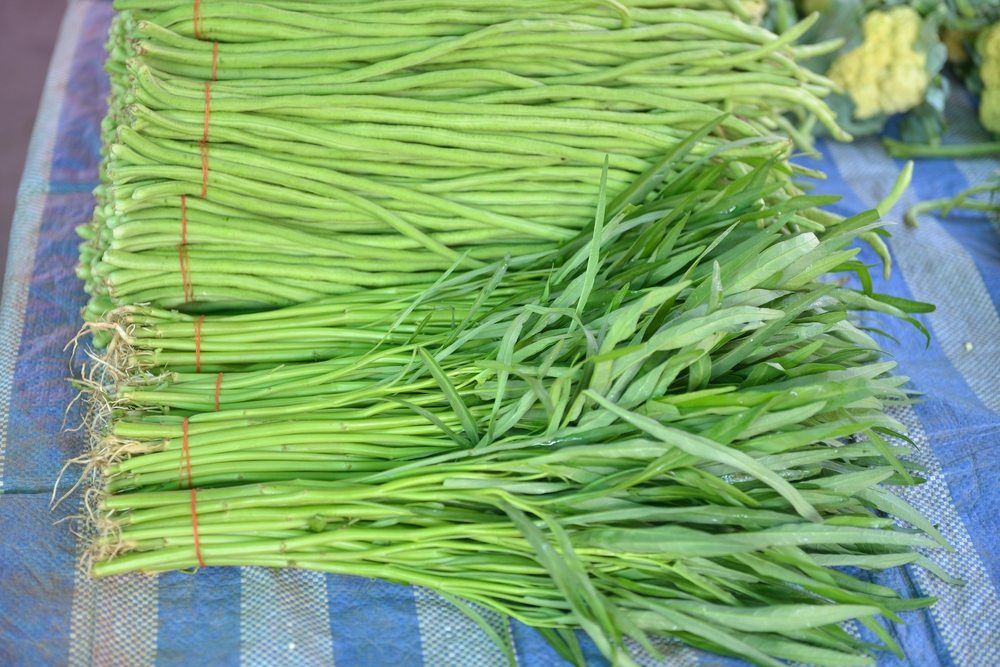 Many people have either never heard of Chinese water spinach or overlook it entirely, but the vegetable is a good ingredient in cooking and also tastes great raw.
The stems of the vegetable are hollow and are easy to chew and digest raw without issue. The best way to cook the vegetable is to stir-fry it and you want the water spinach to remain green and crunch once it is cooked.
7. Lotus Root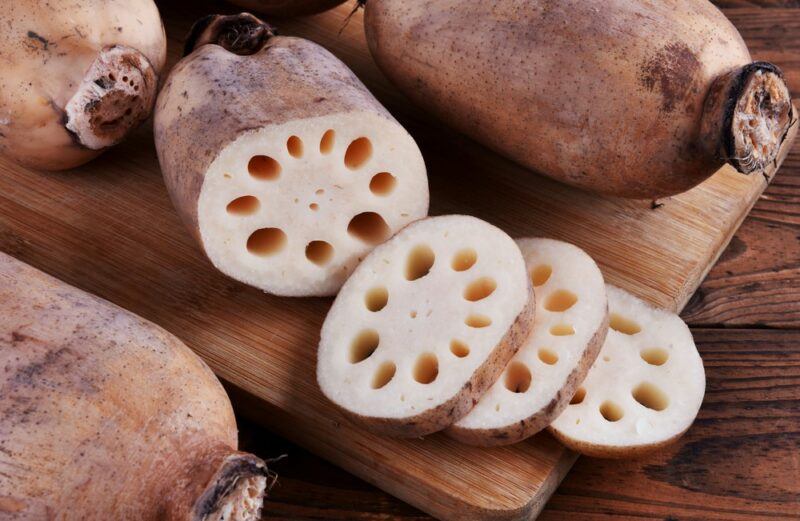 Lotus root has to be one of the weirdest vegetables that I have ever seen, yet at the same time, it is also a pretty interesting ones.
The root is a good source of fiver in the diet and also contains some valuable vitamins and minerals, which can make it a valuable addition to the diet.
Mature lotus root should be cooked (rather than eaten raw), but the options for cooking are extensive. Boiling, braising, stir-frying and even deep-frying are all viable options for lotus root, although stir-frying is by far the most common approach.
6. Bitter Melon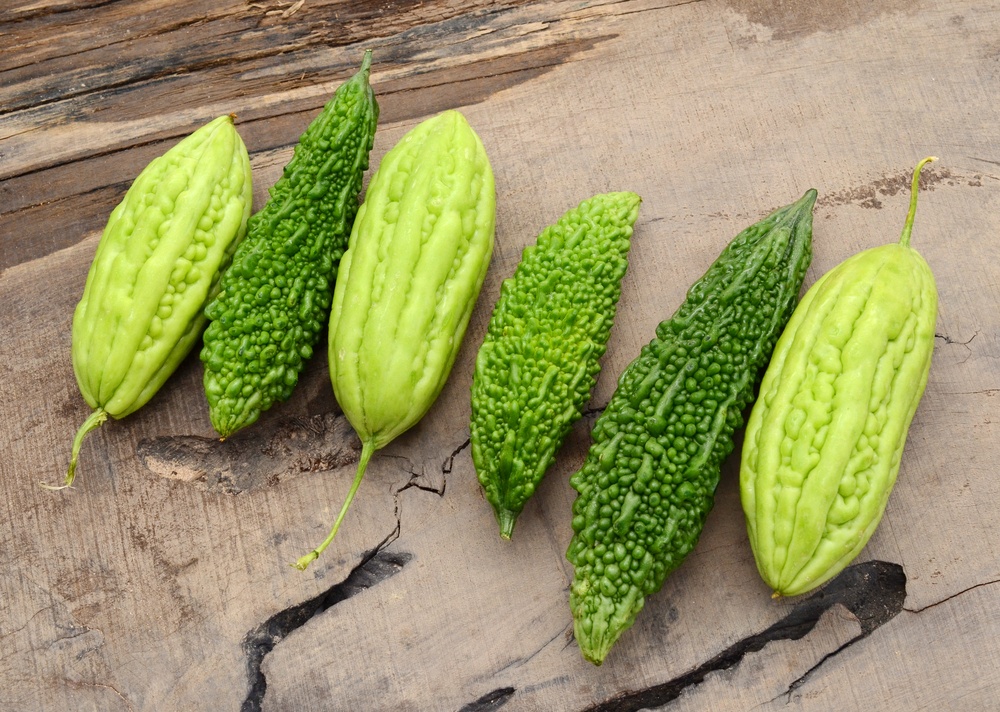 Bitter melon comes in a number of different varieties, sizes and shapes. Two of the most common are the Chinese variety, which is light green and has relatively few ridges, and the Indian variety, which is a darker green with a greater number of ridges.
When the fruit is ripe, the surface turns a yellow or orange color, but typically, bitter melon is eaten cooked either in the green stage or when it is just beginning to yellow.
5. Silk Squash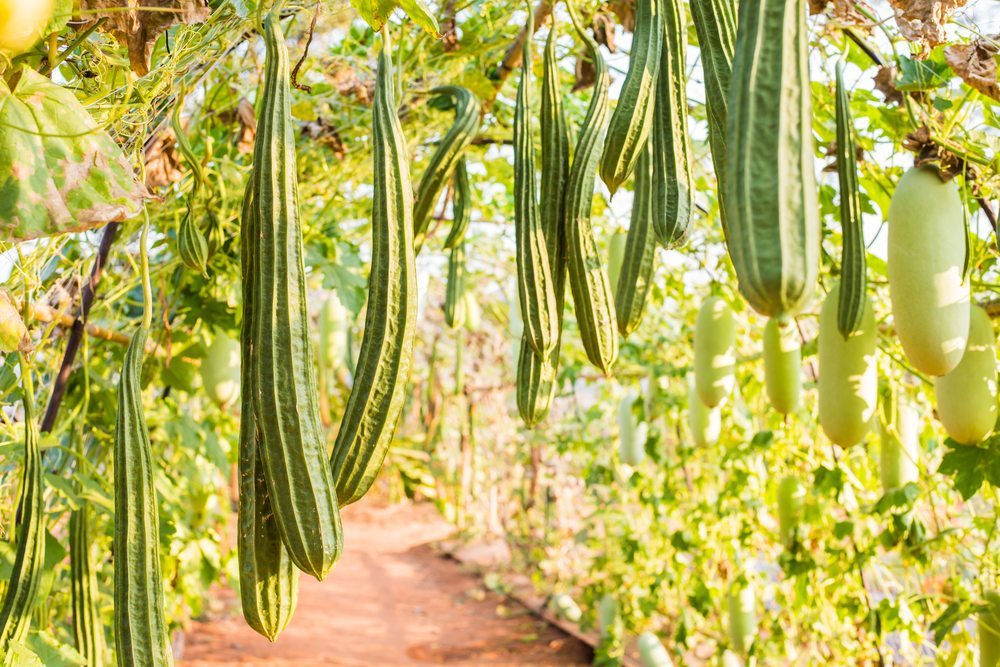 Silk squash is a particularly common vegetable in China, partly because of the taste of the vegetable and partly because of health benefits that some people associate with it.
As with some other vegetables, silk squash is not eaten when it is fully mature and mature silk squash tends to have a bitter taste. Instead, the immature silk squash are used, and they are commonly steamed, deep-fried or stir-fried depending on the specific recipe.
Silk squash can also be substituted into any recipe that calls for zucchini.
4. Bamboo Shoot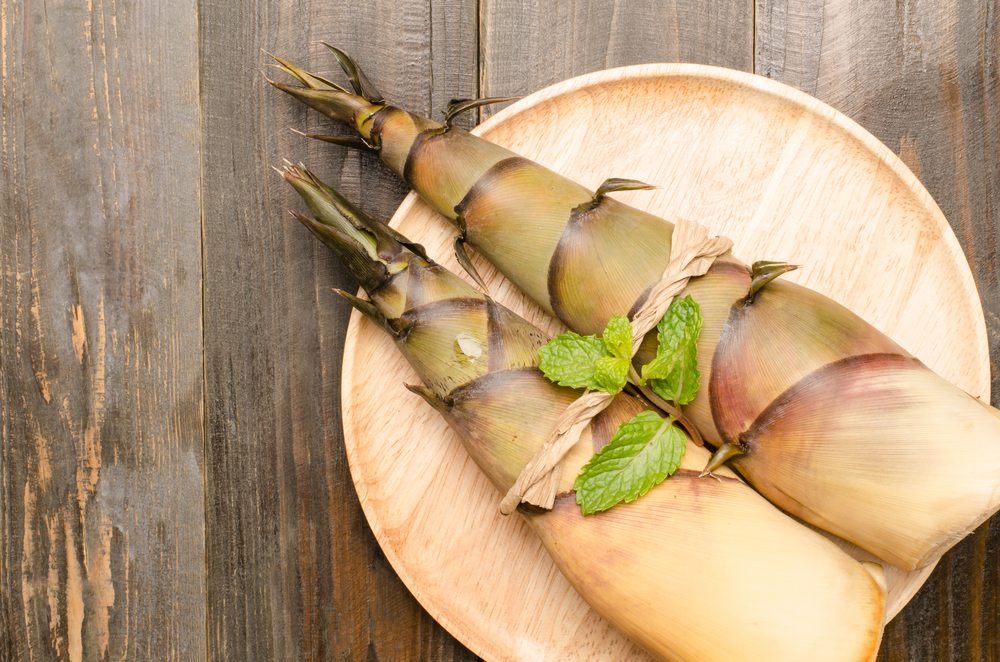 Most people probably know that bamboo shoots exist, but the idea of them being used as food is less common. These shoots are particularly common in Asian dishes and can be purchase in a range of different sizes and shapes, as well as canned, dried or fresh, depending on where you look.
The shoots are rich in nutrients, particularly protein and a number of important amino acids. At the same time, they are relatively low in both fat and sugar, making the shoots a particularly good choice for healthy eating.
3. Saltwort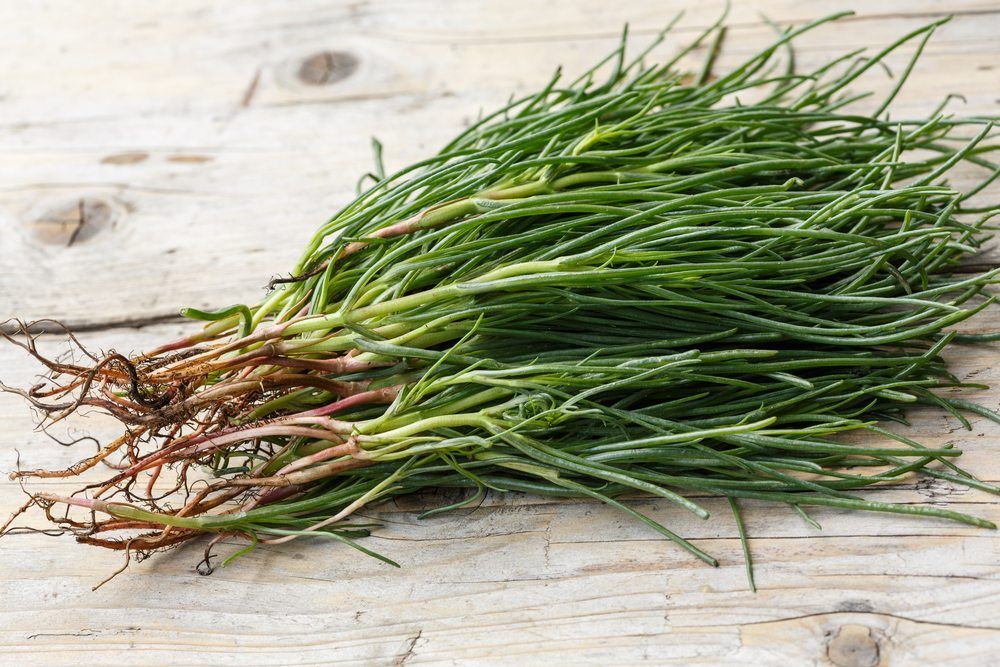 The term saltwort refers to a large number of different plants that grow well in salty environments, such as along the seashore and in salt marshes.
While the species are often not related, they tend to have a number of similarities and many are particularly good choices for the dinner table. If grown in the garden, saltwort tends not to be salty and instead has its own subtle and unique taste that can be quite appealing.
2. Daikon Radish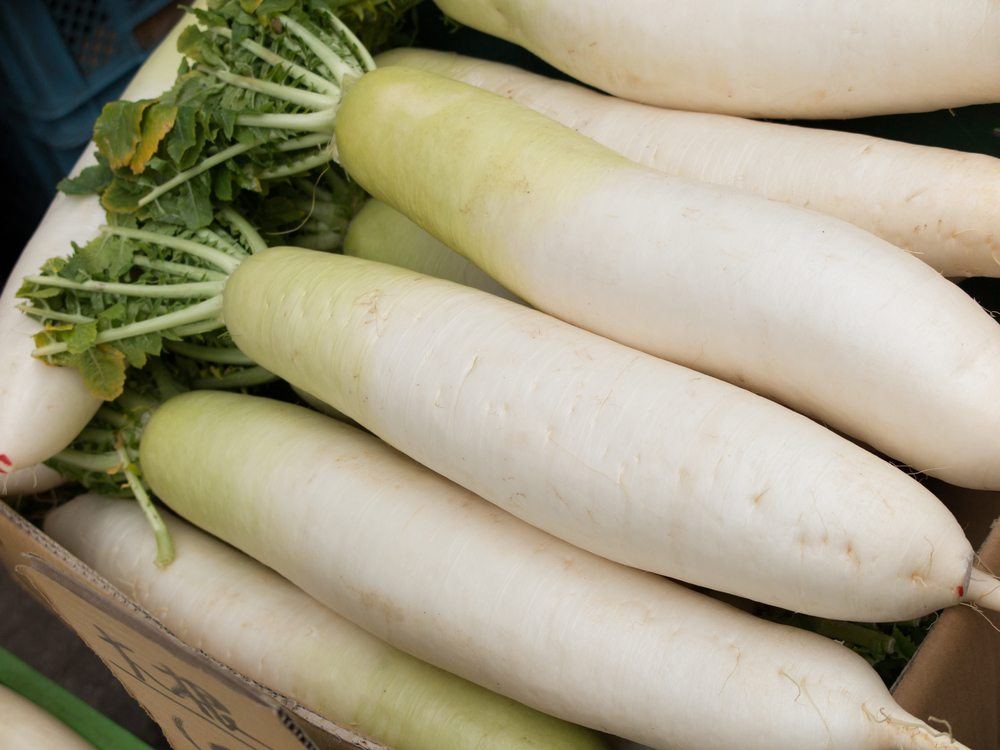 Daikon radish is a mild-tasting white radish that is relatively low in calories and high in some nutrients. Some claim that the radish is a superfood and can help to improve health.
Regardless of whether this is accurate or not, daikon radish is a good addition to a number of meals, and can be eaten raw or cooked, depending on your preference. In cooking, daikon radishes can be used is most recipes that call for turnips.
Typically, the smaller radishes are best for raw eating, while the larger ones should be cooked, as the taste can change with size.
1. Calabash AKA Bottle Gourd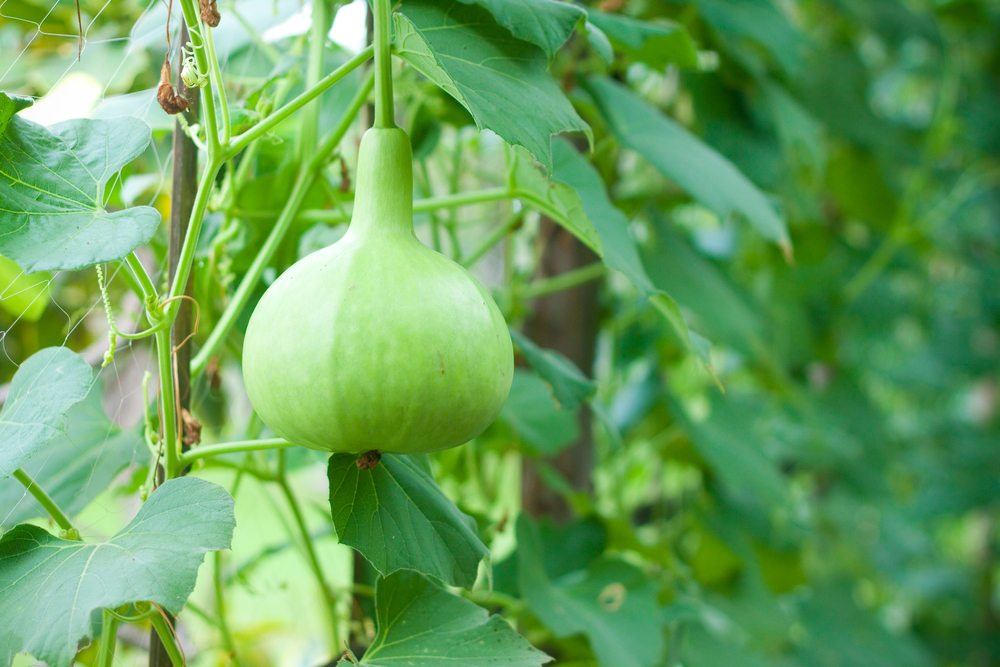 The calabash is an interesting fruit. When young and immature, the fruit can be harvested and used as a vegetable.
This use is common across a number of different cultures, including in Chinese cuisine, in Pakistan and in Vietnam. However, when the fruit is fully matured it is often dried and used as a bottle.
In fact, the plant has been commonly cultivated for the usefulness of the matured fruits, rather than the potential use of the immature fruit as a vegetable.