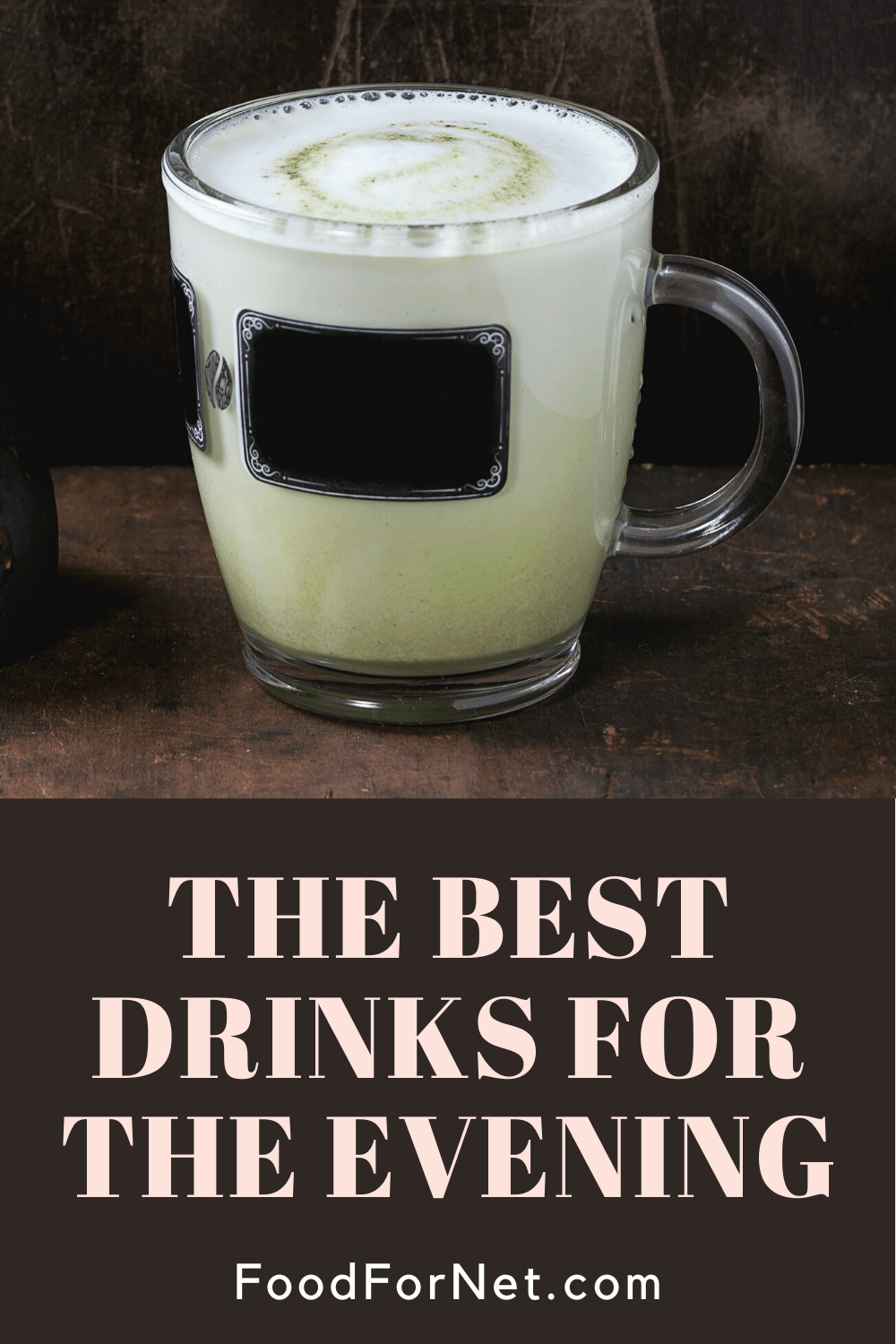 The evening is often the time to wind down, to relax, and take stock of the day. What you choose to eat and drink can help or hinder this process. Finding the best drinks to drink in the evening is critical if you want to end the day well.
Most of us already know that drinking coffee in the evening is a bad idea. The caffeine boost can make sleep difficult, especially if you're sensitive to caffeine anyway.
What do you choose instead? Well, that's where this list comes in. We're highlighting various choices that work well for most people. Some have been chosen because they are comforting, while others may have specific compounds that might help to promote sleep.
We're mostly focusing on non-alcoholic drinks in this list (with the notable exception of a hot toddy). If you're looking for something alcoholic instead, check out our list of evening cocktails.
We also have other drink lists, including morning drinks and lunchtime drinks, along with healthy drinks with honey and healthy drinks with ginger.
Best Evening Drinks
Water
Lemon Water
Hot Chocolate
Decaffeinated Green Tea
Warm Milk
Warm Milk With Honey
Malted Milk
Almond Milk
Valerian Root Tea
Chamomile Tea
Herbal Tea
Peppermint Tea
Turmeric Latte
Tart Cherry Juice
Hot Toddy
Hot Lemon Drink
Coconut Water
Pumpkin Spice Latte
Water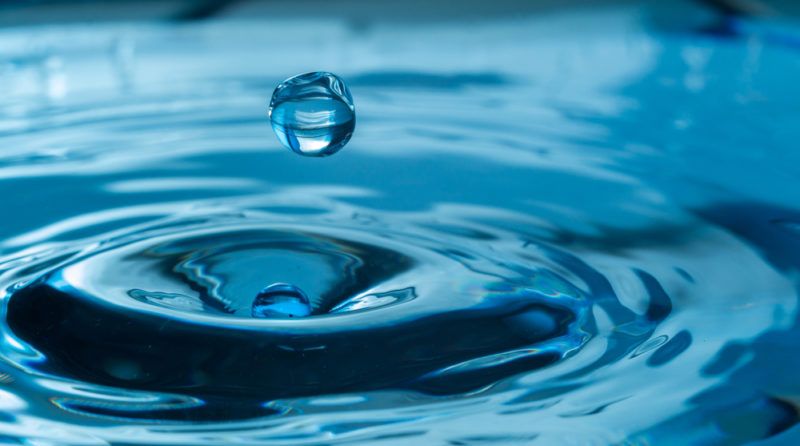 Water is the absolute best thing to drink in many situations. Our bodies need water to function well, yet many of us drink less than we should much of the time. Staying hydrated is important at any time of day, including the evening. After all, going to bed thirsty isn't going to help you to sleep.
Of course, watching your water intake is important too. Try not to drink too much right before bed, or you'll be up and down throughout the night.
Lemon Water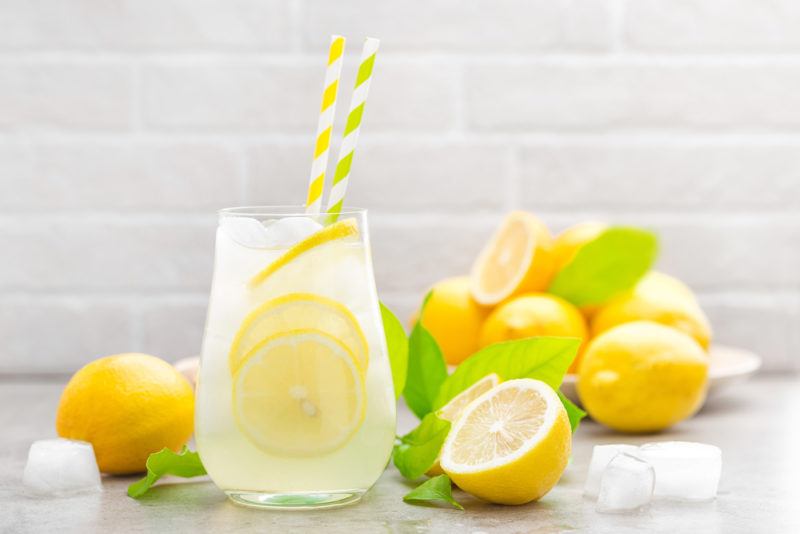 If plain water isn't appealing, lemon water is a great alternative. The drink is simply water that has a little lemon juice squeezed in. Some people choose to leave sliced lemons in water overnight instead, which creates a slightly different effect.
Lemon water is often touted as being amazing for health. This claim is sometimes debated, as you don't even get that much lemon juice with the drink.
Still, if nothing else, lemon water is an easy way to stay hydrated. You can also heat the water slightly to make it more enjoyable again.
Hot Chocolate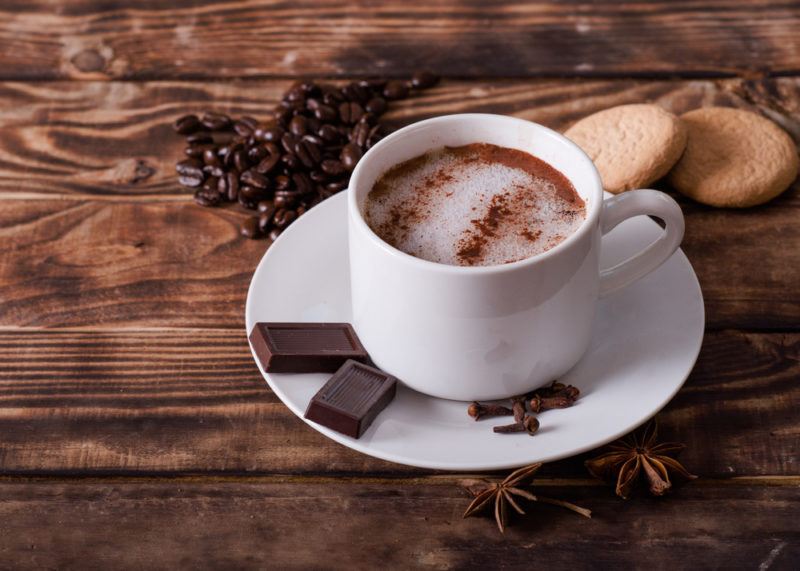 What's not to love about a hot chocolate? The drink is warming, creamy, chocolaty, and delicious. It also gives you access to some important phytonutrients from cocoa, while being caffeine free.
How you make your hot chocolate will influence the effect that it has on you. For example, commercial hot chocolate mixes tend to be high in sugar and additives. These can end up tasting very sweet and might even give you a sugar rush.
You'll generally get better outcomes by relying on a high-quality cocoa product, one that has a high percentage of cocoa. At least 75% is a good place to begin and the benefits tend to increase as the cocoa percentage does.
Decaffeinated Green Tea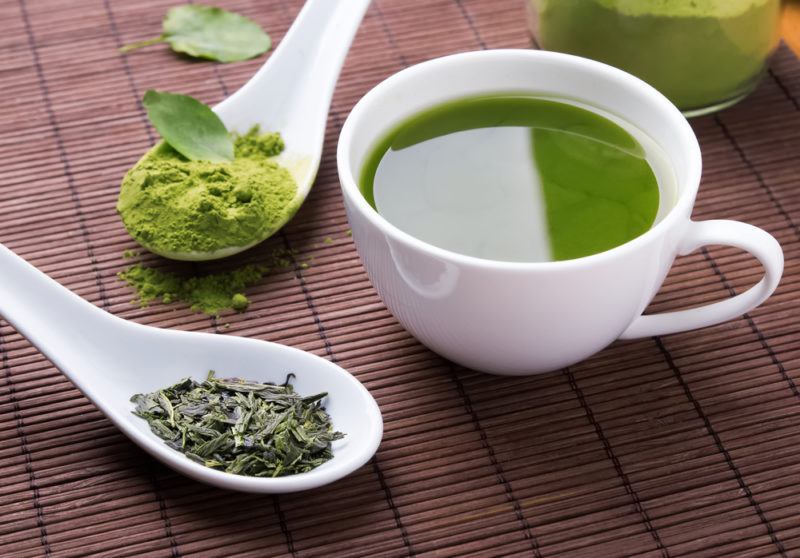 At this point, the health benefits of green tea are largely undisputed, and people who drink green tea regularly tend to be healthier than those who don't. Many of the effects come from the phytochemicals present in the tea leaves.
Green tea contains less caffeine than coffee, but it does still have some caffeine. So, if you're going to be drinking the tea in the evening – decaffeinated is best. Thankfully, many brands offer decaffeinated green tea, giving you a variety of products to choose from.
Warm Milk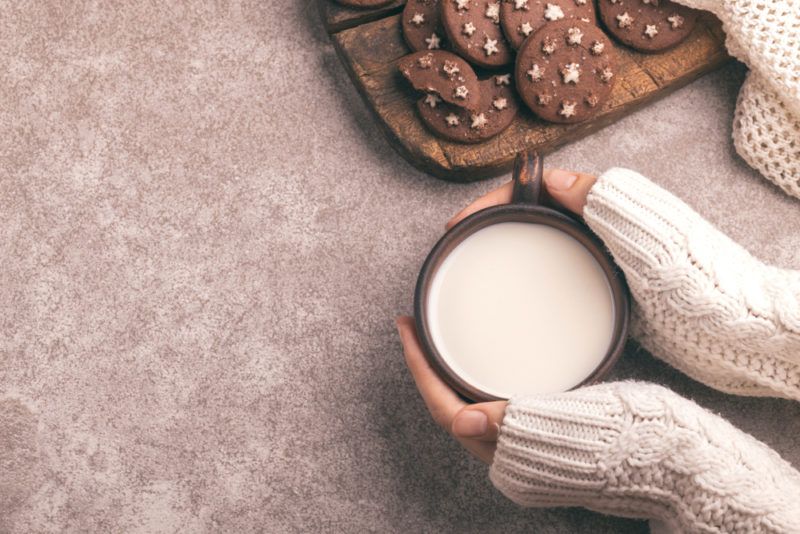 Warm milk is a soothing evening drink that is thought to help you sleep. The idea is so popular that warm milk has become a bedtime routine for many, especially for people who struggle to wind down at the end of the day.
The idea does have some merit, as milk contains l-tryptophan and melatonin, both of which could help you to feel better and to sleep. However, modern research suggests that the levels of both compounds are too low to actually impact your sleep.
Still, don't throw out the idea of warm milk just yet. Whether it helps sleep or not, warm milk is a comforting drink that many people love. It has many important nutrients too, including potassium. It doesn't contain any caffeine either.
And honestly, warm milk at night might help you to sleep simply because you expect it to. There is a psychological aspect to our ability to fall asleep, after all, so if you find a comforting drink that you enjoy, why not have it regularly?
Warm Milk With Honey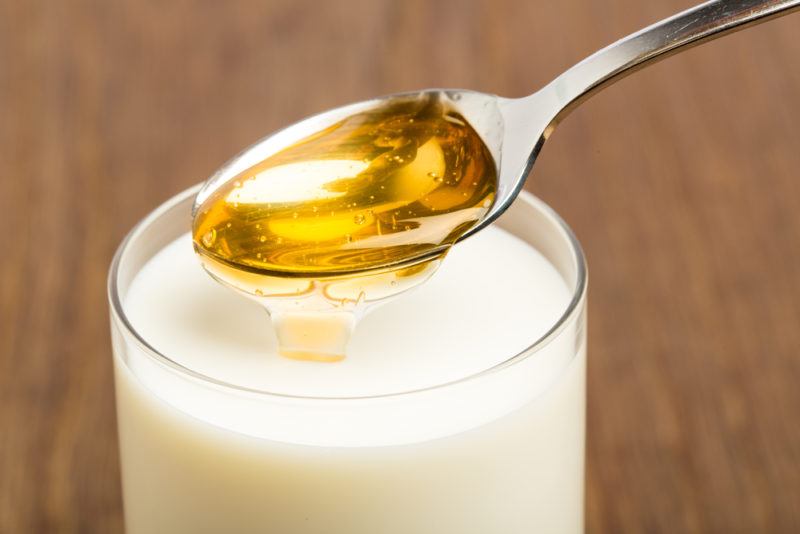 If you want something a little more interesting, try warm milk and honey. The honey adds some sweetness and extra flavor to your milk, creating a drink that is simple and delicious.
Honey also has antibacterial properties and contains various trace elements. Both of these aspects can be important for keeping you healthy.
Malted Milk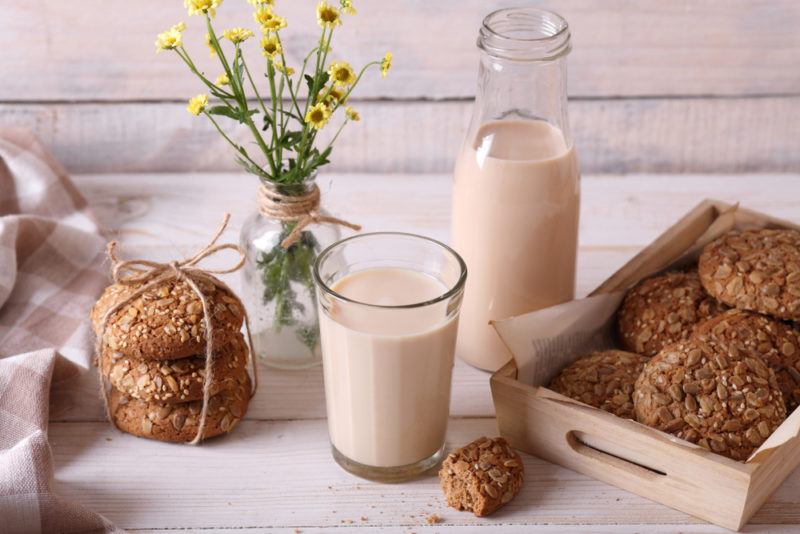 Malted milk products, like Ovaltine or Horlicks, are another interesting choice. These products contain various nutrients, while many people find the malty flavor to be relaxing too.
Just be sure to check the ingredients label to be sure that the product is a good fit for you. Some people might find that these brands are too sugary or have too many artificial ingredients.
Almond Milk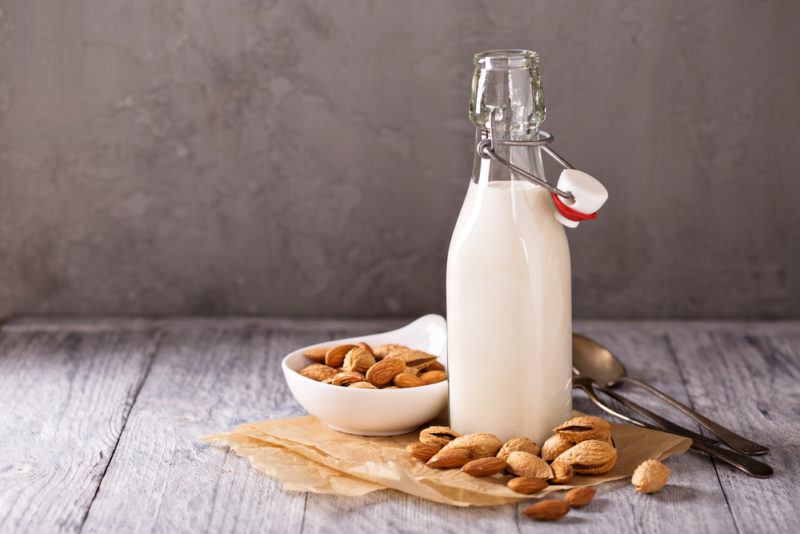 While some people drink dairy milk regularly, others may want to avoid it, particularly before bed. Thankfully, there are various plant-based milks to choose from, including almond milk.
Almond milk is interesting. As the name suggests, this milk alternative is created from almonds. But, truth be told, any almond milk that you buy will be mostly water.
This isn't entirely bad, as water is good for you and almond milk will keep you hydrated. This aspect alone makes almond milk a good choice in the evening. Still, if you want more nutrients from almonds, you'll need to make almond milk at home.
Almond milk might be good for sleep too, as it contains some magnesium and tryptophan. The levels of both compounds are low, especially in store-bought almond milk. Still, the beverage tastes good and can be soothing if you heat it up, so why not use almond milk as an evening drink?
Valerian Root Tea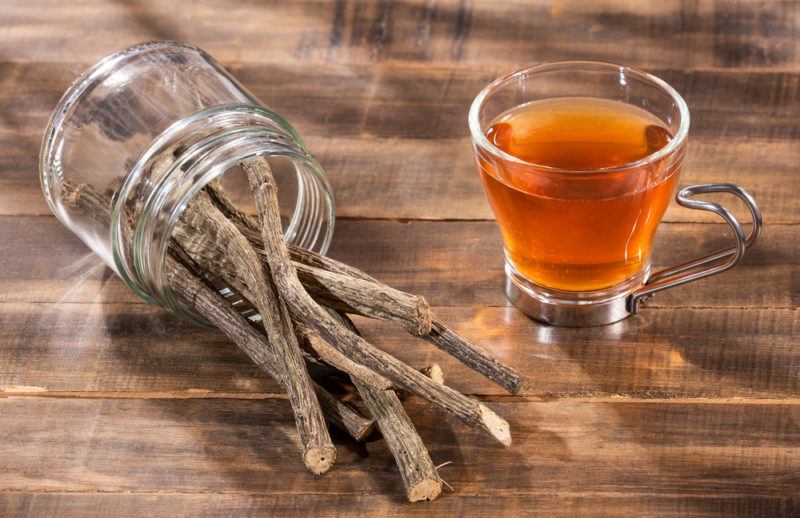 Valerian root is considered a sedative, so it makes perfect sense that valerian root tea is a good choice in the evenings. As part of this effect, the tea might help to promote calmness, while reducing anxiety and a sense of stress.
While you may sometimes find valerian root on its own, it is mostly found in herbal tea mixtures, ones that contain multiple herbal ingredients. The other ingredients may help to promote calmness and sleep too. Lemon balm and chamomile are two examples.
If you just want valerian root and no other ingredients, you might need to make the tea yourself from valerian root. Doing so takes a little patience, especially as it may take a while to source the root. Still, making tea in this way gives you full control over the ingredients.
Chamomile Tea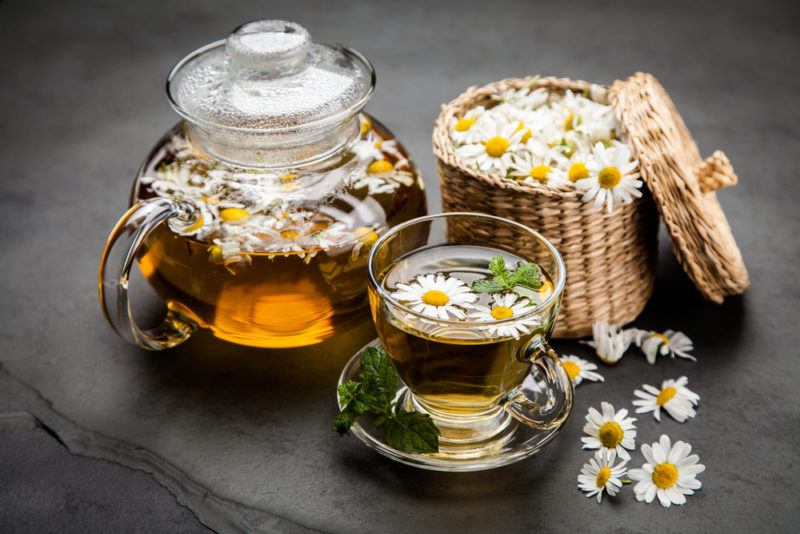 Chamomile tea is another classic choice for promoting sleep. This time you can easily find chamomile tea on its own or as part of a mixture with other sleep-promoting herbs.
As is the case with most sleep-related items, the effects of chamomile tea vary. Some people find that the tea does help them to sleep better, while others experience no benefits at all. But, even if the tea doesn't help you to sleep, it's still a relaxing caffeine-free evening drink.
Herbal Tea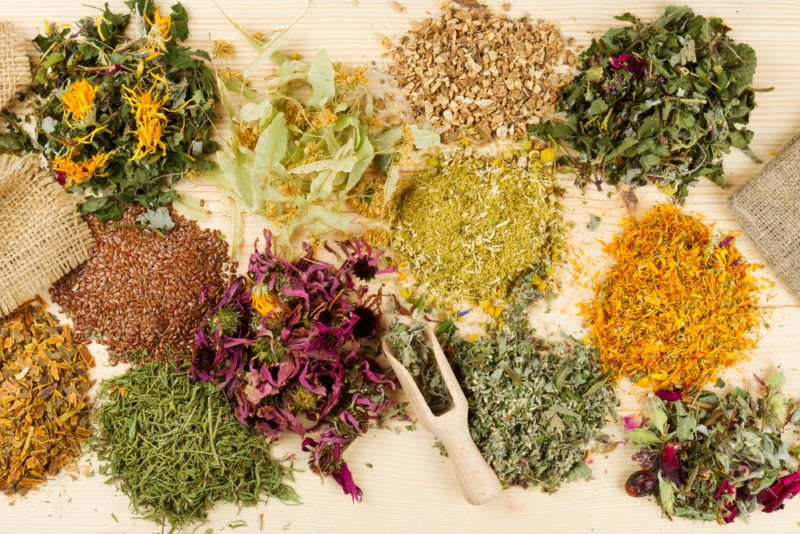 Valerian root and chamomile tea might be especially relevant for sleep, but any type of herbal tea is going to be good in the evening. After all, most herbal teas don't contain caffeine at all.
There are also countless herbal teas to choose from. Some rely on extracts from a single plant, like licorice root tea, while others might use multiple plants and possibly a sweetener or two.
There are even some herbal teas designed specifically for evening drinking. These teas are often soothing and can have a mellow flavor. They may be marketed as being for the evening, for de-stressing, or for sleep, so this type of tea should be easy to find.
Peppermint Tea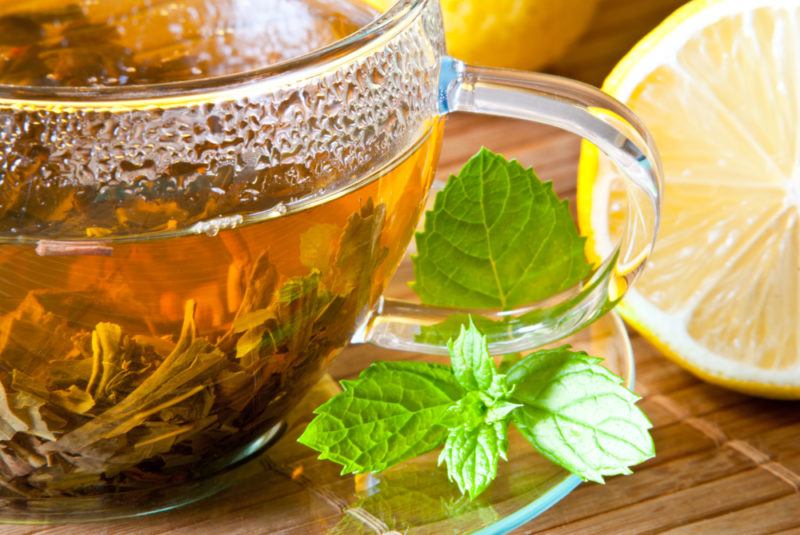 We could go on and on with herbal teas, but here's one last example that's perfect for the evenings. Surprisingly, peppermint tea has similar properties to chamomile when it comes to promoting sleep.
The fragrance of peppermint can also help to decrease stress. This effect is perfect for anyone who is settling down after a busy day or simply has too many things on their plate.
Turmeric Latte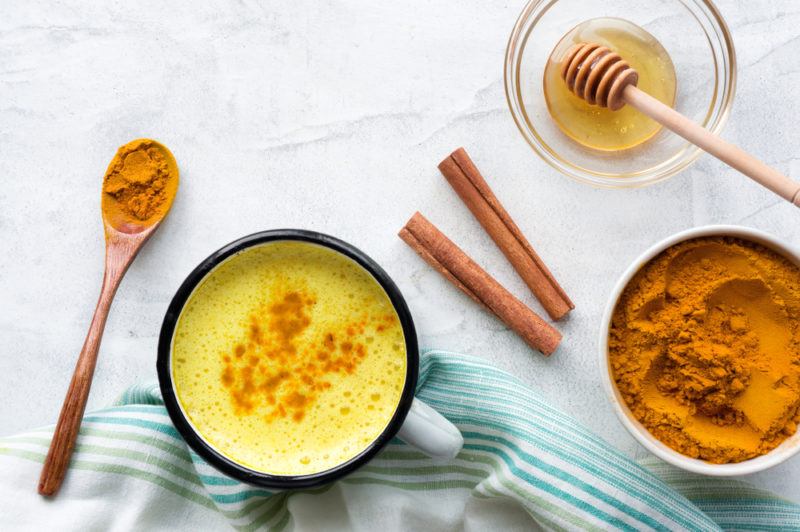 Despite the name, a turmeric latte isn't a coffee-based drink at all. Instead, the main ingredients are plant-based milk and turmeric. Various other spices might be included too, with ginger and cinnamon being especially common.
The drink is mostly popular as a way to increase turmeric intake. After all, turmeric is a tasty spice, one that has also been linked to various benefits.
A turmeric latte is naturally caffeine-free, which is one reason that it works so well in the evening. Most versions are dairy-free too, which is ideal for anyone who is worried about congestion.
Tart Cherry Juice

Cherries are a natural source of melatonin. While you can simply eat cherries, drinking cherry juice instead gives you a more concentrated source of the compounds.
Tart cherry juice is by far the best choice. This type of cherry juice tends to be richer in beneficial compounds than regular cherry juice. Tart cherry juice is lower in sugar too. So, there's little risk of giving yourself a sugar buzz right before bed.
Melatonin isn't the only reason to drink tart cherry juice either. The beverage contains many important phytonutrients and could affect your health in many ways. The taste is intense but appealing.
Hot Toddy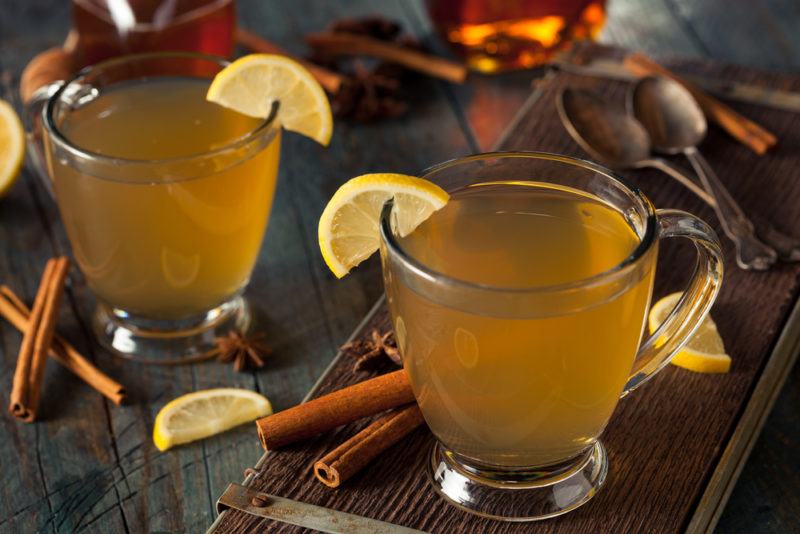 A hot toddy remains a popular nightcap and it's easy to see why. The drink has most of the hallmarks of a healthy winter warmer, with the ingredients including lemon juice, honey, and hot water. Spices may be added in too, like ginger and cinnamon.
The distinctive feature of a hot toddy is a splash of alcohol – often whiskey. The alcohol makes the drink even more warming.
A hot toddy can even be useful as a way to get to sleep, as alcohol does help you to relax. Of course, there is a flip side to this, as you shouldn't be relying on alcohol to sleep, making it best to enjoy a hot toddy every so often, rather than having one nightly.
Alcohol can also decrease the quality of your sleep. You'll often get the best outcomes by including a small amount of alcohol in your hot toddy, less than you might in a whiskey cocktail. You can experiment with the ingredients to find the best balance for your needs.
Hot Lemon Drink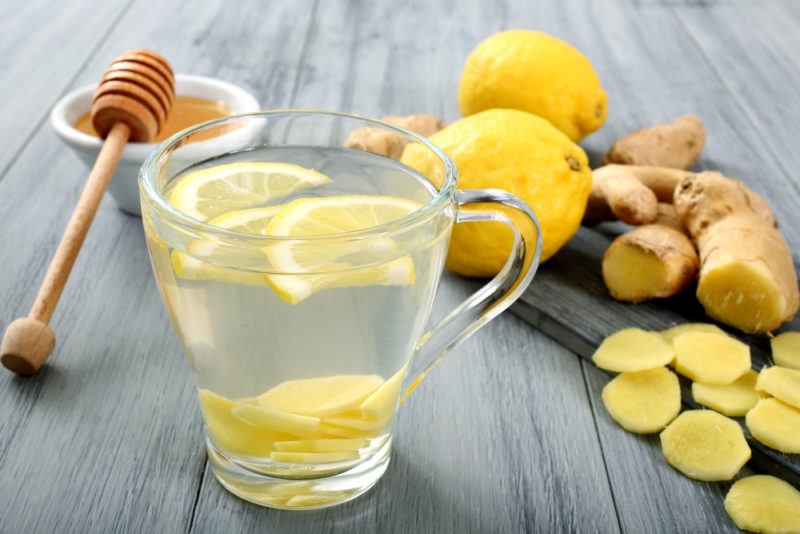 A hot lemon drink offers most of the same benefits as a hot toddy, without the alcohol. The simplest version of this drink just involves combining lemon juice with hot water.
Of course, you mightn't want to stop there. Honey is a good addition, as this provides some sweetness, along with trace minerals.
Once again, you can add spices to the mix too. Consider turmeric, cinnamon, and ginger as great places to begin. Fresh ginger root can be more powerful than powdered ginger, although this does require a little more work on your part.
Coconut Water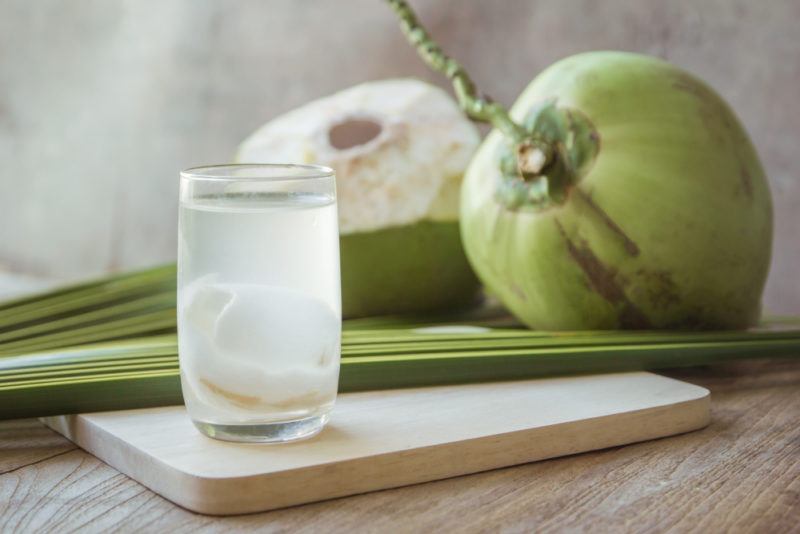 Coconut water is often promoted as a way to boost energy, which is why it is often consumed in the morning or throughout the day. Yet, coconut water works well in the evening too.
For one thing, the effects on energy aren't dramatic. You certainly won't see the same energy boost with coconut water that you get with a cup of coffee. This means that coconut water shouldn't make it more difficult to sleep.
In fact, coconut water could even help with sleep. It contains magnesium and potassium, which are often linked to muscle relaxation. Magnesium supplements are sometimes recommended to help promote sleep.
Pumpkin Spice Latte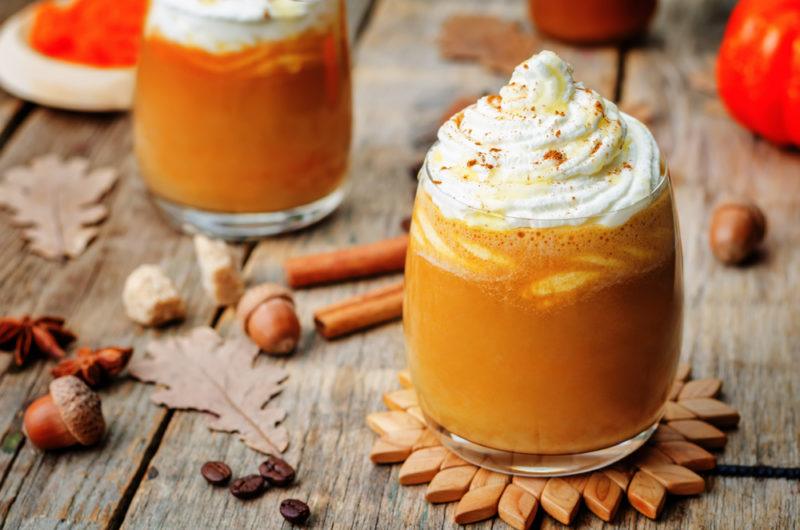 Pumpkin spice lattes have become a classic fall drink. While they're often decadent and packed full of sugar, you can make healthy versions that are perfect for the evening.
The main ingredients in a pumpkin spice latte include pumpkin puree, spices, vanilla, and some type of milk. You could use dairy milk or a plant-based milk. Either option works well.
Most pumpkin spice lattes do use coffee, which isn't a good choice in the evening. If you still want the coffee flavor, try using decaffeinated coffee instead. You could also just skip the coffee. As it turns out, a pumpkin spice latte still tastes delicious even with no coffee at all.