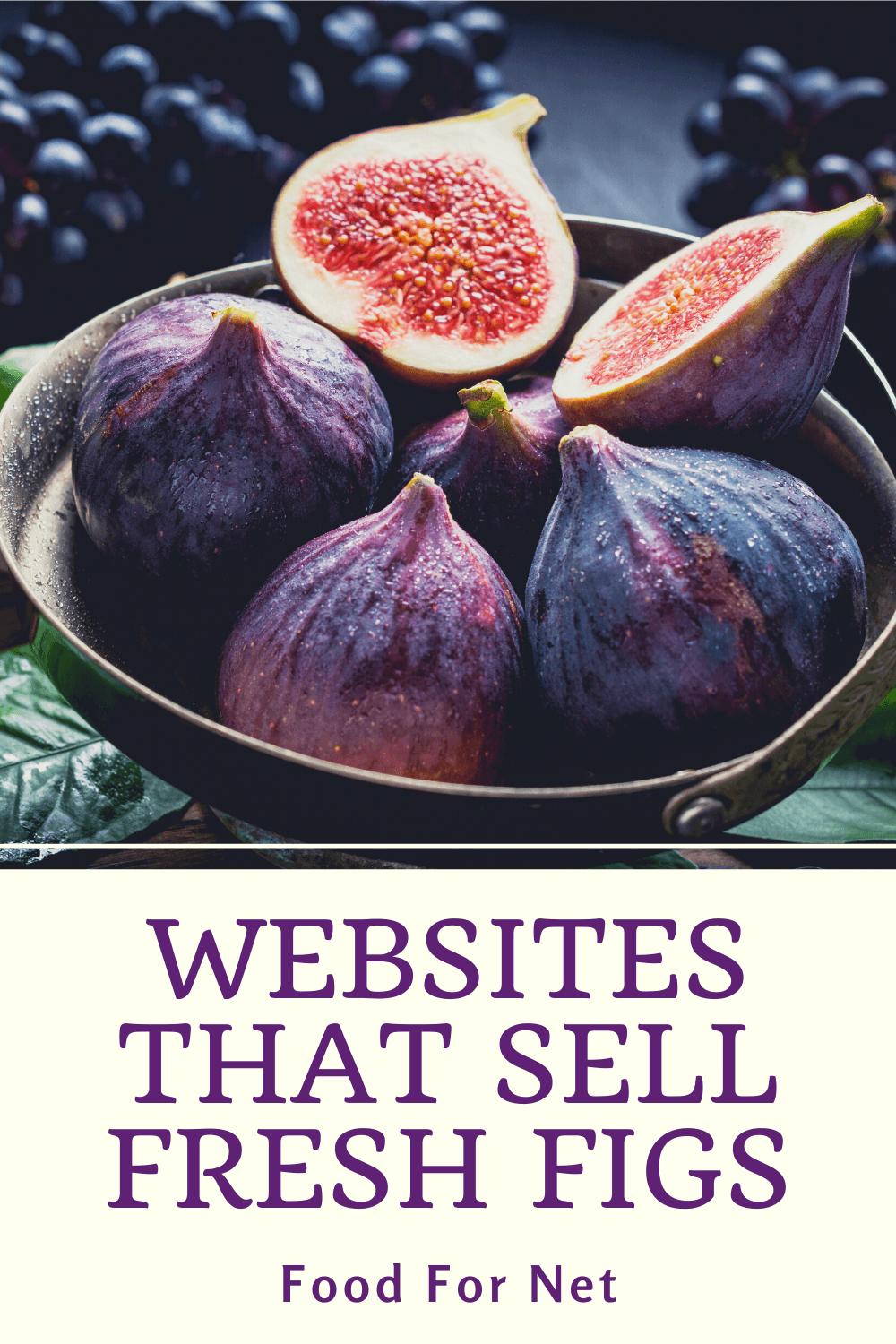 Figs are a highly underrated fruit. Not only do they taste great but they come with a whole host of health benefits. They can be used in plenty of recipes too. Figs are high in natural sugars, which we do need in appropriate amounts. They are also high in soluble fiber and lots of minerals, including calcium, potassium, magnesium, copper, and iron. You can buy fresh figs online from a variety of sites and get access to this wonderful fruit even if it's not available in your town.
They are also a great source of antioxidant vitamins A and K, both of which contribute to overall health and wellness. Their overall nutritional value earns them the title of a superfood, and yet they aren't always readily available on the shelves at the store.
If you're struggling with your "fresh figs near me" search, consider buying fresh figs online instead. Once you find the right supplier, you can have fresh, delicious figs delivered right to your door. And, while you're at it, you might consider other fruit, like apples or cranberries.
Like many fruits, figs are seasonal. They're typically available from May to November each year, although there are slight differences depending on the producer and their exact location. Because of this, many of the sites below will only offer fresh figs when they're in season.
Where to Buy Fresh Figs Online
Baldor Food
Heb
Exotic Fruits USA
Agata & Valentina
Melissa's
Fresh Direct
Marx Foods
1. Baldor Food

Baldor Food has some great figs, but it goes far beyond that. They currently partner with more than 1,000 farms, meaning both their quality and selection are unmatched by anyone else. They have everything from fresh and organic to local and rare.
They're also committed to providing exceptional service. They take orders as late into the day as they can and have a large fleet of sustainable trucks to get you your food as fast as possible.
If it's figs you're after, they've got a fantastic selection coming from a number of different farms. This includes organic black mission figs, black figs, tiger figs, white figs, brown turkey figs, and more (of course, their selection changes over time). In addition to these fresh figs, they also have a selection of fig products including dried figs, fig spread, fig crackers, fig puree, chocolate figs, fig almond cake, and so much more. Pretty much any fig-related thing your heart could possibly desire.
The same can be said for many other fruits and vegetables, too. They also offer a variety of meat and poultry, including somewhat harder to find things like duck and venison. They also have plenty of cheeses to choose from as well as other dairy products and a full bakery section.
They are based in New York but can also ship to Boston, DC, and anywhere in the Mid-Atlantic and Northeastern regions.
2. Heb

Heb officially began in 1905 when its founder opened the store with her last $60, desperate for a way to support her children and a sick husband. From there, it has grown exponentially into a widespread grocery chain as well as a convenient online store.
They pretty much have a little of everything, from authentic Mexican food and fresh bakery items to pasta, rice, and plenty of fruits and vegetables.
When it comes to figs, they have you covered. You can simply order some fresh brown turkey figs, or get fancy with fig spreads, cookies, cake, and even fig candles. It's a great way to access plenty of fig products at a great price, or do your whole grocery shop for the week, including some figs.
The store even goes beyond groceries and offers a wide range of health, beauty, home, outdoor, pet, and baby products as well as everyday essentials like batteries, cleaning tools, and toilet paper. This wide selection is fantastic because it means you don't even have to leave the house to get everything you need if you don't want to.
They do have a number of physical stores you can shop at, but they will also ship your order to your door anywhere in the United States.
3. Exotic Fruits USA

Exotic Fruits USA is exactly what it sounds like – a place to go for exotic fruits. Founded in 1899, the company has been around for a while and is therefore quite knowledgeable when it comes to even the most exotic of fruits.
Not only do they have the knowledge, but they have experience finding and sourcing only the best fruits. The company is still owned by descendants of the original founder and they are now well known for their unique, interesting, and hard-to-find fruits.
Not only do they have one of the biggest online selections in the United States, filled with fruits from all over the world, but their customer service is also spectacular. If you're looking for something specific but don't want to browse through the entire site, they'll help you find what you need at the best possible price.
Their selection of fresh figs includes black mission figs, brown figs, and California figs. They guarantee that their figs, along with every single one of their products, are the best possible quality. Figs are somewhat uncommon and certainly delicious, and no one can deny the many health benefits. The same can be said for many, many other fruits that are even harder to find.
While you're shopping for your figs, take a few minutes to look around at what else they have to offer. Sometimes it's the most exotic and rare of fruits that hold the most exciting flavors and potent health benefits. Many of them may not be found anywhere else.
Kumquats, blood oranges, rambutan, passion fruit, jackfruit, and cactus pears are just a few of the exotic fruits you can find here. Or, if you're adventurous and wanting to try something new on a regular basis, you can join one of their clubs. Their exotic fruit club, for example, sends a box of a different exotic fruit each month, depending on what's in season.
4. Agata & Valentina

Agata & Valentina is a great online resource for fine food. They are a family company that was founded in 1993, with a second location opening in 2012. The company was born from a collective passion for fine foods from Italy, Sicily, and all over the world.
They want to make these high-quality foods available to all. They work directly with artisanal companies and producers right in Italy, meaning they source only the best and most unique products.
While their focus is on Italian cuisine, their selection is broad and covers many categories. This includes produce, dried fruit, dairy products, frozen food, fish, meat, pasta, pastries, and so much more.
Among their produce selection are two kinds of fresh figs – Black Mission and California. You can also get a number of other fig items like fig crisps, fig spread, a fig cake, or dried figs. While you can, of course, simply buy whole fruits, they also have a selection of cut and packaged fruits and vegetables for those who want something that's more readily available to eat right away. Sliced or cubed fruit is also great for making smoothies.
In addition to basic groceries, they also have cooking kits, ready-made meals, a gluten-free section, as well as some specialty items for Yom Kippur and Rosh Hashanah.
5. Melissa's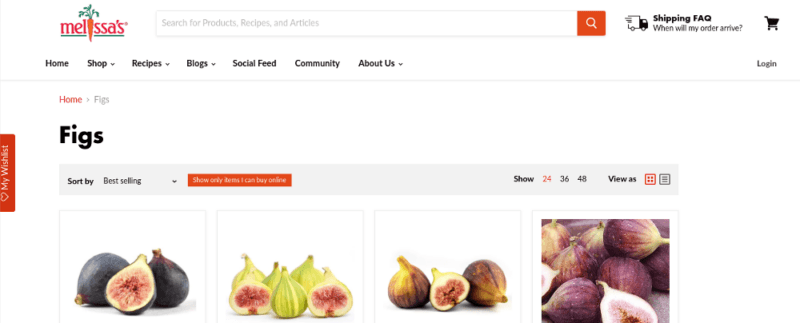 Melissa's is an impressive company that has been delivering fresh produce throughout the United States since 1984. Melissa's also has a huge product range that includes grains, fruit, vegetables, organics, beans, and wine, so you can do most of your shopping in one go.
Melissa's is a particularly exciting choice for figs, as the site offers regular figs, heirloom figs, black mission figs, brown turkey figs, and striped tiger figs. However, the availability of these varies and you mightn't see all of them each year.
There are also boxes of dried California golden figs and California mission figs. These are perfect if fresh figs aren't in season. After all, dried figs still have many of the same benefits as fresh ones. They're delicious too.
6. Fresh Direct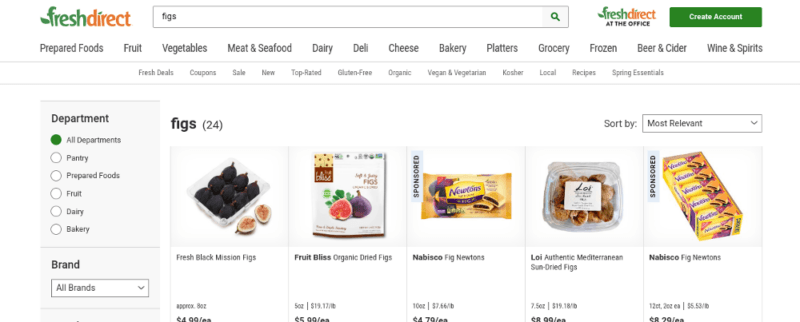 Fresh Direct is another grocery-focused company with a huge range of products to choose from. This includes plenty of fresh foods, as well as packaged options. There are even some unusual and exciting products, like frozen Korean Kimchi Pancakes.
They just have one type of fresh fig on offer – fresh black mission figs. An 8 ounce container of these costs $4.99, which isn't too bad at all.
There are plenty of dried figs and fig-containing products too, including fig spreads and Mediterranean sun-dried figs. Many of these look amazing and high quality. You might also order other foods from Fresh Direct at the same time.
7. Marx Foods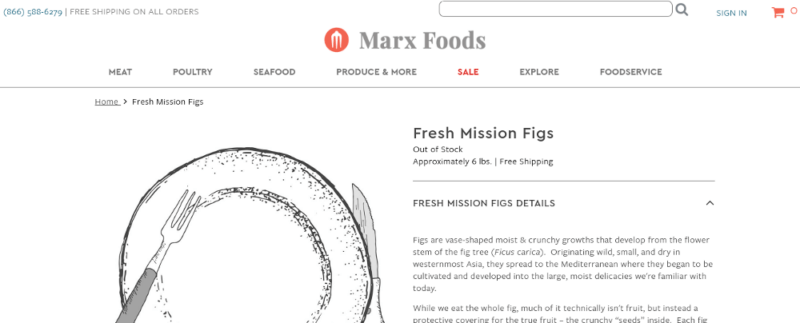 Marx Foods has a strong focus on specialty meats, poultry, and seafood, but that's not all they offer. The company also has a decent produce selection. This includes some interesting items, like edible flowers, truffles, mushrooms, and herbs, along with more familiar entries like cheese, vegetables, fruits, and beans.
The company itself is a family owned business that is currently in its fifth generation. Marx Foods aims to provide customers with restaurant-quality ingredients, allowing you to make amazing meals from the comfort of your home page.
As for figs, Marx Foods offers fresh mission figs from April to November each year. These are often sourced from California, but may also be imported from Chile or New Zealand. You'll need to get in fast though, as the figs are sometimes out of stock even when they're in season.
Things to Consider When Buying Fresh Figs Online

Figs are a unique and interesting fruit that many people like to have in their daily routine. Unfortunately, they're not often found at every grocery store. Due to the slightly rarer nature of figs, some might have no option but to buy fresh figs online. If this is what you've set out to do, consider the following things before making your purchase.
The Variety of Figs
There are several different varieties of figs, with some being more common than others. If you're not picky, there are a few good places to get your figs online. But, if you're after something very specific, you might need to dig a little deeper or find a specialty store.
If you do have to order from a place very far away from you, check their shipping procedures. Make sure they are able to ship the figs to you quickly as fresh fruit has a limited shelf life.
Other Fig Products
Figs might be on the rarer side, but that doesn't mean they're not versatile. You can eat figs plain, or do one of so many other things with them. You can dry them out for a different kind of snack that lasts longer, for starters.
They're also great in spreads, butters, cakes, crackers, and so much more. Companies that exclusively sell produce may not have these things, but any store that's more of a grocery type will likely have a selection of these things.
If you're a fan of figs in general, some of these other products may be worth trying out. They're a great way to mix it up and keep things interesting while still benefitting from the nutrients in a fig.
The Time of Year
Like any fruit, figs thrive in a specific environment. There are some tropical locations that can produce figs year-round, though even these will see a decreased production at certain times throughout the year.
It's worth paying attention to the peak growing season, which for many locations is between June and September. Outside of this, fresh figs may be more difficult to find and/or of slightly lesser quality if you do find them.
During these times, it's good to have a store that sells dried figs or other fig-related products if you're not happy with the fresh ones during that season.
Types Of Fig
Like most fruits, figs come in plenty of different varieties. Listed below are the types most often sold online. However, you may find completely different varieties of figs at local markets and could even grow some varieties yourself.
Black mission figs. These are the most frequent types sold online and in local stores. The figs are purple with pink flesh and plenty of sweetness.
Brown turkey figs. These figs are less common. Their color varies, but often includes brown and green tones. While they still have pink flesh, this tends to be lighter and less sweet than black mission figs. There aren't as many seeds either.
White figs. These also go by the name adriatic figs. Much of their skin is light green, while the flesh is red and creamy. They're a sweet fig and are useful both fresh and dried.
Tiger figs. Here's a distinctive fig that's only occasionally found in online stores. The name comes from the distinctive yellow and green stripes, which makes the figs stand out. The interior is interesting too, as the figs often have red flesh, are very sweet, and have a consistency that's like jam. There's even a slight strawberry flavor.