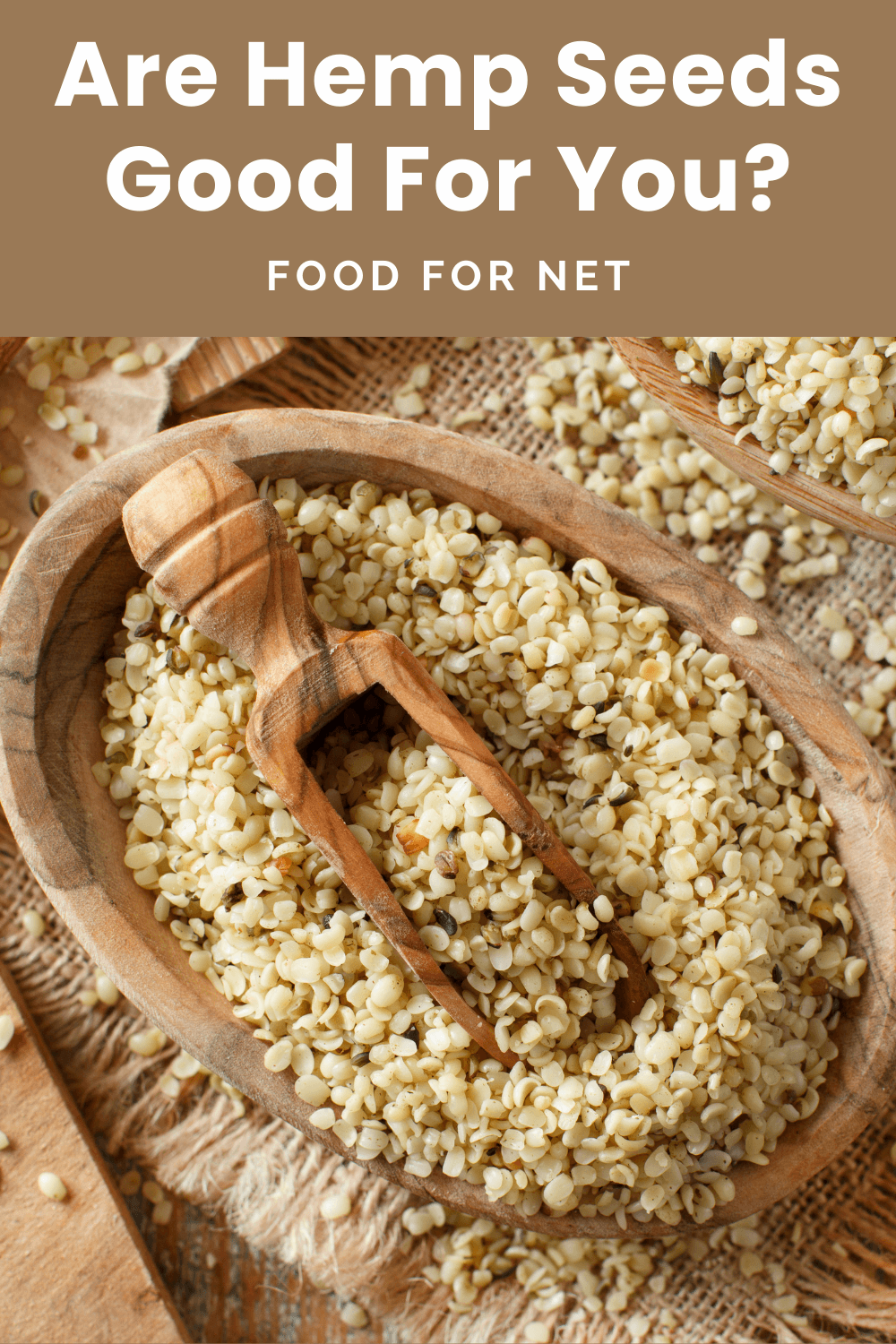 The name gives it away – hemp seeds come from Cannabis sativa. Yes, that's the same species as marijuana. However, the seeds themselves don't have any mind-altering effect – they lack the psychoactive tetrahydrocannabinol (THC) compound. So are hemp seeds good for you?
The seeds are famous for their health benefits. They're sometimes seen as a particularly potent superfood, as they contain plenty of nutrients, protein, fiber, and more.
Still… are hemp seeds good for you? Sure, they have benefits, but that's only ever one side of the equation. Most foods have at least a few risks. While these are often minor, sometimes they're not. So, to see whether hemp seeds are healthy, let's look into the good features and the concerning ones.
Are Hemp Seeds Good For You?
Hemp Seeds Versus Hemp Hearts
What Hemp Seeds Offer
The Health Benefits Of Hemp Seeds
The Problems With Hemp Seeds
How To Use Hemp Seeds
What About Hemp Protein Powder?
Hemp Seeds, Hemp Seed Oil, And CBD Oil
Final Thoughts
Hemp Seeds Versus Hemp Hearts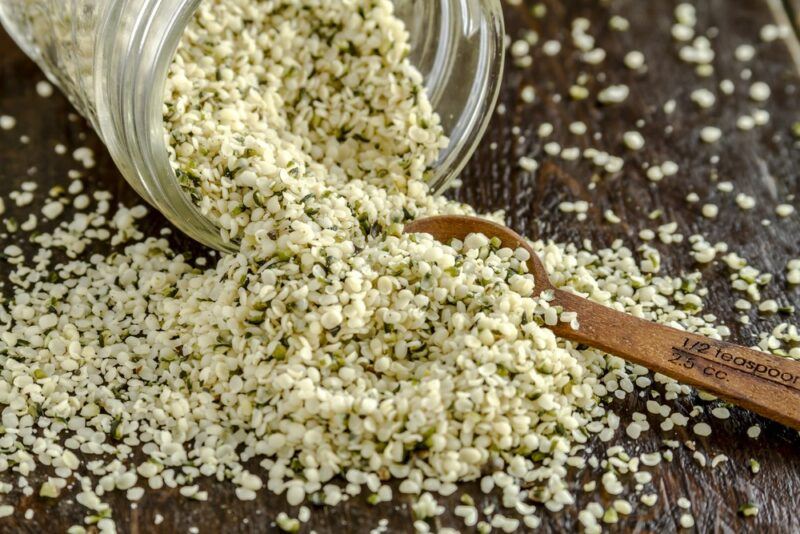 Before we get too far into it, let's talk about hemp seeds and hemp hearts. The two terms are often used interchangeably, but they're not quite the same.
Hemp seeds are literally the seeds from the hemp plant. They have a tough exterior and are soft in the middle. The exterior part can be eaten, but you mightn't want to. Some people find that the crunch is simply too much. Plus, the seeds can easily get stuck in your teeth.
Hemp hearts are simply the soft part in the middle of the hemp seed. While you can de-shell hemp seeds yourself, doing so takes a decent amount of effort. Most people choose to buy hemp hearts instead. That way all the hard work has been done for you.
Hemp seeds and hemp hearts have many of the same benefits anyway. The biggest difference is the fiber content. Don't worry though, you still get some fiber from hemp hearts.
That said, shelling hemp seeds isn't essential. You could just leave the shell on. Doing so simply gives the hemp seeds a bit more crunch, one that can act as an excellent contrast to other ingredients.
What Hemp Seeds Offer
Soluble And Insoluble Fiber
Fiber is unusual. Unlike fat, protein, and carbs, our bodies don't digest fiber. Instead, it passes through our bodies relatively unchanged.
This makes it sound like a waste of effort, but nothing could be further from the truth. Fiber is incredibly important, as it is vital for effective digestion.
Fiber is generally classified into two groups – soluble and insoluble. Soluble fiber can dissolve in water, giving you a gel-like substance that helps to keep you full. It's relevant for your blood sugar and cholesterol levels too, helping to keep them balanced.
Insoluble fiber is relevant to our stools, helping to bulk them out. This effect means that stools can move through your system better, lowering the risk of constipation.
Hemp hearts are excellent here, giving you around 1.2 grams of fiber per 3-tablespoon serving. Much of this is insoluble fiber, but there is some soluble fiber present as well. You'll get even more fiber if you eat whole hemp seeds instead.
Plenty Of Protein
Hemp seeds are fantastic for protein too. You actually get 9.5 grams of protein in every 3 tablespoons of the seeds. This makes them a very easy way to add protein into your diet.
Simply sprinkle some hemp hearts on top of your cereal, smoothie, salad, or meal, and you're getting extra protein and nutrients with no effort at all.
Here's another cool thing – hemp seeds give you high quality protein. You're getting all 9 essential amino acids, in a form that's easy to digest. This set of features is unusual for plant-based protein.
Hemp seeds are also fantastic if you want plenty of bang for your buck, as they have roughly twice the amount of protein as chia seeds and flax seeds.
Healthy Fats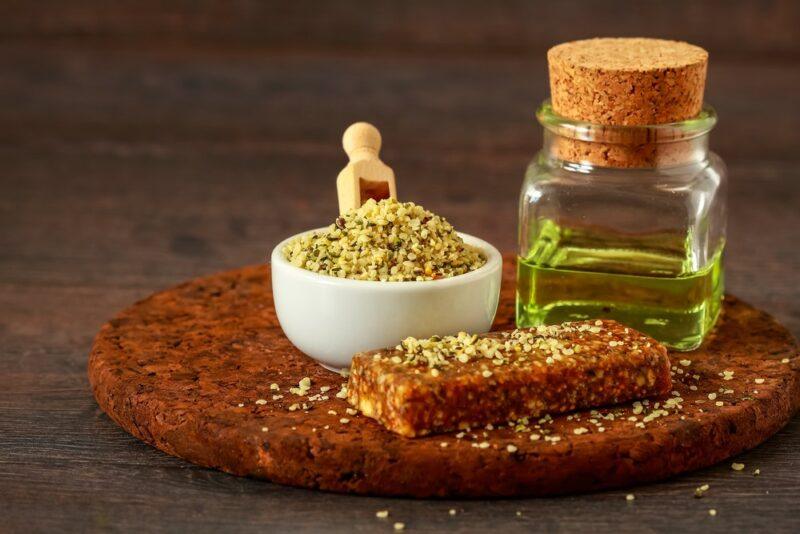 Hemp hearts are rich in fat, with a 3-tablespoon serving giving you around 15 grams of fat. This might sound like a lot, but remember that fat itself isn't the enemy. It's simply a source of energy.
Besides, the fat in hemp hearts is mostly the healthy kind. There's only 1.4 grams of saturated fat. Most of the remaining fat is polyunsaturated fat, including omega 3 and omega 6 fatty acids. Such fats can promote health in plenty of different ways.
A Variety Of Nutrients
Not surprisingly, hemp seeds provide a variety of important vitamins and minerals. Some of the most significant include potassium, vitamin E, and magnesium. You're also getting phosphorous, vitamin B6, folate, thiamine, and more.
Nutrients like these are always valuable for health. They're what keeps our bodies functioning as they should. If you don't get enough of them, you'll start to run into all kinds of health problems.
The Health Benefits Of Hemp Seeds
Can Promote Heart Health
Because they're rich in healthy fats, nuts and seeds often help to disease risk. The omega 3 and omega 6 fats in hemp seeds are particularly relevant here, helping to decrease inflammation and plaque formation.
Some of the nutrients present can help as well. So too can the fiber, as fiber helps to lower your blood cholesterol levels.
May Help With Blood Sugar Levels
Hemp seeds could help to keep your blood sugar levels balanced too. This effect is partly due to the fiber in the seeds, as this stabilizes blood sugar levels. The protein doesn't hurt either.
There's also magnesium in the seeds. Magnesium has many effects in your body, one of which is helping to keep blood sugar levels in check.
Improved Weight Loss
The protein in hemp seeds is excellent for weight loss. After all, protein keeps you satisfied, often reducing cravings for snacks and sugar. This effect means that a high protein diet can actually reduce your calorie consumption each day, without making weight loss feel like a chore.
Of course, you will need to pay attention to your portion sizes. Hemp seeds are relatively high in calories, just like other nuts and seeds. As such, it's easy to overdo it and consume more of them than you intend to.
May Promote Brain Health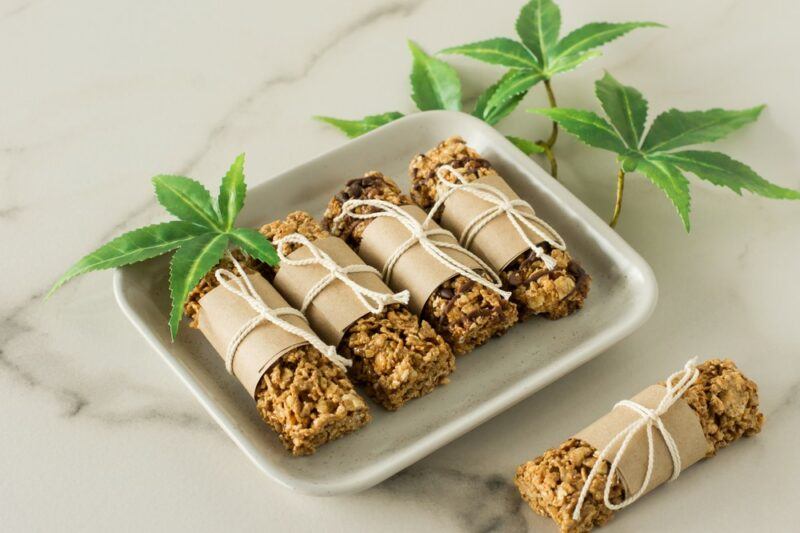 The omega 3 fats in hemp seeds are relevant to your brain health, potentially decreasing your risk of Alzheimer's disease and other neurological issues. Omega 3s may be relevant in other ways too, like by helping with your memory, improving attention, and even reducing the risk of some mental health issues.
There are also plant-based compounds present. Antioxidants are the obvious ones. These have been linked to plenty of benefits, like decreasing oxidative stress in your brain and potentially improving brain function.
There are less well-researched plant-based compounds too. These offer their own benefits, which could include helping with your brain.
Offer Many Other Benefits Too
Hemp seeds give you plenty of nutrients, protein, plant-based compounds, and healthy fats in a small package. You're getting some fiber at the same time, even if you choose hemp hearts rather than hemp seeds in their shells.
With so many healthy components, hemp seeds may offer many benefits beyond the ones discussed here.
For one thing, they're an easy way to boost your nutrient intake. Doing so helps to lower your risk of deficiencies in any nutrients, along with all the side effects and health risks that come with being nutrient deficient.
Side Effects Are Rare
Hemp seeds are very well tolerated and few people experience side effects from them.
The main problem is that if you eat a large amount, you might end up with stomach cramps or diarrhea. This effect may be related to the fiber in hemp seeds or possibly the high fat content. Either way, if you keep to servings of 3 tablespoons or so at a time, such side effects are incredibly unlikely.
Beyond this, there isn't much to worry about. Hemp seeds don't seem to interact with many medications or health conditions.
The Problems With Hemp Seeds
Might Not Be Suitable For Everyone
The FDA places hemp seeds in the generally recognized as safe (GRAS) category. This is partly because the seeds have only trace amounts of both CBD and THC, so they won't make you high in the way that cannabis itself will.
Even so, the CBD and THC levels can sometimes be higher if the seeds are contaminated during processing. While the increased levels of CBD and THC still aren't very high, they could be a problem for anyone taking medication or has a serious health condition.
If you're in either of those situations, it's best to talk to your doctor before eating hemp seeds regularly – just to be on the safe side. Paying attention to your body helps as well. This way you can identify any side effects early on.
Hemp seed allergies are possible too, giving you side effects like hives and swelling. While hemp seed allergies aren't common, they're certainly something to watch out for.
Can Interact With Blood Thinners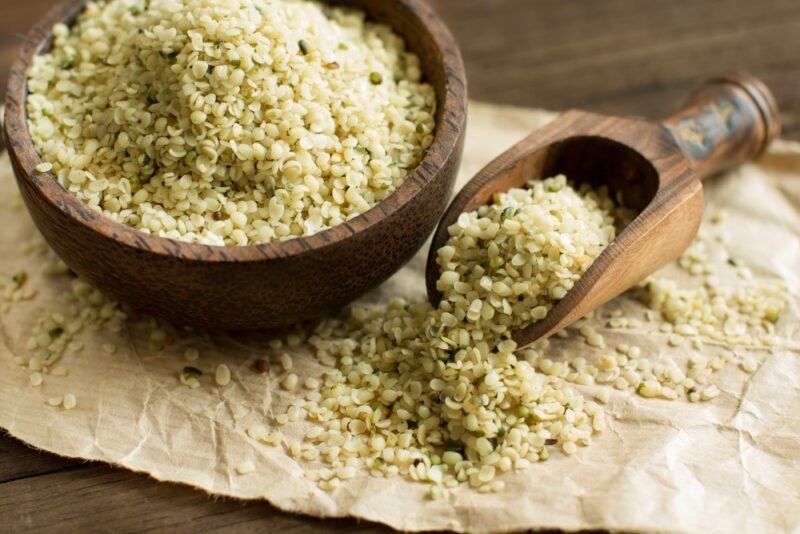 There's only one medication interaction to talk about with hemp seeds, the way they can interact with blood thinners. Specifically, hemp seeds can decrease blood clotting. This is a useful effect on its own, but when you combine it with a blood thinner, you may be lowering your blood clotting ability too much.
Taking blood thinners doesn't necessarily mean that you need to avoid hemp seeds entirely. However, it's best to pay close attention to how your body reacts to ensure you don't put yourself at risk.
How To Use Hemp Seeds
Hemp seeds aren't as familiar as pumpkin seeds or sunflower seeds, so how do you fit them into your diet?
There's no shortage of options, as the mild flavor of hemp seeds combines well with both sweet and savory dishes. Sometimes you might prefer hemp hearts, while other times the seeds in their shells will work much better.
To begin with, try sprinkling hemp hearts on top of your meals. You can also do this with hemp seeds for a little extra crunch.
Alternatively, try using hemp seeds in a recipe. They're popular in protein bars or energy bites, but you don't need to stop there. You can also mix hemp seeds into pesto or use toasted chia seeds as part of a coating for chicken or fish.
The seeds can be ground into a flour too, giving you even more flexibility. Don't forget about smoothies, either. Hemp hearts are fantastic here, as they're so soft. Or you could sprinkle whole hemp seeds on top of the smoothie for a delightful texture contrast.
What About Hemp Protein Powder?
Hemp protein powder is fascinating. It contains less protein per serving than pea and soy protein. Plus, the price to protein ratio isn't nearly as good as for other types of protein powder.
Even so, you are getting a complete plant-based source of protein. The powder is also less processed than most other plant-based protein powders, which is a definite win.
The powder can be useful if you want a fast source of protein. However, hemp seeds are still a better choice than hemp protein powder, simply because the seeds are less processed. Besides, you know what you're getting with hemp seeds. This isn't always the case with protein powder, which may contain additives and can be contaminated.
Hemp Seeds, Hemp Seed Oil, And CBD Oil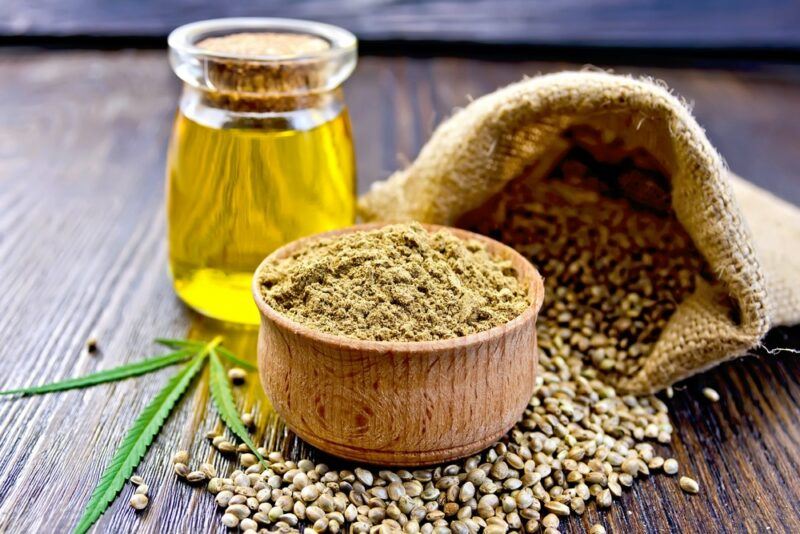 There's another important area to talk about – cannabinol (CBD). Cannabinol features heavily in CBD oil and could be responsible for many of the health benefits of the oil.
Then there's hemp seed oil. While CBD oil is made using the flowers, leaves, and stalks of Cannabis sativa, hemp seed oil is made from the seeds instead. The two types of oil are quite different, as hemp seed oil contains barely any CBD.
It does have a variety of other relevant plant-based compounds though, along with nutrients and healthy fats. Early research suggests that there may be benefits of hemp seed oil too, like helping to decrease inflammation, improve your heart health, and being good for your joints.
More research is needed to prove these effects, but the early research is promising.
Then there are hemp seeds themselves. If you're eating the whole seeds (shells and all), then you should be getting the same healthy components that you get with hemp seed oil, just in a less concentrated form.
The benefits may be different if you're focusing on hemp hearts instead. After all, hemp hearts don't have the tough outer shell. This means they're not just lower in fiber, but may also miss out on some of the other compounds found in the shell.
These differences mean that hemp seeds, hemp seed oil, and CBD oil aren't interchangeable. Instead, you'll need to pick the option that best matches the benefits you're looking for.
Final Thoughts
Hemp seeds have plenty going for them. They're an excellent source of protein, healthy fats, and plant-based compounds. They're also easy to use, as you can simply sprinkle whole hemp seeds or hemp hearts on top of a dish.
There aren't many bad points either, as hemp seeds don't interact with many medications, aren't a serious source of antinutrients, and allergic reactions are rare. The most concerning thing is that some products might contain a little more THC or CBD than you expect due to contamination. However, even if this happens, the levels of these compounds will still be low and shouldn't pose a significant risk.
Frequently Asked Questions
Are Hemp Seeds Gluten Free?
Generally yes. The hemp plant itself is naturally gluten free, which means that its seeds are as well.
Still, as with any agricultural crop, there's the chance for gluten contamination. This can happen during harvesting, processing, or shipping, particularly with companies that also produce gluten-containing products.
If you're very sensitive to gluten, dig into individual companies and products. Some will have a focus on avoiding gluten and may even test their products to make sure there's no contamination.
For example, Bob's Red Mill has recently started using a gluten free facility and testing their hemp seeds for gluten. This makes them a reliable choice.
You can also look for the gluten free label on products, as companies only use the term when they are confident their products don't contain gluten.
Do Hemp Seeds Make You Sleepy?
Hemp seeds are sometimes promoted as a sleep aid because they contain magnesium, some important amino acids, and even melatonin. These components can all promote sleep.
Of course, the effects vary from person to person. You could even find that you get side effects from the fiber in hemp seeds instead, which is the last thing you want at night.
This means it's always important to start slowly and see how your body responds.
Are Hemp Seeds Low FODMAP?
Here's some excellent news, hemp seeds are low in FODMAPs, if you still to no more than 50 grams at a time. This makes them a safe choice for most people with irritable bowel syndrome (IBS).
The fiber content is relevant too, as getting enough fiber improves your digestive health and can reduce irritable bowel symptoms in the long term. Hemp seeds also provide plenty of nutrients and amino acids, which also promote health and help with IBS symptoms.
Are Hemp Seeds Paleo?
Research shows that paleo seeds have a long history. They were even eaten around 2.5 million years ago. Impressive, right?
This long history means that Paleo dieters can easily enjoy hemp seeds. The seeds are also powerful nutritionally, giving you plenty of vitamins, minerals, amino acids, and healthy fatty acids.
Remember though, the paleo diet focuses on natural foods and avoids anything highly processed. This means that while hemp seeds themselves are fine, hemp seed powder isn't normally viable on a paleo diet.
Are Hemp Seeds High In Oxalates?
Oxalates are naturally occurring plant-based compounds. They're not harmful in themselves, but a high oxalate intake can raise the risk of kidney stones and other issues.
Most nuts and seeds contain a decent number of oxalates. Hemp seeds are trickier, as there isn't much data. However, many reports suggest that hemp seeds are fairly high in oxalates, but could be lower in oxalates than peanuts, chia seeds, almonds, and a variety of other nuts.
If you're worried about oxalates, it may be best to keep an eye on your seed and nut intake. Be particularly cautious with hemp seed oil, as will be even more concentrated in oxalates than the seeds themselves.